Chicken is a great protein source and can be used in a wide range of recipes, including stir fry. Chicken is a staple in many households because of its versatility and ease with which it can be prepared.
In this post, we have collected 15 healthy and appetizing chicken stir fry dishes that are guaranteed to fulfill your hunger.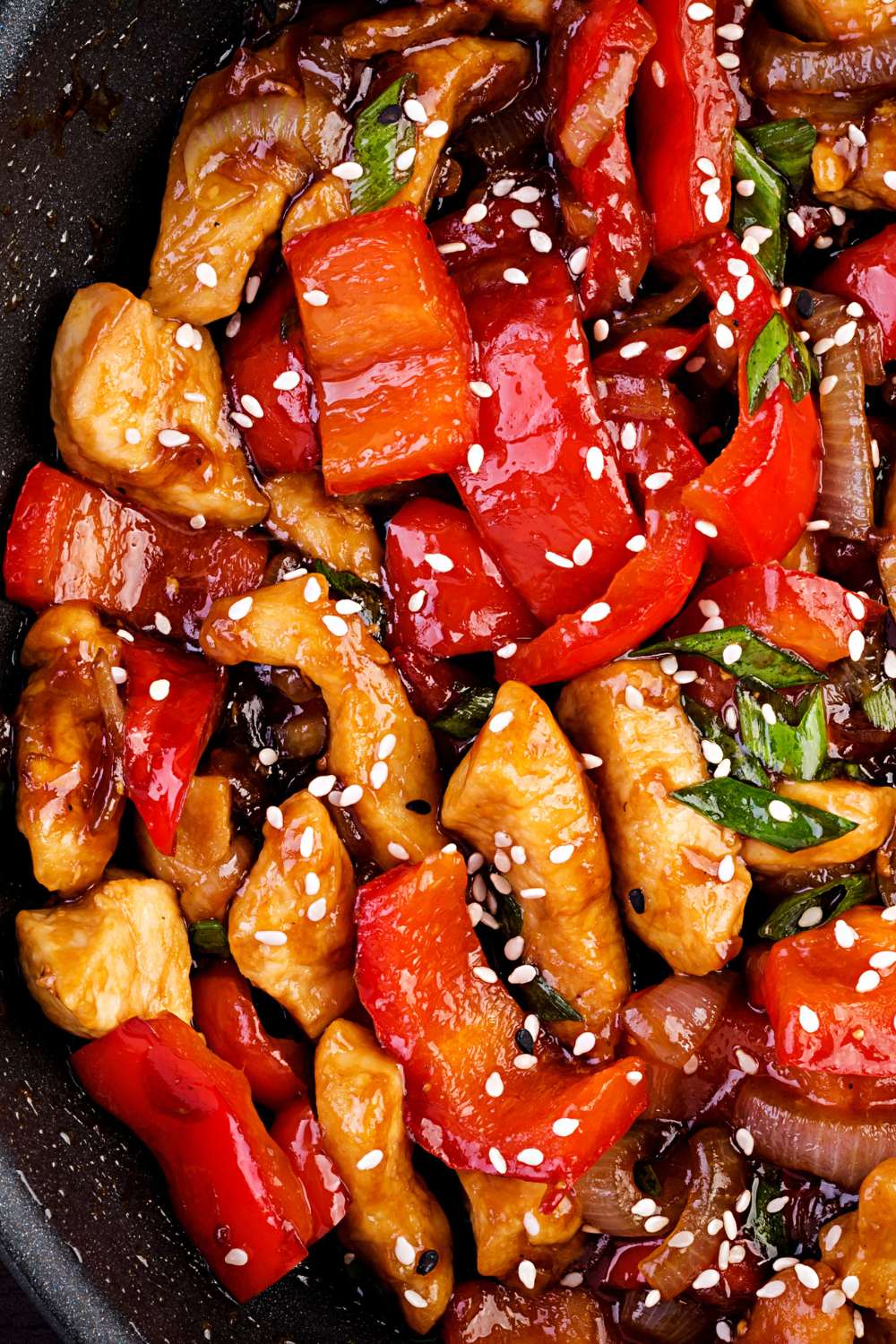 Can I Use Chicken Thighs Instead Of Chicken Breasts In Stir-fry?
Yes, you can use chicken thighs in stir-fry recipes. They tend to have more flavor and moisture, which makes them perfect for stir fry. Thighs also tend to be more affordable than chicken breasts, and they are often used in Asian cuisine.
What Is The Best Type Of Oil To Use For Stir Fry?
The best type of oil to use for stir fry is one with a high smoke point, such as peanut, canola, or vegetable oil. These oils can withstand high heat without burning or smoking, making them perfect for stir fry. Using a healthy oil will ensure that your stir fry is not only delicious but also healthy.
15 Stir Fry Recipes With Chicken
From Thai cashew to Szechuan, these 15 healthy and simple stir-fry dishes with juicy chicken will transport you across the globe:
Ready, Set, Stir Fry! With this recipe, you'll be serving up a flavorful and healthy meal in no time. The combination of tender chicken breasts and crunchy veggies, such as red bell pepper, broccoli, onion, and carrot, make for a delicious and colorful dish. The homemade sauce, made with chicken broth, tamari soy sauce, honey, sesame oil, rice vinegar, and arrowroot powder, gives this stir fry the perfect balance of savory and sweet flavors.
And don't forget the ginger and garlic, which add a zing of spice. Top it all off with some sesame seeds and green onion, and voila! You have a restaurant-worthy meal that's sure to satisfy your taste buds.
Prepare yourself for a robust and tasty meal with this Chinese Black Pepper Chicken Stir Fry, in which soft strips of chicken breast are marinated in a savory and somewhat sweet mixture of soy sauce, fresh ginger, rice vinegar, cornstarch, and sesame oil.
The chicken is cooked in vegetable oil and then mixed with crisp vegetables like celery and onion. The freshly ground black pepper is the crowning touch, adding heat and fragrance. Grab some chopsticks and dive in; this recipe goes well with jasmine rice for a full and fulfilling supper.
If you haven't tried it yet, you must make this Teriyaki Chicken Stir Fry. Cornstarch-coated chicken breast pieces are cooked to a crisp in a pan with garlic powder, pepper, and a few other seasonings. Broccoli, red bell pepper, and onion not only provide color but also nutrition, to this meal.
Sweet and flavorful, the stir fry is made even better by the homemade teriyaki sauce prepared with soy sauce, brown sugar, fresh ginger, garlic, mirin, rice vinegar, and chicken stock. Serve it over rice or noodles for a hearty and warm main dish. This Teriyaki Chicken Stir Fry will be a hit, so don't be shocked if you're requested to cook it again and again.
Mongolian Chicken is a delicious meal made with thinly sliced chicken breast that has been coated with cornstarch and pan-fried till golden. In this case, it's the sauce that makes the meal; it's created with soy sauce, garlic, ginger, sesame oil, dark brown sugar, and green onions.
The chicken is glazed with a delicious mixture of sweet and savory spices. Don't let the fancy name fool you; this simple dish is excellent for a quick evening meal. If you serve it over rice and add some additional green onions for color, this Mongolian Chicken will quickly become a family favorite.
This Chicken Noodle Stir Fry is sure to be a crowd-pleaser. A flavorful sauce prepared from chicken and beef broth, soy sauce, spicy sauce, ginger, honey, and garlic coats perfectly cooked rice noodles, tender chicken breast, and crisp vegetables including broccoli, red bell pepper, onion, and carrots. Every mouthful is coated in a glaze that is the perfect balance of sweet and salty.
Add some more flavor and texture by topping it with chopped green onions, crushed red pepper flakes, and crunchy peanuts or cashews. You won't be able to resist slurping up those noodles; this meal is excellent for a fast and simple weekday supper that will warm you up from the inside out.
If you're looking for a supper that's simple yet full of flavor, go no further than this Orange Chicken Stir Fry. Bite-sized chunks of soft chicken breast are seasoned with garlic powder, chili flakes, sea salt, and pepper before being pan-fried to golden perfection.
The meal gets a crunch and a burst of flavor from a vibrant blend of bell peppers, onions, and ginger. The chicken and vegetables are doused in a sweet and sticky glaze prepared from orange juice, low-sodium soy sauce, and cornstarch. This easy weeknight dish looks and tastes like it came straight from a fancy restaurant when you top it with sliced scallions, sesame seeds, and orange segments.
Tender chicken breast is seasoned with salt and pepper and pan-fried till golden in this Honey Garlic Chicken Stir Fry, making it the ideal evening supper for those who are always on the move. Carrots and broccoli, both colorful and nutritious, liven up the meal.
The honey soy sauce with garlic is the show stopper; it's deliciously sweet, flavorful, and sticky. The cornstarch in the sauce makes for a luxurious coating that clings to every bite of chicken and vegetable. This stir fry is perfect over a bed of rice, but it's also delicious on its own.
General Tso's Chicken will take you on a culinary adventure to China with its crunchy cornstarch and egg batter and pan-fried chicken pieces. To add some heat, ginger and garlic are blended into the sweet and spicy sauce along with dark and light soy sauce, ketchup, and Chinese black vinegar.
This meal is great over a bed of rice or noodles and is served with sesame oil and sesame seeds.
The Kung Pao Chicken dish will transport you to China with its spicy aromas; the chicken is marinated in soy sauce, rice wine, and cornstarch before being fried in a hot wok with dried and fresh jalapeño peppers.
After being marinated in a combination of soy sauce, black vinegar, hoisin sauce, honey, Sichuan peppercorns, and chili flakes, the chicken is stir-fried with onions, garlic, and roasted peanuts. Serve over rice or noodles and top with additional peanuts, scallions, and chili flakes for a spicy kick.
Bold Asian flavors abound in this Lemongrass Chicken Noodle Stir Fry dish. Chicken breasts are marinated in a homemade lemongrass sauce before being stir-fried with rice noodles and vegetables.
The meal gets a burst of brightness from the lemongrass and ginger. This stir fry will quickly become a household favorite since it is both healthful and simple to prepare.
The next country on our itinerary is Thailand, and we're bringing you a recipe for mouthwatering Thai Basil Chicken. This dish has a blend of oyster sauce, soy sauce, and Thai red chile that will reawaken your taste senses with each mouthful. Don't forget to fry up some of the sweet Thai basil leaves for a fragrant and crunchier addition to the dish.
This stir-fry dish is ideal for a supper that has to be prepared quickly and easily on a weekday, particularly when accompanied by a side of Jasmine rice.
After a brief stop in Thailand, we're off to Korea for some spicy Korean miso chicken stir fry, where the chicken thighs are marinated in a miso paste with ginger, garlic, and lemon zest for an extra burst of flavor. The chicken is tossed into the pan with the onions and green beans and stir-fried until done.
Next, soba noodles and a spicy Korean sauce of gochujang, soy sauce, and rice vinegar are added to complete the meal. Sprinkled with toasted sesame seeds and chopped green onions, this meal has all the makings of a memorable trip to Seoul.
The next dish is a Szechuan Chicken Stir Fry, which is both spicy and tasty thanks to the chicken being marinated in a mixture of cornstarch, rice wine vinegar, and soy sauce before being fried in a hot wok with fragrant ginger, garlic, and fiery red chilies.
Crisp snap peas and finely sliced bell peppers are just two of the many colorful veggies that give this meal its signature crunch and flavor. The sweet and spicy glaze of the homemade Szechuan sauce on top of the stir fry is the cherry on top. Top this delicious dish with some fresh green onions and serve it over a bed of hot white rice.
This Mango Chicken Stir Fry is a great option if you're looking for a fruity spin on a traditional stir fry. Seasoned salt and pepper bring out the natural flavor of chicken breast, which is then cooked thoroughly in a skillet with red bell peppers. Mango chutney sauce, which is both sweet and sour, is added to the pan with garlic, red pepper flakes, and white vinegar for a symphony of flavor.
Lastly, fresh mango slices are folded in, giving each mouthful a burst of juiciness and sweetness. Fluffy white rice is the perfect complement to this dish.
This Thai Cashew Chicken Stir Fry Recipe will give you a taste of Thailand without leaving your kitchen. Light and dark soy sauce, fish sauce, oyster sauce, sesame oil, sugar, and cornstarch come together to create a sweet and savory sauce that coats the chicken, onions, garlic, mushrooms, and red peppers that have been stir-fried till cooked through.
This savory meal is enhanced by the crunch of golden-brown cashew nuts. This stir fry is great for a fast and simple meal since it only requires a few ingredients and pairs well with plain rice or noodles.