Imagine the delicious combination of tender, juicy steak and succulent, plump shrimp. The two work together in perfect harmony to create some of the most mouth-watering dishes around.
From classic surf and turf to spicy Cajun-inspired creations, this round-up of 20 recipes with steak and shrimp is sure to satisfy any craving.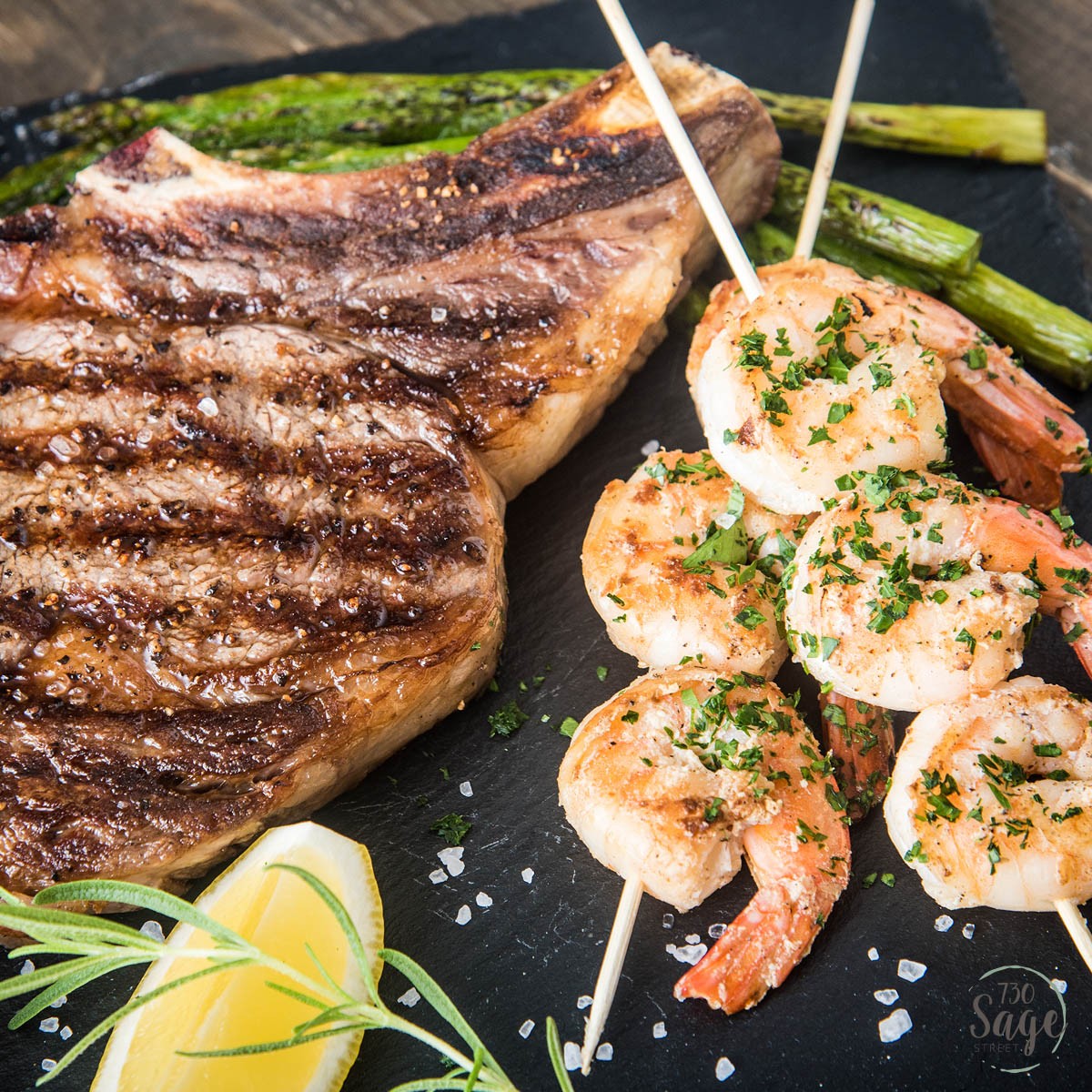 How To Make Sure Steak And Shrimp Are Cooked To The Right Temperature In These Recipes?
To ensure that both steak and shrimp are cooked to perfection, you'll need to use a food thermometer and pay attention to cooking times. Here are some tips to help you achieve the right temperature for your dishes:
For steak, use a food thermometer to check the internal temperature. The USDA recommends cooking beef to at least 145°F (63°C) for medium-rare, 160°F (71°C) for medium, and 170°F (77°C) for well-done.
Shrimp should be cooked until they turn pink and opaque. Depending on the size of the shrimp, this can take anywhere from 2-4 minutes per side. Be sure not to overcook them, as this can make them tough and rubbery.
If using a grill or broiler, preheat it to high before cooking your steak and shrimp.
For best results, season your steak and shrimp before cooking and let them rest for a few minutes before serving. This will help the flavors to meld together and make the dishes more delicious.
Finally, don't be afraid to experiment with different cooking methods and recipes until you find your favorite way to prepare steak and shrimp.
20 Recipes With Steak And Shrimp
From classic steak and shrimp scampi to inventive grilled kabobs, these 20 recipes will have you hooked on this dynamic duo:
Get ready to fire up the grill and satisfy your taste buds with this mouth-watering steak and shrimp kabobs recipe! Marinated in a delicious blend of Worcestershire sauce, brown sugar, and soy sauce, the tender and juicy steak pieces are perfectly complemented by the succulent and buttery shrimp.
The combination of flavors and textures is simply divine, and the aroma of the grill will make your mouth water in anticipation. This dish is perfect for a warm summer evening or a backyard BBQ with friends and family. So go ahead and give it a try, you won't regret it!
Prepare to be amazed by the explosion of flavors and textures in this delectable steak and shrimp skillet recipe! With a succulent and juicy steak seasoned to perfection and tender jumbo shrimp that are perfectly cooked, your taste buds are in for a treat.
The creamy parmesan sauce with a hint of smoked paprika, lemon juice, and red pepper flakes perfectly complements the caramelized onions, garlic, and wilted spinach. Each bite is a warm and comforting hug that will leave you craving for more.
This sizzling steak and shrimp fajita recipe will transport you straight to the streets of Mexico! Imagine juicy and tender steak paired with succulent shrimp that have been tossed with a mouthwatering blend of spices including chili powder, cumin, smoked paprika, and garlic powder.
Top it off with caramelized red and green onions, juicy tomatoes, and oozy cheese sauce all wrapped up in a warm tortilla shell. It's a flavor explosion in every bite! Customize it to your liking with a dollop of creamy sour cream or fresh cilantro.
Bring a taste of Asia to your dinner table with these steak and shrimp recipes! The shrimp is lightly sautéed with butter, soy sauce, and teriyaki for a sweet and savory flavor, while the steak is cooked to your preferred level of doneness with garlic, soy sauce, and teriyaki.
The rice is tossed with egg and soy sauce, and topped with chopped green onions, creating a warm and hearty dish. The noodles are coated with sesame seed oil, garlic butter, and soy sauce, with the addition of zucchini and onions for a nutritious touch. And don't forget the delicious garlic butter spread for a flavorful and aromatic finish!
Fire up the grill and get ready to savor the succulent flavors of steak and shrimp with this delectable recipe. The tender strips of sirloin and plump jumbo shrimp are marinated in a sweet and savory blend of pineapple juice, brown sugar, garlic, and spices, creating a mouthwatering taste that will have you coming back for more.
Add in the sliced bell peppers and onions for a perfect balance of texture and taste. Wrap it all up in a warm flour tortilla and top with sour cream, shredded cheddar cheese, and jalapeños for a burst of heat.
A visual and gustatory delight, this meal pairs tender wild-caught red shrimp with a flavorful rib eye or New York steak. The tender meat is seasoned with a flavorful blend of sea salt, black pepper, and paprika, while the shrimp are lightly coated in a complementary mix of spices.
Grilled to perfection, the shrimp and steak are served on a bed of fresh greens, cherry tomatoes, and crisp cucumber, with a zesty cilantro and garlic dressing that ties all the flavors together. This dish is likely to be a hit, whether you're serving it for a celebratory meal or for a normal night of the week.
This linguine with shrimp and garlic butter steak is the perfect dinner for a cozy night in. The succulent jumbo shrimp, cooked to perfection in a white wine and lemon juice sauce, add a bright burst of flavor to the tender linguine. And the juicy, flavorful NY Strip Steak, seasoned with coarse salt and black pepper, is elevated to the next level with a luscious garlic butter topping.
The combination of textures, from the perfectly cooked shrimp to the al dente linguine, is a match made in heaven. Plus, the aroma of the garlic and red pepper flakes cooking in butter and olive oil will fill your home with warmth and comfort.
This steak in creamy cajun shrimp sauce is the ultimate surf and turf meal! A juicy steak is pan-seared to perfection and then topped with succulent shrimp in a creamy cajun sauce. The dish is bursting with flavor and the creamy sauce is perfectly balanced with a hint of tang from the lemon juice.
The addition of dijon mustard and parmesan cheese adds depth to the sauce, making it rich and flavorful. It's an easy and elegant dish that will surely impress your guests. Serve with a side of vegetables or mashed potatoes for a complete meal.
This recipe brings the best of two worlds together with a delicious combination of juicy steak and succulent shrimp. The steak is perfectly seasoned with a mix of spices, and the shrimp are coated in a flavorful chimichurri sauce. The aroma of smoked paprika and red chili pepper will make your mouth water with anticipation.
The flavors of lemon, lime, garlic, and onion combine to create a mouthwatering dish that will satisfy your cravings. Whether you're entertaining or simply enjoying a family dinner, this dish is sure to be a hit.
Prepare to be whisked away to a tropical paradise with this delicious steak and shrimp recipe! Marinated in a blend of soy sauce, garlic, pineapple juice, and a variety of spices, the steak and shrimp are bursting with flavor. The combination of sweet and savory flavors makes this dish a crowd-pleaser. Skewer the shrimp and steak separately and grill to perfection.
For an added touch of tropical goodness, serve with a creamy sauce made with coconut cream, crushed pineapple, and sour cream. Perfect for summertime grilling or any occasion, this recipe is sure to be a hit with family and friends. Enjoy a taste of the tropics with every bite!
With this incredible dish for steak and shrimp fried rice, you'll be taken on a journey through the world of food. This dish is not only bursting with flavor but also with texture, thanks to the addition of frozen veggies and day-old rice.
The juicy ribeye steak and succulent shrimp are seasoned to perfection, and the Yum Yum sauce brings everything together with its creamy and tangy taste. This recipe is perfect for a quick and easy meal that will leave you feeling satisfied and happy. So fire up your wok or skillet, get your ingredients ready, and let's take a journey to flavor town! Don't forget to garnish with green onions for added freshness and color.
This recipe is perfect for those times when you want something quick, easy, and oh-so-satisfying. The New York strip steak is marinated in Worcestershire sauce and garlic, making it juicy and flavorful. The jumbo shrimp are coated in zesty Old Bay seasoning and lemon juice, adding a touch of coastal flavor to this Mexican-inspired dish.
When combined with ooey-gooey melted cheese and soft tortillas, these quesadillas are pure heaven! Top them with sour cream, salsa, or hot sauce for an extra kick.
Teriyaki steak and shrimp stir-fry is a flavor-packed meal that's easy to whip up in no time! The tender, juicy round steak pairs perfectly with succulent shrimp, cooked to perfection in a savory garlic and soy sauce mix. The angel hair spaghetti adds a perfect touch of texture to this delicious stir-fry.
With a blend of teriyaki, sesame oil, and soy sauce, this recipe has an unmistakable Jamie Oliver accent that will leave your taste buds wanting more. Garnish with fresh green onions and dig in!
This steak and seafood combo is a match made in heaven! These thick and juicy filet mignon steaks are seasoned with garlic powder, onion powder, salt, and pepper and cooked to perfection in a cast-iron skillet. While the steak is resting, the succulent shrimp and tender lobster are sautéed with all-purpose seasoning and served on top of the steak.
The creamy and flavorful sauce made with heavy cream, clam juice, white wine, and spices is the perfect accompaniment to this decadent dish. With each bite, you'll savor the delicious flavors and textures of this mouth-watering surf and turf creation.
Prepare to embark on a culinary adventure with this hearty and savory Spanish-style dish. Thinly sliced sirloin steak is seared to perfection and paired with smoky chorizo, zesty onion and red bell pepper, and fragrant garlic and oregano. The addition of Arborio rice simmered in a savory broth of beef, white wine, and diced tomatoes makes for a dish that is both comforting and satisfying.
The shrimp and peas add a touch of sweetness and vibrancy, rounding out the flavors and textures of this dish perfectly. Whether you're looking for a cozy dinner for two or an impressive dish for a dinner party, this recipe is sure to impress.
This recipe is a symphony of flavors and textures that will have you dancing in your kitchen! The tender Angus sirloin steak and plump shrimp are perfectly seasoned with a blend of spices, while the veggies add a crunchy and colorful touch to the dish. The buttery sauce ties everything together with a perfect balance of savory and sweet notes, thanks to the soy sauce, mirin, and chili sauce.
The final result is a warm and comforting dish that will satisfy your hunger and your soul. Serve it with rice or noodles for a complete and satisfying meal. Enjoy!
Steak and Shrimp Pasta Alfredo is the ultimate indulgence for any seafood and steak lover out there! The perfectly cooked steak is packed with rich and savory flavors from the marinade of soy sauce, Worcestershire sauce, garlic powder, Cajun seasoning, hot sauce, and brown sugar.
The shrimp is spicy and full of flavor, thanks to the Cajun seasoning. The creamy sauce made from cream cheese, heavy whipping cream, and Parmesan cheese is velvety and rich, perfectly coating every strand of penne pasta.
This Surf and Turf dish is the perfect blend of land and sea! A juicy ribeye steak is cooked to perfection in a cast iron skillet, infused with the aromas of fresh rosemary, thyme, and garlic. The shrimp is cooked in the same skillet, soaking up the savory butter sauce and the kick of Old Bay seasoning.
The result is a mouthwatering dish with perfectly balanced flavors of meat and seafood, spices, and herbs. Each bite is tender, succulent, and full of bold flavors.
Surf and Turf dish of Rosemary Filet Mignon and Keto Shrimp Scampi is the ultimate combination of flavors and textures! The juicy filet mignon is seared to perfection in a cast iron skillet, infused with the fragrant aroma of fresh rosemary.
The succulent shrimp scampi is cooked in a delicious blend of olive oil, shallots, garlic, and Pinot Grigio, seasoned with natural ancient sea salt, black pepper, and red pepper flakes. Topped with a generous amount of butter and fresh parsley, this dish is perfect for any special occasion or romantic dinner for two.
Bring a new level of flavor to your next dinner with these savory Surf 'N' Turf Pinwheels by Firehouse Grub. The dish is full of Creole flavors and has the perfect combination of cheese and shrimp wrapped in tender, juicy skirt steak. The creamy and zesty filling with bell peppers and shrimp makes it perfect for a summer BBQ or a special dinner with your loved ones.
It is seasoned with Tony's Original Creole Seasoning to give it a unique taste. Make sure to grill it to perfection and serve it hot.