Full disclosure, Staples provided me with this Samsung Chromebook to review. All thoughts and opinions expressed are my own. To see their full line of laptops and tablets, visit Staples.com.
Need software?
Staples has it.
Need a computer?
Staples has it.

MY LATEST VIDEOS
Need printer paper?
Staples has it.
Need school supplies?
Staples has it.
Need a tape dispenser shaped like a shoe or a dog?
Staples has it.
Need a desk chair?
Staples has it.
Need a TV?
Staples has it.
Need promotional products for your business?
Staples has it.
Need coffee?
Staples has it.
For home or office, Staples makes it easy to get the supplies and equipment you need at great prices.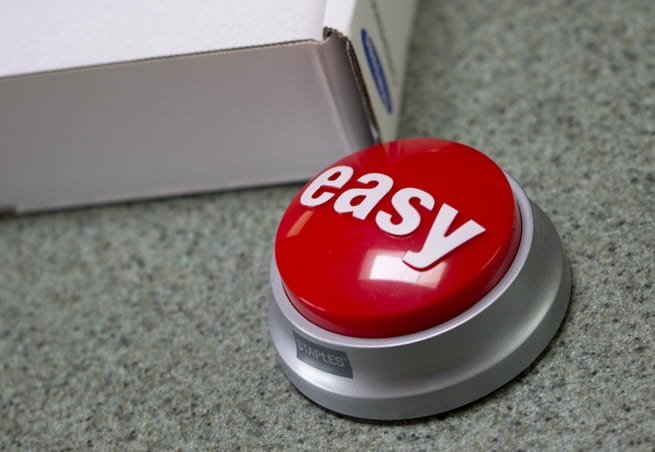 Need a Samsung Chromebook?
Staples has it.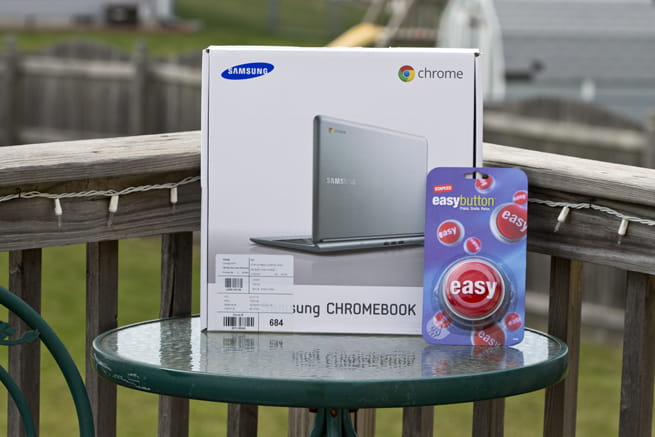 Staples wanted me to see how easy it is to get what I need and provided a Samsung Chromebook to review as part of my experience.
Samsung Chromebook from Staples
Product Details

The Samsung Chromebook XE303C12-H01US The (Always) New Computer!

The Samsung Chromebook is a new computer that helps you get everyday things faster and easier. It starts in seconds, has virus protection built-in, and runs your favorite Google apps plus thousands more. At just 2.5 pounds, 0.8 inches thin, and with over 6.5 hours of battery life, the Samsung Chromebook can go anywhere you go.

Samsung Exynos 5 Dual 1.7GHz 1MB Cache Processor
2 GB DDR3L 800Mhz Installed Memory
16GB Solid State Drive
11.6″ HD Anti-reflective Display (1366 x 768)
Google Chrome Operating System, which ensures a secure virus-free experience, it updates itself automatically and storage in the Cloud means secure, convenient access to your data
* With the XE303C12-H01US 3G model, Verizon will provide up to 100MB per month of Mobile Broadband Service for two years.
What the heck is a Chromebook?
I admit that I really had no idea what a Chromebook was prior to receiving the Samsung Chromebook from Staples. I knew it had something to do with Google and that it was a more affordable laptop. Beyond that, I knew nothing. I had no information and therefore no expectations.
But I was quite excited because it's technology and it came from Staples.
And they sent me an "Easy Button" which I have always wanted after seeing the commercials.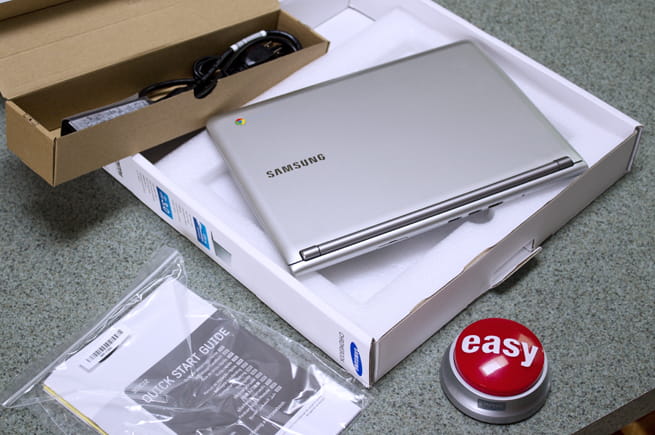 The Chromebook is the size of a "netbook" computer. Smaller than your typical laptop but not as small as a tablet. It's light and thin and easy to take with you wherever you go. It also doesn't take up too much room on my kitchen counter unlike my old laptop which seemed to use half the counter space. I like having a computer in my kitchen for meal planning and recipe creation.
In the box was the Chromebook, a power cord and a thin "quick start guide."
Setting up the Chromebook
Traditionally setting up a new PC takes awhile. I was prepared to spend a couple of hours setting it up, performing software updates and installing internet security. Not to mention setting up my most-used programs.
Let's just say I ended up with a lot of free time afterwards because setup took literally minutes.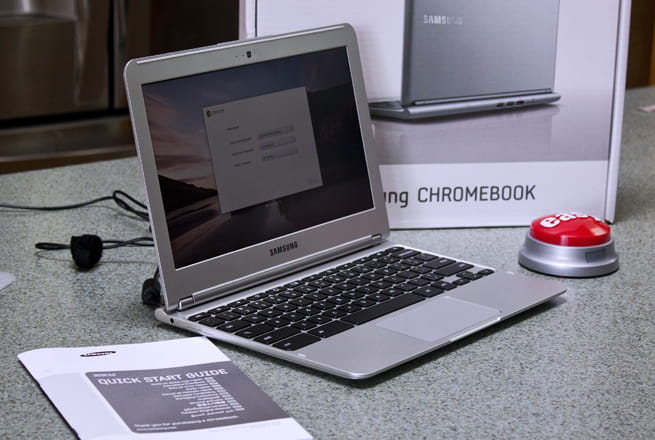 The Samsung Chromebook boots up FAST. Faster than even sleep mode on my regular desktop. No more getting up to get a cup of coffee to wait for the computer to load. It's that fast.
When you first turn on your Chromebook, setup is really as simple as a few minor preferences and then logging into your Google account.
And away you go!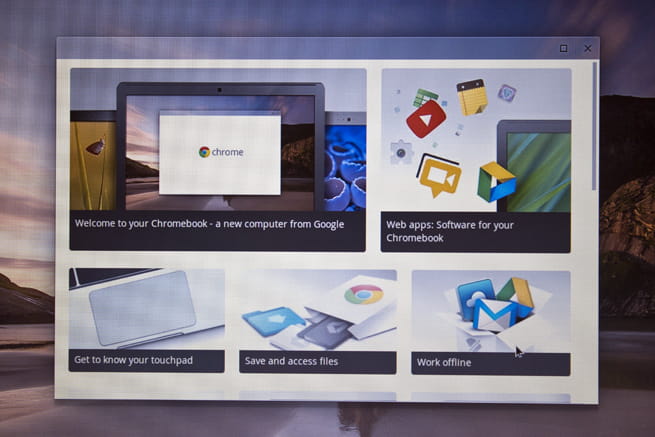 Chromebook software
The Chromebook feels and looks like a laptop, but the software makes it act more like a tablet.
Sleek.
Streamlined.
Intuitive.
You can use the extra large touchpad to interact with the software or add an external mouse.
Chrome, which we all know as a PC browser, acts as it's own operating system with apps standing in for programs and running within the familiar Chrome browser interface. It syncs with your Google account including your bookmarks, saved passwords, and any other information that is part of your Google profile on your PC. Save something on your Chromebook and you can access it on your PC, or even mobile devices if you have the Chrome app installed on them. It makes your productivity seamless and you will never lose your data.
The Chromebook does not allow you to install programs in the traditional sense – it runs off of apps from the Chrome Web Store, all that load via the Chrome browser. With a huge library of available apps, you can do just about anything you need from photo editing and word processing to accounting and games.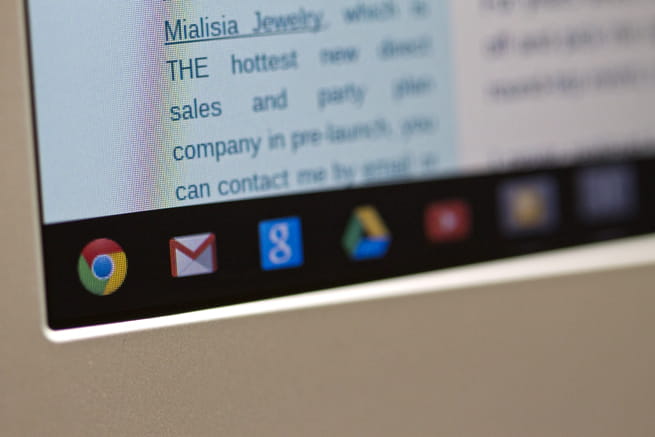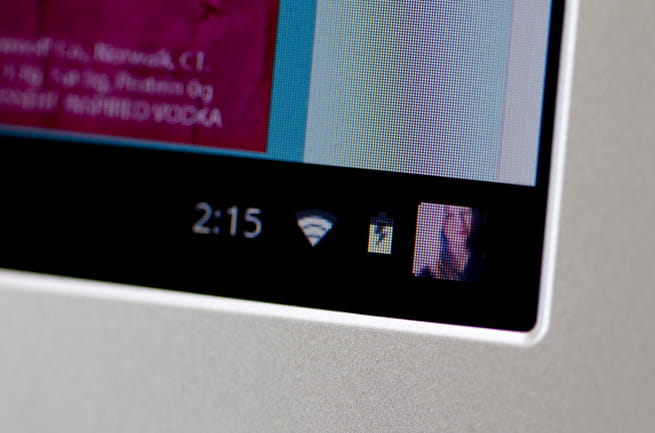 The Chrome "operating system" requires no maintenance and the updates to the software occur quietly in the background. They do not appear to affect the usage of the computer and there is no downtime short of a few seconds to reboot – which you do on your terms, not theirs. Chromebooks also have security built in. You don't need extra security software to keep you safe from viruses and malware and your documents are saved to Google Drive so you won't lose your work and you have access to them on whatever device you choose.
Chromebook hardware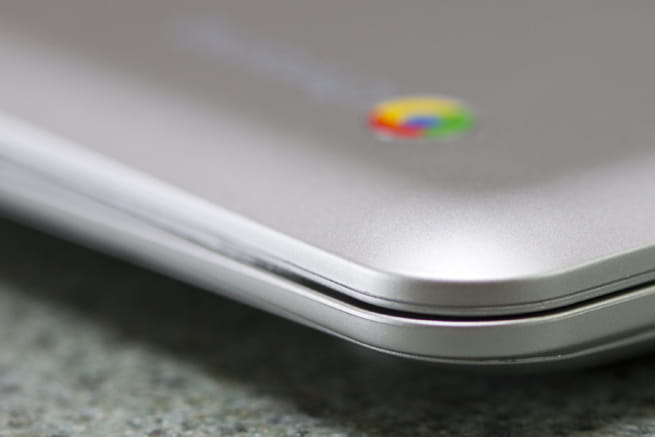 The Samsung Chromebook from Staples, as I mentioned, is thin and lightweight. It is compact but feels sturdy and well-built. The keys feel responsive and not at all flimsy and the touchpad, though it takes some getting used to, is also responsive and very generous in size to make it easy to use.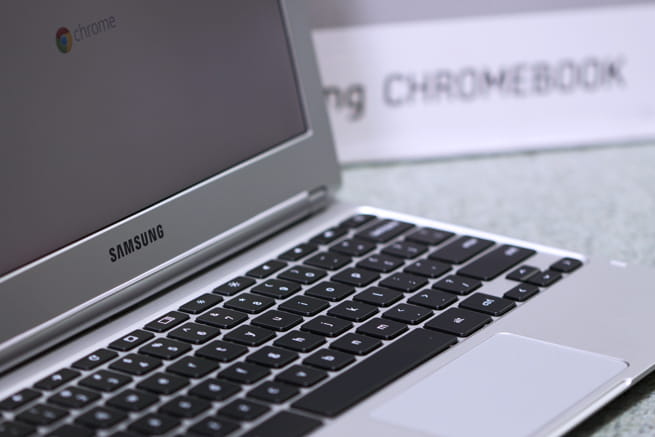 There are 2 USB ports on the side of the Chromebook and an HDMI port. There is also an SD Card slot and a headphone jack. The Samsung Chromebook is Bluetooth compatible for external mouse usage.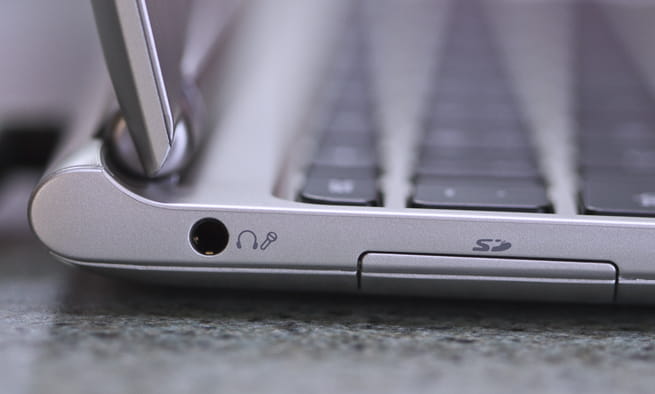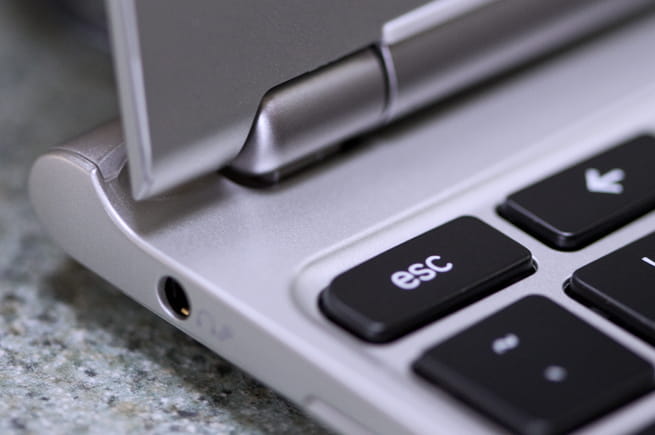 Perfect for families
The Chromebook is easy to share among the whole family. Each user has their own personal account that is easy to switch between with their own settings, Google accounts and features. There is also a "guest mode" so you can allow someone to use the Chromebook without providing them access to your personal profiles.
Additional features
Verizon Mobile Broadband
The Samsung Chromebook is available in a WiFi enabled version or a WiFi + 3G version. With the WiFi + 3G version you get up to 100MB per month of Verizon Mobile Broadband Service for two years. After that you can continue to pay for additional service.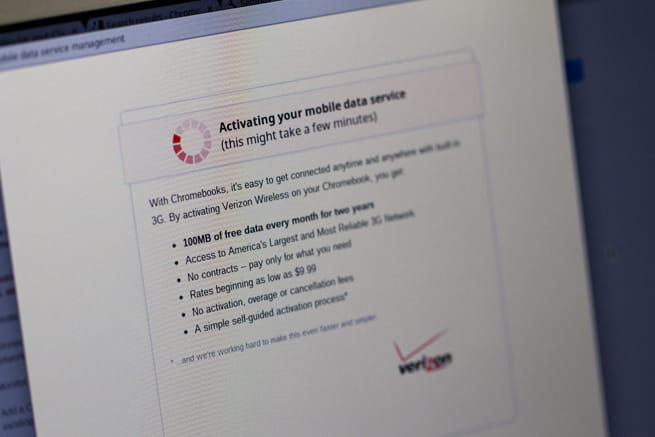 Free Google Drive storage
The Chromebook comes with 100GB of storage with Google Drive. This storage allows you to seamlessly sync your documents and photos and protect against data loss.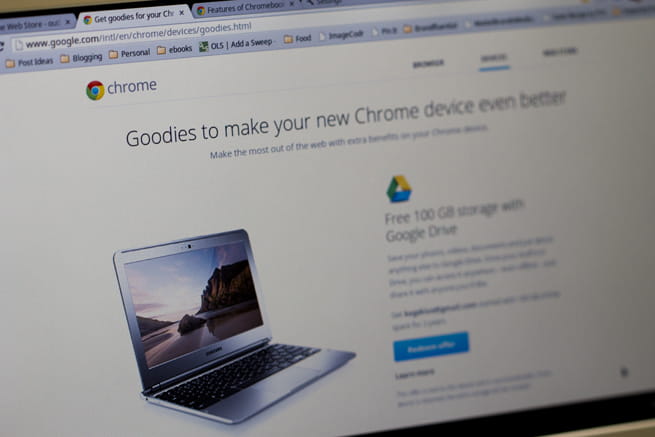 Gogo Inflight WiFi
For the mobile warrior, the Samsung Chromebook from Staples also comes with Gogo Inflight wireless service. You get 12 FREE passes that you can use for in-flight internet for 2 years on domestic flights.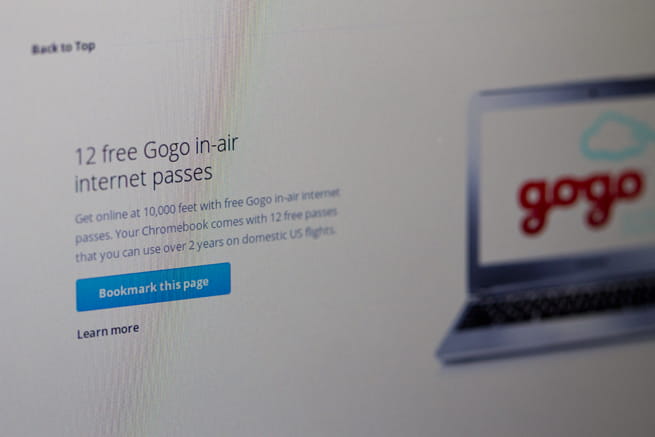 A few of my favorite things
The Samsung Chromebook from Staples has become a great addition to our technology filled lifestyle and fills a void I didn't even realize was there. It is an extension of my desktop computer but is portable and easy to take with me both around the house and on the road.
As a blogger it provides me with a full keyboard and quick, clean access to my blog interface any tools I need in order to upload and edit photos.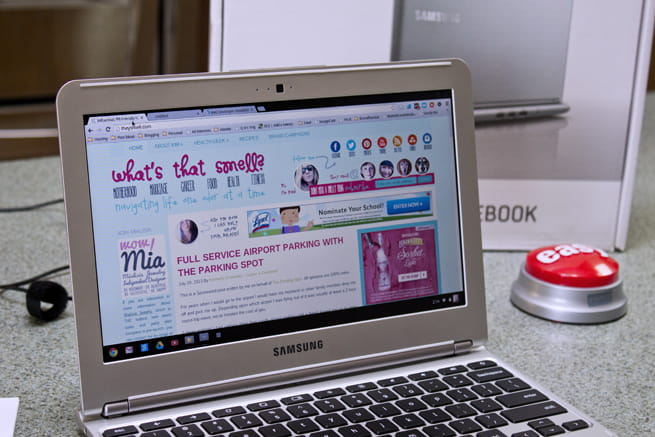 I love that everything syncs seamlessly between all my devices and the fact that the Chromebook is a simple interface that is fast loading and doesn't require extra software to stay secure.
It also does something that my iPad doesn't.
A very important something.
It lets me play Candy Crush Saga right from Facebook.
I also find that the battery life is impressive and it actually tells me how many minutes I have left to run on the battery.
Room for improvement?
There is nothing I can think of that I would change about the Samsung Chromebook. For what it is, it is perfect. Lightweight, fast, syncs to all of your Google accounts and combined with the extra features like the free 3G service from Verizon and the Gogo Inflight internet, it really is a home run. Combined with the totally affordable price, it is a great mobile tool to keep you connected and productive.
Staples has it!

The Samsung Chromebook is worth a second look if you are in the market for a new laptop. If you don't have a need to install programs, it is an affordable and reliable solution for home and business use, especially if you need something that syncs easily and keeps you connected. It's also a great option for teens and college students who need something portable and that allows them to take notes and write papers quickly and easily.
The Samsung Chromebook WiFi version is only $249.00 at Staples and right now there is a special on the Samsung Chromebook WiFi + 3G version – only $279.99 at Staples through August 10, 2013.
Staples Rewards Members also get 5% back in rewards on every purchase in store and online. It's free to join and you get free shipping as a member when you shop at Staples.com.
Are you interested in the Samsung Chromebook from Staples?
What feature are you most interested in?
Is there anything that surprised you about the Chromebook?