Just when it seems like spring will never come, we realize that it's right around the corner. You need to look no further than the birds chirping and the greener grass to see evidence of its impending arrival. To help celebrate this beautiful and amazing season, Amazon's award-winning children's series Tumble Leaf has a brand new springtime special called Spring-a-ling Surprise that premieres on Amazon Prime Video on April 4th. Inspired by the new special (we got a sneak peak), my daughter and I came up with a fun craft that we call a Look and Find Spring Sensory Bottle.
Note: this post is sponsored by Amazon's exclusive show Tumble Leaf and their new Spring-a-ling-Surprise springtime special.
Tumble Leaf is an Amazon Prime (Try Amazon Prime 30-Day Free Trial
) exclusive animated series for preschoolers. The main character Fig, a blue fox, spends his days finding adventures, friendship, and love with his animal friends. It's colorful and vibrant with beautifully detailed animation and meaningful storylines. It's adorable, and my daughter and I both enjoyed watching the Spring-a-ling Surprise special.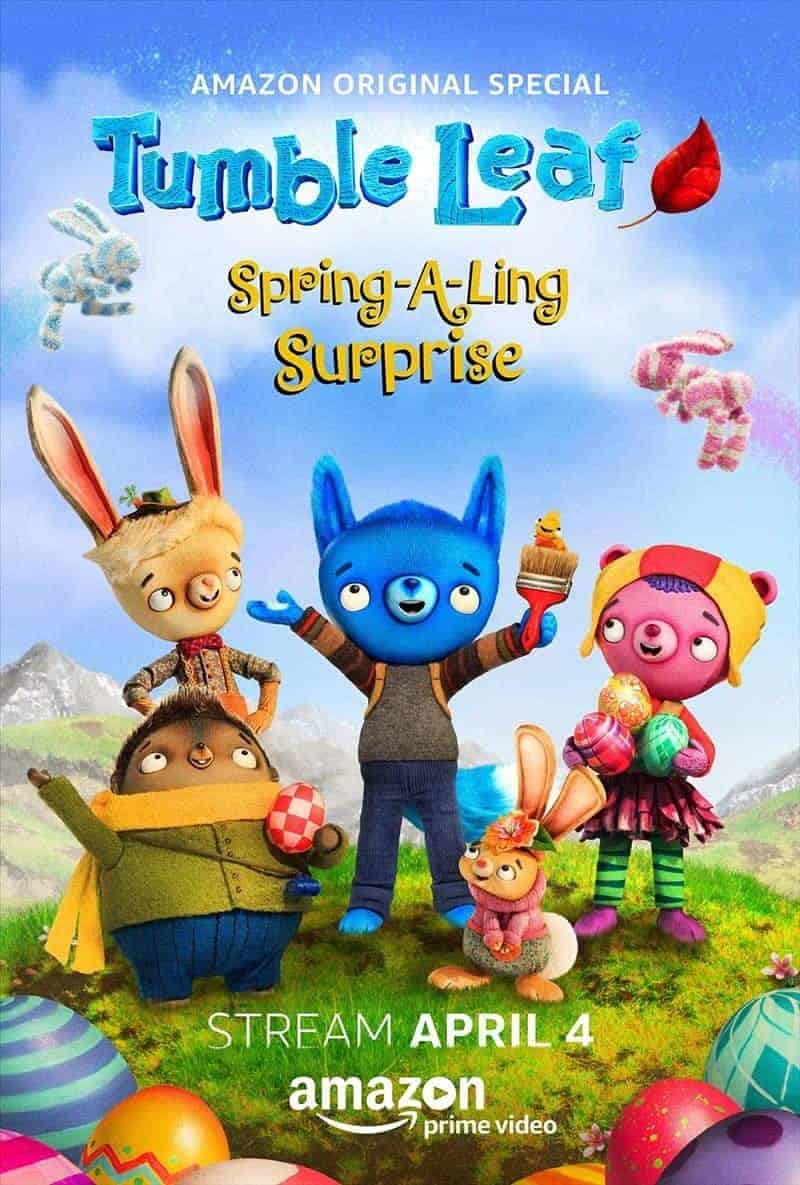 Check out the official trailer!
Our Look and Find Spring Sensory Bottle craft was inspired by a theme in the special that I'm not going to give away, but let's just say it has to do with finding or uncovering some lost things.
Look and Find Spring Sensory Bottle
Items required (per bottle):
2 cups of white rice or orzo
2 tsp white vinegar
1 – 500ml water bottle (empty and dried with label removed)
Small themed toys or mini erasers
food coloring
funnel
You will also need a container with a lid, some paper towels and a cookie sheet for use in dying the rice or orzo. Glue for the lid is a good idea too.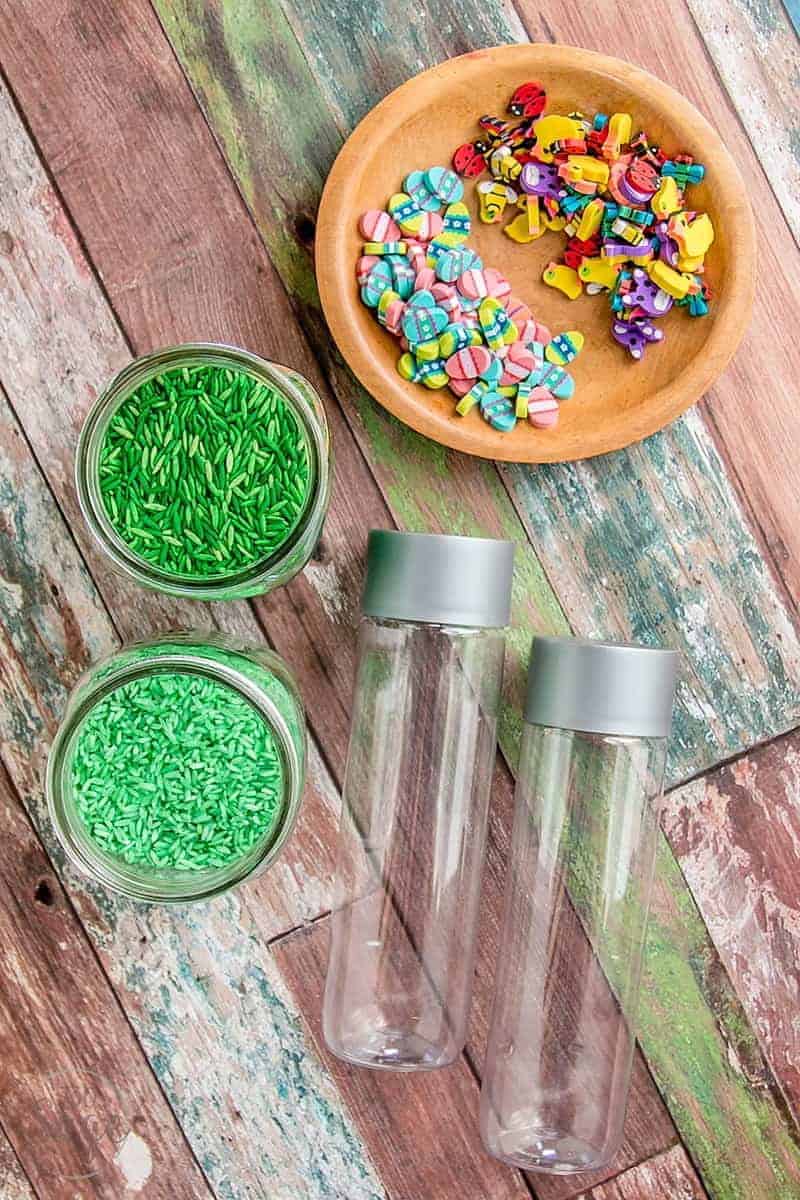 I like to use Voss plastic water bottles because they are smooth and the lids are as wide as the bottle making them sleek and more professional looking. The labels peel off quite easily.
We found mini erasers on Amazon and at Target. The erasers are a perfect size and so cute.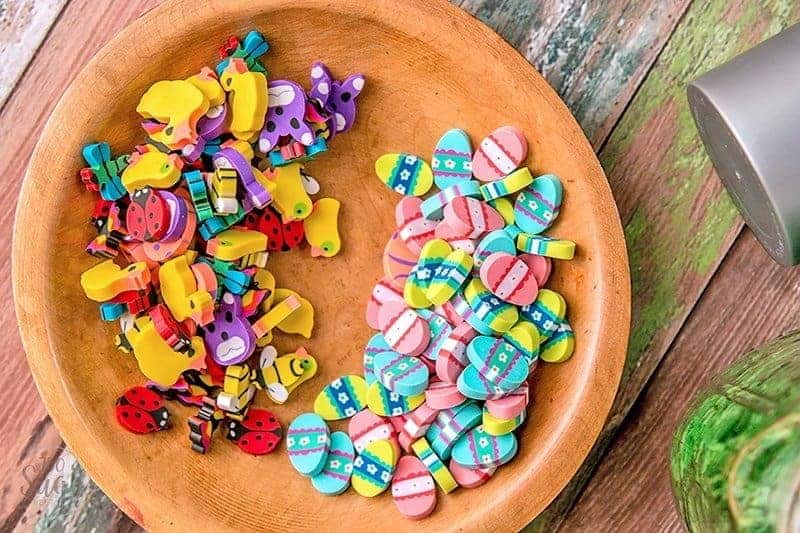 How to make:
Dye the rice:
The first thing you need to do is dye the rice or orzo. The process takes about an hour or so to allow complete drying. The longer you allow it to dry, the better. Place 2 cups of orzo or white rice into a container with a tight lid. Pour the vinegar into the rice and then drop 5-15 drops of food coloring into it. The amount you use depends on how dark you want the color. I used ten drops for this craft. As you can see, the rice seemed to absorb more of the color which made it lighter. Then you put the lid on your container and shake it vigorously until the color gets dispersed throughout the rice. Then line a cookie sheet with a paper towel and pour the rice or orzo out onto the towel. Spread out as much as possible and allow to dry.
Fill the bottles:
We filled the bottle about halfway using a funnel.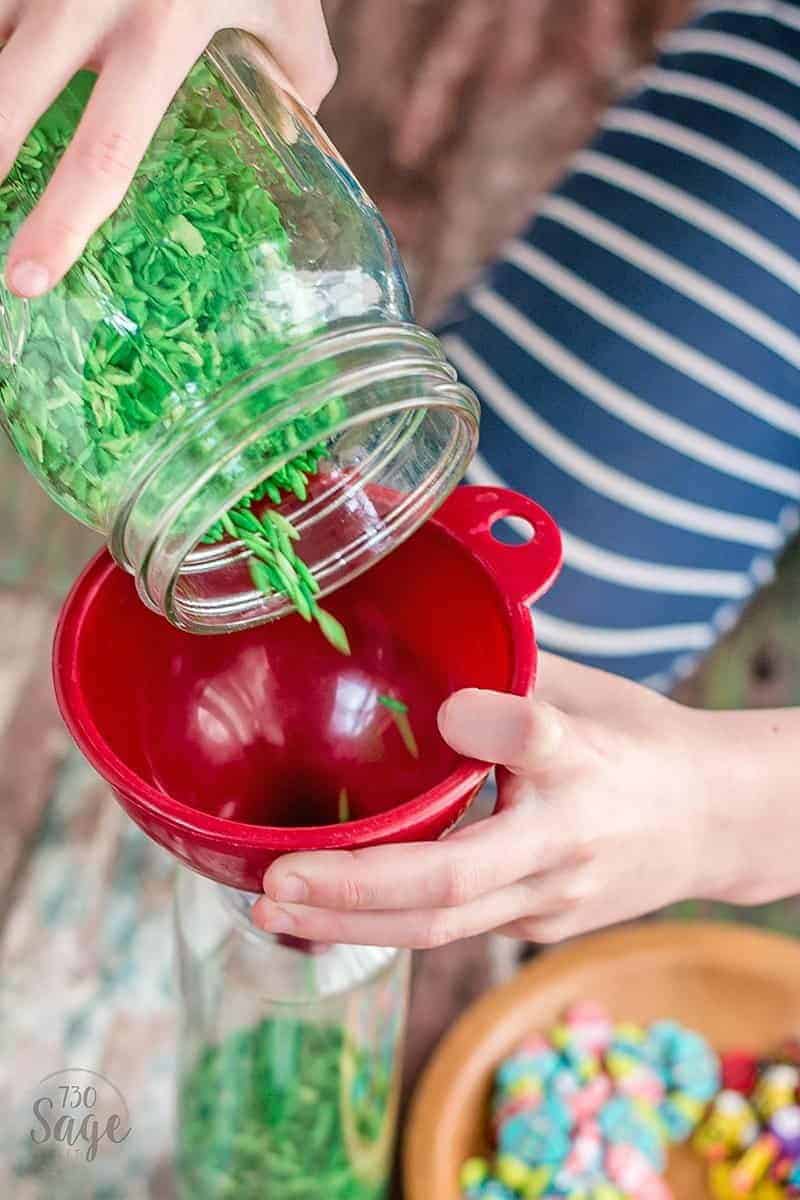 Then we added 10-15 mini erasers. You can add more or less depending on size and personal preference.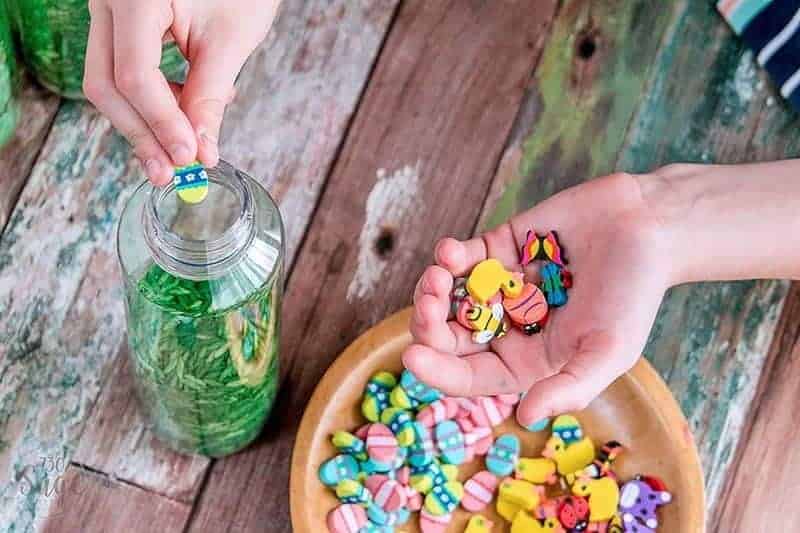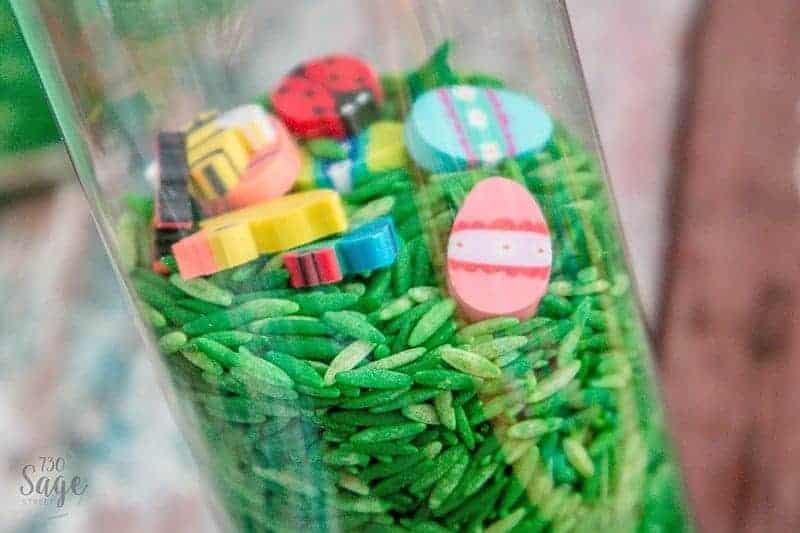 We then filled the bottle the rest of the way up, leaving about 1/2″ of space to allow for movement. We didn't quite use all two cups of the rice; there was a small amount left.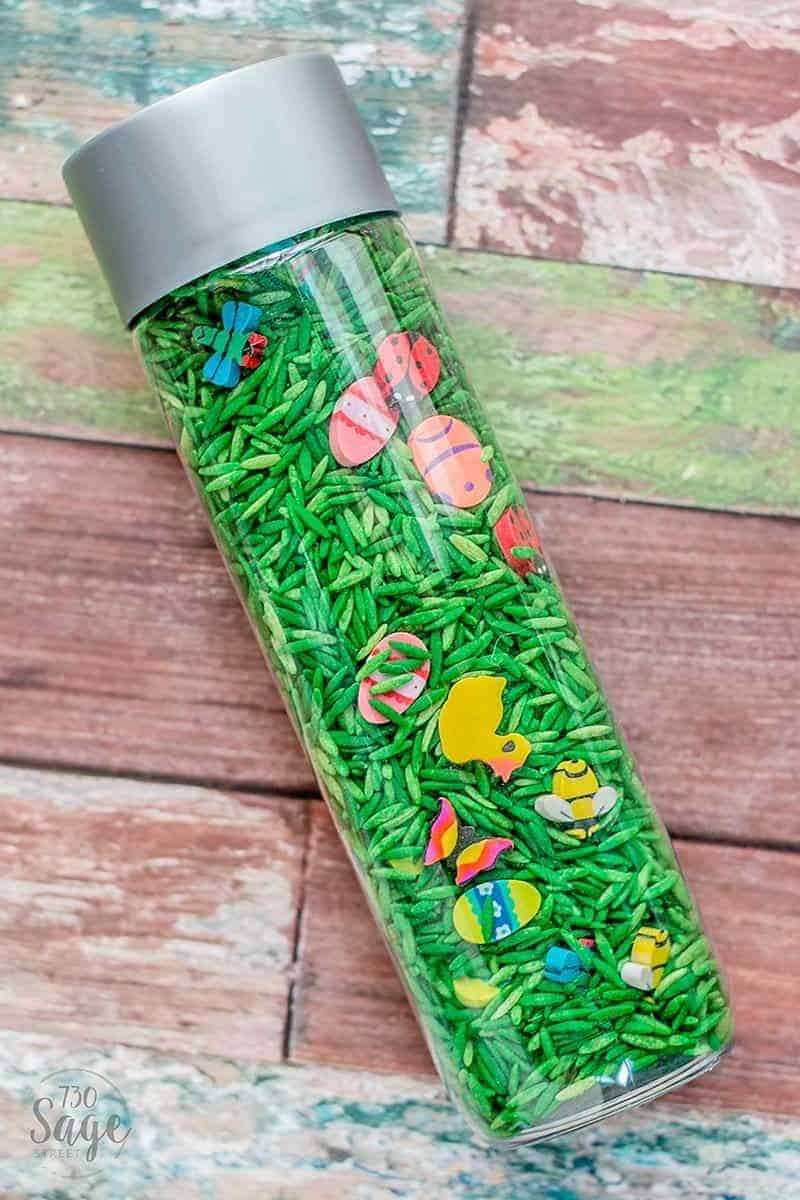 We then glued the lids on and shook the bottles up.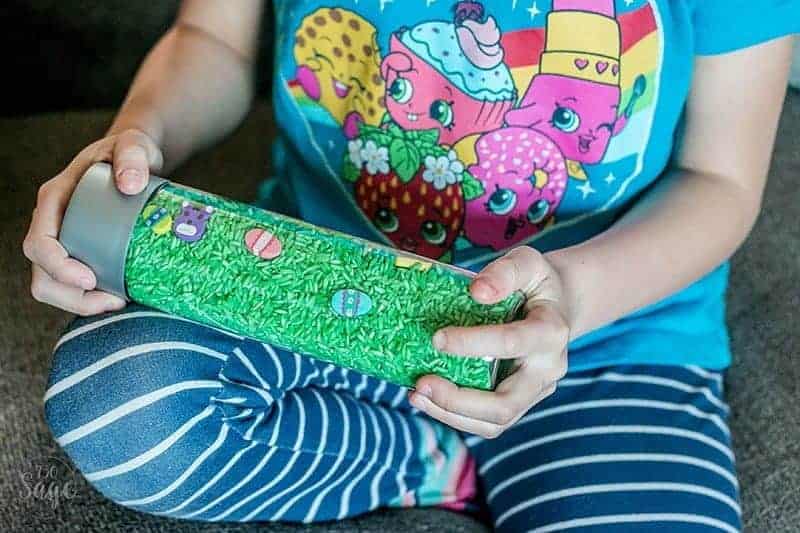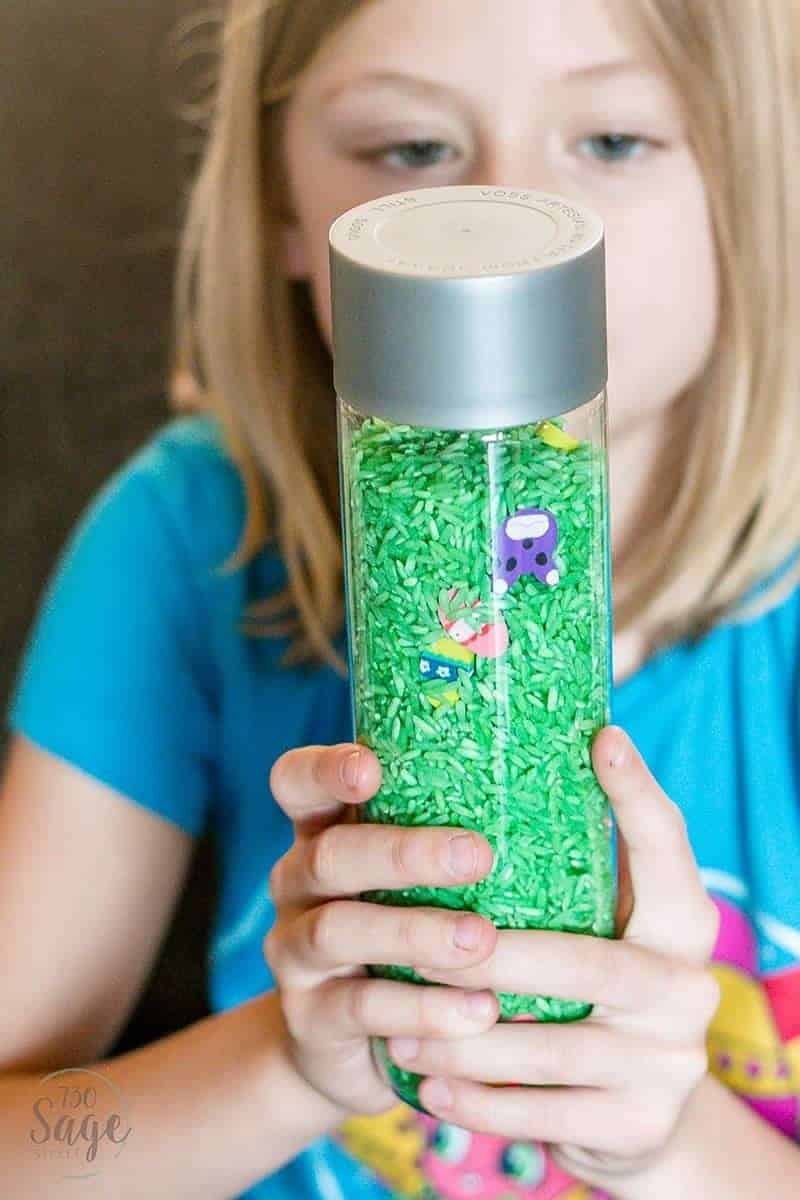 You can turn this bottle into a game if you use 15 completely different items in the bottle. You then create a list of the things and make it a game to find all of them. So fun!
Don't forget to tune into Spring-a-ling Surprise starting on April 4th on Amazon Prime and use the image below to Pin our fun craft on Pinterest.