My son is a huge sports fan.
Baseball, basketball, football, tennis, running, swimming; no matter what the sport, he is interested in doing it and reading about it.
Every time the newspaper comes in the house he asks "can I have the sports section?"
In addition to the newspaper sports section, he is a huge fan of Sports Illustrated Kids and every month when the issue hits the mailbox he goes into his room and reads it cover to cover. I love that there is something targeted to his love of sports but geared towards kids. I don't have to worry about him reading magazines targeted more towards adults.
One of the things I like about Sports Illustrated Kids, in addition to him being able to read about some of his favorite athletes, are the stories of regular kids who do something extraordinary.
Will Thomas
In the July issue of Sports Illustrated Kids, is a feature about a young man named Will Thomas. Will is a 14-year old who founded Operation Hawkeye, which is a mission that raises support for U.S. Special Operation Forces and military families. The July issue, which is currently available, also features First Lady Michele Obama who talks about her Let's Move! Active Schools push to get kids moving throughout the academic day.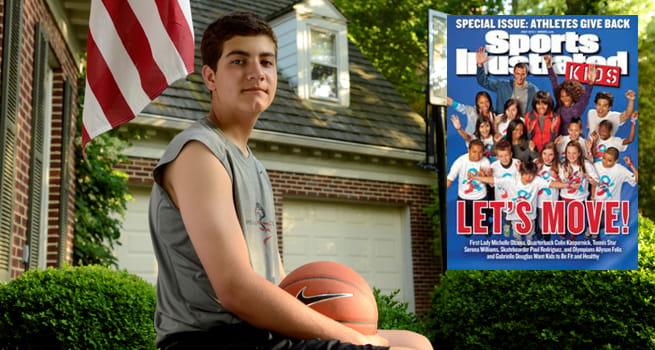 You can learn more about Will on the Sports Illustrated Kids Facebook Page. There you will find a video about his inspirational story and you are invited to share how your family is using sports to help your community this year.
About Operation Hawkeye
Inspired by a tragic military event in the summer of 2011, the then 12-year-old Will Thomas committed himself to shoot 17,000 baskets in his driveway as a way to privately honor our fallen heroes.  As others in the community learned of Will's challenge they began pledging money for every basket made.  The feat took him nearly 60 hours to complete and began a mission whose goal in 2013 is to raise over $300,000 for military forces and their families.

Sports Illustrated Kids believes Will is an example of how even kids can change their communities and is inviting others across the country to join Will in his next challenge.  The E17 Free Throw Challenge is a 60-day basketball event where kids all over the country will attempt 1,700 (individual) or 17,000 (team) basketball free throws in an effort to raise money and awareness for military families.
Get Involved
If you would like to get involved in Operation Hawkeye and inspire your kids to be like Will, they can join him in his next challenge, the E17 Free Throw Challenge. To register individually or as a team visit: http://www.ophawkeye.com/e17.  Participants will receive recognition from the U.S. Special Operations Command as well as an Operation Hawkeye bracelet. The individual or team that raises the highest donation will receive further recognition and a special prize.
I love that Will can inspire kids to get active and help a worthy cause at the same time. As a military family, supporting a cause that helps provide support to fallen military members killed in the line of duty, is something near and dear to our hearts.
Subscribe to Sports Illustrated Kids
You can purchase the July issue of Sports Illustrated Kids on newsstands or through iTunes, Amazon Apps, Google Play or Nook Apps stores. Or you can subscribe here: www.sikids.com/subscribe.
I can't wait to for my son to read this issue and I bet he will be excited to participate in the E17 Free Throw Challenge!
I'd love to hear if you child will participate!
Join our newsletter!
Subscribe to get updates and great stuff via email including subscriber-only goodies like free printables and giveaways.

Our blog is participating in a sponsored blog ambassador program from Sports Illustrated Kids. As a part of this program, we have received paid compensation and a year subscription for placement of digital advertisements and specific postings related to SI Kids.