This post was sponsored by Lowe's as part of an Influencer Activation for Influence Central and all opinions expressed in my post are my own.
I'm not exactly sure that you can technically call the area near my front door a "porch" but it's the only front porch I have so that's what I call it. I have always dreamed of having a real front porch where I can put rocking chairs and plants and decorations for every season. And maybe one day I will have my dream porch. But in the meantime, I have to make the most of what I have.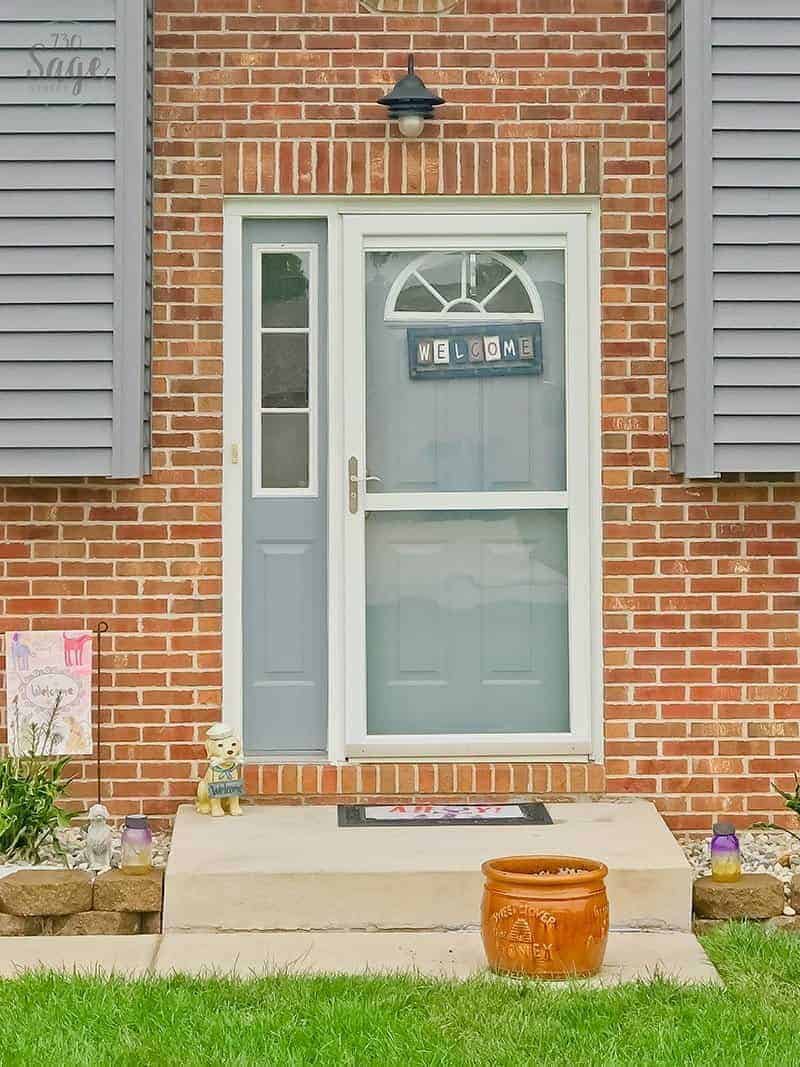 It's small, but it's mine.
But, it's really difficult to find decorations that I can put up on the porch where they don't get into way or get knocked over when we are coming in and out of the house. In the past what we have been able to do was very difficult to see and hardly stood out at all. My daughter had even insulted my efforts last year saying "that's not spooky." Ouch, kid. Ouch.
Another challenge we have around here is the wind. We live in a rural area and everything seems to want to blow away! And being in Indiana, the decorations need to be able to stand up to rain and cooler temps too.
But this year I plan to up my game. My goal is to elicit a "wow, that's spooky" out of her. And with the help of some Halloween Decorations I bought at Lowe's, I just may have achieved my goal.
I was like a kid in a candy store shopping at Lowe's. They had so many great options, I can't tell you how many times I put stuff in my cart, then found something I liked better. They have everything from cute characters like Mickey Mouse and Minions to creepy skeletons and everything in between. And their selection of Halloween inflatables and lighting was quite impressive. They also had a fantastic selection of indoor Halloween decor as well.
Spooky Halloween Decor for a Small Front Porch
Things to keep in mind when decorating a small front porch for Halloween:
Keep it simple
Don't create tripping hazards
If you have a door that opens out, make sure you account for the swing of the door.
Lights and sounds can go a long way towards creating the ambiance you are looking for
Choose durable options if your front door is used frequently
With my ultimate goal of finding the spookiest available decor options, Lowe's did not disappoint in providing a big selection of Spooky Halloween decor for a small front porch. The items I settled on for on the porch were sturdy enough for our weather and to withstand the traffic that comes and goes through a heavily trafficked front door. I also chose a couple of hanging decor items, a doormat and my most favorite item, a projector with sound.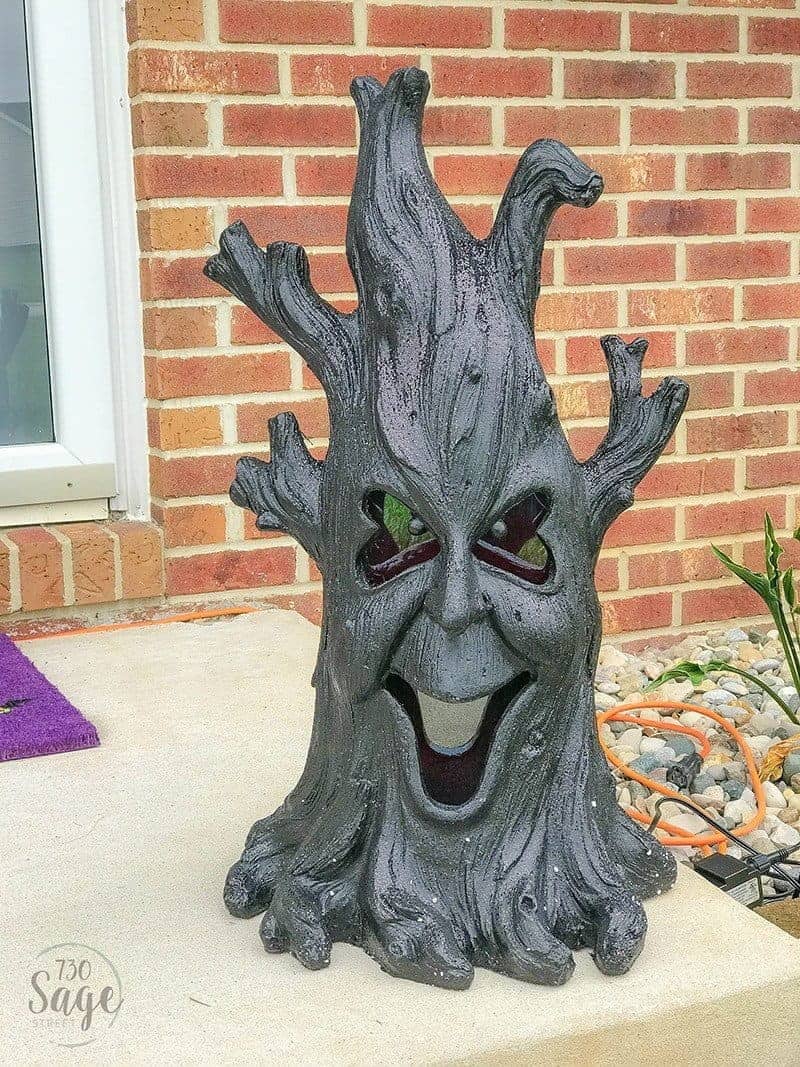 I love this guy. He is one of the first items I settled on and had to have. The Holiday Living Pre-Lit Tree Greeter with Constant Red Led Lights has a black glittery finish and when plugged in at night, looks like he is on fire behind his eyes and mouth. It's awesome!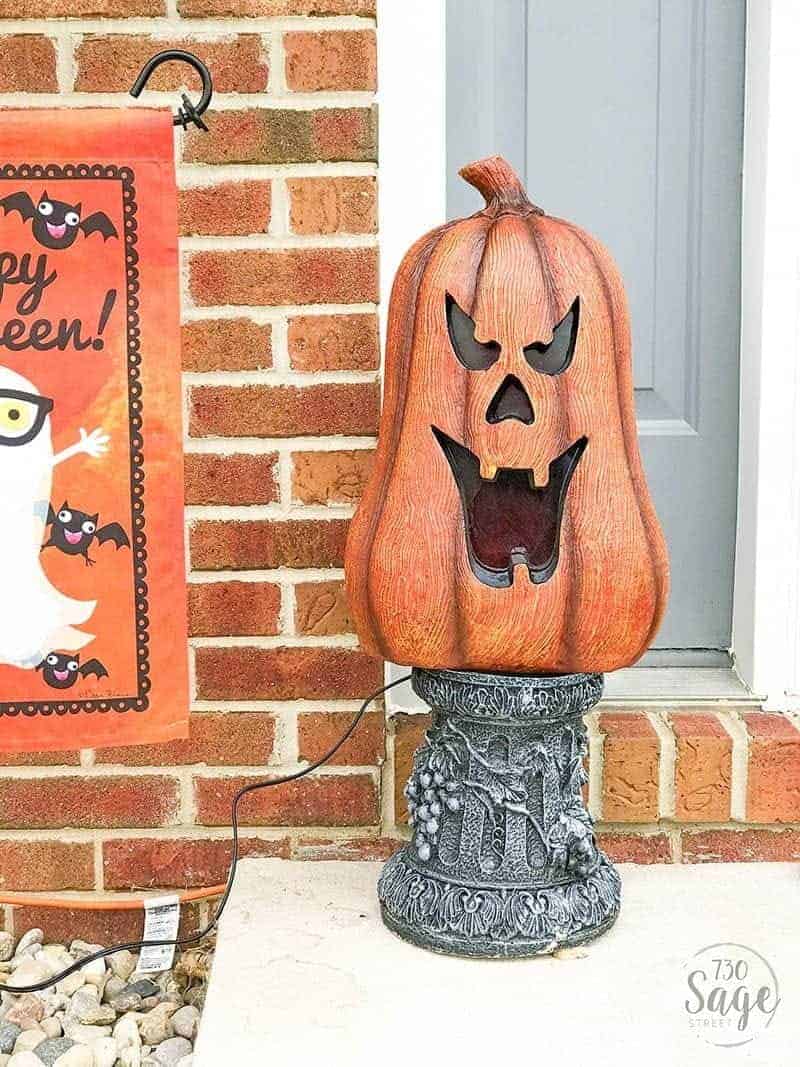 The Holiday Living Pre-Lit Pumpkin Greeter with Constant Red LED Lights is the perfect compliment to the spooky tree greeter. It glows like the tree and I set one on each side of the door, so you have to pass between their glowing faces. I added the Halloween Garden Flag because the ghost was just too cute to pass up.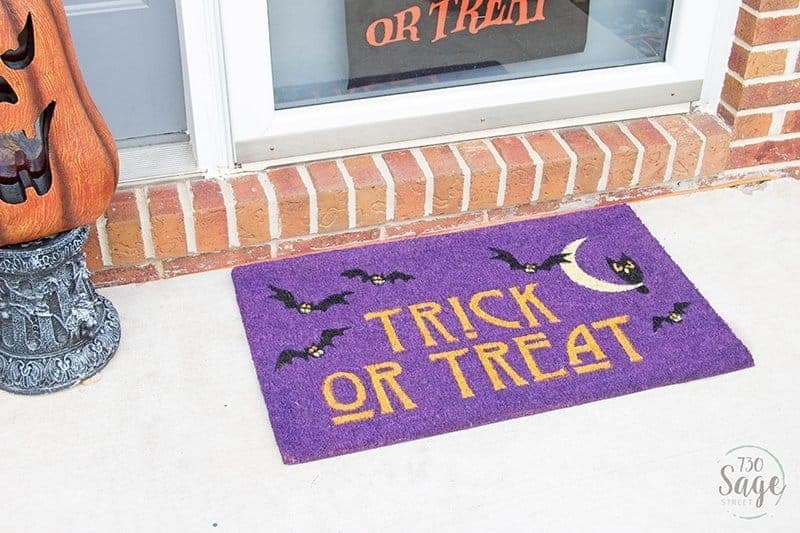 Of course, you have to have a doormat, and this Trick or Treat Rectangular Door Mat was perfect. I loved the purple and the bats. It will welcome trick-or-treaters as we scare them with our other spooky decor.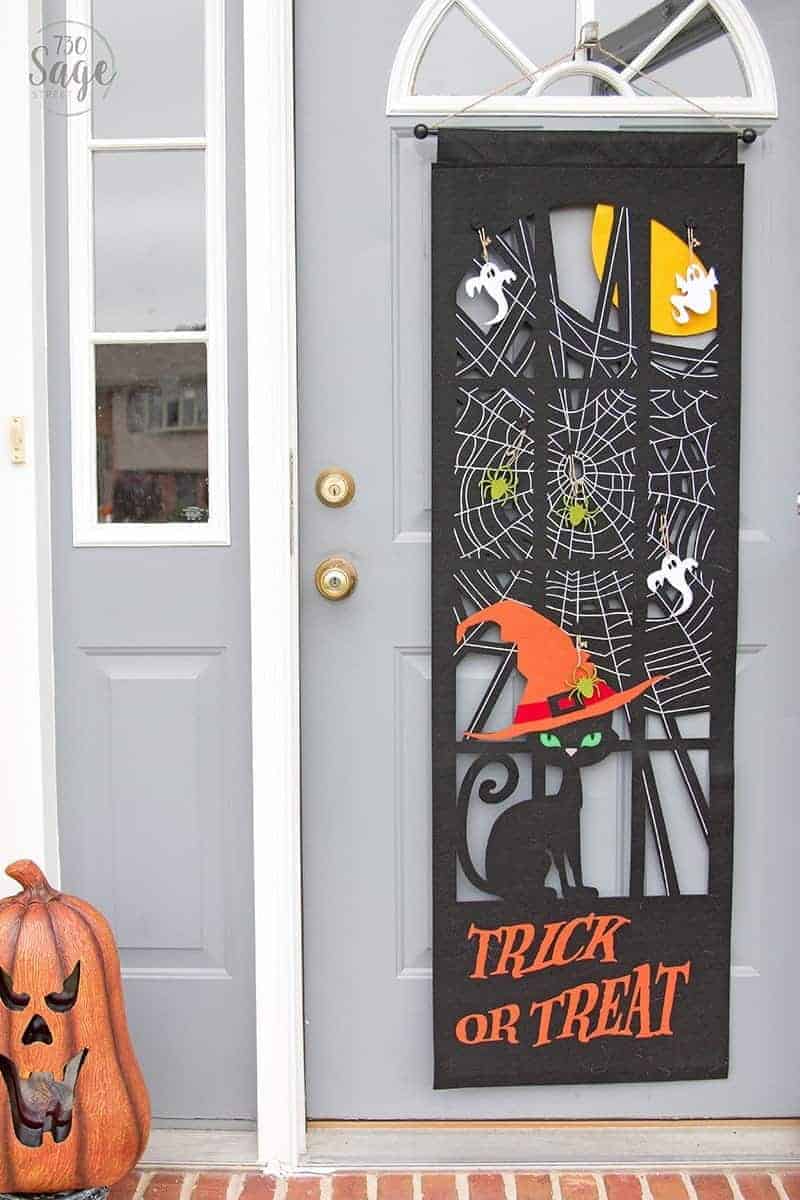 Lowe's had some really cool looking Halloween wreaths but I wasn't sure if they would fit between my doors, so I was super excited to find this Holiday Living Cat Door Banner. This way the whole door is covered and the colors help tie the whole design together.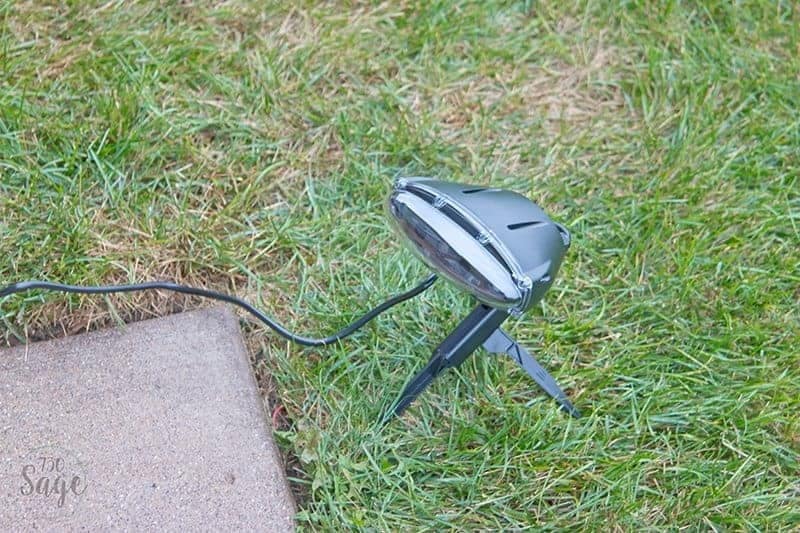 The final and my most favorite is this Gemmy Projection W/Sound Multi-Function White Led Multi-Design Halloween Outdoor Sound Projector. It completes the spooky ambiance and while it is focused on the front entry, expands past it to make the whole front of the house seem spooky. The sounds are so realistic, I looked out the window thinking it was raining out.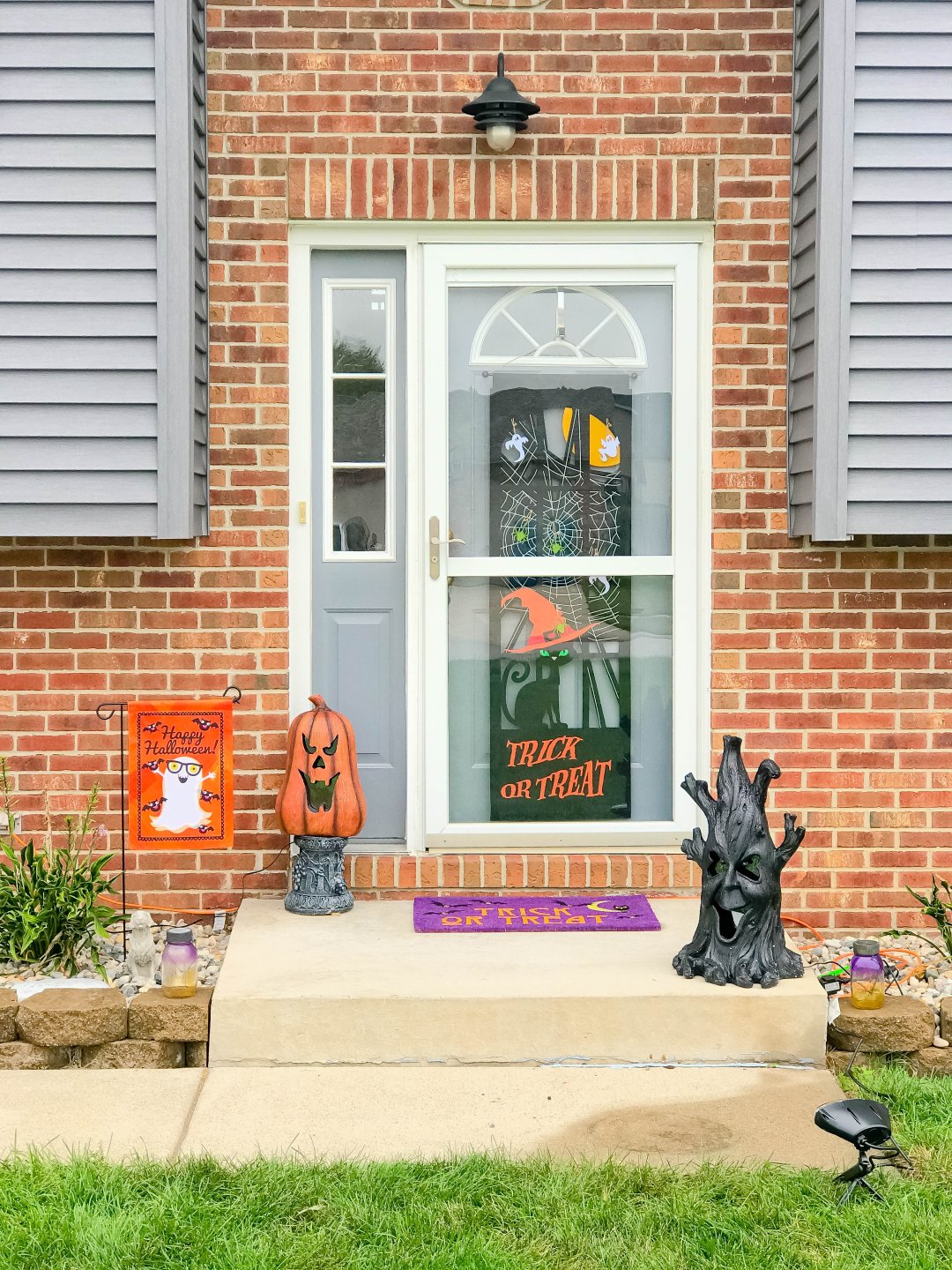 I'm super happy with how it looks during the day. It definitely has a great Halloween vibe without limiting the function of our porch. But at night. At night is when the magic happens.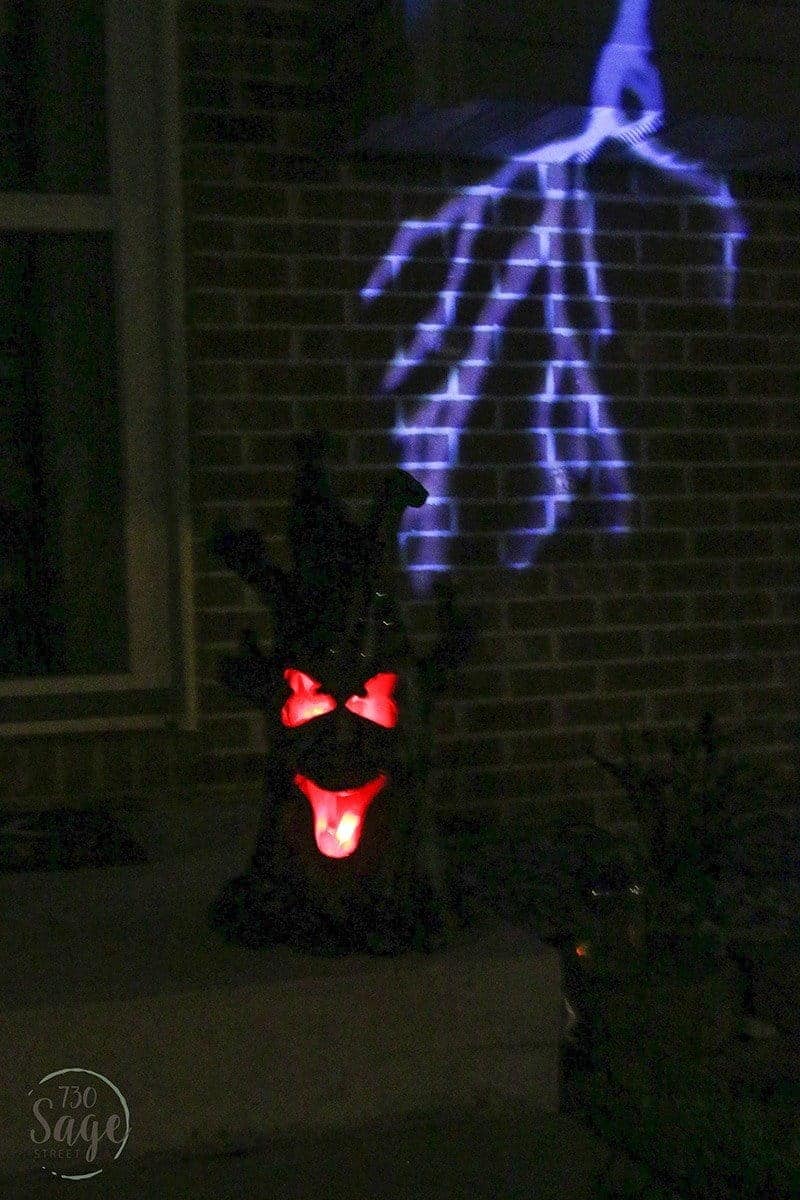 The glowing eyes and crackling lightning transform it!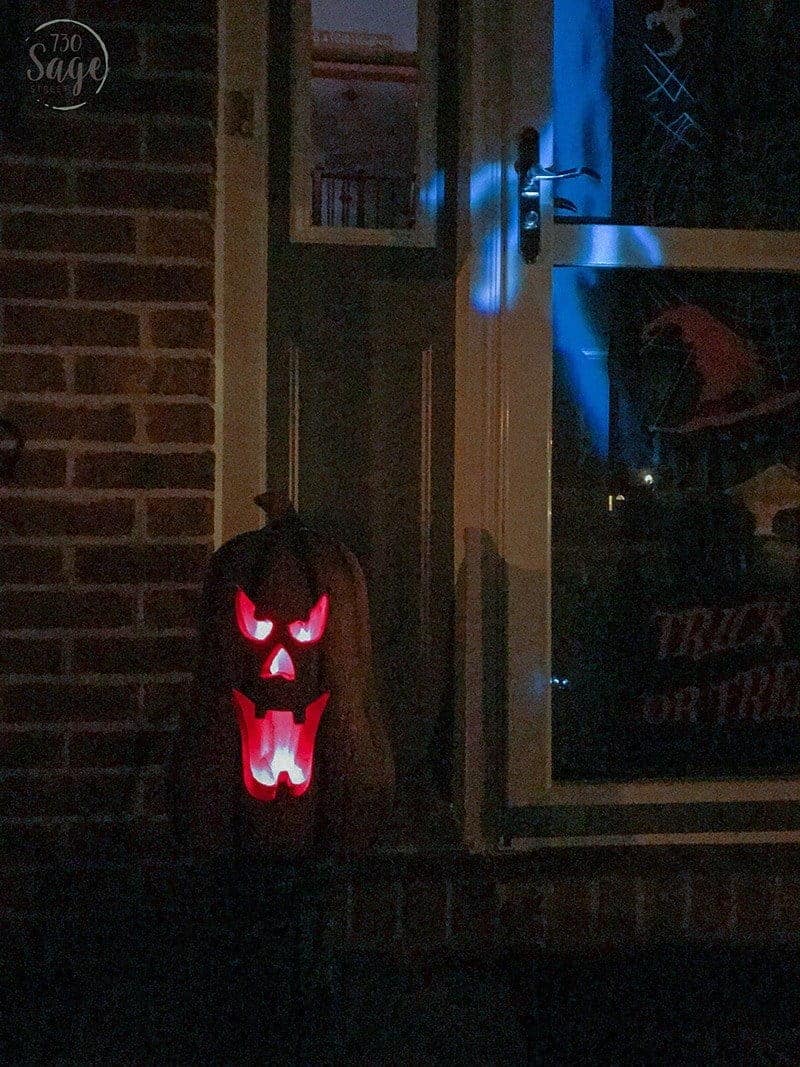 My daughter said "oooh that's cool and spooky."
Mission accomplished!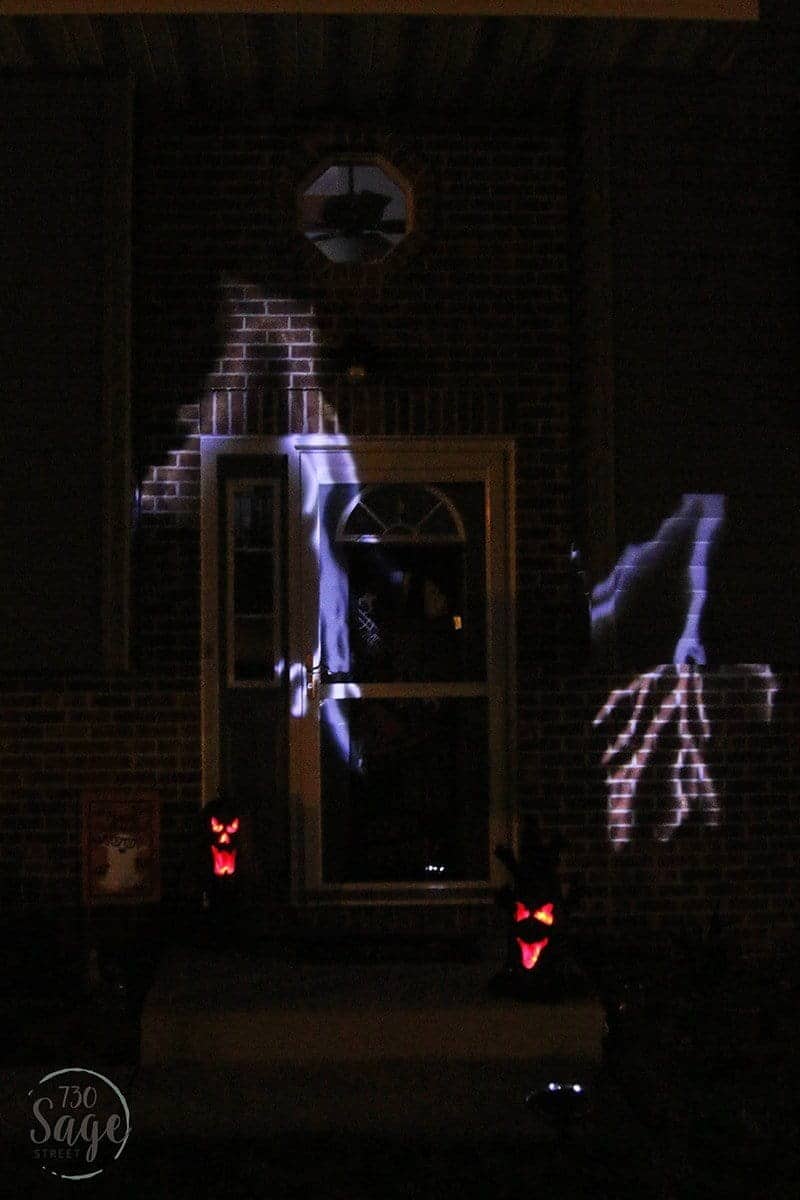 And take look at the video with the added sound from the projector. I can't wait for Halloween!
The only thing missing is a fog machine and Lowe's actually had one, so I'm headed back to pick one up!
Cool right?
You can transform a small front porch with super spooky Halloween atmosphere using a few well-placed items, and Lowe's has everything you need to bring your ideas to life.