What elementary school boy isn't a fan of Spongebob Squarepants?
Mine definitely is a fan plus he is very much a "type A" personality, so when you mix Spongebob with a clock radio alarm clock, you've got the perfect distraction!
Until now, my son had a regular old clock radio and even when he didn't have to be up for anything he would set his alarm for a specific time each day.  Seven-year-olds just don't appreciate sleeping in yet.
But now, with his Spongebob Squarepants clock radio alarm clock, he's even more obsessed with settings his alarm each morning – because now it's even more fun!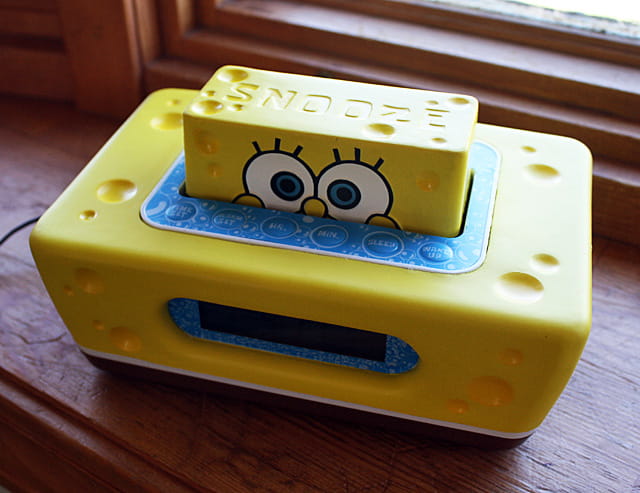 The Spongebob Squarepants alarm clock is made by Sakar International and it is the coolest alarm clock I've seen in a long while.
It's bright yellow, has a soft spongy body and when the alarm goes off, they center part with Spongebob's eyes pops up.  And forget the traditional alarm clocks sound, this clock comes with 4 different sounds you can wake up to in addition to the radio.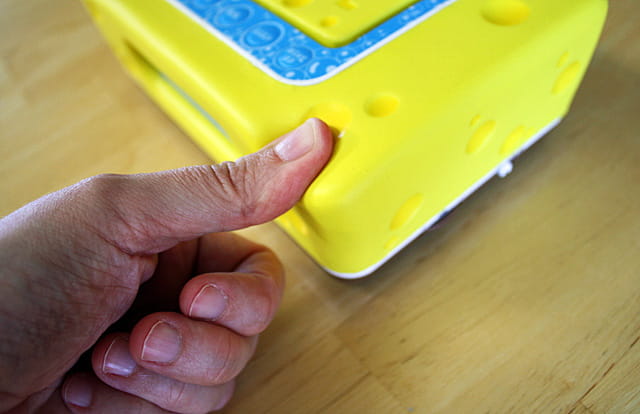 Here's a few words from my son about it:
The Spongebob Squarepants alarm clock has five kinds of alarms.  They are a seagull,a radio,a foghorn,a marimba and a ukelele.  The color of it is mostly yellow but it has some blue and white also.   Included functions for this clock radio are: AM/FM Radio, built-in speaker, and snooze button.
The blue backlit display adds to the fun giving it an underwater feel at night and the Spongebob clock radio has an input so you can connect an iPod or other mp3 player to it and listen to your music through the radio.
Take a listen to a few of the alarm sounds, plus I think it is great that you can set the volume for the alarm sounds as well:
Overall this alarm clock is a big hit.  It's adorable and fun and he uses the radio and alarm every day.  The quality seems good, I did have some trouble pressing the buttons to get the time set, but he doesn't seem to have a problem with them.
The iPod/mp3 connection works really good and is easy to setup, but you can't set the volume too high because it gets kind of fuzzy but it's perfect for him sitting in bed listening to his music.
The Spongebob Squarepants Alarm Clock Radio with Pop-Up Snooze is a great gift idea for the Spongebob fan in your life!  You can purchase it at Toys R Us for $24.99.
Note: we received the product shown in order to facilitate our review.  Opinions expressed are our own.