Discover the power-packed goodness of spinach in these 15 invigorating smoothie recipes. Blending together the vibrant flavors of fruits and the nutritional punch of spinach, these smoothies offer a refreshing and wholesome way to fuel your day.
From creamy green breakfast smoothies to energizing post-workout options, this article is your go-to resource for delicious and nutrient-rich smoothie inspiration.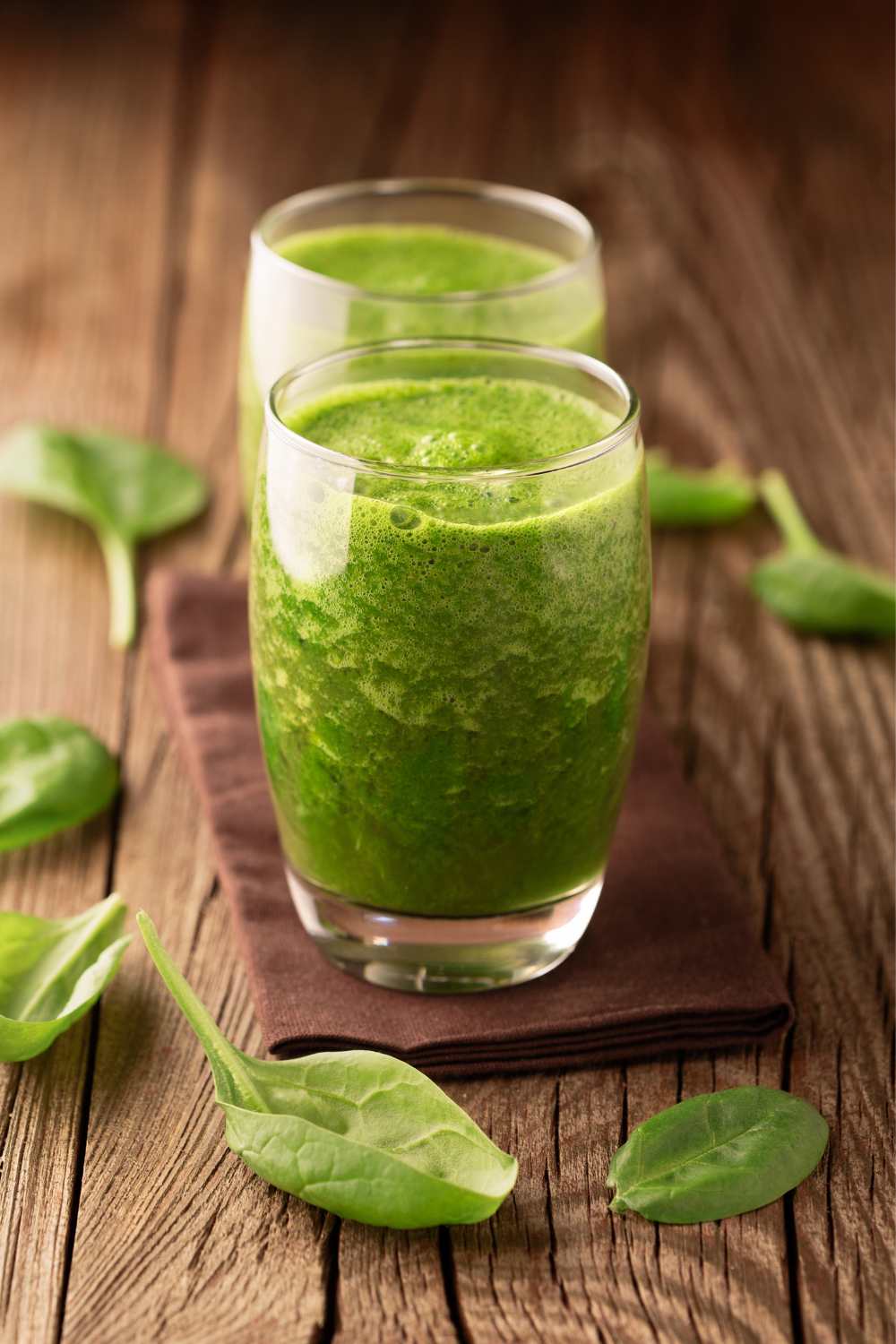 What Are The Best Types Of Spinach For Smoothies?
There are six excellent types of spinach to choose from when making smoothies, and they each have their own unique benefits:
Baby Spinach: Delicate and tender, baby spinach blends smoothly, adding a mild, slightly sweet taste to your smoothies.
Flat Leaf Spinach: With its broad leaves, flat leaf spinach offers a more robust flavor and texture, bringing a satisfying bite to your blends.
Savoy Spinach: Recognizable by its crinkled leaves, savoy spinach is packed with vitamins and minerals, adding a delightful earthy taste to your smoothies.
Bloomsdale Spinach: Known for its dark green, crinkled leaves, bloomsdale spinach boasts a rich, bold flavor that brings a robust depth to your smoothie creations.
Malabar Spinach: Although not a true spinach, Malabar spinach is a great alternative with its fleshy leaves, providing a mild taste and a unique touch to your blends.
Red Spinach: Vibrant and visually appealing, red spinach adds a splash of color to your smoothies while contributing a mild, slightly earthy flavor.
15 Smoothie Recipes With Spinach
Experience the rejuvenating power of spinach with these 15 sensational smoothie recipes. From energizing blends to refreshing fruity concoctions, get ready to invigorate your day with a sip of pure goodness:
Picture yourself sipping this Pomegranate Green Smoothie on a sunny balcony overlooking lush gardens. A leafy embrace of fresh spinach meets the vibrant tang of pomegranate seeds, the duo creating a delightful dance of flavors. Creamy avocado steps in, adding a buttery texture that you'll find irresistible.
The subtle sharpness of lemon juice and the nourishing punch of protein powder complete this refreshing ensemble. In just a whirl in the blender, you'll have a revitalizing drink that's both delicious and incredibly easy to prepare. Sip away and soak in the goodness!
Take a moment to imagine yourself in a tropical paradise with our Best Green Smoothie. The sweet melody of frozen pineapple and mango chunks transports you to a beach, where the sun is warm and the waves are lapping at the shore.
A touch of ripe avocado gives the smoothie a luscious creaminess, while a hint of ginger provides a gentle, spicy kick. Fresh organic spinach and unsweetened almond milk bring a wholesome balance to the mix. Feel free to sprinkle in some hemp seeds or flaxseed meals for an extra nutritional boost.
Experience the magic of a dewy morning in a blueberry field with this captivating Blueberry Smoothie. The lead role is played by frozen blueberries, their sweet-tart flavor making your heart sing.
Supporting roles are skillfully performed by fresh spinach and old-fashioned oats, bringing a wholesome touch to the blend. The plot thickens with a swirl of plain Greek yogurt and a dash of your favorite milk, while an optional whisper of cinnamon adds a hint of warmth. It's an enchanting story of flavors, ready to unfold in your blender.
Step into the vibrant world of greens with our Pineapple Green Smoothie, a healthful delight that'll perk up your morning routine. This smoothie, rich with the goodness of spinach and the tropical notes of pineapple, is just the energizing drink you need.
Balanced with the creaminess of vanilla yogurt and the versatility of your choice of milk, it'll make you feel like you're sipping a little bit of sunshine. Easy to whip up, it's a splendid way to start your day or perfect for a mid-afternoon pick-me-up.
A fruity delight awaits you with our Mango Spinach Smoothie. Imagine savoring the tropical sweetness of mango and the comforting essence of banana, all blended smoothly with fresh spinach. The touch of honey adds a gentle sweetness, while the creamy yogurt gives a luxuriant mouthfeel.
This smoothie is a delightful way to introduce a pop of nutrients into your day. Whirl it up, pour it into your favorite glass, and experience a refreshing moment of bliss. Remember, the freshness of this smoothie is key to enjoying its full flavor and nutrient power.
Welcome to the exciting world of our Hide-The-Veggies Chocolate Spinach Smoothie. Imagine savoring a rich, dark chocolate flavor, made even better with the sweet harmony of blueberries and bananas. You'll hardly notice the fresh spinach skillfully hidden within this creamy treat.
Thanks to the vanilla yogurt, every sip is smooth and satisfying. Plus, it's a sneaky way to add some greens into your daily routine. This smoothie is your secret weapon for a tasty, nutrient-packed start to the day or a guilt-free afternoon treat. Enjoy it while it's icy cold!
Unleash the day with our Peach Green Smoothie, a delightful blend of frozen peach slices and fresh spinach. This smoothie carries the sun-kissed sweetness of peaches, enhanced by a dash of sweetened peach juice.
The addition of milk provides a creamy texture that makes each sip a dream. Beneath the fruity layers, you'll find the subtle yet essential touch of spinach, a secret ingredient that lifts the nutritional profile of this delightful concoction. Enjoy it straight from the blender for the most refreshing experience.
Prepare to be captivated by our Easy Banana Spinach Smoothie, a delectable blend that feels like a warm hug in a glass. Creamy Greek yogurt and silky almond butter join forces to create a rich texture, while the banana adds a familiar, comforting sweetness.
The smoothie is powered up with a scoop of vanilla protein powder, making it an excellent post-workout option or a filling breakfast. The crown jewel is, of course, a generous handful of spinach, effortlessly infusing your day with a green energy boost. Blend, pour, and savor the smoothie's velvety goodness.
Our Green Apple Smoothie is like a refreshing stroll through an apple orchard on a sunny day. Imagine the tart crunchiness of Granny Smith apples, mingling with the comforting sweetness of frozen bananas.
The surprising addition of ginger paste adds a zingy warmth to the mix, while lemon juice provides a citrusy brightness. The spinach brings a beautiful green hue and a healthful boost. All swirled together with a splash of milk for a creamy, dreamy texture. This smoothie is a delightful way to wake up your senses and nourish your body.
Experience a delightful burst of berries with our Triple Berry Green Smoothie. This radiant blend combines the sweet-tart flavors of frozen raspberries, strawberries, and blueberries with the revitalizing power of fresh spinach.
Every sip is invigorated with the zesty kick of orange juice, while additions like flax and chia seeds contribute an excellent nutrient punch. The scoop of protein powder and a dollop of Greek yogurt (or your preferred dairy-free alternative) provide a creamy, satisfying base. Enjoy it as a thick, luscious smoothie, or freeze it into popsicles for a refreshing, healthful treat!
This tropical green smoothie is like a little vacation in a glass. Dive into the enticing blend of frozen banana and mango, as they swirl together with creamy almond-coconut milk. Baby spinach lends a vibrant green hue and a nutritional boost, while the scoop of plant-based vanilla protein powder ensures a fulfilling experience.
The tiny chia seeds add a fun texture, and a sprinkle of shredded coconut on top gives the final tropical touch. Sip this smoothie and imagine a gentle breeze under a palm tree. The ultimate relaxation in a glass!
This carrot and spinach smoothie is a refreshing dive into the garden. Picture the earthy sweetness of carrots and the crisp, juicy apples blending harmoniously with the refreshing zing of ginger root. A banana lends a smooth, comforting base, while the orange infuses a citrusy delight.
The spinach takes this blend to another level of wholesome goodness. Blend this vibrant mix, pour it into your favorite glass, and immerse yourself in its revitalizing flavors.
Embrace the bold and beautiful with our Sweet Spinach Beet Smoothie. This delectable blend invites you to savor the earthy richness of a medium beet, complemented by the nutritional powerhouse that is spinach.
Imagine the sweetness of a ripe banana harmonizing with the tartness of blueberries, while an apple adds a crisp and refreshing touch. The magic happens when all these ingredients meet in a blender, with a splash of water or plant milk for a silky texture. Pour it out and bask in the rosy hue - it's a feast for your eyes and a treat for your palate!
Start your day with a refreshing journey to tropical bliss with our Kiwi Banana Smoothie. Embrace the vibrant green hue that comes from the perfect combination of 1 ½ cups of spinach, 2 medium-sized bananas, and 2 kiwis.
Add a touch of creaminess with ½ cup of almond milk, creating a luscious texture that will leave you craving more. With a quick whirl in the blender, experience the harmonious blend of flavors dancing on your palate. Savor this nutritious delight right away to fully indulge in its goodness.
Kickstart your mornings with our vibrant and nutritious Date Smoothie: Green Breakfast Smoothie. This delightful blend combines the natural sweetness of a ripe banana, the tropical flavors of frozen mango chunks, and refreshing baby spinach.
With creamy richness from Medjool dates, rolled oats, and almond butter, it's a wholesome meal in a glass. For an extra boost, sprinkle hemp seeds on top. Indulge in this revitalizing concoction and embrace the boundless energy it provides.