Prepare to be wowed by the wonderful and nutritious tastes of spinach in 15 different lasagna recipes!
These dishes integrate the leafy green vegetable in imaginative and tasty ways, ranging from typical meaty lasagna to vegan and gluten-free versions.
Enjoy the richness of creamy garlic sauce, layers of pasta, and cheesy delight while feeding your body with spinach's health benefits.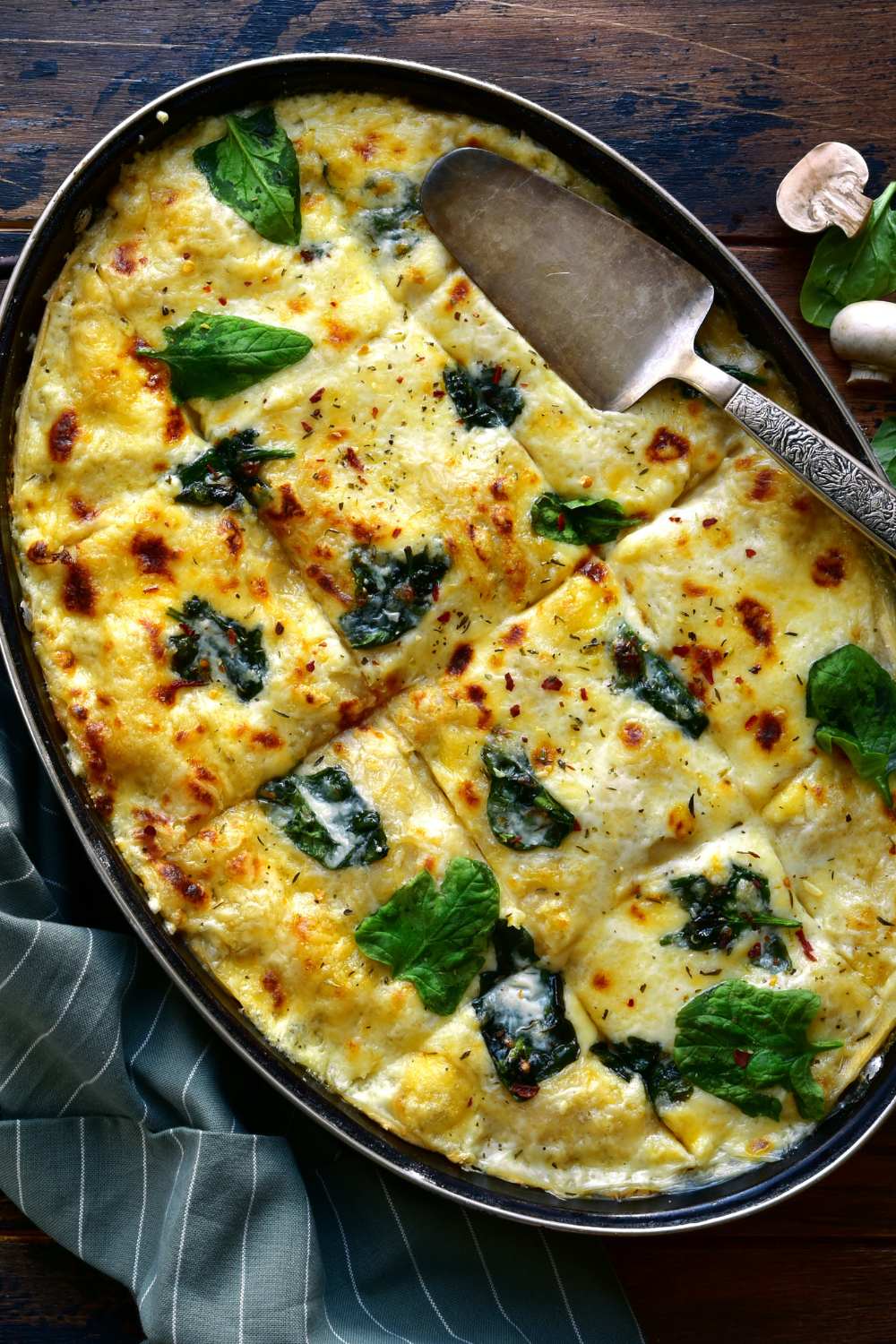 Can I Substitute Fresh Spinach For Frozen Spinach In Lasagna Recipes?
Yes, fresh spinach can be used as a substitute for frozen spinach in lasagna recipes. Just ensure that the fresh spinach is washed, dried, and roughly chopped. Fresh spinach should be sautéed lightly in olive oil to remove excess moisture before using it in the lasagna recipe. Frozen spinach, on the other hand, is already cooked and drained of moisture, so it can be used directly in the recipe.
Can I Prepare Most Of These Lasagna Recipes In A Slow Cooker?
Yes, most lasagna recipes with spinach can be cooked in a slow cooker. Slow cookers are an ideal choice for busy cooks who want to prepare lasagna ahead of time. To cook lasagna in a slow cooker, assemble the lasagna in layers in the slow cooker and cook on low heat for 4-6 hours. The exact cooking time will depend on the recipe and the size of your slow cooker. Just be sure to check the recipe instructions for any specific tips or modifications for slow cooker cooking.
15 Lasagna Recipes With Spinach
From traditional meaty lasagnas to vegan choices, these 15 spinach-filled recipes are guaranteed to boost your lasagna game to a whole new level of deliciousness:
Authentic Spinach and Ricotta Lasagna is the best way to treat yourself to the finest comfort meal. Each layer of soft lasagna pasta is liberally covered in a silky tomato sauce and loaded with a delightful combination of fresh spinach, whole milk ricotta, and grated Parmigiano.
The addition of fresh basil and nutmeg takes the taste profile to new heights. The mozzarella cheese has a creamy, stringy feel and is melted to golden brown perfection. Serve this handmade meal to your loved ones on a nice night in, or keep it in the fridge for up to 3 days as leftovers.
This Vegetarian Spinach Mushroom Lasagna recipe is the perfect combination of hearty vegetables and creamy vegan cheese. Each layer of tender lasagna pasta is generously coated with a flavorful tomato sauce, and packed with earthy baby bella mushrooms and nutrient-rich baby spinach.
The almond milk-based ricotta and vegan Parmesan cheese provide a delicious and dairy-free alternative to traditional cheese fillings. The dish is finished off with a layer of gooey vegan mozzarella cheese that will leave you craving more. This recipe is perfect for a cozy night in with loved ones or meal prep for the week ahead.
Satisfy your cravings for a rich and creamy pasta dish with this White Spinach Artichoke Lasagna recipe. The tender lasagna sheets are perfectly cooked and layered with a luscious spinach and artichoke filling that is both savory and creamy.
The handmade bechamel sauce complements the cream cheese, whole milk ricotta, mayonnaise, Parmesan cheese, garlic, basil, salt, and pepper filling. A substantial quantity of shredded mozzarella and grated Parmesan cheese gives the meal a great gooey-crisp texture. Serve this decadent meal at a dinner gathering or at home with fresh basil.
This White Pesto Spinach Lasagna is the perfect indulgent meal for cheese and pasta lovers. The creamy cheese sauce is made with a blend of whole milk, vegetable broth, and shredded Emmi Raclette, making it the ultimate comfort food.
The layers of no-boil lasagna noodles are filled with a delicious mixture of spinach, ricotta cheese, and basil pesto, adding a flavorful punch to each bite. The wild mushrooms are cooked to perfection, adding a delightfully earthy flavor to the dish. Whether you're entertaining guests or cooking for your family, this lasagna recipe is sure to impress.
Prepare yourself for a creamy and decadent lasagna flavored with white sauce, succulent chicken, and healthful spinach. Ricotta, mozzarella, and Parmesan cheese are used to make each layer of this lasagna. The creamy white sauce is created with heavy cream and spinach, which adds another taste level to this meal.
The shredded chicken is seasoned with herbs and spices, giving each mouthful a blast of flavorful flavor. This lasagna will fulfill your appetites and is ideal for family gatherings or special occasions.
This flavorful and fulfilling spinach and sausage lasagna dish is a handmade comfort meal classic. A substantial base of browned Italian sausage and a rich tomato sauce seasoned with oregano, basil, and thyme serves as a base for layers of supple lasagna noodles, creamy ricotta cheese, and pungent Parmesan cheese.
For maximum cheesiness, a large quantity of shredded mozzarella cheese is stacked in between. This lasagna is a crowd-pleasing one-pan dinner packed with iron-rich spinach and seasoned with aromatic garlic.
This Eggplant Lasagna with Spinach & Feta is a low-carb take on a traditional favorite that will not disappoint. Seasoned and fried eggplant slices are piled with a creamy spinach and feta filling and topped with a savory marinara and harissa sauce.
This dish is packed with flavor and texture, topped with gooey mozzarella cheese, and baked till hot and bubbling. This lasagna will fulfill your tastes without the additional carbohydrates, making it ideal for a memorable supper or a quiet night in.
Prepare yourself for a lasagna unlike any other! This Butternut Squash and Spinach Lasagna is a delectably flavorful vegetarian alternative. Layers of freshly cooked lasagna noodles are topped with a creamy butternut squash filling, a tasty spinach filling, and a generous quantity of mozzarella cheese, Parmesan cheese, and fragrant herbs.
Every mouthful of this lasagna is an amazing pleasure for your taste senses, thanks to the mix of nutty butternut squash, savory spinach, and the sharpness of Parmesan cheese. You will not be able to put this meal down!
In this substantial lasagna dish, prepare to taste the delightful aromas of caramelized onion, mushroom, and spinach. The creamy ricotta cheese inside is seasoned to perfection with nutmeg and black pepper, and the caramelized onions give a sweet and acidic taste.
The mushrooms are cooked properly with thyme and black pepper, and the spinach provides a nutritious and tasty aspect to the meal. This lasagna is a fantastic comfort dish to indulge in at any time, layered between lasagna sheets and topped with gooey mozzarella and Parmesan cheese.
Looking for a hearty and delicious supper to warm you up this winter? This Cheesy White Lasagna with Spinach and Crispy Prosciutto is the answer! For the ultimate savory dinner, layers of no-boil lasagna noodles, a creamy cheese sauce, and a spinach-ricotta combination are topped with crispy prosciutto.
With a hint of fresh basil and oregano, this lasagna is perfectly balanced and simple to prepare, thanks to the no-boil noodles. Broil the top for a delightfully bubbling and browned finish, then leave aside for 20 minutes before serving to let the layers solidify.
Fall is the perfect time to enjoy comforting dishes, and this pumpkin, spinach, and ricotta lasagna is sure to be a hit! Although it may seem daunting to make lasagna from scratch, this recipe from Best Recipes is easy to follow and oh-so-delicious. The tender pumpkin adds a subtle sweetness that pairs perfectly with the creamy ricotta and fresh spinach.
The layers of lasagna noodles provide the perfect base for this hearty and satisfying dish. Don't forget to top it off with your favorite pasta sauce and a generous sprinkle of shredded white cheddar cheese. This lasagna is a warm and cozy meal that is perfect for those chilly autumn nights.
Sink your teeth into this wonderful Spinach, Gouda, and Beef Lasagna, a meal that will undoubtedly fulfill your hunger. This meal combines luscious ground beef, pig, and a fragrant herb combination, all drenched in natural tomato puree and white wine.
It is layered with lasagna sheets and spinach leaves and topped with melted gouda cheese. This lasagna is a flavor and texture explosion that will excite your taste buds with each mouthful. Ideal for a nice family supper or to wow visitors with a full feast.
If you're in the mood for a creamy take on traditional lasagna, try this Seafood and Spinach version! Spinach and mozzarella cheese are layered between layers of delicate shrimp and flavorful imitation crab.
Butter, flour, milk, and heavy whipping cream are combined to make a sauce, which is then used to coat the seafood combination before being topped with more mozzarella cheese. This seafood lasagna is perfectly seasoned with garlic powder and your preferred seasonings.
This Vegan Lasagna with Spinach Tofu Ricotta is the perfect meatless meal for any night of the week! The savory tomato basil pasta sauce is combined with beefless crumbles for a hearty and satisfying layer. The tofu mixture is packed with lemon juice, tahini, white miso, nutritional yeast, garlic powder, and spinach for a healthy twist on traditional ricotta.
Layered between gluten-free lasagna noodles and vegan cheese, this dish is sure to satisfy any comfort food craving. Bake until bubbly and golden brown, and serve hot for a crowd-pleasing dinner that's sure to impress.
This Springtime White Lasagna is perfect for anyone looking for a gluten-free, dairy-free, meatless, vegetarian, or vegan recipe. The dish is filled with fresh asparagus, leeks, baby spinach, and no-boil lasagna sheets.
The creamy roasted garlic sauce is made with cashews, vegetable or chicken broth, almond milk, and roasted garlic, while fresh thyme and nutritional yeast add extra flavor. Each layer is topped with sautéed leeks, wilted spinach, and raw asparagus pieces, and then baked until golden brown. The end result is a mouth-watering dish that's perfect for any springtime meal.