My daughter loves to watch Special Agent OSO.  It's one of her favorite shows.  So when I was offered to check out a new toy from Learning Curve featuring OSO, how could I say no?
Special Agent OSO airs on the Disney Channel.
Special Agent Oso is a stuffed bear who works for U.N.I.Q.U.E. (United Network for Investigating Quite Usual Events), an international organization of stuffed animals charged with helping kids accomplish everyday tasks such as cleaning their room or doing their chores.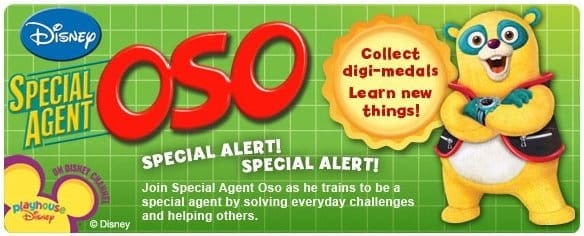 Learning Curve has a nice variety of different Special Agent OSO toys, and they sent us the Special Agent OSO R. R. Rapide Command Center to try out.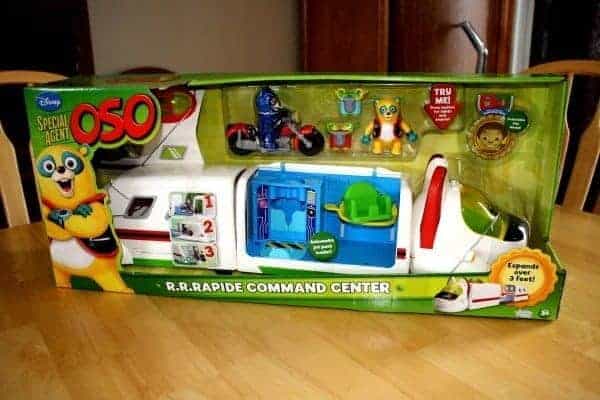 This toy comes with a rail car command center, an OSO figure, a Wolfie figure, 2 jet pack backpacks that can attach to the figures, and a motorcycle.
Wooo! Wooo! R. R. Rapide is racing down the tracks to deliver Oso at his next big assignment. This high-speed rail car is full of surprises! Inside, discover a special agent command center; equipped with an automatic jet pack loader, an elevator captain's chair, an expandable central car, and a motorcycle launcher! Magnetic activation points trigger electronic lights, sounds, and character voices from the show!
Let me start off by saying WOW!
This toy is bigger than I expected and really has a lot of little things kids can do with it.  I love that it came with TWO characters, so many toys just come with one.  This way it can be played with by more than 1 child at a time. When fully expanded, the toy is over 3 feet long.
My daughter really has enjoyed the toy.  She has a bit of trouble getting the motorcycle set into the launcher, it takes her a couple of tries, but she's getting better at it.  Also the back part and the doors do tend to fall off if she tries to pick it up and move it from room to room, but I think it's mostly because it is too big for her to carry and she ends up holding it in weird places.  We snap it back together and it's all good!
The only other issue is that, like most toys that make noise, the volume is REALLY loud.  A little bit of packing tape over the speaker dulled it enough to make it the perfect volume.  On a positive note, it does have an on/off switch too.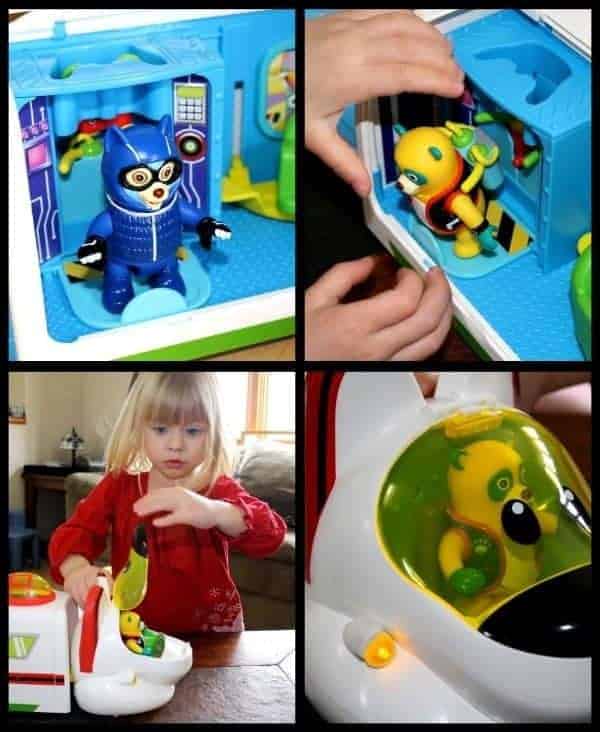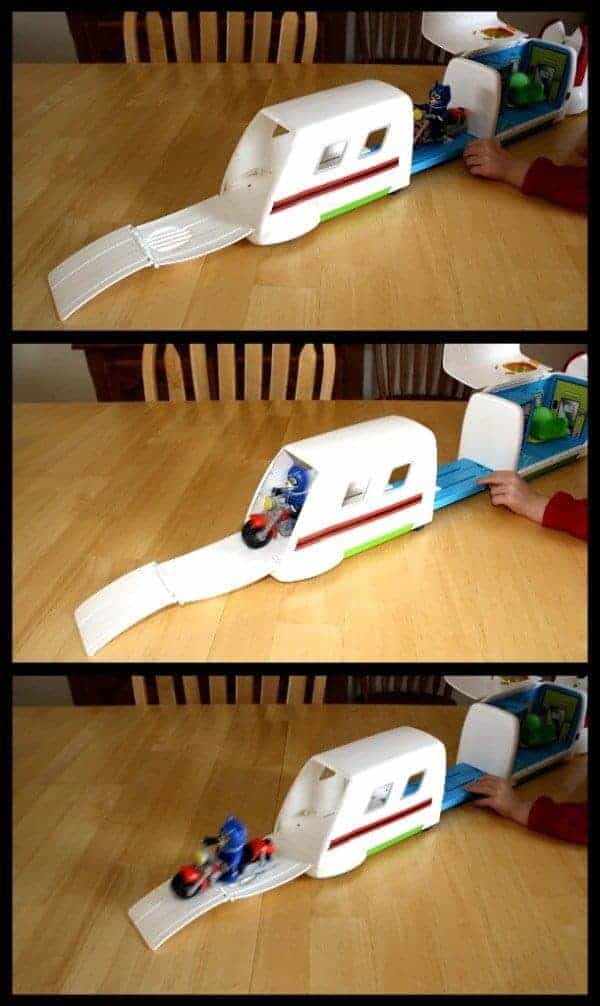 I really think Learning Curve hit a home run with this toy, and I look forward to checking out the other Special Agent OSO toys they have available.
You can purchase the Special Agent OSO R.R. Rapide Command Center and other Special Agent Oso toys at Amazon.com and Target.