Introducing SPAM, the versatile canned meat that has been a staple in pantries around the world since 1937.
In this roundup, we showcase 15 unique and delicious ways to incorporate SPAM into your favorite rice dishes. From Spam Musubi to Kimchi Fried Rice, these recipes are perfect for a quick and easy meal and are sure to satisfy your cravings for comfort food.
Get ready to discover the endless possibilities with this beloved ingredient!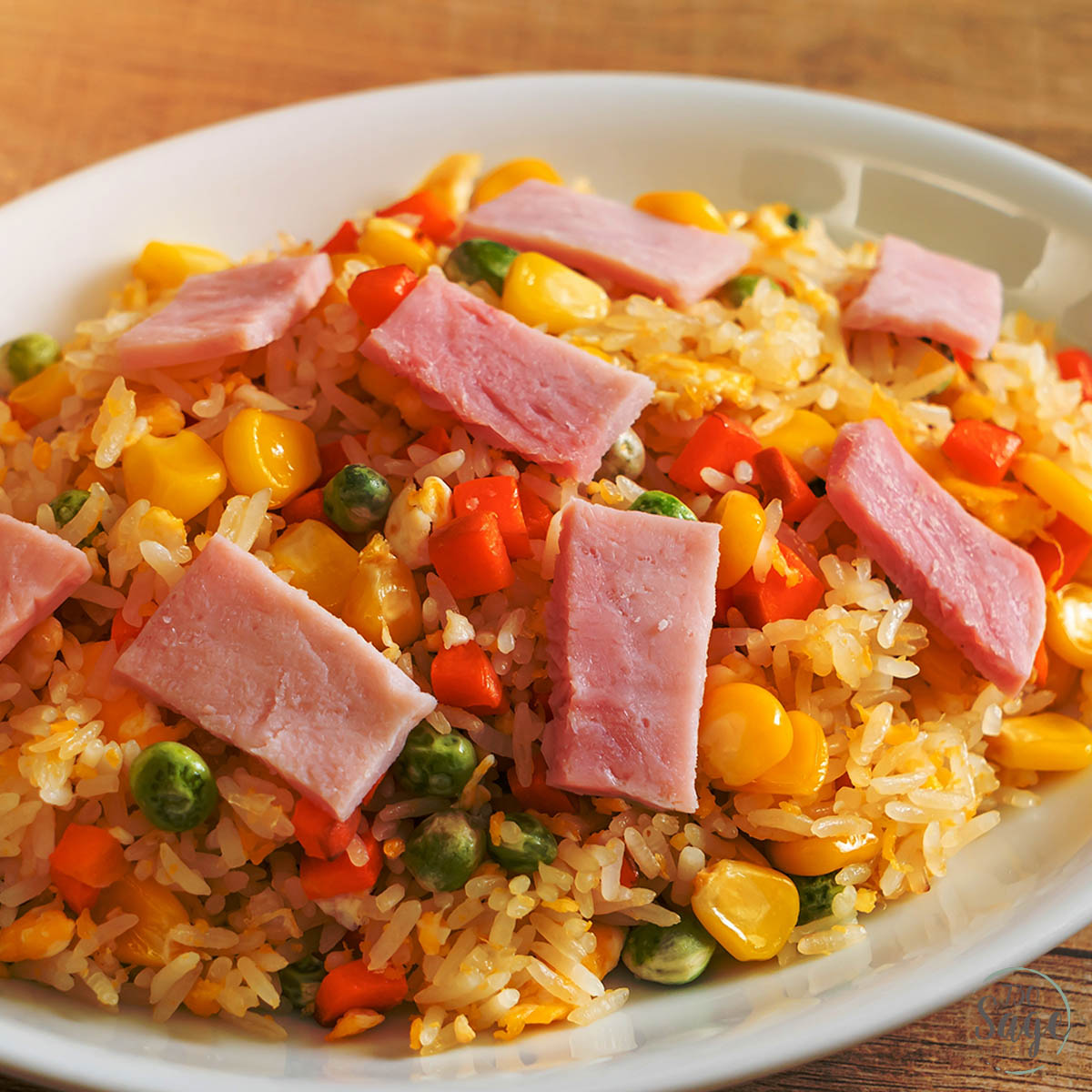 What Kind Of Rice Is Best To Use With Spam?
The best rice to use with SPAM is short-grain rice as it has a sticky texture that complements the flavors and texture of SPAM. Additionally, short-grain rice is a healthy option as it is low in fat and high in carbohydrates, which provide energy and are important for maintaining a healthy diet.
How Many Different Spam Flavors Are There?
SPAM is a versatile and delicious ingredient that can be used in a variety of dishes. But did you know that there are several different flavors of SPAM available? Let's explore some of the options.
SPAM Classic - The original flavor that started it all. Salty and savory, it's perfect for breakfast or as a snack.
SPAM Less Sodium - A great option for those watching their sodium intake. Still packed with flavor but with less salt.
SPAM Garlic - Adds a delicious garlic kick to any dish. Use it to add some extra flavor to your stir-fried or fried rice.
SPAM with Bacon - The ultimate combination of two great types of meat. Perfect for a hearty breakfast or a delicious sandwich.
SPAM Teriyaki - Adds a sweet and savory touch to any dish. Great for stir-frying, rice bowls, or even as a topping for pizza.
15 Spam Recipes With Rice
Get ready to revamp your rice dishes with these 15 Spam recipes. From classic to exotic, these recipes will add a healthy twist to your mealtime favorites:
Get ready to experience a classic Spam Fried Rice dish that will satisfy your cravings. This recipe is made with diced Spam, garlic, ginger, onions, peas, carrots, and eggs, all sautéed together in a large skillet or wok. The cooked rice is then added to the skillet and mixed with soy sauce for added flavor.
The dish is completed with chopped scallions and a drizzle of sriracha to give it that extra kick. With a perfect balance of flavors and texture, this Spam Fried Rice recipe is sure to be a hit at your dinner table.
Are you ready to indulge in the best-ever Spam Musubi? This delicious dish is made with slices of Spam that are pan-fried to perfection with a simple teriyaki glaze. The Spam is then placed onto a bed of seasoned rice, which is sprinkled with furikake for added flavor.
The rice and Spam are wrapped in a sheet of sushi nori, forming a tight and delicious package. The flavors are a combination of sweet, savory, and umami, creating a perfect balance of taste. You'll love the soft, warm texture of the rice and the slightly crispy texture of the Spam, making this dish a mouth-watering treat that is sure to impress.
Our next recipe takes us to a classic breakfast favorite, Spam and Eggs. The dish is made by marinating diced spam in soy sauce, mirin, and sugar, then cooking it in a skillet until the edges are crispy and caramelized.
The eggs are beaten with salt, pepper, and garlic powder before being added to the skillet and cooked to fluffy perfection. This comforting dish is perfect for a lazy weekend brunch or a quick breakfast on the go. Serve it over a warm bowl of rice for a filling and delicious meal.
The next stop on our culinary tour is Jalapeno Spam Fried Rice, a dish that has an exciting combination of tastes. The day-old white rice is stir-fried to perfection with diced ham and Jalapeno Spam until crispy. Eggs are fried and sliced and tossed in with the rice along with onions and garlic.
Soy sauce and fish sauce are then added to enhance the flavors of the dish. If you like a little bit of spice, the optional diced carrots and Jalapeno Spam will give you the perfect amount of heat. Salt and pepper to taste, and you have yourself a delicious meal that's both satisfying and filling.
Our gastronomic adventure continues with another delicious Korean-inspired dish: Kimchi Fried Rice with Spam. The dish features a perfect balance of spicy and savory flavors, with the kimchi providing a tangy and pungent taste, while the spam adds a salty and crispy texture.
The rice is infused with gochujang, Korean red pepper paste, and sesame oil, resulting in a complex and delicious blend of flavors. For garnish, top it with sunny-side-up eggs, scallions, and toasted sesame seeds to give it an extra flavor boost.
Let's continue our culinary adventure with another Spam and egg recipe, this time in the form of a delicious onigirazu. This Japanese-inspired dish features a filling of Spam and fluffy scrambled eggs, topped with a dash of teriyaki sauce for added flavor.
The filling is wrapped in a layer of steamed short-grain white rice, seasoned with roasted white sesame seeds, and enclosed in a sheet of dried seaweed. This portable dish is perfect for a quick breakfast on the go, or a satisfying snack any time of day. Let's get started on this easy and delicious Spam and Egg Breakfast Onigirazu recipe!
Let's move on to the next dish, a 20-minute Spam and rice casserole topped with cheese. This casserole features chopped Spam that is pan-fried until crispy and then combined with chopped tomatoes and onions.
The mixture is seasoned with ketchup, soy sauce, and black pepper to give it a rich and savory flavor. Then, cold cooked rice is added to the mixture and stirred until all the rice soaks up the sauce. To finish it off, the casserole is topped with shredded cheese and cooked until the cheese is melted and gooey. This is a perfect dish for a quick and easy weeknight dinner.
The following meal is a traditional morning staple that delivers a punch in flavor: spam, eggs, and rice. The caramelized spam gets a salty, sweet taste from the teriyaki sauce, and the eggs lend a nice, buttery texture. The rice is the perfect base to soak up all the flavors and textures.
Furikake with condiments like ketchup, sriracha, soy sauce, and spicy sauce allows you to make the meal your own. A delicious and filling supper that can be eaten at any time of day.
Get ready for a flavor-packed dish with SPAM® Fritters Katsu Curry Recipe. The savory SPAM® is sliced and transformed into crispy fritters coated in a golden Panko crust. Top it off with a rich and smooth katsu curry sauce that's fragrant with mild curry powder, ginger, and garlic.
Every bite brings the perfect balance of sweetness and spice with a hint of star anise. Drizzle over some sauce, serve with rice and your favorite toppings, and indulge in a meal that's sure to impress.
Spam and pineapple fried rice is our next cooking adventure, and it will transport us to a tropical paradise. The recipe is well-balanced because of the sweetness of the pineapples and the saltiness of the Spam.
For the best possible texture in your stir-fry, use rice that has been chilled for at least one day. Green onions and cilantro, finely chopped just before serving, lend a burst of freshness and brightness to the meal. Use the chili soy as a dipping sauce for each mouthful.
Enjoy these delectable Spam and Egg Salad Rolls as we continue our Spam-tastic journey! Rolled up in a delicate rice paper wrapper are layers of crispy and savory Spam, fluffy tamagoyaki, fresh spinach, and chilled vermicelli.
What's even better? You may choose any fillings you choose! This tasty meal may serve as an appetizer or a light lunch. Feel free to indulge in these tasty rolls; for added flavor, try dipping them in fish sauce vinaigrette.
Now let me introduce you to an easy and delicious Spam Kimbap recipe that will make your taste buds dance with joy! This savory Korean-style sushi roll is filled with seasoned sushi rice, crunchy veggies, flavorful spam, and a touch of pickled daikon radish for a tangy kick.
With the perfect balance of flavors and textures, this dish is a guaranteed crowd-pleaser. With step-by-step instructions, you'll be able to whip up this dish in no time. Serve it as a snack or light lunch and watch your guests marvel at your culinary skills!
This Spam and Eggs with Chili Oil recipe is a fantastic way to add some heat to your breakfast. The spicy chili oil pairs perfectly with the crispy and caramelized spam, while the fried eggs add a satisfying richness to the dish.
Serve this on a bed of warm noodles or fluffy white rice for a comforting meal that will leave you feeling energized and ready to tackle the day ahead. It's a flavorful and easy breakfast that will quickly become a new favorite in your household.
LONO Korean Fried Rice Musubi is a unique twist on the classic SPAM® Musubi. This recipe features the bold flavors of kimchi and gochujang mixed into sushi rice, topped with pan-fried slices of SPAM® Less Sodium. The combination of savory, salty, and spicy flavors makes for a delicious bite that's perfect for any meal or snack.
The dish is easy to assemble using a musubi press or plastic-lined SPAM® Less Sodium can to create a compact rice and SPAM® stack wrapped in half a sheet of nori. Finish off with a sprinkle of green onions and enjoy this flavorful and filling treat.
Take a trip to Japan with this delightful Spam Musubi Onigiri! Bite into the perfect combination of crispy Spam filling and seasoned rice, topped with furikake seasoning. To make the filling, dice your Spam into small, bite-sized cubes and cook with soy sauce, rice wine vinegar, and sugar until it becomes crispy.
Form the rice balls by placing a sheet of plastic wrap on a flat surface, adding cooked rice, and filling with the Spam mixture. Use the plastic wrap to easily form the rice ball into a triangle shape and finish by dipping it in furikake seasoning.