The combination of soft and juicy chicken with healthy and adaptable spaghetti squash makes for a delightful and filling supper that is suitable for any day of the week.
In this roundup, we've put together 15 of the best spaghetti squash recipes with chicken. From creamy sauces to spicy toppings, these dishes are full of flavor and good for you.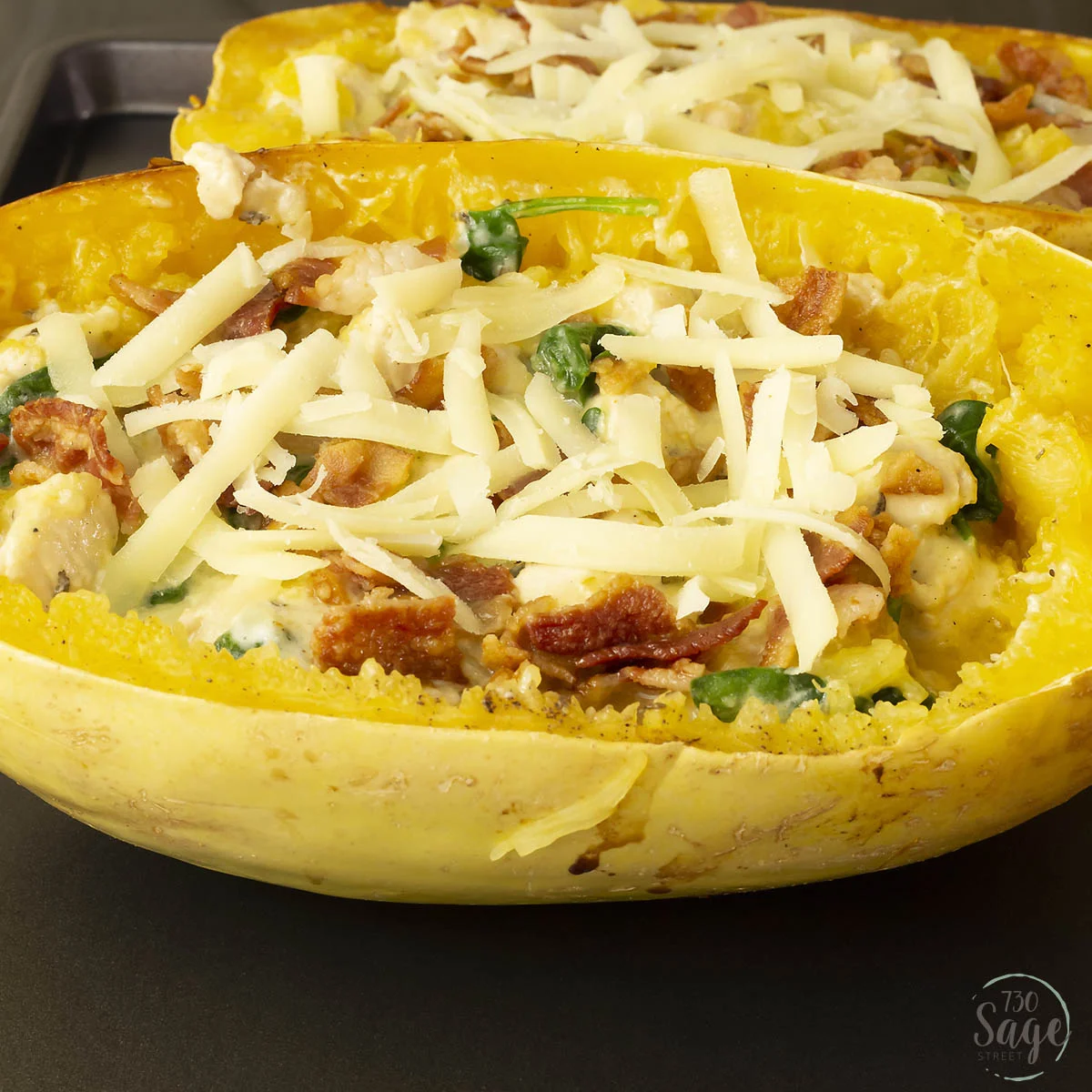 How To Pick The Best Squash For These Recipes?
Picking the right spaghetti squash is key to making delicious recipes. Here are five varieties to choose from, each with its own unique benefits and challenges.
Classic Spaghetti Squash: This versatile variety has a mildly sweet flavor and is perfect for all kinds of recipes.
Kabocha Squash: This Japanese variety has denser, sweeter flesh and is great for roasting.
Delicata Squash: With its thin skin and sweet flavor, this variety is perfect for roasting and stuffing.
Butternut Squash: This popular variety has a sweet, nutty flavor and is perfect for soups and stews.
Acorn Squash: This variety has a mild, slightly sweet flavor and is great for roasting and stuffing.
15 Spaghetti Squash Recipes With Chicken
These 15 healthy and delicious chicken recipes will make you fall in love with spaghetti squash all over again:
Say hello to a guilt-free comfort food delight with this Skinny Chicken Alfredo Stuffed Spaghetti Squash! Imagine a creamy, cheesy Alfredo sauce, loaded with tender rotisserie chicken, all nestled within a delicious spaghetti squash boat. Oh, the joy! A sprinkle of mozzarella cheese on top adds that perfect gooey finish.
Not only is this dish bursting with flavor, but it's also nutritious and lower in calories than traditional Alfredo dishes. Your heart (and waistline) will thank you for this scrumptious culinary adventure! Don't forget to garnish with fresh parsley for that extra pop of color and flavor.
Get ready for a fiesta in your mouth with this Chicken Fajita Stuffed Spaghetti Squash recipe! This dish combines all the fabulous flavors of your favorite fajitas while keeping it light and healthy with tender spaghetti squash. Imagine a medley of colorful bell peppers, red onions, and perfectly seasoned chicken, topped with a gooey Mexican cheese blend.
Once broiled, this squash becomes a true masterpiece. Customize it with your favorite toppings like sour cream, chopped tomatoes, jalapeños, or salsa, and savor the zesty flavors of this unique and mouthwatering dish. Let the fiesta begin!
Whisk yourself away to the Italian countryside with these delightful Chicken Pesto Spaghetti Squash Bowls! Picture a luscious combination of tender spaghetti squash, succulent chicken breast, and rich pesto sauce, all coming together in a warm, comforting embrace.
Topped with a heavenly duo of Parmesan and mozzarella cheese, this dish is as visually appealing as it is scrumptious. Pop it under the broiler for that enticing golden-brown finish and enjoy every bite of this light, yet satisfying meal. You can almost hear the rolling hills of Italy calling your name!
Welcome to your new favorite comfort food: Chicken Parmesan Stuffed Spaghetti Squash! This dish is a symphony of flavors, with tender strands of spaghetti squash, mouthwatering rotisserie chicken, and a rich marinara sauce that will make your heart sing.
A touch of Italian seasoning and a pinch of red pepper flakes add the perfect blend of spices. The meltingly delicious mozzarella and Parmesan cheese topping is the show-stopper. Baked until bubbly and golden, this heartwarming meal is the perfect way to bring a touch of Italy into your home.
Set sail on a culinary adventure with these Spaghetti Squash Boats with Chicken! The tender spaghetti squash paired with scrumptious chicken bites creates a delightful texture, while a rich and tangy piccata sauce adds zesty flavors. Lemon, capers, and fresh parsley elevate this dish to a whole new level.
Roasting the squash brings out its natural sweetness, and the flour-coated chicken adds a lovely crispiness. So, hop aboard and explore new taste horizons with this fantastic chicken-filled spaghetti squash boat!
After enjoying the delightful Spaghetti Squash Boats with Chicken, it's time to kick things up a notch with this Buffalo Chicken Stuffed Spaghetti Squash! This fiery twist brings together succulent shredded chicken, tangy buffalo sauce, and colorful veggies, all nestled within tender spaghetti squash halves.
You'll love the contrasting flavors and textures, especially when drizzled with creamy ranch dressing and sprinkled with crumbled blue cheese. Say hello to a new way to enjoy spaghetti squash and buffalo chicken together, bound to become a spicy favorite in your recipe collection!
As you continue your journey through the world of spaghetti squash and chicken, you'll soon find yourself at this dreamy Chicken Alfredo Spaghetti Squash Casserole. This dish is perfect for those following a Whole30, Paleo, Low Carb, or Gluten-Free lifestyle.
Combining the creaminess of a dairy-free Alfredo sauce with the earthy flavors of broccoli and the heartiness of chicken, this casserole is a comforting treat. Just when you thought you couldn't top the previous recipes, this wholesome and satisfying casserole will prove that there's always more to discover in the realm of spaghetti squash and chicken dishes!
From the comforting Chicken Alfredo Spaghetti Squash Casserole, let's venture into the vibrant flavors of Mexico with these Chicken Enchilada Spaghetti Squash Boats! Marrying the satisfying strands of spaghetti squash with the zesty and bold enchilada filling, this dish is a fiesta of flavors in every bite.
The melted Monterey Jack cheese adds a layer of gooey goodness, while your choice of toppings like fresh cilantro, avocado, or sour cream brings a personalized touch. As you explore the versatility of spaghetti squash and chicken recipes, these enchilada boats will surely become a cherished stop on your culinary tour!
As you continue your delicious adventure through spaghetti squash and chicken recipes, you'll arrive at this mouthwatering Chicken Bacon Ranch Spaghetti Squash Casserole. This dish brings together the irresistible flavors of crispy bacon, creamy ranch dressing, and tender chicken, all nestled within a warm spaghetti squash base.
The addition of fresh parsley adds a burst of freshness, while avocado garnish offers a touch of creaminess. It's hard to believe you can enjoy so much flavor in a single dish, but this casserole will surely become a beloved recipe as you explore the exciting possibilities of spaghetti squash and chicken combinations!
Introducing Spaghetti Squash Pad Thai, a delightful twist on a classic Thai dish that'll make you feel like you're strolling down the vibrant streets of Bangkok. This recipe combines the healthy goodness of spaghetti squash with the authentic flavors of tamarind paste, fish sauce, and palm sugar.
Get ready for a hearty meal with the addition of extra-firm tofu, crunchy bean sprouts, and fragrant garlic. The lime wedges and cilantro on top add a refreshing touch. Your kitchen will become a culinary adventure as you savor every flavorful bite of this innovative creation!
Get ready for a backyard cookout vibe with this mouthwatering Barbecue Chicken Stuffed Spaghetti Squash! Slow-cooked chicken breasts smothered in barbecue sauce are nestled in a tender, oven-roasted spaghetti squash boats, creating a scrumptious blend of flavors. Adding a mix of cheese, red onions, and orange bell peppers brings an extra layer of deliciousness to this dish.
Once it's baked to perfection, garnish it with a drizzle of barbecue sauce and fresh cilantro. You'll feel like you're enjoying a summer evening every time you dig into this delightful, comforting meal!
Imagine a delightful fusion of a classic Caesar salad and warm, comforting spaghetti squash. That's what you'll experience with Chicken Caesar Spaghetti Squash Boats! These boats are filled with tender, cubed chicken breast and chopped kale, all sautéed with onions and garlic, and seasoned with lemon juice for a zesty kick.
Blending the chicken mixture with Caesar dressing before stuffing the squash brings a creamy, irresistible touch to this healthy, satisfying dish. After a final quick bake, you'll be ready to savor every delicious bite, feeling like a true culinary genius!
This delicious Greek Chicken Spaghetti Squash Bake will transport you to the shores of the Mediterranean. This dish is a delightful fusion of spaghetti squash, tender shredded chicken, tangy kalamata olives, artichoke hearts, and sun-dried tomatoes.
The aroma of fresh basil, oregano, and olive oil will transport you straight to Greece as you prepare this easy-to-make, nutritious meal. After baking to perfection, you'll be eager to savor every bite of this wholesome and flavorful dish.
Make your taste senses happy with this recipe for Garlicky Spaghetti Squash with Chicken, Mushrooms, and Kale. The savory chicken, mushrooms, and kale topping is a perfect complement to the roasted spaghetti squash.
The scent of the meal is enhanced with the addition of caramelized onion, minced garlic, and fresh thyme. The lemon zest adds a refreshing tang. This dish is simple to cook, has a high nutritional value, and has a delicious finishing touch: a sprinkling of sea salt.
Delicious and nutritious, this Chicken Spaghetti Squash with Asparagus dish is a must-try. The roasted spaghetti squash is a nutritious replacement for pasta, and the cashew-garlic cream sauce makes it seem more luxurious. The delicate chicken breast and salty bacon make a great protein addition, while the crunchy asparagus provides a nice textural contrast.
Easy to prepare and excellent for a night in, this meal has a lovely burst of acidic sweetness from the sun-dried tomatoes and a hint of earthy freshness from the fresh parsley.