Experience the vibrant goodness of green beans in these 15 delicious soup recipes. Packed with nutrients and bursting with flavor, these soups showcase the versatility of this nutritious vegetable.
From hearty minestrone to creamy green bean and potato soup, this article presents a diverse collection of recipes to inspire your next comforting meal.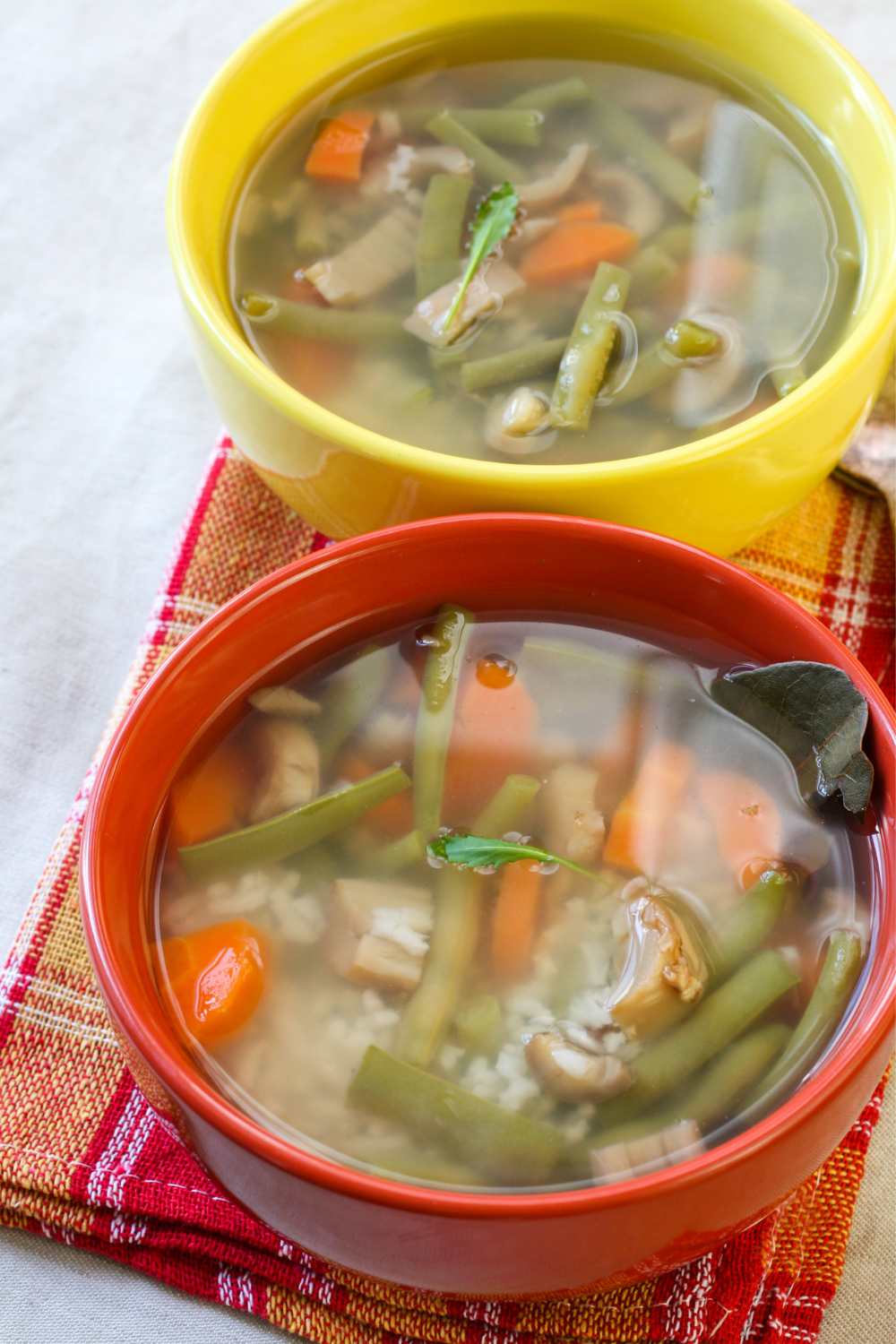 Can I Use Frozen Green Beans For These Soup Recipes?
Absolutely! Frozen green beans are a convenient option for making these soups. They retain their freshness and nutritional value, making them a suitable substitute for fresh green beans. Simply add them directly to the soup, and they will cook to a tender and vibrant perfection, enhancing the flavors of your dish.
Can I Substitute Other Vegetables For Green Beans?
Absolutely! If you're looking to switch up your green bean soup recipes, try these fantastic vegetable alternatives:
Broccoli: Packed with vitamins and fiber, broccoli adds a delightful crunch to the soup, though it may turn softer when cooked for too long.
Zucchini: This versatile veggie brings a mild flavor and a tender texture, making it an excellent addition to a softer and more subtle soup.
Carrots: Known for their natural sweetness and vibrant color, carrots lend a touch of earthiness and a satisfying bite to the soup.
Peas: These tiny green gems offer a burst of sweetness and a pop of texture, enhancing the overall flavor profile of the soup.
Bell Peppers: With their crispness and mild tang, bell peppers provide a refreshing element to the soup, brightening up each spoonful.
Cauliflower: When cooked, cauliflower adds a creamy and velvety texture, making it an ideal substitute for a more velvety green bean soup.
15 Soup Recipes With Green Beans
Here are 15 delicious green bean soup recipes that can calm your hunger and soothe your spirit:
Try some Turkey Wild Rice Soup with Veggies, and warm yourself with its hearty taste. In this tasty dish, chopped onions, carrots, celery, and mushrooms are combined to great flavor.
Wild rice becomes soft as it cooks in low-sodium chicken broth. Soup gets a jolt of color and crunch from green beans, and it gets substance with shredded cooked turkey or chicken. This soup is a warm and delicious delight, thanks to the addition of whole milk and the tang of lemon juice and thyme.
Experience the satisfying flavors and textures of our Low Carb Ham and Green Bean Soup. Savory onions and garlic create a delightful base, complemented by tender ham and hearty green beans. With a creamy texture from cubed red potatoes, this soup is a comforting delight.
Effortlessly prepared, it's a time-saving option for a quick and delicious meal. Serve it hot and savor the rich flavors, pairing it with a side salad or crusty bread for a complete dining experience.
Savor the vibrant flavors and textures of our Chicken and Butternut Squash Curry. With tender chicken, aromatic spices, and creamy coconut milk, this dish offers a delightful balance of savory and sweet. Effortlessly prepared in a single pan, it's a convenient and time-saving option for a flavorful meal.
Serve it steaming hot over a bed of fluffy steamed rice or cauliflower rice, allowing the rich and luscious sauce to envelop each delicious bite. To add a touch of freshness, garnish with a generous sprinkle of vibrant, aromatic fresh coriander leaves.
Awaken your senses with the exquisite flavors of the Best Minestrone Soup. This hearty dish combines diced onion, celery, carrots, and tender Yukon gold potatoes, simmered in a rich blend of fire-roasted crushed tomatoes and kidney beans.
The addition of Italian seasoning and red pepper flakes adds a delightful kick. Delight in the tender green beans, spinach, and al dente pasta, and savor the moment with a sprinkle of freshly grated parmesan. This soup is a true delight that only gets better with time.
Delight in the irresistible flavors of Potato, Green Bean & Bacon Soup. This comforting creation combines fresh green beans, savory bacon, and creamy mashed potatoes.
The crispy bacon adds a smoky touch, while the tender green beans offer a satisfying crunch. Indulge in the richness of heavy cream and 2% milk, creating a luxurious texture. Seasoned with salt and pepper, this soup promises a gratifying dining experience.
Uncover the nourishing flavors of the Vegan Weight-Loss Lentil Soup. This wholesome creation features aromatic spices, tender lentils, protein-packed chickpeas, vibrant green beans, and fresh spinach.
With a tangy touch of lemon juice and a hint of crushed red pepper, this plant-based soup offers both satisfaction and nourishment.
Get ready to savor the creamy goodness of the Low Carb Keto Cream of Green Bean Soup. This delicious dish combines fresh green beans, sautéed green onions, and garlic cooked in butter.
With homemade chicken broth, rich heavy whipping cream, and a hint of tarragon, this soup is both comforting and flavorful. It's a healthy choice for kids who want a yummy and nutritious meal.
Embark on a flavorful journey with Ham Vegetable Barley Soup with Pistou. This scrumptious dish combines diced ham, carrots, celery, and pearl barley in a savory broth. The addition of Great Northern beans and diced tomatoes add heartiness to the soup, while fresh green beans bring a vibrant touch.
The aromatic blend of thyme and bay leaf infuses the soup with delightful flavors. For an extra burst of taste, top the soup with a dollop of homemade pistou, basil, and Parmigiano Reggiano paste. Enjoy the cozy warmth of this delicious soup and let the flavors dance on your palate.
Delight in the rich and savory flavors of Green Bean Soup with Beef. The tender beef cubes mingle with crisp green beans, creating a delightful combination. The onions add a touch of sweetness, while the carrots and red pepper contribute a satisfying crunch.
This comforting soup requires moderate effort and can be prepared in about 30-45 minutes in an instant pot or 1 hour on the stove. Serve it hot as a standalone meal or pair it with crusty bread for a satisfying lunch or dinner option.
Imagine sinking your teeth into the robust, hearty flavors of this German Sausage Soup. Imagine the warm, comforting aroma of cooked sausage mingling with the freshness of green beans, the earthiness of russet potatoes, and the tantalizing hint of mushrooms.
The beef bouillon adds a depth that ties it all together while the blend of spices gives it an authentic German touch. This soup is your passport to a cozy German kitchen, with no airfare required. It's relatively easy to prepare and best served hot.
Step into the heart of a vibrant garden with this Green String Bean Soup recipe. It's a symphony of fresh, vibrant ingredients, from the crunch of green or yellow string beans to the bold, aromatic garlic cloves.
Picture the creaminess of cashew milk blending seamlessly with a medley of vegetable stock, thinly-sliced carrots, and the humble, yet essential whole wheat pastry flour. This soup is a celebration of flavors, with onion powder, bay leaves, fresh dill, and a dash of red pepper flakes. It's a perfect medley of wholesome goodness, making it an excellent choice for a healthy lunch or dinner.
Prepare to be amazed by the incredible flavors of this Green Bean Soup. With every spoonful, you'll taste the smoky goodness of crispy bacon, the earthiness of cremini mushrooms, and the aromatic notes of fresh thyme. The creamy texture and tender Yukon Gold potatoes make it a hearty and satisfying dish.
Don't forget to savor the vibrant flavors of the green beans, perfectly cooked to perfection. This soup is a true comfort in a bowl, guaranteed to impress your loved ones. Now, let's continue our culinary journey with the next delightful recipe.
Cozy up with a bowl of this delicious Green Bean Soup with Caramelized Onions and Mushrooms, a harmonious medley of flavors that will transport you to a world of culinary delight. Fresh green beans, caramelized onions, and sautéed mushrooms lend their unique essence to this comforting soup.
The creamy richness of sour cream adds a luxurious touch, while a hint of apple cider vinegar balances the flavors with a subtle tang. Each spoonful is a celebration of textures and tastes, providing warmth and comfort with every bite. Garnish with fresh parsley to add a vibrant pop of color.
Prepare to enjoy the fragrant broth and soft green beans of traditional Hungarian Green Bean Soup. It's easy to make too! Just simmer the green beans in a pot with some yummy spices.
The soup will be creamy and smooth thanks to butter and flour. Add a squeeze of lemon juice for a little tanginess. This soup is a tasty way to explore the flavors of Hungary. So grab a spoon and enjoy this kid-friendly dish that's both yummy and nutritious!
Green Bean Casserole Soup is a delicious way to use up any leftover Green Bean Casserole you may have lying around the house. In a saucepan, reheat some thyme leaves, fresh mushrooms, and cooked chicken or turkey that has been shredded. Give it a few minutes on low heat to let the flavors meld.
Salt and pepper to taste is something you should not ignore. Add some crispness with some French fried onions just before serving. This hearty soup is full of flavor and perfect for a cold day. Try some Green Bean Casserole Soup to be cozy this winter.