These easy after school snack bowls are inspired by a sponsored campaign with Jewel-Osco. Opinions and ideas are my own.
With back to school in full swing, one of the biggest challenge I have right now is what to feed my kids after school. When they get off the bus, the first thing they want is a snack. But somehow telling them to have fruit or carrot sticks just doesn't seem to appeal to their sense of adventure. Or their taste buds. They want something that tastes good and that is fun. I want them to have something high quality that I can feel good about them eating.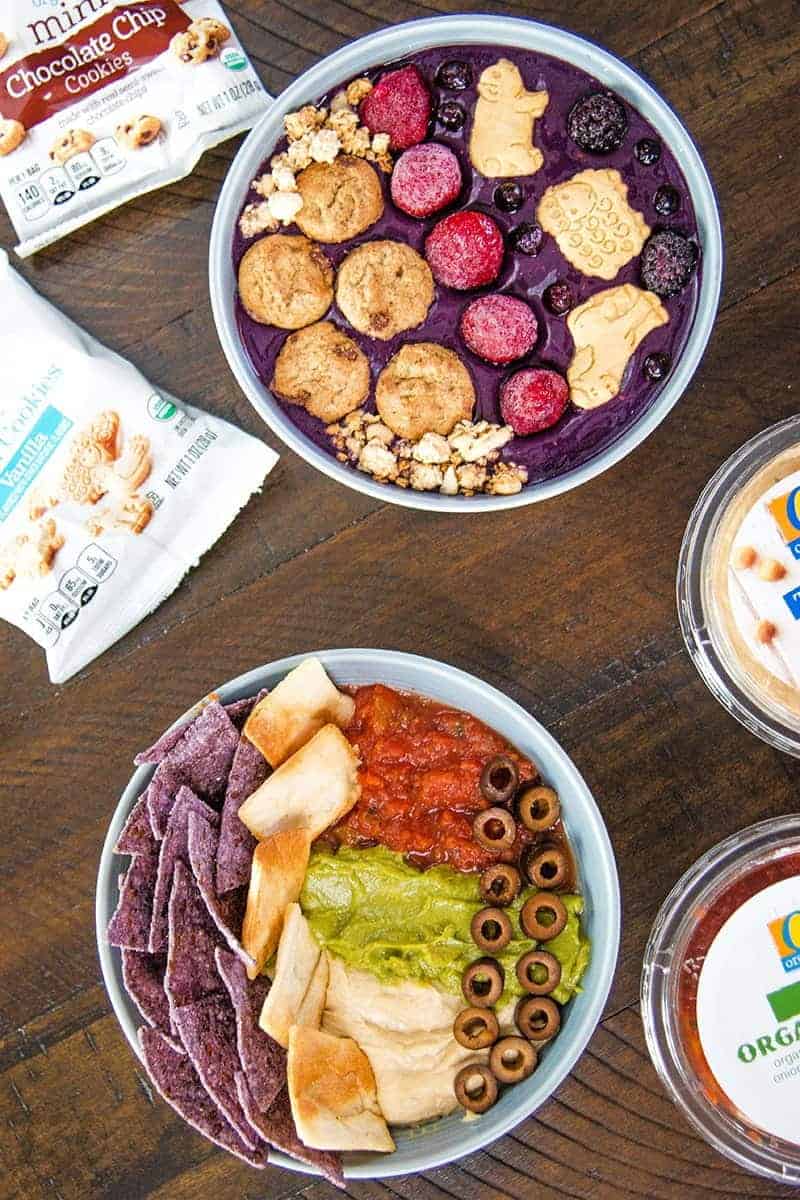 Jewel-Osco is my go-to store for finding products that make after schooling snacking easy and delicious.

MY LATEST VIDEOS
Jewel-Osco, or "the Jewels" as I we call it, has an exclusive line of innovative products called O Organics® that are uncompromising in quality and purity. O Organics products are USDA certified organic which means they are non-GMO and don't contain anything artificial. They are the perfect choice for my family.
Jewel-Osco has a huge variety of O Organics products and they seem to get more and more every time I shop there. My local store has a dedicated aisle of natural products where the O Organics brand can be found, but they also have O Organics throughout the store. No matter which area of the store I am shopping in, I can usually find an O Organics version of the item on my shopping list.
I trust O Organics and I love the savings, they really help make organic affordable for everyone.
A secondary challenge that I have with my kids is that they don't like the same things. My daughter loves sweet and fruity and my son likes rich and savory. This complicates things but is no match for O Organics – they got me covered with products from both categories. And then some!
Easy After School Sweet and Savory Snack Bowls
I was so excited to find such a wide variety of products in both the sweet and savory category that were perfect to create some after school snack bowls for my kids. You can scale these bowls depending upon how many kids you are feeding with each one, or how big of an appetite your kids have. My teenage son eats for three after school.
Sweet Snack Bowl (Smoothie Bowl)
For my daughter, I made a sweet snack smoothie bowl. I used O Organics frozen berries to make the smoothie, and added O Organics Vanilla Animal Cookie Multipack, O Organics Chocolate Chip Cookie Multipack and O Organics granola as toppings. I also set aside some of the frozen fruit as toppings too.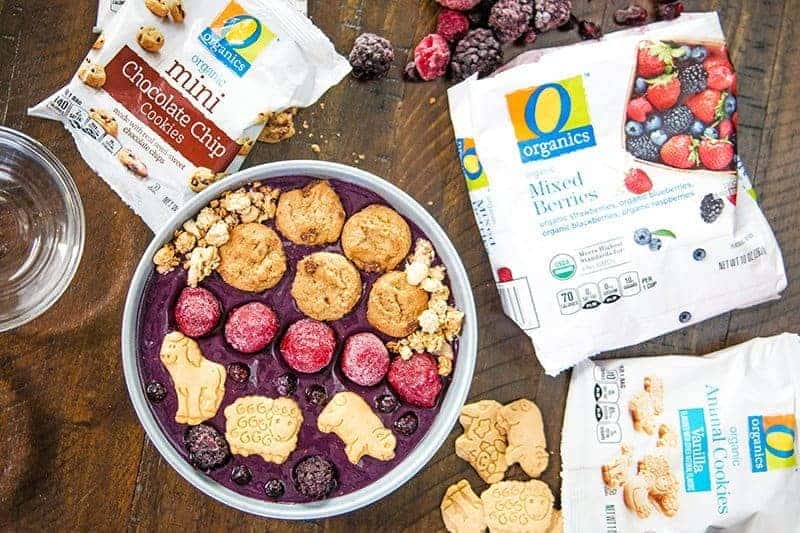 What's so fun about this is that you can have the smoothie part ready when they get home and let them add their own toppings!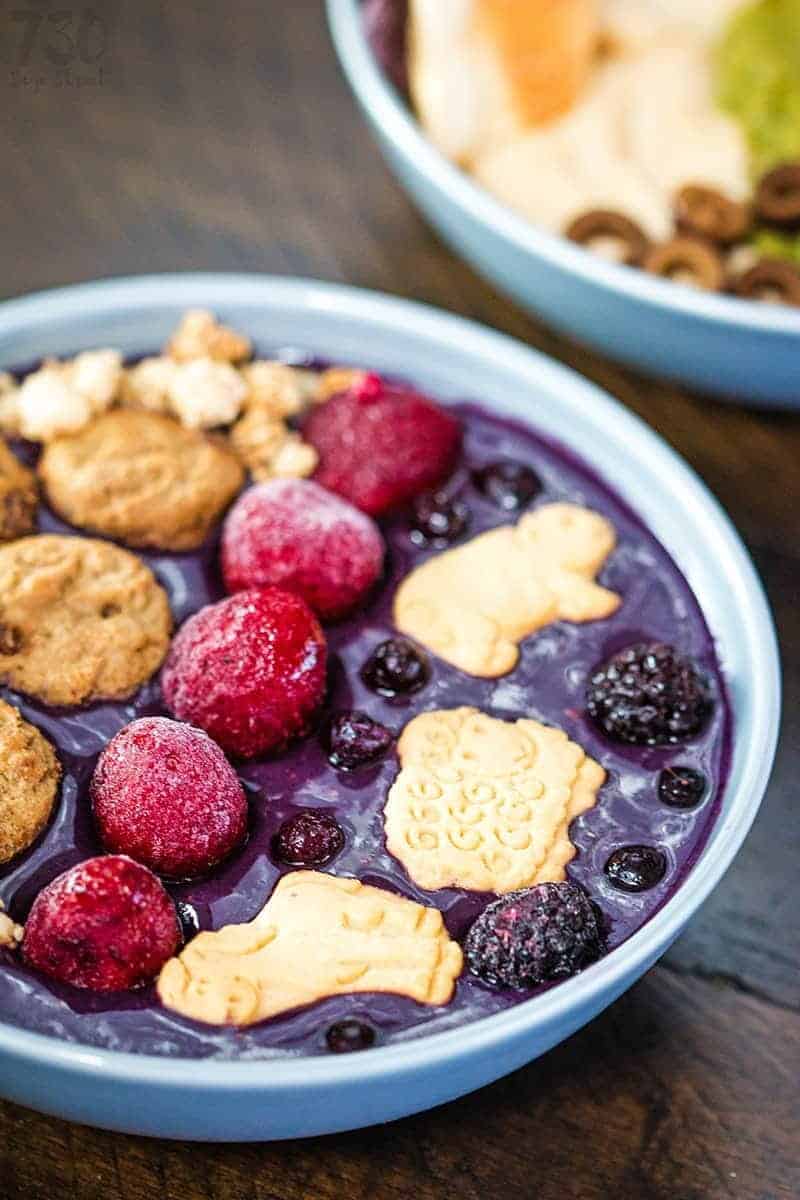 My daughter loved it!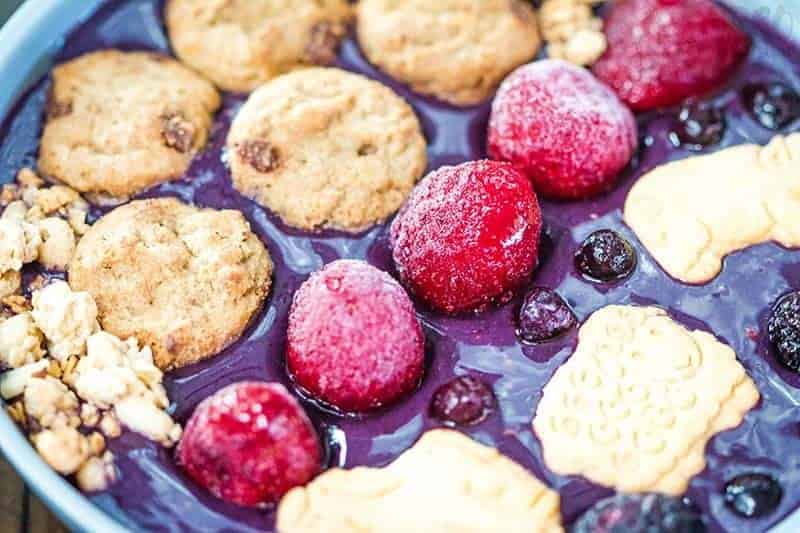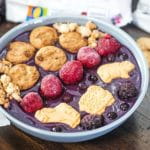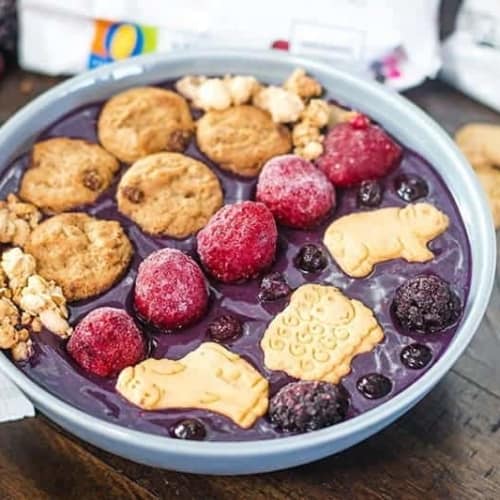 Sweet Snack Bowl (Smoothie Bowl)
This easy snack bowl is the perfect after school snack!
Print
Ingredients
1

10 oz bag

O Organics® Frozen Mixed Berries

8-12

oz

Almond milk

1-2

1 oz bags

O Organics® Animal Cookies

1-2

1 oz bags

O Organics® Mini Chocolate Chip Cookies

2

tbsp

O Organics® French Vanilla Almond Granola
Instructions
Remove about 1/4 cup of berries from the bag and set aside.

In a blender, combined frozen berries and milk and blend until smooth. I start with 8 oz of milk and add more if needed. You don't want it too runny.

Top with frozen fruit, animal cookies, chocolate chip cookies and granola.
Savory Snack Bowl (Hummus Bowl)
For my son, I made a savory snack hummus bowl. I used O Organics Traditional Hummus, O Organics Mild Salsa and O Organics Guacamole to create the base. I then added O Organics Blue Corn Tortilla Chips, Open Nature Pita Chips and some black olives as toppings.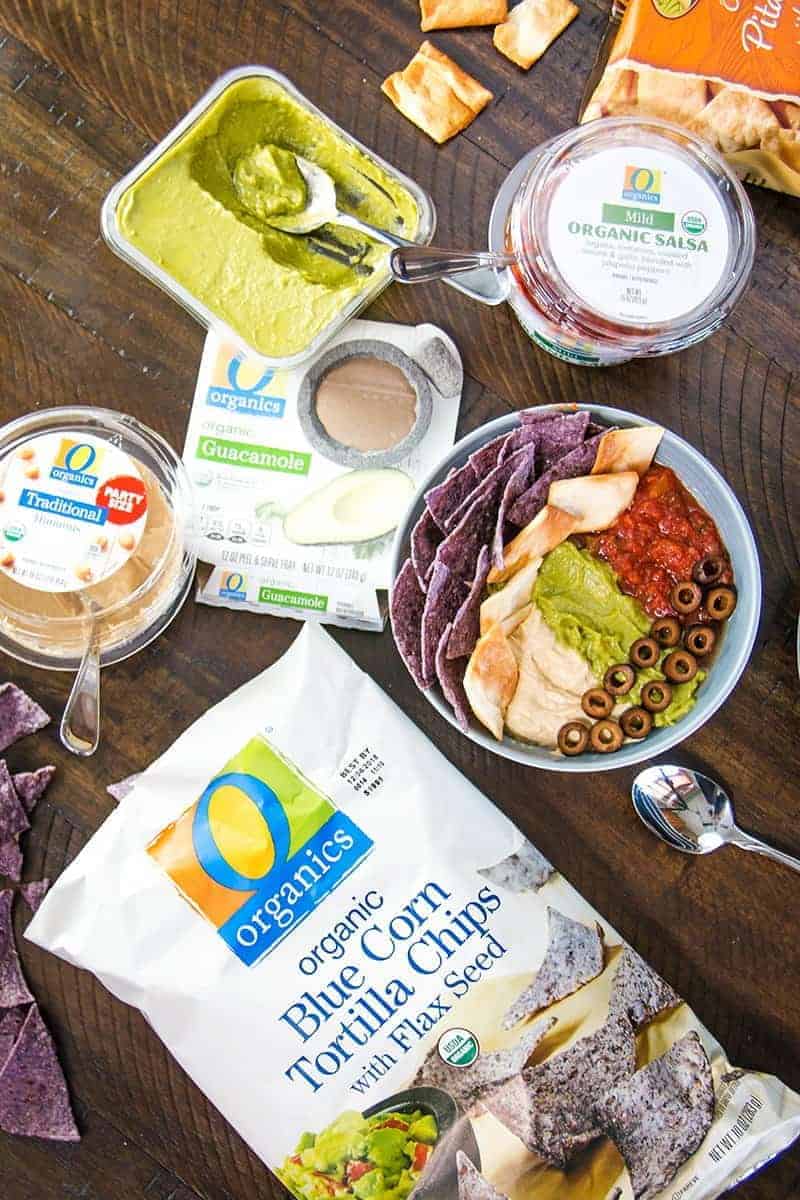 There are a lot of options for variety with this bowl. You could add chopped veggies, hot sauce, or beans too.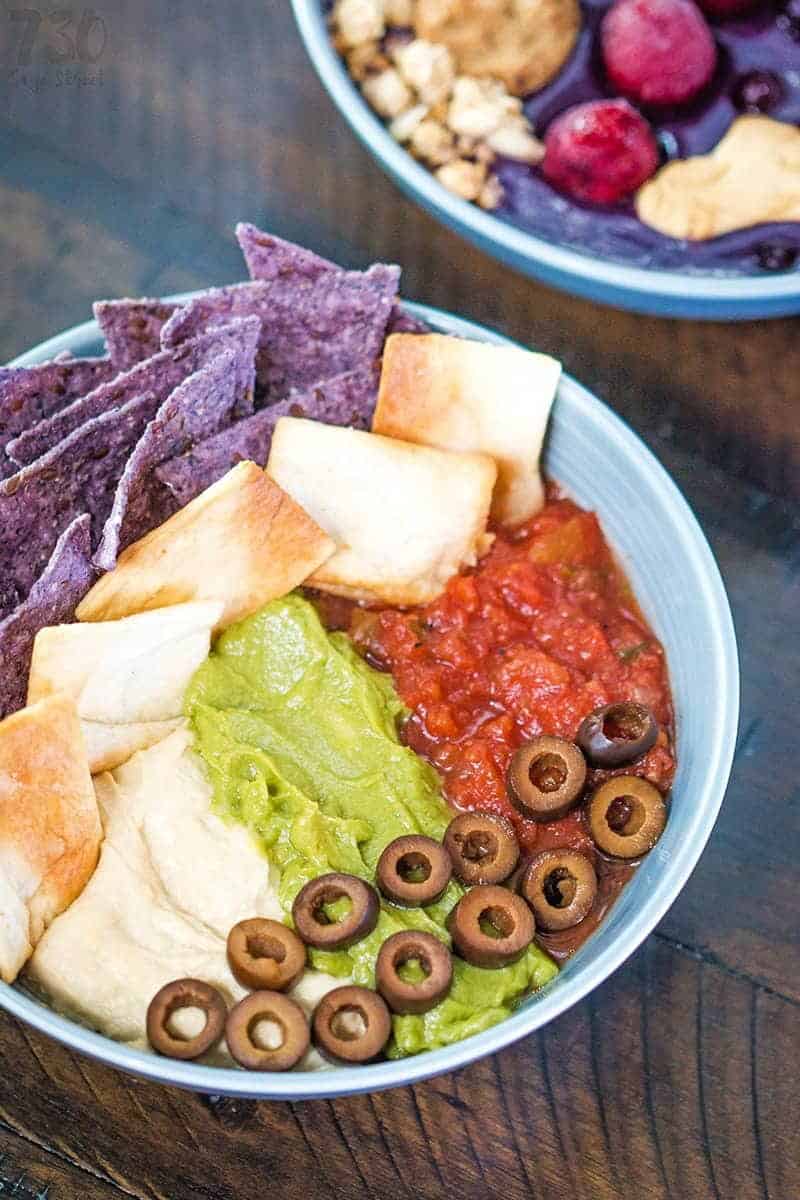 My son said it was delicious and asked me to make it for him every day.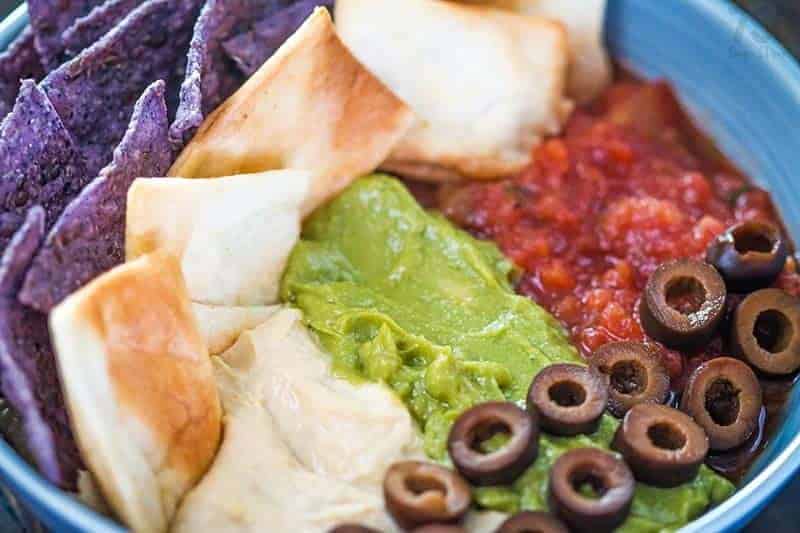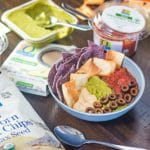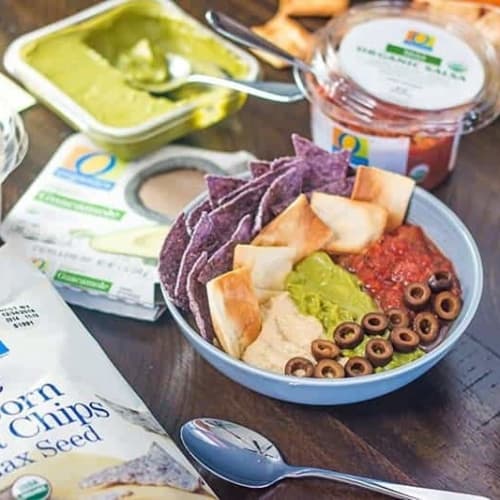 Savory Snack Bowl (Hummus Bowl)
This easy hummus snack bowl is a quick and delicious after school snack.
Print
Ingredients
1

15 oz package

O Organics® Mild Salsa

1

12 oz tray

O Organics® Guacamole

1

16 oz package

O Organics® Traditional Hummus

1

10 oz bag

O Organics® Blue Corn Tortilla Chips

1

8 oz bag

Open Nature Pita Chips

2

tbsp

sliced black olives
Instructions
In two medium bowls, spoon half of the hummus into each bowl to one side.

Add half of the guacamole to the middle of each bowl.

Add half of the salsa to the other side of each bowl.

Top each bowl with tortilla chips and pita chips.

Add tbsp of black olives to each bowl.
Recipe Notes
This recipe makes 2 large bowls, each bowl serves 2.
Take a look at the video below to see exactly how I assembled each bowl. It's a lot of fun!
O Organics products are available exclusively at Jewel-Osco.  If you don't live near a Jewel-Osco, you can also find them exclusively at other Albertsons Companies family stores including Albertsons, Safeway, ACME Markets, Vons, Pavilions, Randalls, Tom Thumb, Shaw's, Start Market, and Carrs/Safeway.
Pin this on Pinterest!

This is a sponsored conversation written by me on behalf of Albertsons Companies. The opinions and text are all mine.