Welcome to the world of pineapples! The vibrant and juicy fruit packs a punch of tropical flavor in every sip. Pineapple is not only delicious, but it's also loaded with vitamins, minerals, and antioxidants.
What better way to enjoy this superfood than in a refreshing smoothie? From classic combinations like Pineapple bananas to unexpected pairings like Blueberry Pineapple with Hemp Seeds, we've got 15 recipes that will take your taste buds on a tropical journey.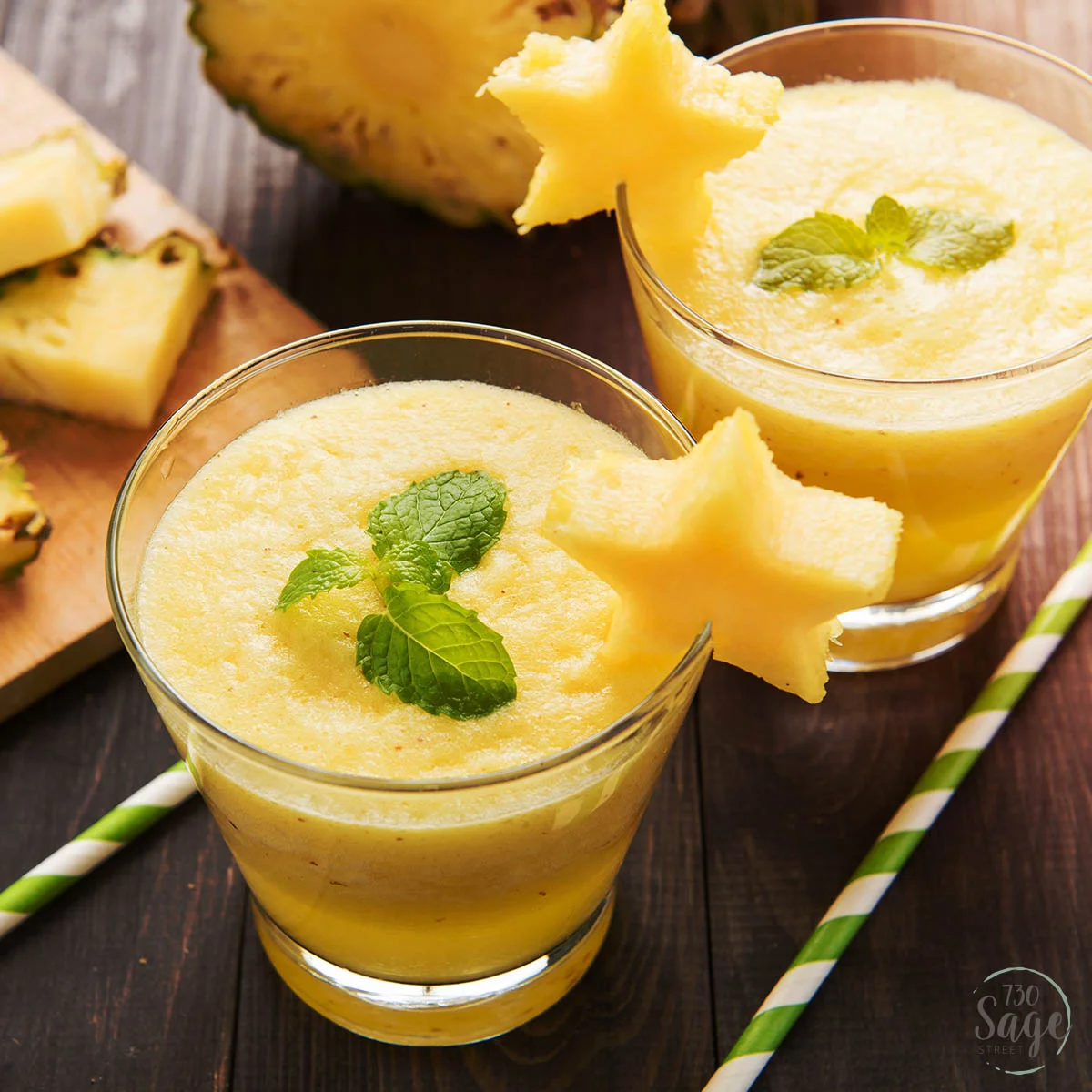 Can I Substitute Fresh Pineapple For Frozen Pineapple Instead?
Absolutely! You can substitute fresh pineapple for frozen pineapple in most smoothie recipes. Just make sure to add a few ice cubes to your blender if you want a colder, thicker smoothie. Keep in mind that frozen pineapple tends to be sweeter and creamier than fresh pineapple, so adjust the amount of sweetener and liquid as needed.
How Can I Make My Pineapple Smoothies Thicker And Creamier?
There are several ways to make your pineapple smoothies thicker and creamier. One way is to use frozen pineapple instead of fresh pineapple. You can also add a frozen banana or avocado to your smoothie to give it a creamy texture.
Using coconut milk or Greek yogurt instead of regular milk can also add creaminess to your smoothie. Additionally, adding chia seeds or nut butter can help thicken your smoothie.
15 Smoothie Recipes With Pineapple
These 15 pineapple smoothie recipes will whisk you away to a tropical paradise with one drink:
Embrace the sunshine with this refreshing Tropical Smoothie, perfect for warm weather relaxation. This recipe combines sweet pineapple cubes, juicy quartered strawberries, and ripe banana slices with creamy low-fat vanilla Greek yogurt for a delightful texture.
Adding a splash of pineapple or apple juice provides a zesty touch, while the ice ensures a frosty finish. Blend all ingredients together for a silky, satisfying treat. For an extra special touch, garnish with a pineapple wedge or strawberry, and enjoy on a sunny afternoon.
Savor a rejuvenating sip of this delightful Pineapple Smoothie, ideal for a revitalizing pick-me-up. The frozen pineapple and banana chunks meld beautifully with the tangy 0% Greek yogurt, creating a creamy base. The unsweetened vanilla almond milk adds a nutty sweetness, elevating the smoothie's flavors.
Simply blend all ingredients in a high-speed blender until you reach a thick, velvety consistency. Pour your luscious concoction into a tall glass, and garnish with a sprig of fresh mint for an added touch. Enjoy this scrumptious treat on a leisurely morning or as a post-workout refresher.
Relish the vibrant flavors of this Strawberry Pineapple Smoothie, perfect for brightening up your day. Icy cold and filled with fruity goodness, this recipe pairs succulent pineapple chunks with plump, ripe strawberries for a tantalizing combination.
Simply wash and destem your strawberries, then blend them together with pineapple and ice cubes for an invigorating, frosty treat. Pour the enticing mixture into glasses and share the delightful experience with a friend. For an extra touch of elegance, add a strawberry and pineapple skewer to each glass and serve on a sunny patio.
Experience a tropical escape with this delightful Mango Pineapple Smoothie, perfect for a relaxing break. The frozen pineapple and mango chunks create a luscious and exotic foundation, while the banana adds creaminess to the blend.
Dairy-free coconut yogurt lends a touch of island-inspired flavor, but feel free to use regular yogurt as well. Enhance the zest with coconut water or orange juice, depending on your preference. Blend all ingredients until smooth and creamy, then pour into your favorite cup or jar. Savor the taste of paradise with a smoothie straw or spoon, and let your mind wander to sun-soaked shores.
Unwind with the delightful fusion of flavors in this Pineapple Banana Smoothie, perfect for a calming treat. The succulent pineapple chunks and ripe banana pieces meld harmoniously, creating a luscious, fruity base. Unsweetened almond milk adds a hint of nutty creaminess that elevates the experience.
Simply blend the pineapple, banana, and almond milk together until you achieve a velvety smooth consistency. Pour your soothing concoction into a chilled glass, and for an added touch of elegance, top with a sprinkle of chia seeds or a few banana slices. Savor this comforting beverage any time you need a moment of serenity.
Energize your day with this invigorating Pineapple Spinach Smoothie, ideal for a wholesome pick-me-up. The frozen pineapple and mango chunks offer a burst of tropical sweetness, perfectly complemented by the freshness of baby spinach.
A medium banana adds smoothness, while a splash of freshly squeezed lime juice provides a zesty twist. Blend all ingredients together, ensuring the spinach is fully incorporated for a vibrant, verdant smoothie. Pour the nutritious mixture into a glass, and for a finishing touch, garnish with a lime wheel. Enjoy this revitalizing concoction as a nourishing breakfast or midday snack.
Drift away to a tropical oasis with this delightful Pina Colada Smoothie, perfect for a well-deserved break. This recipe combines the creamy richness of coconut milk with the vibrant sweetness of frozen pineapple for a dreamy blend. A touch of granulated or coconut sugar adds a hint of extra sweetness, while ice creates a frosty finish.
Blend all ingredients on high power until you achieve a silky smooth consistency, adjusting the milk or pineapple as needed. Pour this enchanting elixir into glasses, and for a lovely garnish, top with a pineapple wedge or a sprinkle of shredded coconut. Savor this luscious treat as you envision sun-soaked beaches and swaying palm trees.
Delight in the citrusy bliss of this Pineapple Orange Smoothie, perfect for a rejuvenating burst of refreshment. The frozen pineapple chunks provide a sweet and tangy base, while the orange juice adds a zesty undertone.
The milk of your choice—be it dairy, soy, or almond—brings a smooth creaminess, and the pineapple-flavored Chobani Greek Yogurt enhances the tropical essence. Simply blend all ingredients on high speed until a velvety, vibrant mixture emerges. Pour into your favorite glass and, for a playful touch, garnish with a twist of orange peel. Enjoy this revitalizing treat as a morning eye-opener or an afternoon pick-me-up.
Oh, it's time for a tropical getaway with this scrumptious Coconut Pineapple Smoothie! With just a few simple ingredients, you'll be transported to a sun-kissed beach. The frozen bananas create a creamy base, while the pineapple chunks add a burst of juicy sweetness.
Rich coconut milk brings a hint of the tropics, and a drizzle of honey or maple syrup lets you adjust the sweetness to your liking. Simply blend everything together for a velvety, satisfying treat. Pair this delightful smoothie with a colorful fruit salad for the ultimate island-inspired experience.
Rev up your day with the energizing "Mean Green Machine" Smoothie, a refreshing blend of natural goodness. Packed with nourishing ingredients, this recipe combines sweet and tangy canned pineapple juice with baby spinach, creating a powerhouse of nutrients.
Frozen pineapple chunks and a Granny Smith apple offer a delightful sweetness, while ice lends a chill that makes the smoothie even more refreshing. Simply blend all ingredients together until smooth and creamy, then pour into a tall glass. Add a slice of apple or a sprig of mint for an extra touch of color and enjoy this rejuvenating drink as a quick breakfast or a post-workout refresher.
This Blueberry Pineapple Smoothie with Hemp Seeds is a delightful blend of tropical flavors that will transport you to a sunny beach in no time. The frozen pineapple and banana form a smooth and creamy base, while the hemp seeds and plant milk add a nutty and refreshing taste.
To enjoy this refreshing smoothie, blend the pineapple layer and pour it into two glasses, then blend the blueberry layer and pour it over the pineapple layer, creating a beautiful layered effect. Swirl the two layers together with a spoon and sip away. This smoothie is perfect for a quick breakfast or as a healthy snack, and with its abundance of vitamins, minerals, and antioxidants, it's a treat for your taste buds and your body.
Avocado pineapple smoothie is the perfect blend of creamy and fruity flavors. Made with frozen pineapple, a ripe avocado, and a frozen banana, this smoothie is full of nutrients and is a great way to start your day.
The addition of vanilla almond milk and honey adds a subtle sweetness to the smoothie, while the ground flax seeds add a nutty flavor and a boost of omega-3s. Blend all the ingredients together until smooth and pour into a glass. Enjoy this refreshing smoothie any time of the day!
This Fresh Pineapple Peach Smoothie is a refreshing treat on a hot summer day. Packed with sweet, juicy peaches and tropical pineapple, this smoothie is creamy and delicious. Adding non-fat Greek plain yogurt and milk gives it a smooth, velvety texture that is hard to resist.
Agave nectar provides just the right amount of sweetness, while vanilla extract adds a warm, cozy note to this cool and refreshing drink. For an added nutritional boost, try adding ground flax seeds to the mix. Blend everything together and enjoy the perfect balance of flavors and textures in every sip.
Cool down with a refreshing cucumber pineapple smoothie. This vibrant and healthy smoothie is made with unsweetened almond milk, fresh or frozen pineapple, and cucumber.
A burst of flavor from a medium orange and a touch of ginger adds a zingy twist to this smoothie. Simply blend all the ingredients together until creamy and enjoy this delicious and easy-to-make smoothie in no time. Perfect for a quick breakfast or as a post-workout snack to keep you fueled and refreshed throughout the day.
This Papaya Smoothie recipe will transport you straight to the tropics with its sweet and tangy flavors. The combination of juicy papaya, ripe pineapple, zesty lime, and honey creates a tropical paradise in your mouth.
The McCormick Tropical Twist Smoothie Boost adds an extra boost of flavor and nutrition to this already delicious smoothie. The almond milk or coconut milk gives it a creamy texture that is perfect for any time of day. Serve it with a straw and a little umbrella for the full tropical experience.