There is a smoked sausage pasta dish for every taste, whether you like creamy sauces, spicy Cajun spices, or traditional Italian dishes since smoked sausage is such a versatile flavoring component.
In this roundup, we've compiled 15 delicious and easy-to-make smoked sausage pasta recipes that are perfect for any weeknight dinner.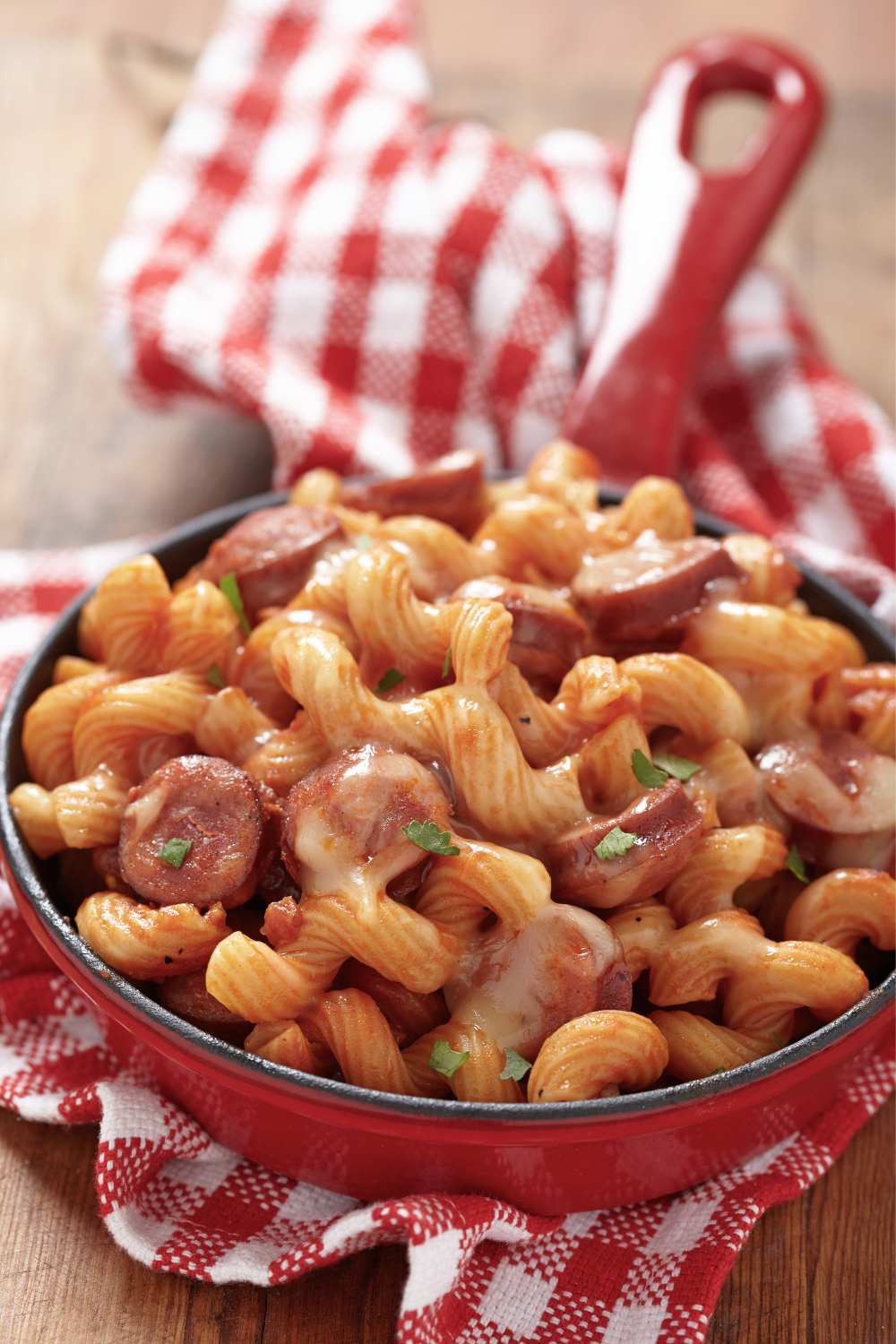 What Are Some Common Varieties Of Smoked Sausage I May Use In These Recipes?
Smoked sausages are a popular ingredient in many pasta dishes. Here are some common varieties to use in these recipes:
Andouille sausage: a spicy, smoked sausage originating from Louisiana, perfect for Cajun-inspired dishes.
Kielbasa: a type of Polish sausage with a savory, smoky flavor that pairs well with pasta and vegetables.
Chorizo: a Spanish sausage made with smoked paprika, giving it a rich, smoky flavor and bold color.
Bratwurst: a German sausage that is usually smoked and pairs well with creamy pasta sauces.
Italian sausage: a spicier, smoked sausage made with fennel seeds, perfect for tomato-based sauces.
Can I Use Any Other Types Of Sausage Instead Of Smoked Sausages?
While smoked sausage is the star of these recipes, you can easily substitute it with other types of sausage for a healthier twist. Turkey sausage is a popular choice, as it is lower in fat and calories than traditional pork sausage.
Chicken sausage is another healthy option that comes in a variety of flavors. Vegetarian sausage can also be used as a meatless option. However, keep in mind that the flavor and texture of the dish may vary depending on the type of sausage used.
15 Smoked Sausage Recipes With Pasta
Get ready to spice up your pasta game with these 15 healthy and delicious Smoked Sausage Recipes:
The spicy and flavorful Cajun Shrimp and Sausage Pasta is our first stop on our smoked sausage and pasta adventure. The smoky flavor of the sausage pairs perfectly with the tender shrimp and Cajun seasoning, while the creamy half-and-half sauce ties everything together.
This dish is a perfect blend of heat and richness, making it a perfect meal for those who crave bold flavors. Serve it with some crusty bread to mop up all that delicious sauce, and enjoy a taste of the Cajun countryside right at home.
As we venture further on our smoked sausage and pasta journey, we arrive at the flavorful One Pot Cajun Chicken Alfredo. This dish is the perfect blend of creamy and spicy, with tender chicken, smoky sausage, and a healthy dose of Cajun seasoning.
The addition of heavy cream and Parmesan cheese creates a decadent sauce that clings to every bite of the perfectly cooked penne pasta. Plus, it's all cooked in just one pot, making cleanup a breeze. Garnish with Italian parsley for freshness, and get ready to savor the bold flavors of this Cajun-inspired masterpiece.
Our smoked sausage and pasta journey takes a fresh and flavorful turn with Smoked Sausage Pesto Penne Pasta with Roasted Vegetables. This dish is packed with tender smoked sausage, roasted red bell pepper, broccoli, mushrooms, and red onion that all complement each other perfectly.
Tossed with al dente penne pasta and prepared pesto, this dish is a quick and easy way to elevate a weeknight dinner. The freshly grated Parmesan cheese adds a touch of salty goodness to the already mouthwatering flavors. It's a perfect meal that will leave your taste buds singing and your stomach happy.
With Smoked Sausage Pasta Fra Diavolo, our journey with smoked sausage and pasta take a spicy turn. The crushed red pepper flakes provide heat, while the red wine sauce complements the richness of the meat.
Deepness comes from the smoked sausage, while brightness comes from the fresh herbs and grated cheese. The soft smoked sausage pieces find an ideal vehicle in the al dente spaghetti, which is covered in rich sauce. This recipe will become a staple in your pasta rotation because of its robust and spicy taste.
Smoked sausage, crispy bacon, and a rich and creamy sauce cling to each and every strand of freshly cooked spaghetti in Cheesy Garlic Sausage and Bacon Carbonara, the next delectable stop on our smoked sausage and pasta adventure.
The combination of Parmesan and Italian cheeses gives a creamy and cheesy finish, while the addition of garlic increases the dish's depth and richness. This meal will quickly become a family favorite and is ideal for those times when you're craving something hearty and satisfying. Grab a fork and dive in to experience the rich, savory flavors of this carbonara.
Chicken and Chorizo Pasta with Spinach is a Spanish take on our smoked sausage and pasta adventure, and it's a vivid and tasty combination of succulent chicken, spicy chorizo, and fresh spinach.
The olives provide a salty edge to the meal, while the smoked paprika and dried oregano give depth to the tomato-based sauce. Rigatoni is used as the sauce's foundation because it holds up well, while fresh basil and Parmesan cheese are added for brightness and saltiness, respectively. This spaghetti dish is ideal for a filling and flavorful family meal.
This Pasta Jambalaya dish will add some heat to your evening with its combination of properly cooked penne pasta, juicy Andouille sausage, crisp bell peppers, and celery in a flavorful Creole-seasoned tomato sauce. The smokiness of the smoked paprika complements the richness of the white wine's acidity.
Jambalaya is finished cooking when shrimp and chicken are added. Garnish with minced fresh parsley for an added flavor kick. If you're looking for a meal that will give you a taste of New Orleans, go no further.
For the perfect comfort food, look no further than this Baked Rigatoni recipe. With tender rigatoni pasta, slices of smoked turkey sausage, and julienne-cut sundried tomatoes cooked in extra virgin olive oil with minced garlic, this dish is full of savory flavors that will have your taste buds dancing.
Top it off with fresh chopped basil and grated Romano cheese for a deliciously indulgent meal. Whether you're serving a family dinner or a casual get-together with friends, this recipe is sure to please everyone at the table.
Next up on our flavorful adventure, we're diving into a scrumptious Cajun Mac and Cheese that's pure comfort food with a Southern twist. Imagine the perfect union of tender elbow noodles, spicy andouille sausages, and a velvety cheese sauce infused with Cajun seasoning.
This dish brings together the warmth of the South and the cozy feeling of a beloved classic. As the smoked paprika and red peppers elevate the dish's character, you'll find yourself craving seconds! So gather your friends and family and share the love with this mouthwatering mac and cheese.
As we continue our pasta escapade, let's treat ourselves to a delightful Smoked Sausage Pasta Recipe that's bound to win hearts at the dinner table. Picture a symphony of perfectly cooked mezzi rigatoni, juicy beef smoked sausage, and crisp asparagus, all dancing together in a rich and creamy sauce.
The combination of garlic, basil, and diced tomatoes creates a beautiful harmony of flavors, while the touch of heavy cream adds an extra layer of indulgence. When you serve this dish, don't forget a sprinkle of parmesan cheese to make it even more irresistible!
Get whisked away to Italy with this delightful Skillet Italian Sausage and Peppers with Whole-Wheat Penne recipe! Savor the rich medley of flavors as you dig into a mouthwatering combination of perfectly cooked whole-wheat penne, succulent Italian sausage, and vibrant bell peppers.
The scrumptious tomato sauce, infused with red wine and Italian seasoning, adds depth and warmth to every bite. Don't forget to sprinkle some Parmesan cheese on top for that irresistible, cheesy finish. This dish is not only pleasing to the eye but also a loving hug for your soul.
Let this Prawn and Chorizo Pasta transport you to a coastal Mediterranean paradise! This recipe combines succulent prawns, smoky chorizo, and tender spaghetti for an unforgettable culinary experience. With a hint of smoked paprika and a touch of lemon juice, your palate will dance with delight.
Sauteed garlic adds an enticing aroma, and freshly grated Parmesan cheese creates a luscious, velvety finish. Sprinkle some chopped parsley on top for a burst of freshness that ties everything together. This dish is a love letter to the Mediterranean, where flavors come together in perfect harmony.
Experience a cozy European adventure with this delicious Pasta with Kielbasa and Sauerkraut recipe! You'll adore the hearty combination of tender ziti pasta, savory kielbasa sausage, and tangy sauerkraut. With the warmth of Dijon-style mustard and a hint of cayenne pepper, this dish brings a delightful zing to your plate.
The blend of onion, red bell pepper, garlic, and white wine gives depth to the flavors while fresh parsley adds a touch of brightness. This meal is like a warm, comforting hug on a chilly evening, reminding you of the simple pleasures in life.
Discover the enticing flavors of the Mediterranean with this Orzo with Chicken and Artichokes recipe! This delightful dish showcases a symphony of flavors, featuring tender orzo pasta, juicy chicken, and delectable artichoke hearts.
The rich and smoky pancetta adds depth, while the baby spinach introduces a fresh, verdant touch. Toasted pine nuts bring a delightful crunch, and a drizzle of balsamic vinegar offers a sweet tanginess that ties everything together. One bite of this vibrant creation, and you'll feel like you're soaking in the Mediterranean sun, surrounded by the warmth and joy of loved ones.
Cajun Andouille Sausage & Pasta is our final destination; the smokey, sizzling taste of Aidells® Cajun Andouille Sausage mingles with the juiciness of diced tomatoes and green chilies to produce a sauce that is equal parts spicy and creamy.
This rich sauce is then used to cook the short pasta of your choice, making each and every mouthful delicious. The sharp cheddar cheese tops off the meal with a savory cheesiness that makes it a crowd-pleaser on any night of the week. Chopped fresh parsley adds color and flavor as a garnish.