This is a sponsored post written by me on behalf of Jimmy Dean®. All opinions are entirely my own.
A few years ago my husband and I discovered that when it comes to making things like burgers and other meat based recipes, that using pork sausage can take a recipe from GOOD to GREAT. It adds amazing depth of flavor to recipes and helps make our family meals extra special – and not just for breakfast. Jimmy Dean® Roll Sausage is perfect for making delicious family dinners and my favorite place to get it is at Meijer. Jimmy Dean® Roll Sausage is already seasoned to perfection making it an easy way to add flavor to your favorite recipes. Meijer has my favorite varieties of Jimmy Dean® Roll Sausage plus everything else I need to create memorable family meals.
As my kids get older, we have found it is even more important to take the time to sit down together for a meal. It's funny how many great stories we share and memories we make when we all sit down together. Last Friday we had what we call "family dinner" and had our extended family over including my parents, sister, my husband's sister and my nephew who was home briefly on leave from the US Navy. We had so much fun, I have not laughed that hard in a long time.
The best memories are often created over food so I have not one but two delicious recipes to share with you using Jimmy Dean® Roll Sausage!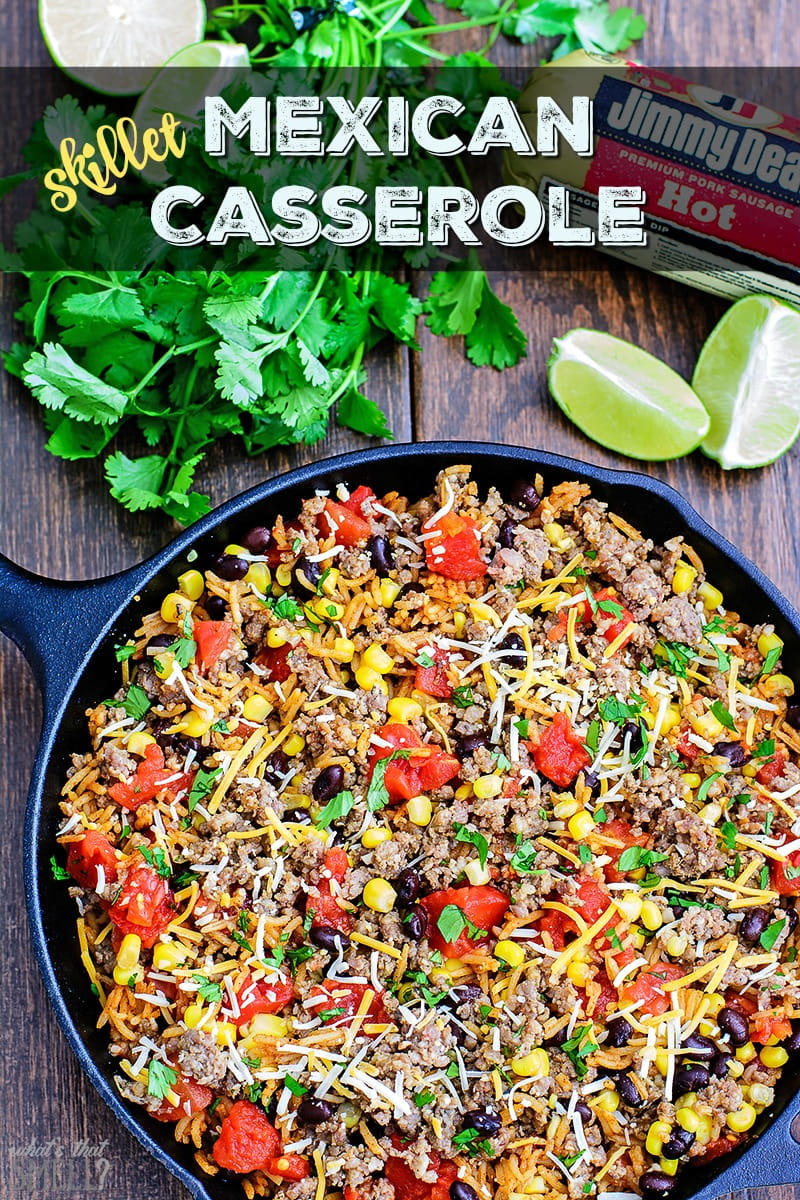 One Skillet Mexican Rice Casserole – this one pot Mexican sausage and rice casserole is easy, delicious and ready in about 30 minutes. It uses fresh, authentic ingredients and can be enjoyed in a bowl or even as filling for a tortilla. Don't forget to top with sour cream!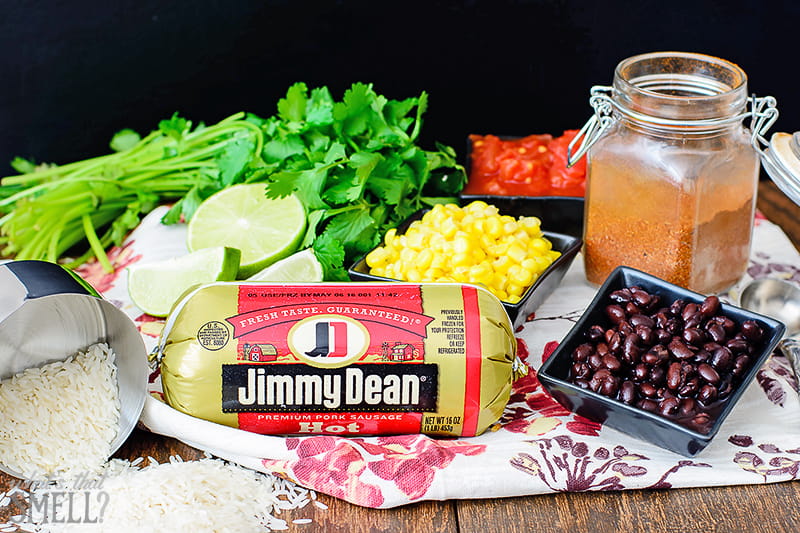 Print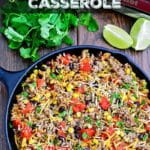 One Skillet Mexican Rice Casserole
Author:
Prep Time: 5 mins
Cook Time: 25 mins
Total Time: 30 mins
Yield: 4-6 servings
---
Ingredients
2 tbsp butter
1 lb Jimmy Dean® Roll Sausage (hot)
1 cup long grain rice
2 cups chicken or vegetable broth
2 tbsp taco seasoning
1 can diced tomatoes (drained)
1 can sweet corn (drained)
1 can black beans (drained, rinsed)
1/2 cup shredded cheddar cheese or Mexican blend cheese
Sour cream
Fresh cilantro (chopped)
---
Instructions
Melt butter in skillet over medium heat.
Add in the sausage and cook until browned.
Add rice and sauté for 1-2 minutes
Pour in chicken broth and add taco seasoning and bring mixture to a boil over high heat.
Reduce heat to low and simmer for 20 minutes.
Remove from heat and stir in tomatoes, corn and beans.
Top with cheese, sour cream and fresh cilantro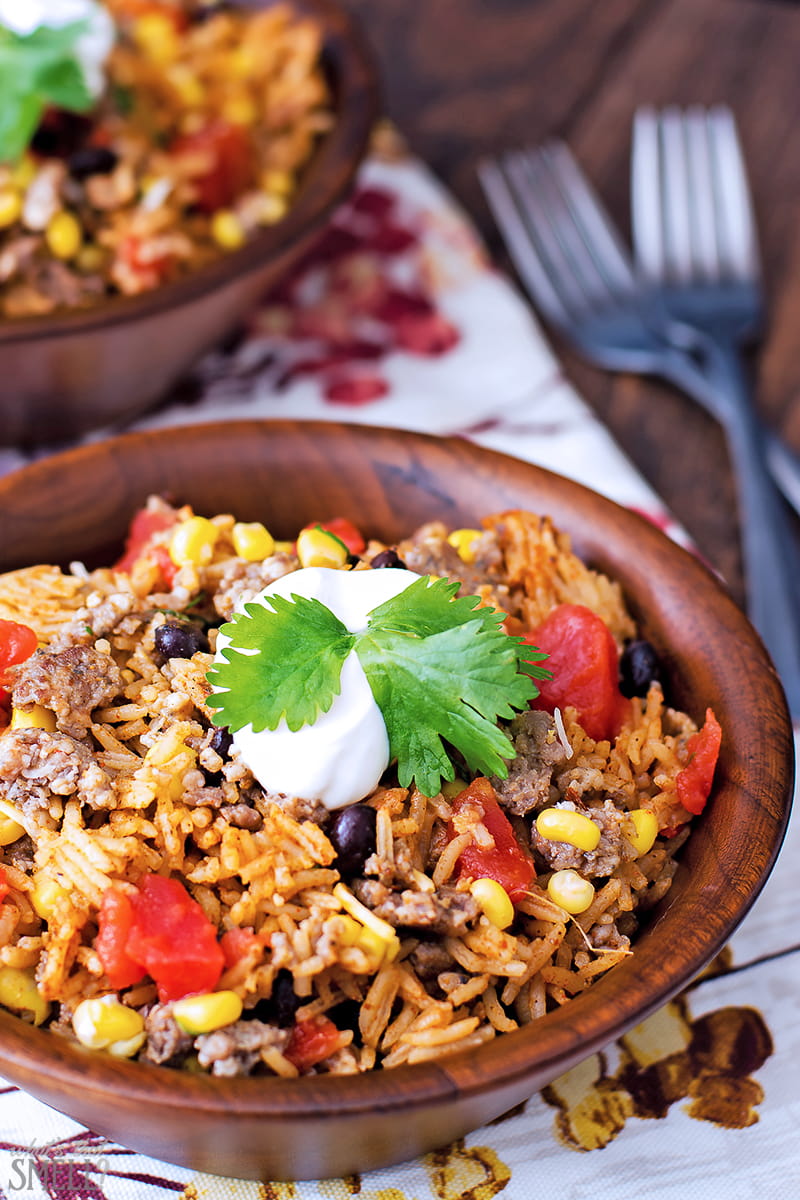 You can serve it over lettuce too for a yummy taco salad!
If American fare is more your style, you might like this Sausage Smashed Burger recipe from Jimmy Dean. There is a little more prep work required but you must try these delicious, unique flavors!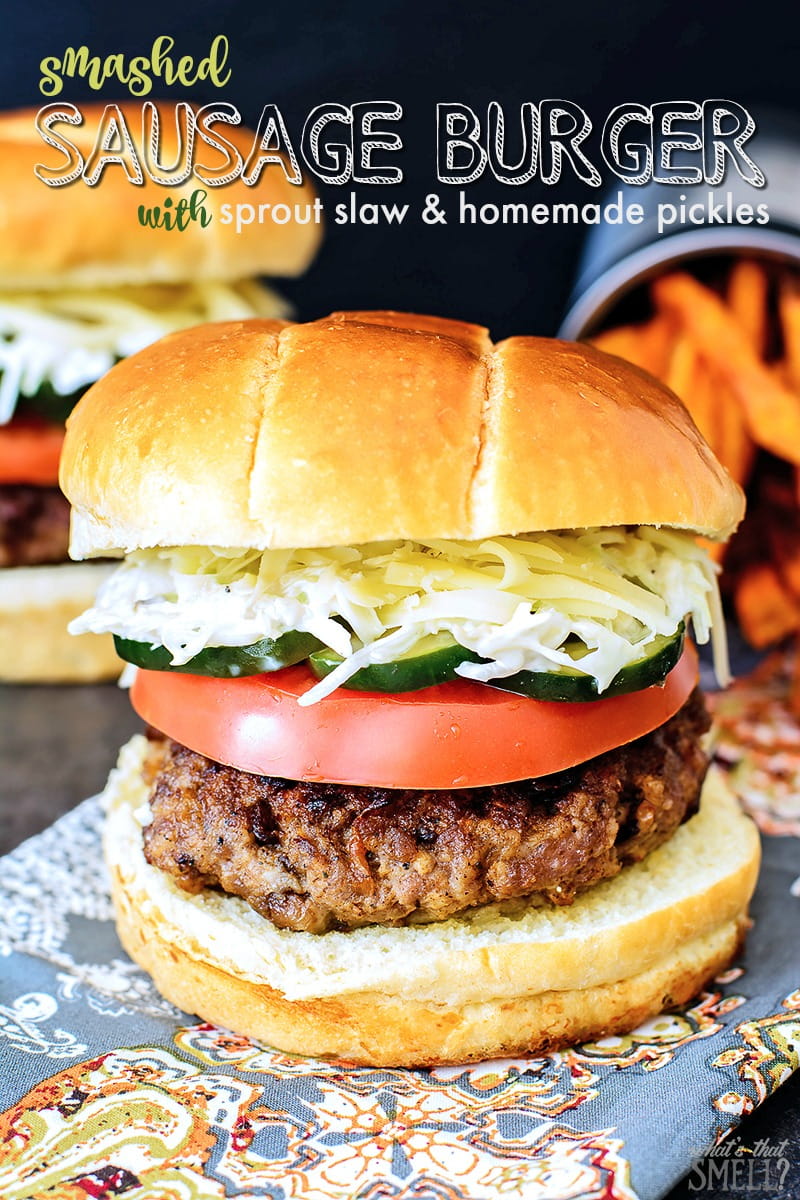 Sausage Smashed Burger – "this restaurant trending burger is coming to your home. Use Jimmy Dean® Roll Sausage with caramelized onions smashed together in a skillet or char-grill and topped with jarlsberg cheese. Layered between brioche bread, charred tomato, pickled cucumbers, shaved Brussel sprouts with garlic mayonnaise."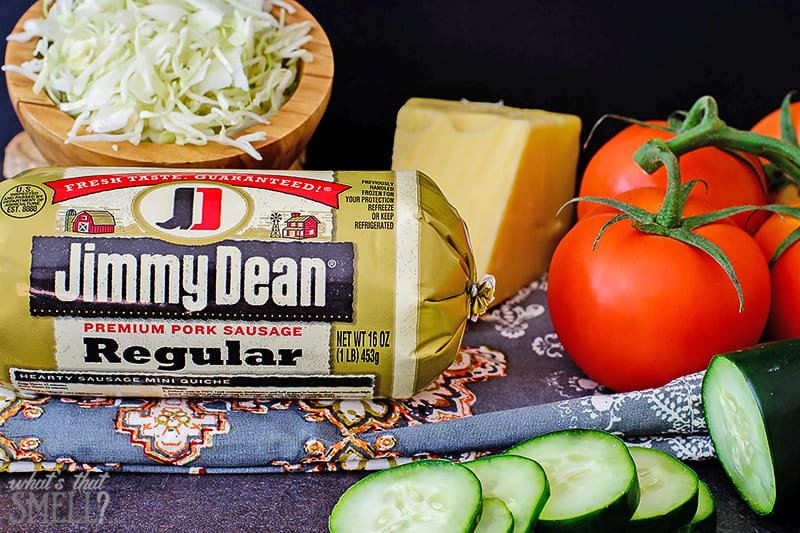 We could only find brioche buns for this recipe, but it's certainly just as delicious!
Print
Sausage Smashed Burger
Author:
Prep Time: 25 mins
Cook Time: 45 mins
Total Time: 1 hour 10 mins
Yield: 4
---
Ingredients
For the burger:
1 pound Jimmy Dean® Original Sausage
½ cup Homemade Pickles, see recipe below
1 cup Sprout Slaw, see recipe below
4 cups diced onions
2 tablespoons oil
¼ cup unsalted butter
8 slices brioche bread
2 tomatoes, sliced
1 cup shredded jarlsberg cheese
For the pickles:
¼ cup sugar
¼ cup apple cider vinegar
¼ cup water
½ cucumber, seeded and sliced
For the sprout slaw:
2 cups shaved Brussels sprouts
¼ cup mayonnaise
1 tablespoon garlic paste
---
Instructions
Combine sugar, vinegar and water in a sauce pot and bring to a boil. Remove from heat and add cucumber slices. Refrigerate for an hour before use, the cucumbers will be tender yet still have texture.
Combine Brussels sprouts, mayonnaise and garlic paste in a mixing bowl; keep refrigerated until use.
Heat oil in a large skillet over medium. Add onions, butter and cook on medium-low heat for 30 minutes, stirring often until onions are tender. Drain and reserve excess butter to toast bread slices, refrigerate onions until cooled.
Heat 1 tablespoon of reserved onion butter in the same skillet over medium. Toast 2 slices of bread at a time until desired doneness, repeat with remaining ingredients and set aside.
In the same skillet, heat the tomato slices until a slight charring occurs, set aside.
Combine the sausage and caramelized onions together in a mixing bowl. Divide the sausage mix into 4 equal parts and roll into individual ball-shapes. Using the same skillet, smash the sausage into the skillet with a flat spatula until you have your desired thickness. Cook over medium heat for 12-15 minutes or until the natural juices run clear. Finish with the shredded cheese and let melt before removing from the skillet. You can cook them all in the same skillet or two at a time. Layer the burger between toasted bread with tomatoes, pickles and slaw.
Enjoy!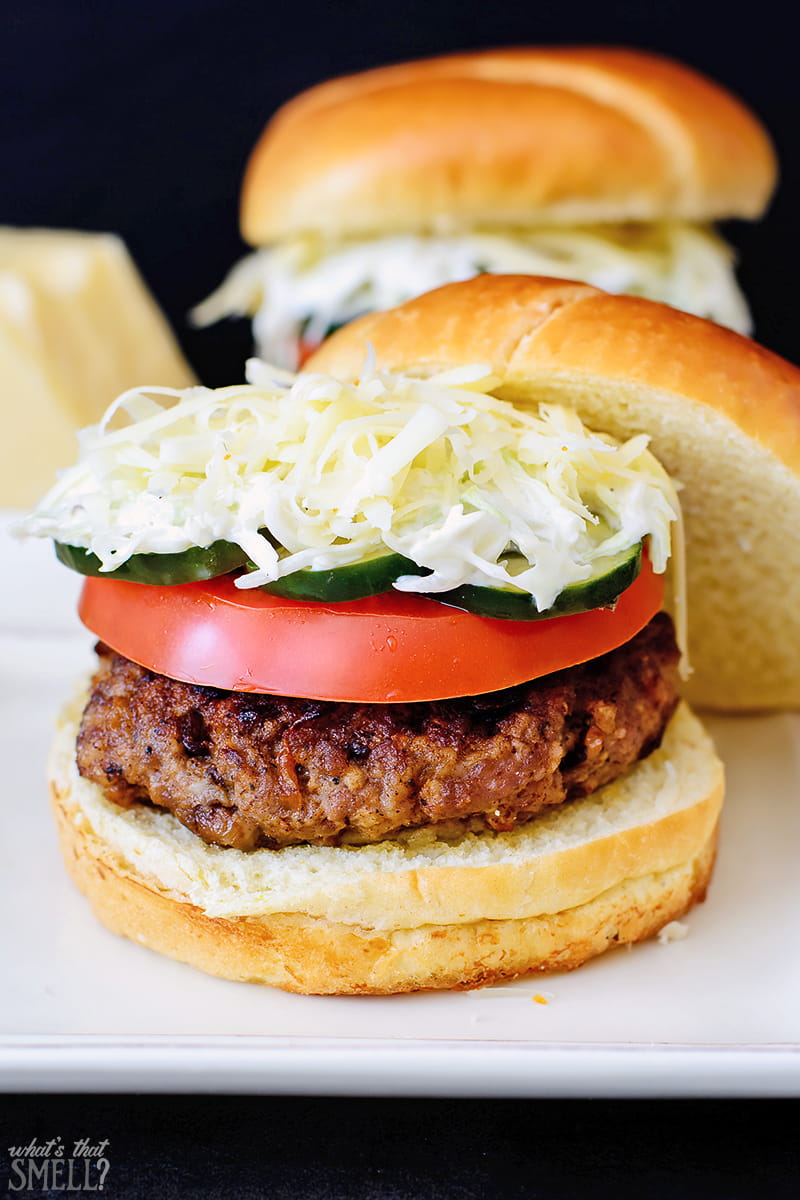 This burger is big enough for a whole meal or you can serve it with a side of sweet potato fries! Yum!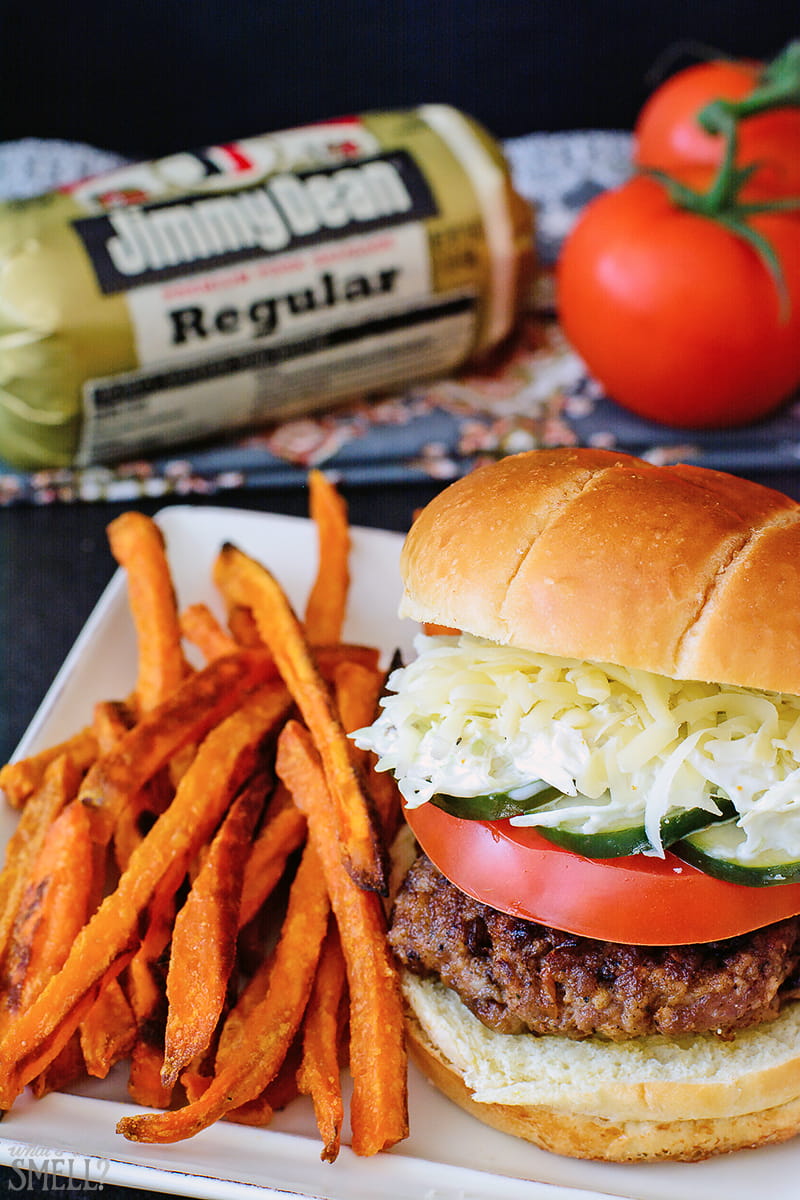 Jimmy Dean® Roll Sausage is super versatile and will help make any recipe delicious for any meal of the day. It is available in 3 varieties: Regular/Original, Country Mild and Hot.
Is it important for you to have your family sit down to dinner together? What is your favorite family meal that gets everyone to the table?
This is a sponsored post written by me on behalf of Jimmy Dean®. All opinions are entirely my own.
Join our newsletter!
Subscribe to get updates and great stuff via email including subscriber-only goodies like free printables and giveaways.