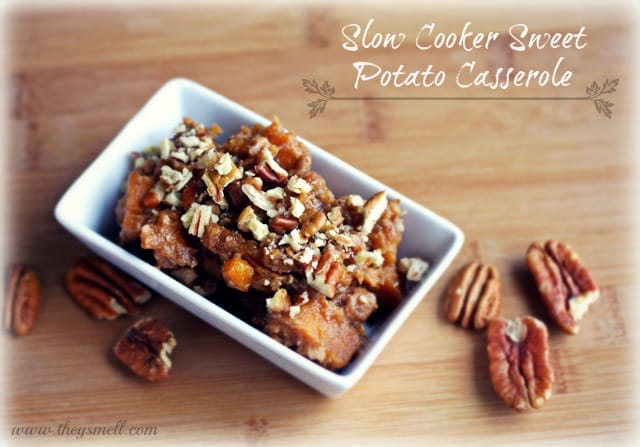 Sweet potatoes are a staple around here. Breakfast, lunch or dinner, we eat them at least a few times a week. They are a great source of vitamin C, calcium, potassium and more. They are low glycemic index which means they don't affect blood sugar the way their white potato cousins do. Plus, combined with some grass-fed butter, cinnamon, nuts or other toppings, they can actually taste like a decadent treat.

I recently bought a cool new triple slow cooker with three 1-1/2 quart crocks in it and I had my head set on making sweet potatoes in it. We had a sweet potato casserole for Thanksgiving last year and I had been looking for a way to clean it up ingredient-wise. This was the perfect opportunity and it turned out great, my son and I fought over the leftovers.
Print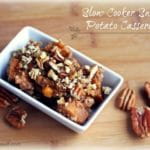 Slow Cooker Sweet Potato Casserole Recipe
Author: Kim
Prep Time: 10 mins
Cook Time: 8 hours
Total Time: 8 hours 10 mins
Yield: 4
Category: side dish
---
Ingredients
3 sweet potatoes (or yams which are supposed to be sweeter) – peeled & diced into cubes
1/3 cup coconut sugar
3/4 cup unsweetened applesauce
1 1/2 tablespoons melted butter
2 tbsp chopped pecans
1/2 – 1 tsp cinnamon
---
Instructions
Place sweet potatoes in slow cooker
Mix together coconut sugar, applesauce, butter and cinnamon and pour over sweet potatoes
Cover
Cook on low for 6-8 hours
Potatoes will be very tender when done
Sprinkle with nuts and serve
---
Notes
You can use brown sugar in place of the coconut sugar, but I like the coconut sugar because it has a lower glycemic index.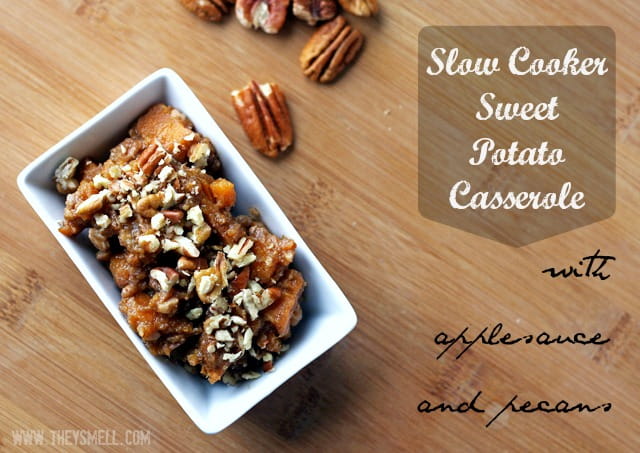 Excuse me while I go make this again…
Join our newsletter!
Subscribe to get updates and great stuff via email including subscriber-only goodies like free printables and giveaways.