Whether you choose a juicy ribeye, soft filet mignon, or delicious sirloin, skillet-cooked steaks are a traditional meat lover's favorite.
In this roundup, we've gathered 15 mouthwatering steak recipes that are perfect for any occasion, from weeknight dinners to special occasions. With a variety of seasoning blends and cooking methods, these recipes are sure to satisfy your craving for a delicious steak dinner.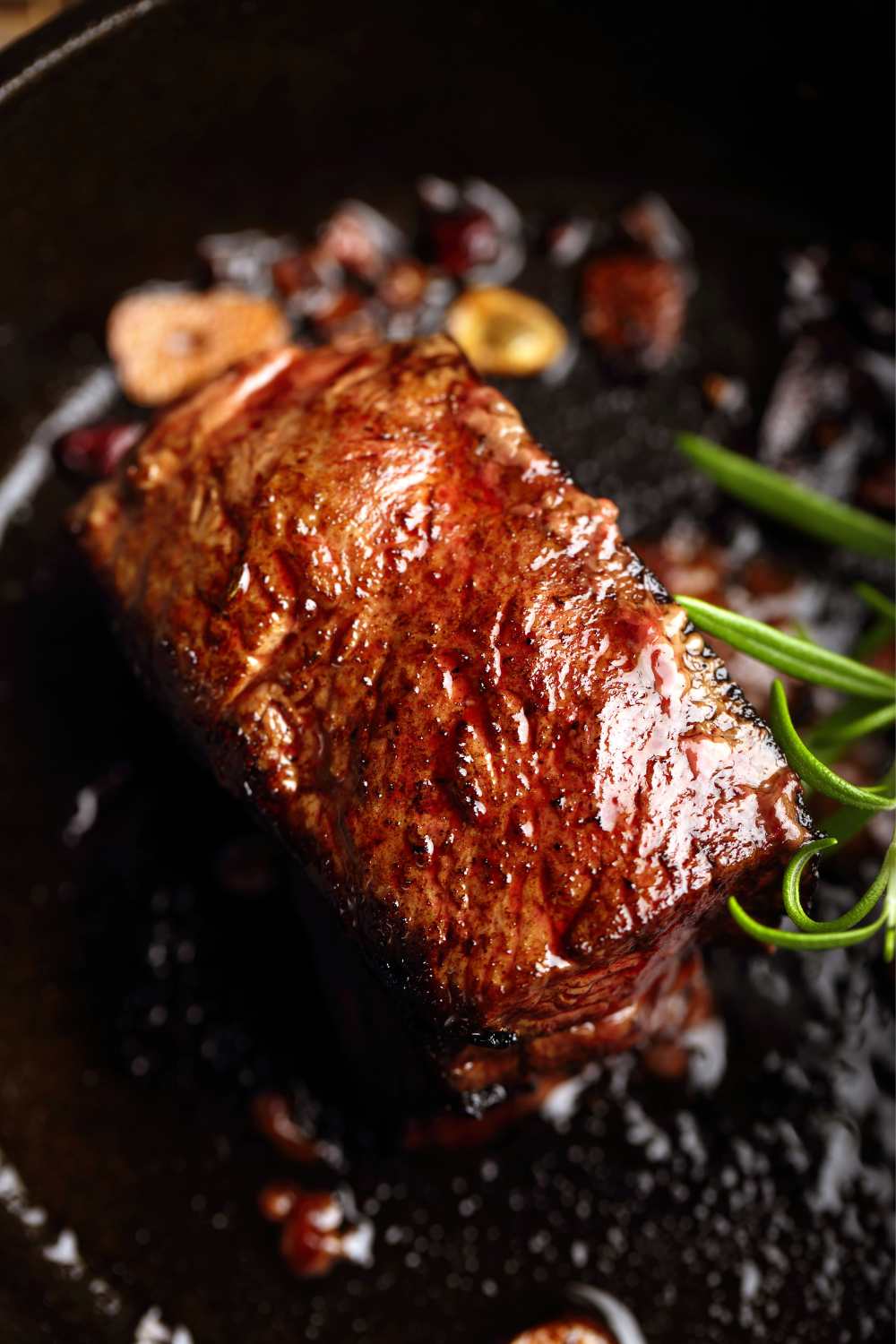 How Do I Know When My Steak Is Cooked To My Liking?
One of the biggest challenges when cooking steak is determining when it's cooked to your liking. Here are six different methods, each with its own unique benefits and inconveniences.
Visual cues: Cut into the steak to check the color of the meat. Red or pink indicates rare, while gray or brown means well done.
Finger test: Press your finger to the center of the steak to determine its doneness. A soft and squishy steak is rare, while a firm and bouncy steak is well-done.
Meat thermometer: Use a thermometer to take the internal temperature of the steak. 120°F is rare, 130°F is medium-rare, 140°F is medium, 150°F is medium-well, and 160°F is well-done.
Timing: Use a timer to ensure the steak is cooked to your liking. 3-4 minutes per side for rare, 4-5 minutes per side for medium-rare, 5-6 minutes per side for medium, 6-7 minutes per side for medium-well, and 8-10 minutes per side for well-done.
Sous vide: Cook the steak in a water bath at a consistent temperature to achieve perfect doneness. Finish in a hot skillet for a crust.
Reverse sear: Cook the steak in a low-temperature oven until it reaches the desired temperature, then sear it in a hot skillet for a crust.
15 Steaks Recipes With Skillet
These 15 skillet recipes, from basic cuts to inventive variations, will fulfill any steak lover's needs:
Experience the indulgent flavors of this Filet Mignon in Mushroom Wine Sauce recipe. Thickly sliced baby bella mushrooms, finely diced onion, and minced garlic cloves are cooked to perfection in butter and olive oil, and seasoned with fresh thyme, salt, and pepper.
Seared filet mignon steaks are then added to the skillet, sautéed for a mouthwatering medium-rare finish, and served with the mushroom mixture. The pan is then deglazed with Barefoot Merlot and beef broth, and thickened with heavy whipping cream for a rich and creamy wine sauce that's drizzled over the steak and mushrooms.
Try this recipe for Skillet-Cooked NY Strip Steak with Chimichurri Sauce if you want a flawlessly cooked steak with a zesty twist. Before being seared in a scorching hot cast iron pan, the steak is coated with vegetable oil and seasoned with salt and pepper.
After adding butter and some fresh herbs like rosemary and thyme, the pan goes into the oven for a few minutes. Chimichurri sauce, created with fresh parsley, garlic, red wine vinegar, and other spices, is used to finish the steak after it is cooked. The final result is a steak that is both soft and flavorful, thanks to the use of fresh herbs.
Savor the delicious and juicy flavors of this Pan-Seared T-Bone Steak recipe. Seasoned with homemade steak seasoning, this steak is seared to perfection with fresh rosemary, garlic cloves, and a pat of butter to add moisture and flavor.
The steak is cooked until browned on both sides and then transferred to a plate to rest. The flavors of the herbs and garlic infuse into the pan juices, making the steak even more irresistible. This dish is perfect for a special dinner with loved ones or for any time you crave a succulent steak.
This Steak and Mushroom recipe is a hearty and flavorful dish that's perfect for a cozy dinner. The tender top sirloin steak is seasoned with a blend of spices and seared until browned on both sides.
The mushroom gravy, made with sautéed onions and white button mushrooms, is rich and savory, and perfectly complements the steak. The dish is warm and comforting, perfect for cooler weather or a special occasion. Serve with your favorite sides, like roasted potatoes or steamed vegetables, for a satisfying meal.
This seared flank steak with herb butter is a delicious and easy recipe that's perfect for any time of year. The juicy, tender steak is marinated in a flavorful blend of avocado oil, soy sauce, garlic powder, oregano, and salt, then seared to perfection on either a Blackstone griddle or skillet.
Once cooked, the steak is topped with homemade herb butter made with fresh parsley, basil, lemon juice, and other seasonings that add a burst of bright, herbaceous flavor. The butter melts perfectly over the warm steak, creating a rich and indulgent meal that's sure to satisfy.
This Skillet Bourbon Steak recipe is perfect for steak lovers who enjoy a good kick of flavor. The top sirloin steaks are seasoned with salt and pepper and then rubbed with Dijon mustard for extra flavor. Cooked to medium-rare perfection in a cast-iron skillet, they're then topped with a rich and flavorful bourbon sauce made with soy sauce, brown sugar, and a blend of herbs.
The addition of half-and-half, light cream, or evaporated milk creates a creamy texture that complements the steak perfectly. This dish is great for any season and can be paired with a variety of sides, such as roasted vegetables or mashed potatoes. Don't forget to garnish with dried parsley for a beautiful presentation!
Experience a gastronomic adventure with this recipe for Skirt Steak with Avocado Chimichurri. The steak is browned to perfection in a cast-iron pan, creating a delicious crust while leaving the inside moist and tender.
The dish's hero is a handmade chimichurri sauce that has a tangy combination of red wine vinegar and extra-virgin olive oil with fresh cilantro, parsley, garlic, cumin, and red pepper flakes. Diced avocado adds a creamy texture and a new level of flavor to the sauce. Accompany with roasted veggies or a basic salad for a well-rounded dinner that's guaranteed to hit the spot.
This dish for filet mignon with a blue cheese crust is sure to wow your dinner guests. The 8-ounce filet mignon is coated in vegetable oil, seasoned with kosher salt and black pepper, then fried in a cast-iron pan that has been well-seasoned.
Crumbled blue cheese, Panko bread crumbs, herbs de Provence, and olive oil make for a delicious garnish that gives the steak a distinctive acidic taste and crunchy texture. The steaks are seared first, then finished in the oven to your desired doneness (rare, medium-rare, or medium).
Experience the perfect harmony of flavors with this Skillet Balsamic Glazed Steak and Mushrooms recipe. The top sirloin steaks are expertly seared and basted in a delightful mix of butter, garlic, and fresh thyme, giving you a tender, juicy, and aromatic bite.
As if that wasn't enough, the button mushrooms cooked in the same pan absorb all those wonderful steak drippings, creating a burst of umami goodness. Finally, the balsamic vinegar and honey glaze brings everything together with a touch of tangy sweetness. The result? A mouthwatering meal that'll make you feel like a top chef!
Get ready for a fiesta of flavors with this Best Steak Fajitas Recipe! The tender, juicy flank steak is marinated in a mouthwatering blend of taco seasoning, soy sauce, lime juice, honey, and Worcestershire sauce, ensuring each bite is packed with zesty goodness.
Pair it with charred, crisp-tender bell peppers and red onions, and you've got an explosion of tastes and textures. Serve these fajitas sizzling hot in corn tortillas or over rice, and don't forget to garnish with creamy avocado, tangy sour cream, or fragrant cilantro for a truly festive meal that'll transport you straight to Mexico!
Say hello to pure decadence with these Skillet Steaks featuring a luscious Gorgonzola Herbed Butter! The steaks are seasoned with salt and pepper before being cooked to perfection in a cast iron skillet. As they rest, the flavors meld together, ensuring a juicy and tender bite every time.
But the real showstopper is the Gorgonzola Herbed Butter – a creamy, tangy blend of butter, Gorgonzola cheese, and fresh parsley. As it melts over the hot steaks, the herbed butter elevates the dish to new heights, creating a sumptuous meal that will leave you craving more.
Unleash the ultimate dining experience with this Rib Eye Steak featuring a delectable Red Wine Shallot Compound Butter. The juicy rib eye steaks are seared to perfection, locking in their natural flavors and creating a beautiful char. But the magic truly begins when you introduce the Red Wine Shallot Compound Butter.
Infused with aromatic herbs, fragrant shallots, and a rich red wine reduction, this compound butter imparts an elegant depth of flavor to the steaks. As the butter melts into the tender, juicy meat, you'll be transported to a world of pure culinary delight.
Embrace the rich flavors of this Brown Ale Marinated Hanger Steak with Caramelized Onions. The hanger steak is marinated in a robust brown ale, garlic, and rosemary blend, infusing it with deep, malty goodness. Caramelized onions cooked with a touch of sugar and brown ale add a layer of sweet, savory complexity.
To top it all off, a zesty mix of fresh parsley, lemon peel, and garlic brightens up the dish, creating a beautiful balance of flavors. Savor each forkful of this succulent steak, as the symphony of tastes dance in harmony on your plate.
Indulge in the vibrant flavors of this Seared Skirt Steak with Roasted Red Pepper Relish. The skirt steak is marinated in a delightful mix of sesame oil, soy sauce, and brown sugar, creating a beautiful caramelization as it sears to perfection. The star of this dish, however, is the roasted red pepper relish.
Bursting with the freshness of red onion, garlic, parsley, and oregano, it's elevated by rich balsamic vinegar and a hint of brown sugar. This colorful medley adds a zing to the tender, juicy steak, creating a truly delightful culinary adventure in every bite.
Savor the enticing combination of flavors in this Pepper Steak Recipe, featuring tender ribeye steak slices cooked to perfection alongside colorful red and green bell peppers and onions. Aromatic garlic, ginger, and black pepper create a fragrant backdrop for the rich sauce made with soy sauce, beef broth, rice vinegar, and a touch of brown sugar.
The sesame oil adds a distinctive nutty undertone, while the cornstarch helps to thicken the sauce, enveloping the ingredients in a luscious coating. Serve this mouthwatering dish over a bed of steamed rice, garnished with sesame seeds, and enjoy a delightful, satisfying meal that's sure to impress.