This post is part of a sponsored campaign with Nearly Natural Silk Flowers and Plants. Keep reading to learn how you can save 20% off.
I have a confession to make. My home will never be featured in a magazine. It doesn't have rooms that would grace the front page of a design blog for its bright, airy, modern farmhouse style. In fact, there isn't a single style in my home. It's not bright, but it's full of things that I love, even if they don't really 'fit' in.
I have a China cabinet in my kitchen that belonged to my mother-in-law. A beat up old piano in my living room that was once my grandmother's. My living and dining rooms contain just about every shade of brown known to man. With accents of grey and green thrown in. And they make me happy. My home is comfortable and lived in.
And the reality is that the same is true for most people. While we all swoon over some of those magazine spreads, most of us don't actually live that way. But that doesn't mean we don't want to have beautiful seasonal decor or shouldn't be proud of our homes.
Your home may not look like a magazine, but it's as beautiful as you can imagine it to be. Embrace your space!
I don't have a formal dining room, but I do have a large eating area. This table is new to me and I love it. My previous table was bought in 2002 and none of the original chairs remained. This is clearly an improvement.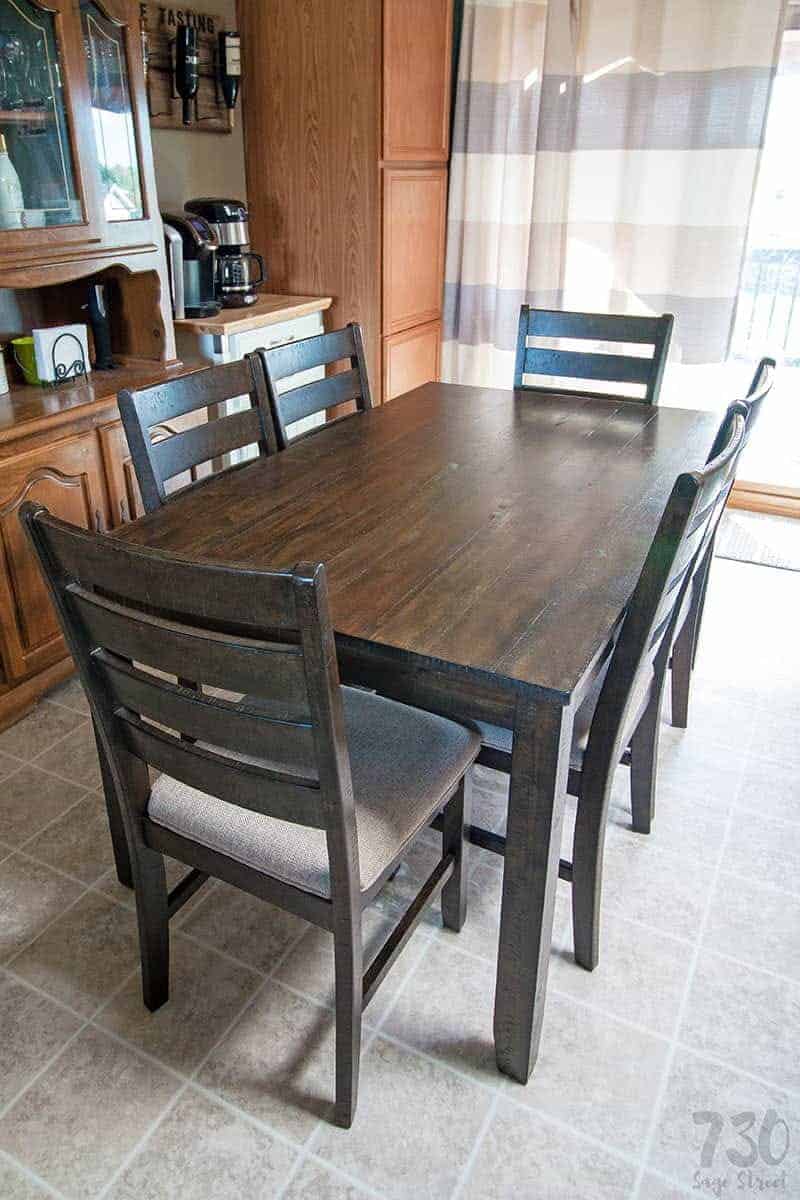 I tried adding a table runner (in grey of course), but it really wasn't very exciting nor did it do very much to add some style and interest to my table on its own.
Silk Flowers and Plants from Nearly Natural
One great way to add seasonal color and style to your home is with artificial plants. flowers and other seasonal arrangements from Nearly Natural. They are versatile, look very real and don't require any maintenance. And most importantly, they are gorgeous.
Nearly natural has silk flowers and plants for just about every taste, style, color and function. They have silk plants, silk trees, silk flowers, silk arrangements, wreaths, garland and swags. If you have a space to decorate, they have an arrangement that will fit.
When it came to choosing some Nearly Natural pieces to make a fall centerpiece for my new table, I knew I didn't want the oranges, yellows and browns that you normally think of when you think of Autumn colors. Instead, I wanted some of the bold, rich, deep hues of Autumn that would contrast the colors in my space.
Things to consider when choosing silk flowers for fall decor
Budget: Your budget may affect your choice of pieces because if you have a smaller budget, you may want to choose more versatile pieces that either can have a dual purpose or can be re-arranged for other seasons so you get more bang for your buck.
Size: Make sure you measure the areas you plan to place your new decor, and double check the size of the pieces you choose. Some of these are larger than they look in the photos.
Colors: Get a feel for the overall main color of your room, and make note of any focal points that have some color. For instance, let's say that your room is mostly grey, but it has a green chair and purple pillows. You may want to compliment those existing colors by choosing some fall pieces that have the same color palette. Or you may want to add a contrasting color, but just make sure it contrasts, not clashes. A contrasting color is still visually appealing but adds a pop, a clashing color will kind of make you cringe when you see them together.
Pets: I'm a dog person, but for those you cat people out there, if you pet tends to chew on things that stick out, you may want to choose more compact arrangements that don't have faux sticks in them.
Storage: In the off-season, you will need a place to store your fall decor, unless you chose pieces that can be re-arranged and used all year long. But in order to keep them looking new and in good shape, you will need some room to store them in their original boxes. If you don't have a lot of storage, you may want to choose garland or swags, or even a wreath that can be wrapped and hung on the back side of a closet door when not in use.
Have fun: The right decor fits in but also stands out. It's something people notice and really can change the feel of a room. Choose pieces that speak to you and that will bring that one-of-a-kind feeling of crisp, fall air into your home (even though it's nice and cozy in there).
The pieces I chose for my table are all very different, but I feel like they work together to create a beautiful centerpiece.
My first choice was actually sort of a choice I made because I couldn't make up my mind. I wanted a wreath, but also wanted a centerpiece. So I decided to make a wreath into a centerpiece using the Nearly Natural Eucalyptus and Mint Greens Artificial Wreath.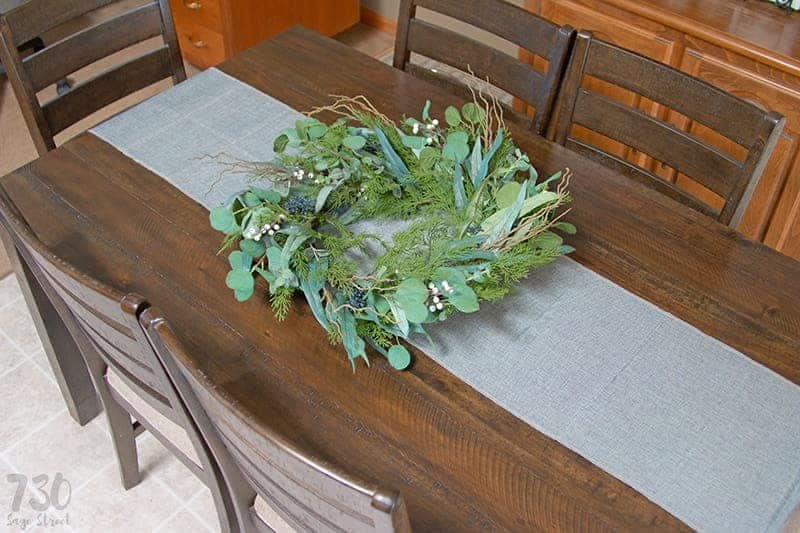 I thought even by itself it looked pretty good!
The details on this wreath are amazing.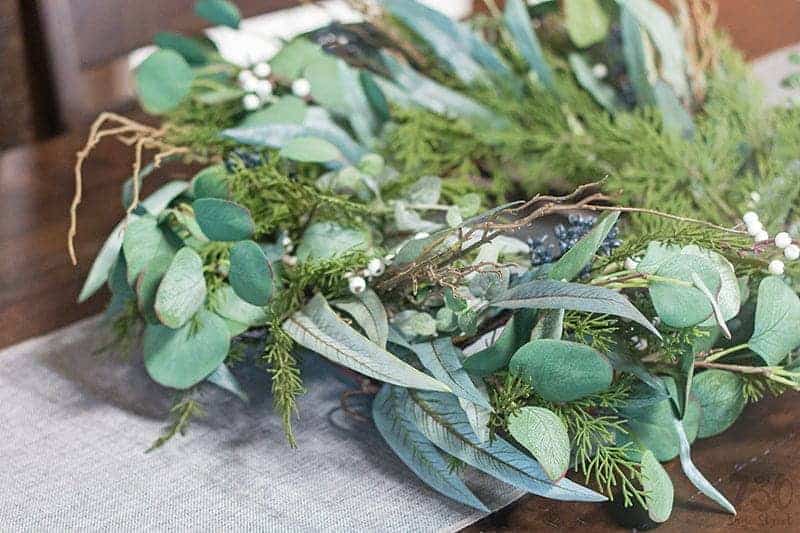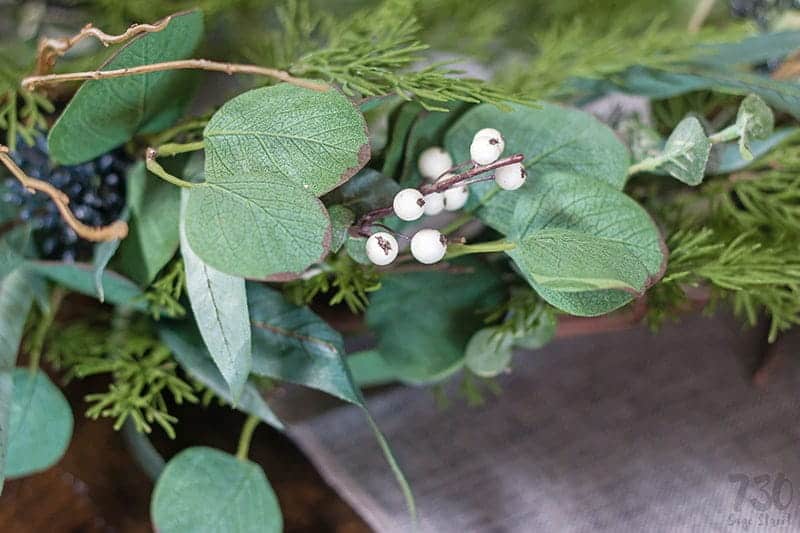 And it serves dual purpose because I can also hang it on my door. It feels almost fall / winter to me, so for the winter months this will be hanging on my front door.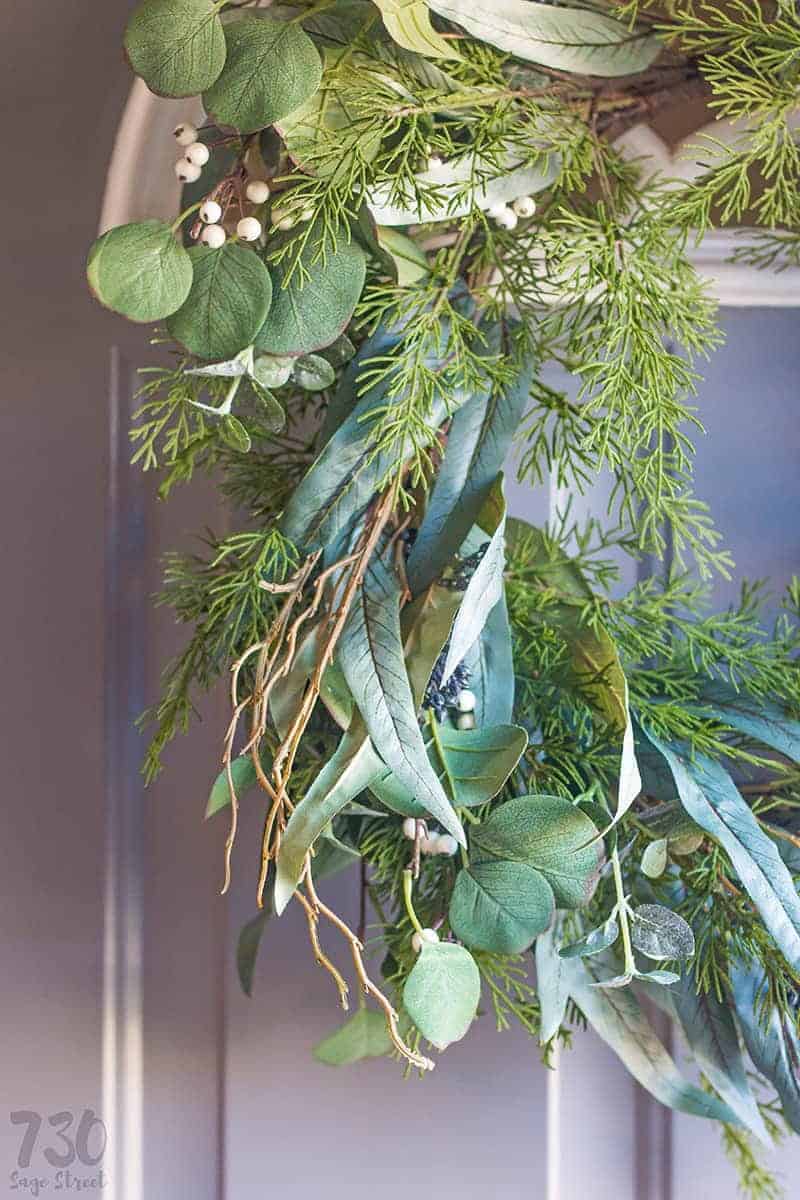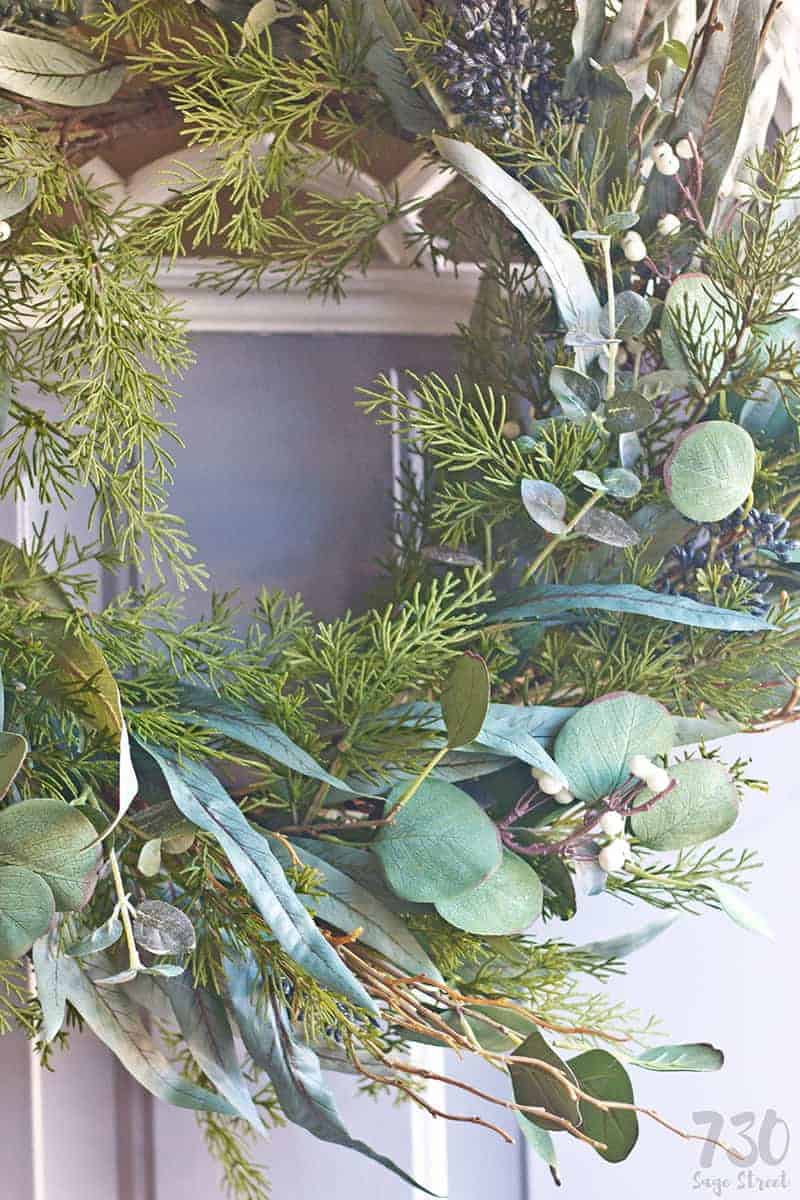 My second choice was the Nearly Natural Seasonal Orchid Arrangement.  I love orchids but hate that they die. So this was a win/win. It comes in Autumn or red, I chose the Autumn as I felt it was a great compliment to the purple dahlia.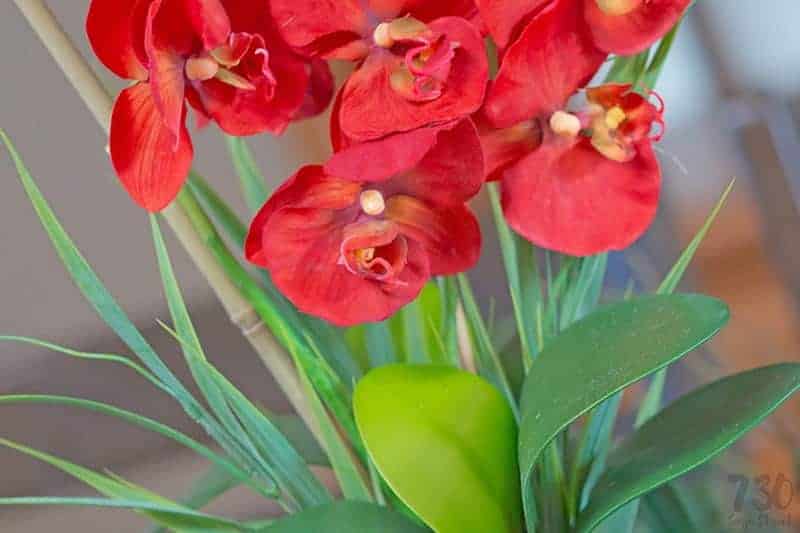 The planter the orchid comes in is the perfect neutral shade. I place it inside the center of the wreath and it fit perfectly. This alone would make a great centerpiece but I wanted to go further down the length of the table.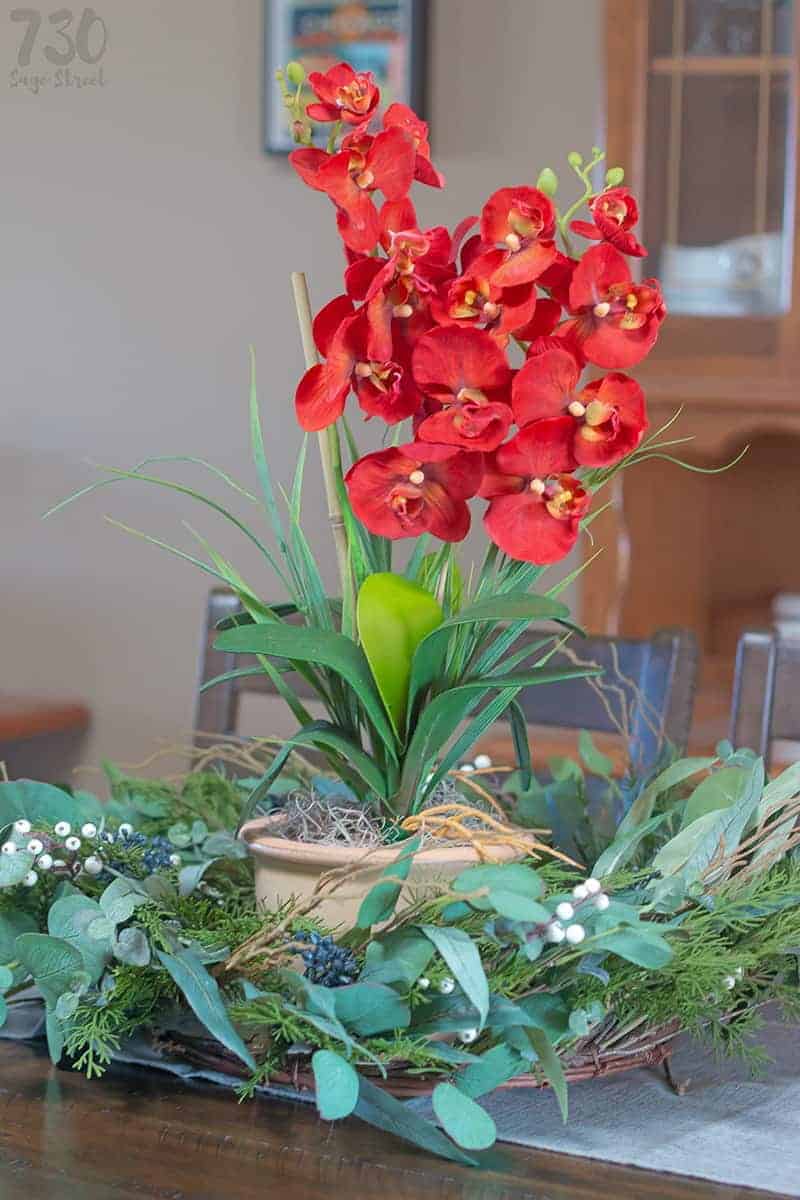 My third choice was the Nearly Natural Dahlia Arrangement. It is available in cream, orange and purple. i chose the purple because of how deep and rich the color is. I felt like it really captured a rainy, fall day. It also added some interest to the room since I don't have a lot of color in there.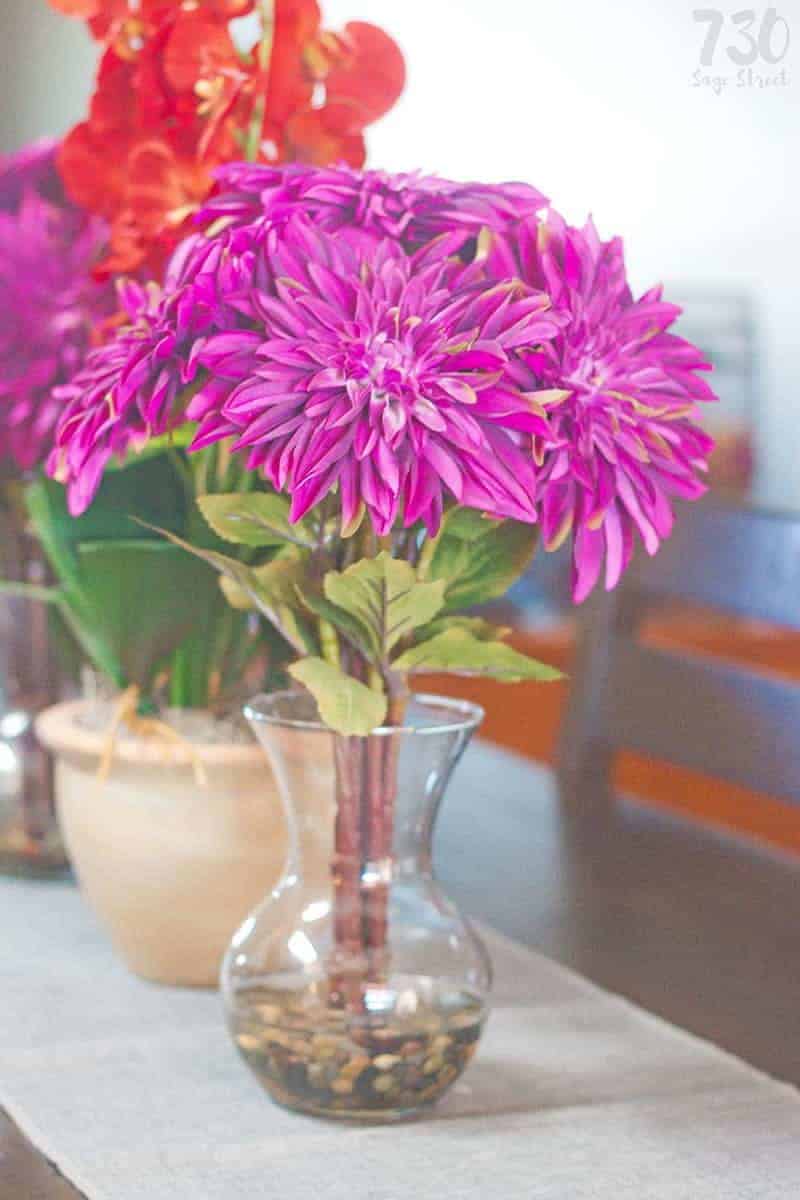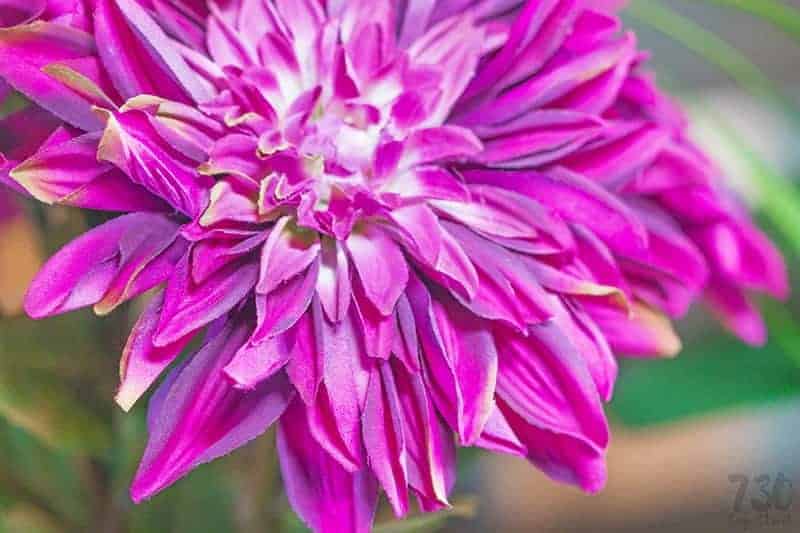 I chose two of these dahlias, one for each side of the wreath.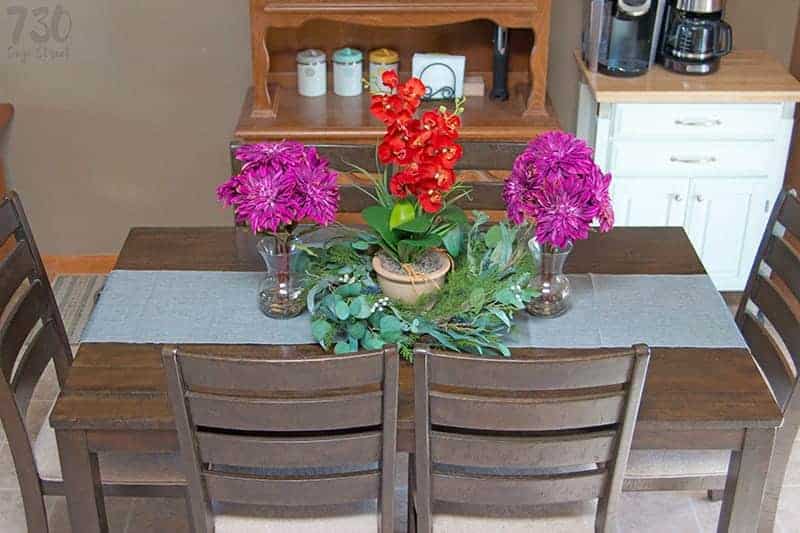 I contemplated a larger dahlia on each end with a low black pot, but I think I'm happier with the way the glass vases look.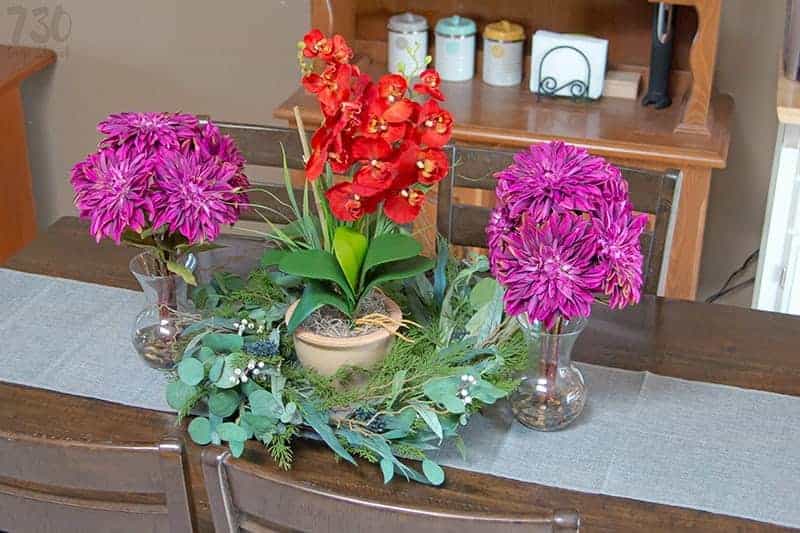 And it even looks like real water in the vases.
I am so happy with the way this turned out, and everyone who comes in the house has complimented it. I feel it gives the room a much needed pop of warm color.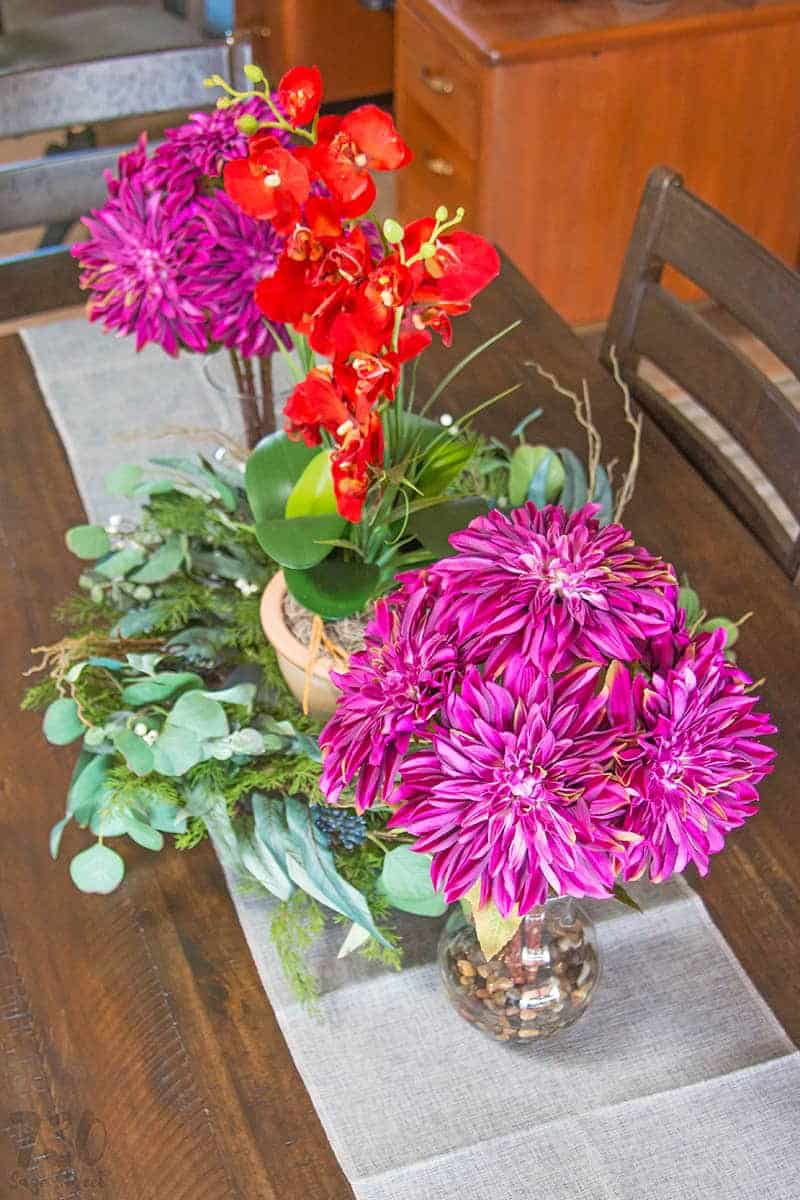 And if I decide to hang the wreath on the door, the centerpiece still looks great.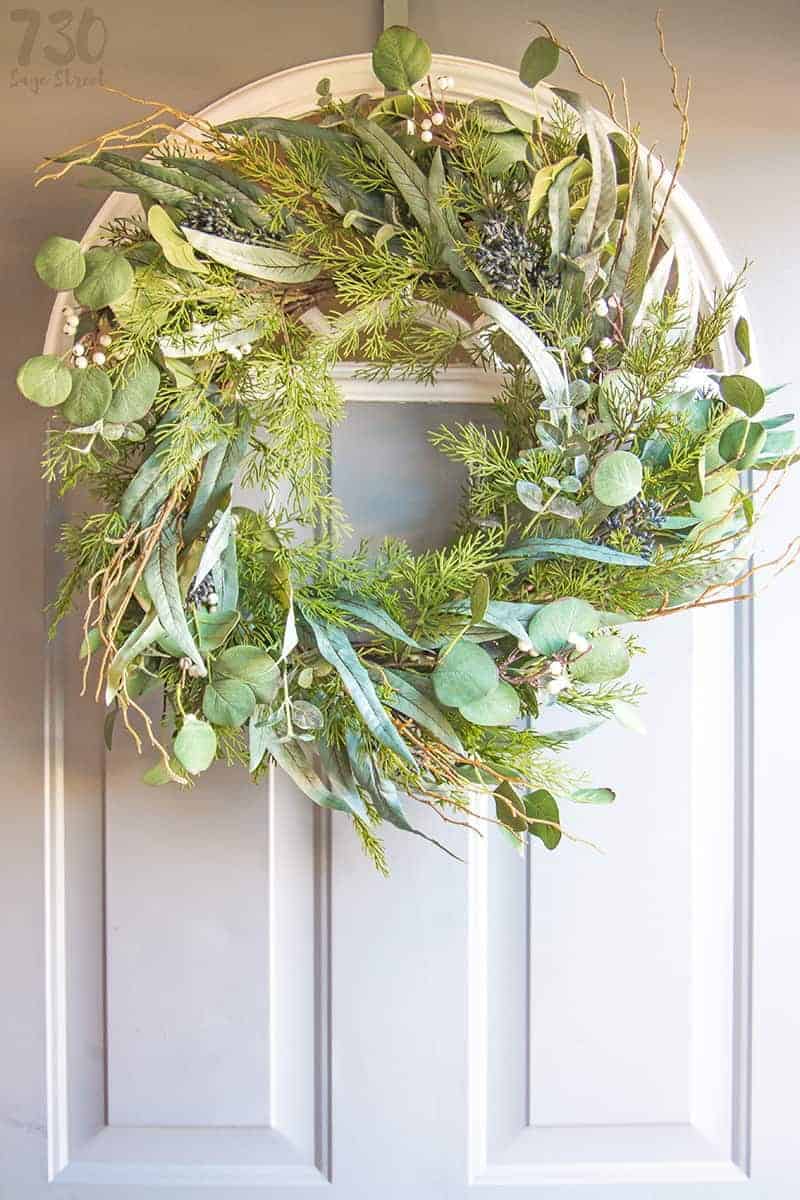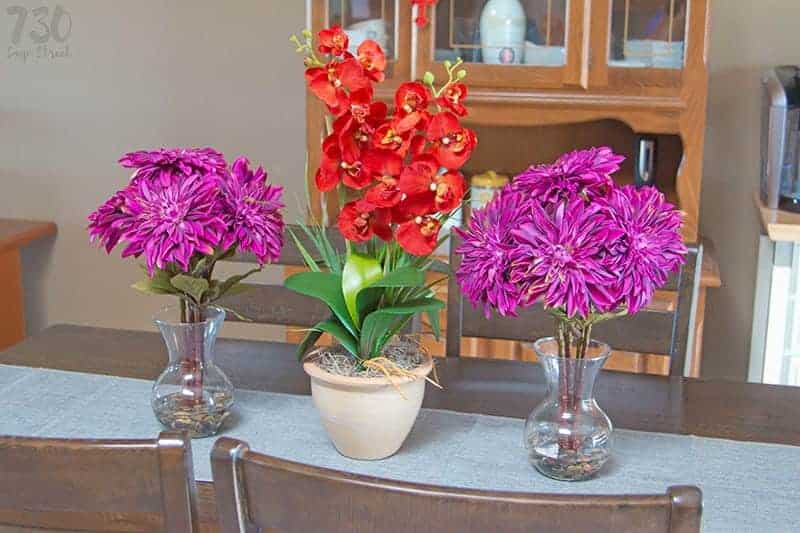 And in case you don't remember, below is a side-by-side before and after.
Save 20% at NearlyNatural.com
Are you ready to embrace your space and add some fall decor using silk flowers from Nearly Natural? Well hang on before you head over there because I have a 20% off  Nearly Natural coupon code for you. Use the code at their online checkout to save 20% on your order!
The coupon code is: FallKG
And if you saw some ideas you liked, I'd really love it if you Pinned one of these (or all, I'm not picky) images to one of your relevant Pinterest boards.