The addition of cream to the shrimp's various possible preparations may result in rich and satisfying meals.
These 15 shrimp dishes with cream will warm you up and fulfill your needs for anything from creamy pasta to soups and stews.
You'll want more of these meals since they're so decadent and delicious.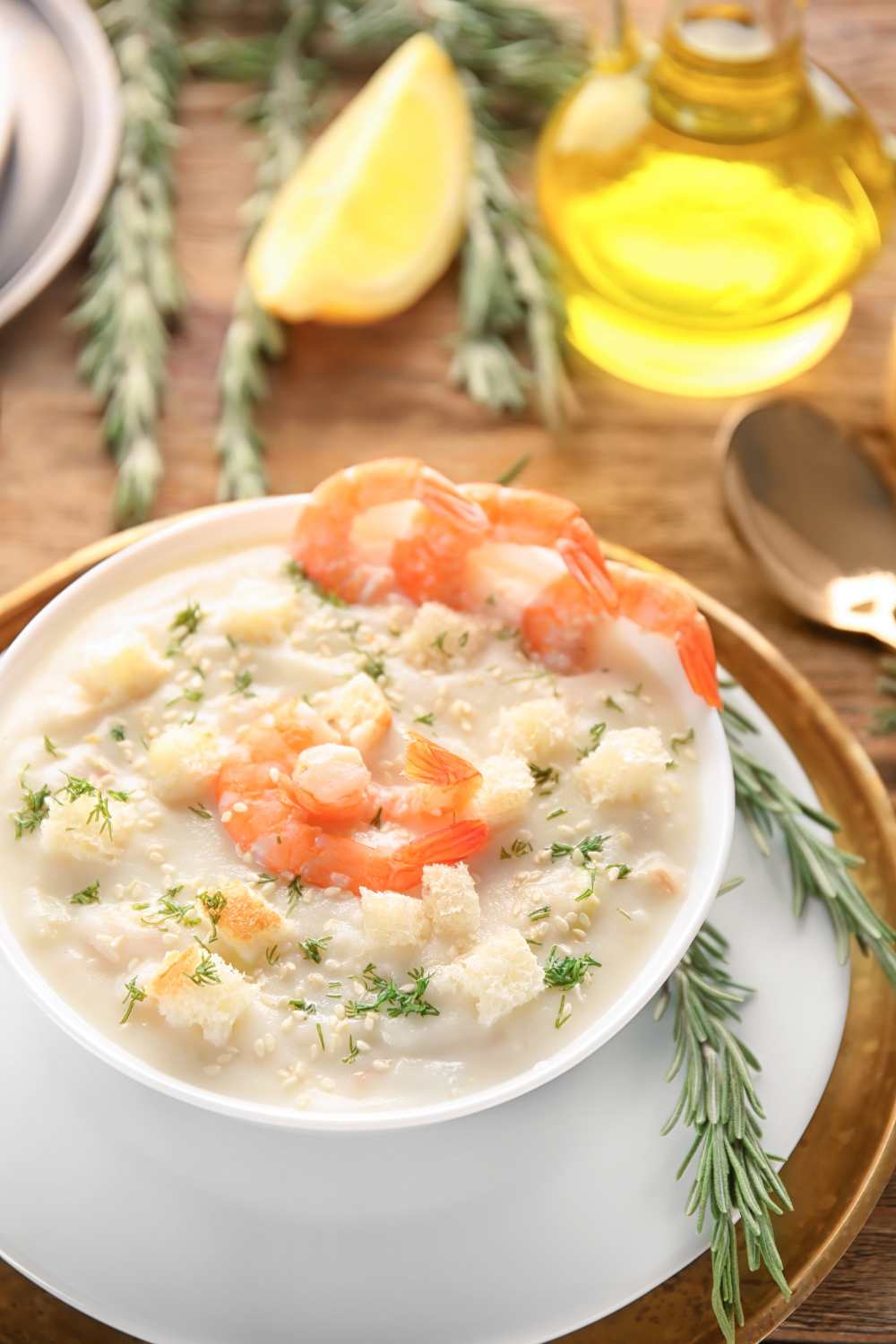 Can I Substitute Heavy Cream With A Lighter Alternative In These Recipes?
It is possible to use a lighter cream in these recipes, although it may affect the taste and texture. Here are some alternatives to heavy cream to consider:
Half-and-half: This is a mixture of whole milk and cream, and can be used as a lighter alternative to heavy cream. It has a lower fat content, which means it is less thick and creamy.
Milk: Using milk instead of heavy cream will make the sauce thinner and less rich, but it will still add a creamy texture to the dish.
Evaporated milk: This is canned milk that has had most of the water removed, making it thicker and creamier than regular milk. It can be used as a substitute for heavy cream in some recipes.
Greek yogurt: This tangy, thick yogurt can be used in place of heavy cream to add creaminess to a dish while also boosting the protein content.
Coconut milk: This dairy-free option has a rich, creamy texture that can work well in some shrimp recipes. It has a slightly sweet flavor and adds a tropical twist.
Soy milk: Another dairy-free option, soy milk can be used in place of heavy cream in some recipes. It has a nutty flavor and a thinner consistency than heavy cream.
15 Shrimp Recipes With Cream
Prepare to embark on a culinary journey of indulgence with these 15 delectable shrimp recipes that boast a rich and creamy twist:
This Easy Shrimp Alfredo recipe is a simple and tasty way to enjoy a classic Italian dish. Tender fettuccine noodles are cooked to perfection and tossed in a creamy, flavorful sauce made with cream cheese, heavy cream, chicken broth, garlic, and Parmesan cheese.
The succulent shrimp adds a delicious seafood flavor to the dish, while the seasoning of salt and pepper adds just the right amount of flavor. It's an effortless recipe that requires minimum effort and time to make. Serve this delicious pasta with a side of garlic bread or a simple salad for a satisfying meal that's perfect for any day of the week.
Get set to tickle your taste buds with this luscious Creamy Shrimp Scampi recipe. Juicy shrimp cooked just right in a tasty mix of garlic, lemon juice, and white wine, filling your kitchen with an irresistible scent.
With a touch of heavy whipping cream and grated Parmesan cheese, the linguine gets coated in a rich and creamy sauce that bursts with flavor in every bite. Pair this scrumptious dish with a basic salad or some garlic bread, and wow your loved ones with your cooking finesse.
With this recipe for Creamy Garlic Shrimp, transport your taste senses on an aromatic voyage. The juicy shrimp is cooked just right with olive oil, salt, and pepper, resulting in a crunchy exterior and a soft, succulent center. With garlic and dry white wine, this dish gets a savory kick.
Reduced-fat cream and grated Parmesan cheese make a velvety sauce that'll satisfy your taste buds. Adding some fresh parsley will give your dish a burst of color and a refreshing touch. Just lay it on top of some pasta, rice, or veggies for a totally fulfilling and scrumptious dish. This recipe is just the ticket for a speedy and effortless weeknight supper or a fancy feast that's bound to wow.
Prepare to experience a burst of flavors with this Easy Cheesy Shrimp and Grits recipe. The creamy and cheesy grits, perfectly cooked with low-fat milk, water, and salt, create a satisfying base for the juicy shrimp. The shrimp is cooked in a delectable sauce made with onions, garlic, chicken broth, and cream, seasoned with cayenne pepper, hot sauce, salt, and black pepper, and then topped with crispy bacon, green onions, and fresh parsley.
The combination of flavors and textures is simply irresistible! So, grab a plate, spoon a generous amount of grits, top it with 4 to 5 shrimp, and smother it with a cup of sauce.
Let's take a trip to the charming hills of Tuscany with this luscious Creamy Tuscan Shrimp dish. Juicy shrimp, cooked just right, covered in a rich sauce of garlic, cream, Italian spices, and sun-dried tomatoes. The smooth sauce pairs flawlessly with the tender baby spinach and basil, cooked to perfection for a delectable taste.
Just a pinch of salt and pepper can elevate this dish to a whole new level. If ya wanna add a lil' zing, squeeze some lemon juice or grate some fresh parmesan on top. Trust me, this dish is gonna wow ya.
Picture a dish that's both cozy and chic, substantial and polished, and packed with flavor. This shrimp and asparagus risotto is simply delicious! This is a fabulous Italian dish that's been updated with succulent shrimp and bright asparagus.
This rice is simply divine - creamy, cheesy, and perfectly cooked with a velvety texture that melts in your mouth. The shrimp and asparagus give a fresh and vibrant touch to the dish. This dish is ideal for a snug dinner at home, yet elegant enough for a fancy soirée. Pour yourself a glass of your preferred wine, take a seat, and relish the scrumptiousness!
Transport yourself to Louisiana, savoring a plate of mouth-watering Cajun Shrimp Pasta. Succulent shrimp, aromatic spices, al dente linguine, and a creamy, cheesy sauce that'll make your taste buds dance. Cajun seasoning and cream sauce blend to create a dish that's both comforting and exciting.
The white wine adds a subtle tang to the sauce, perfectly complementing the shrimp and pasta. Sprinkle some fresh parsley and grated Parmesan cheese on top, and voila! You've got a dish that's both effortless and guaranteed to wow your guests.
Warm up by the fire with a cup of this shrimp and corn chowder and you'll be transported to a rustic lodge in the woods. Sweet corn and juicy shrimp provide a counterpoint to the smokiness of the paprika and the spiciness of the red pepper flakes.
The salty crispness of the bacon complements the silky smoothness of the heavy cream. One bite is like a trip through the countryside, full of the comfort and warmth of home cooking.
This delicious and creamy bisque is like a warm and comforting hug from the ocean. With its rich and indulgent flavors of crawfish, shrimp, and crab, it's the perfect dish to satisfy your seafood cravings. The buttery and savory base is infused with the flavors of Cajun and Old Bay seasonings, giving it just the right amount of kick.
It's like a flavorful symphony in your mouth, with every bite taking you on a journey through the depths of the sea. So cozy up with a bowl of this bisque, a glass of white wine, and a slice of sourdough bread, and let the flavors transport you to a coastal paradise.
This meal is a gourmet excursion that will take your tongue on a voyage via a symphony of sensations. This dish has succulent shrimp as the main attraction, supported by a cast of supporting characters including sweet peas and earthy couscous.
The crushed red pepper and Pesto Pantesco provide powerful and fiery aromas to the broth, which balance well with the seafood's subtle sweetness. The pearl couscous is cooked to perfection, providing a warm and satisfying foundation upon which the fresh spinach and peas may shine. Don't be shocked if, long after you've finished the last taste, all you can think about is this meal.
If you're in need of a party appetizer that will please everyone, go no farther than our Hot Shrimp Dip! Creamy Monterey Jack cheese sauce topped with delicious shrimp and zesty artichokes is hard to refuse.
Enjoy the delicious harmony between the spiciness of Tabasco and the creamy decadence of the cream cheese and sour cream. A warm and cozy meal that is simple to make and sure to surprise your guests when served with crispy baguette toasts or your favorite crackers.
Making this Quick and Easy Coconut Shrimp Curry is like taking a trip to India for your taste senses. Flavorful garam masala, cumin, turmeric, and chili powder are the ideal complement to succulent jumbo shrimp, which are then grilled to perfection.
Soft shrimp are the ideal vehicle for the fragrant coconut milk sauce that bursts with the flavors of garlic, ginger, and spices. This recipe is best enjoyed with a side of handmade naan bread and a serving of fluffy garlic butter rice. Garnish with fresh cilantro for added flavor.
As we almost reach the end of our recipes list we reach this delicious recipe, the Creamy Shrimp Linguine with Sun-Dried Tomatoes. If you're looking for a dish that's both indulgent and delicious, this recipe is perfect for you. Succulent shrimp are paired with al dente linguine and tossed in a luscious, creamy sauce infused with the bold, sweet flavors of sun-dried tomatoes.
The dish is beautifully balanced, with the richness of the cream and the tangy sweetness of the tomatoes coming together to create a culinary masterpiece that's sure to impress.
This recipe for Shrimp in Tomato Basil Cream Sauce is a decadent and satisfying dish. Salt and pepper are added to succulent shrimp before they are sautéed till pink and juicy. The sauce is cooked to perfection in a pot with heavy cream, chopped tomatoes, Parmesan cheese, and Italian spice.
The recipe is elevated to new heights of deliciousness with the addition of fragrant garlic and fresh basil. Serve over your preferred pasta for a hearty and warm dish that's sure to hit the spot.
Cajun Shrimp with Tomato Cream Sauce is a great introduction to the strong and spicy tastes of Cajun cooking. The smokiness and saltiness of the crispy prosciutto complement the sweetness and savoriness of the bell peppers, garlic, and onion that give this dish its vibrant color.
Cajun spice is used to cover perfectly cooked shrimp before they are stewed in a white wine and heavy cream tomato cream sauce. This dish's fresh parsley and green onions are a perfect complement to the dish's rich and nuanced tastes.