Have you ever bought something online only to find out it was on sale the week before and a friend got it for much cheaper? Have you wanted to buy something special but were waiting for it to be on sale? You can spend a lot of time stalking your favorite products waiting for the price to be just right for you. And really, who has time for that?

Well now there is something that will do the work for you and become your own personal price stalker and it's called Shopswell. Not only does Shopswell let you curate your own custom lists comprised of products you love from across the web, it will track prices and alert you when the price drops and it's time to buy! For larger items, even a small price drop can equal a huge savings.
How to use Shopswell
Create a free account
Search Shopswell for relevant products, lists or deals
Add your favorite products from a web retailer
Lately I had been obsessed with vintage furniture, decor and accessories for my own, so I decided to curate some vintage and retro items that I want to use as design inspiration and track prices on. My Vintage Furnishings and Retro Home Decor list is filled with Vintage furnishings and decor items that I would love to add to my home. 
Vintage Furnishings and Retro Home Decor
Adding items to my list was super easy. I used the Shopswell search and added my own items from other online stores like Amazon.com, and I selected some of the items for price tracking.

When you click into each item it tells you the current price, the lowest price ever and the highest price. You can then choose to track the item by clicking the "track it" button.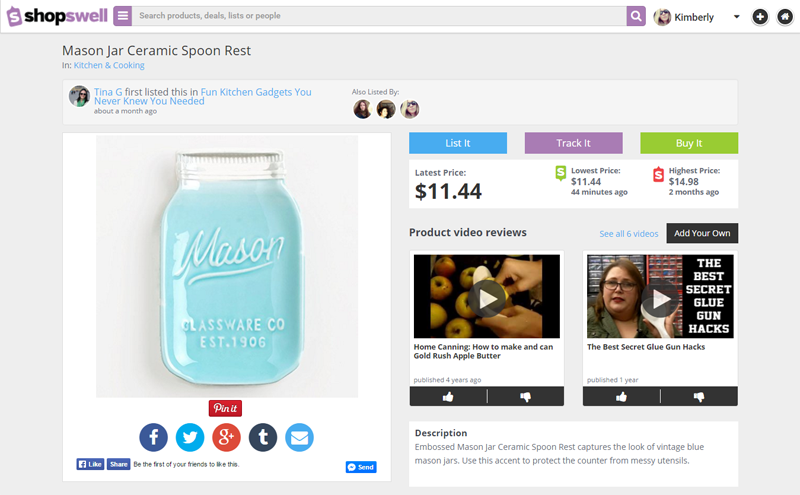 When you click "track it" you will then see a screen that shows you a price history so you can look for patterns and see what the historical lowest price was.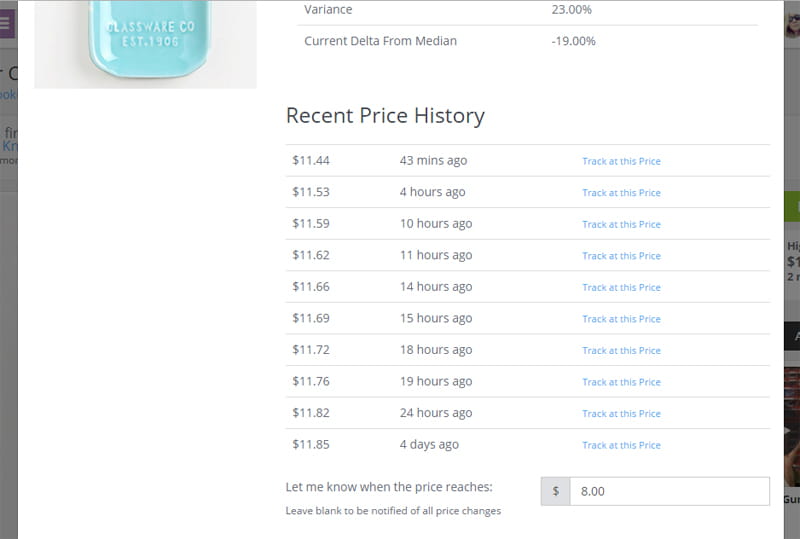 You can then set your idea price and Shopswell will notify you when the item reached your ideal price.
In addition to curating your favorite products and tracking prices, Shopswell lets you share your lists and follow other people's lists. It's kind of like Pinterest for shopping! With Shopswell you can also have private lists in case you don't want just anyone to be able to see the lists you have made.
Shopswell's Shop.Share.Win. Monthly Giveaway
Every month Shopswell is giving $10,000 back to the Shopswell community by awarding credits for helping others on Shopswell. Credits are awarded by creating helpful content.
Create lists
Leave helpful comments, videos, and reviews on lists and products.
Curate others' comments, reviews and videos
You will also earn credits for sharing Shopswell.
The Shop.Share.Win. leaderboard will update daily. You will earn rewards based on your position on the leaderboard. Rewards will be 'booked' weekly (Monday morning to Sunday midnight) and processed monthly. You can choose to redeem your reward by check, Amazon Gift Card, or as a charitable contribution.
Learn more about the Shop.Share.Win. giveaway here:
Shopswell has changed the way I shop, will help save me money and is my most favorite way to collect and price track some of my favorite products from across the web.
What kind of list will you create on Shopswell?
I was selected for this opportunity as a member of Clever Girls and the content and opinions expressed here are all my own.
Join our newsletter!
Subscribe to get updates and great stuff via email including subscriber-only goodies like free printables and giveaways.