How old is your mattress?
Mine is somewhere in the neighborhood of almost 11 years old.
It was around well before my children.
It was around before smartphones, e-readers and tablet computers
Around before most people even knew what a blog was let alone were writing one.
I think overall it served us well.  I'm not sure how long a typical mattress should last but this one went about 7 or 8 years before we really started to notice a problem.
Can you say saggy?
It started to sag badly in the middle and we both would wake up with a sore back.  We tried everything.  We added a memory foam topper.  We turned the mattress 90 degrees then 180 degrees.
Nothing worked to eliminated the back pain and make our bed comfortable again.
Below is a picture of our bed now.  I took the sheets off and pulled back the memory foam topper.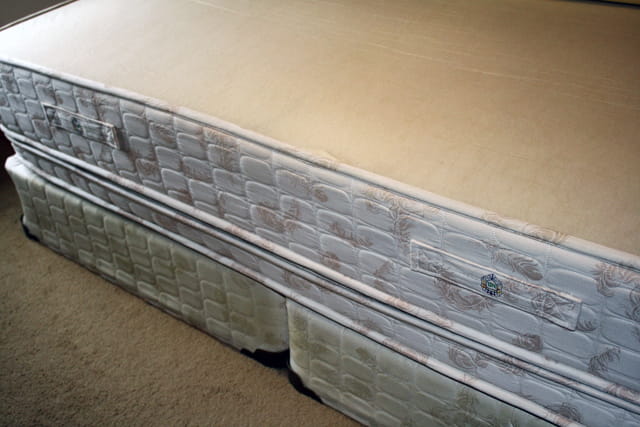 Notice anything odd?
First of all there is no frame because the darn thing squeaked every time we would move, and when you are not comfortable in your sleep you move around A LOT.  The squeaking was terribly annoying.  Second, the mattress itself is UPSIDE-DOWN.  It got so bad we had no choice but to flip it over and try it that way.  Is it better now? No.  But why bother to turn it back?
Like most people, we have seen the Sleep Number Beds commercials on TV.  We knew they claimed better comfort and better sleep.  We knew that better sleep is essential to remain healthy and alert during the day.  Yet we never really did anything about it.  Bed shopping is daunting and like most large purchases, sales people can be rather annoying and uncomfortable to deal with.  So we procrastinated.
Until this weekend.
We stopped into a Sleep Number Store.
With our kids.
I was scared.  I can't even imagine what they thought as we walked through the doors. But it was unnecessary fear. Evon made us feel right at home.
About Sleep Number Beds:
Sleep Number Beds have DualAir Technology that allows you to set each side of the bed to the ideal firmness and comfort for each person.  It is made of air filled chambers that help distribute your weight more evenly removing the pressure points that often cause discomfort on an innerspring mattress.  Because of these features Sleep Number Beds have been clinically proven to relieve back pain and provide people with more restful sleep.
STEP 1 of our Sleep Number Store experience:
Evon introduced herself, asked us why we stopped in and proceeded to direct the kids to a small play area.
STEP 2 of our Sleep Number Store experience:
Evon had us lay on one of the basic Sleep Number Beds to determine our "sleep number" – complete with sanitary pillow covers.
She set the beds on 100 which is the firmest #, then dialed it all the way to zero so we could experience the full range of adjustability.  Once it was down at zero, she dialed it back up and told us to stop her when we felt it was at 100.  This is how they determine your number.  My sleep number ended up being a 30 and my husband's was a 30 as well.
We were shown an illustration of the pressure points associated with the bed set at 100 vs the bed set at 30, which was my "sleep number" and it was amazing to see how distributed my weight was and how few pressure points there were when the bed was set at 30.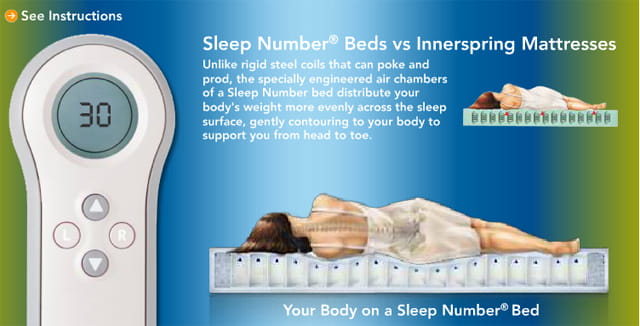 STEP 3 of our Sleep Number Store experience:
Now it was time to try all the different models of beds.  She had us try the P5 model next.  She said it is their most popular – the one most people buy.  Before having us lay down, Evon asked us about our pillows and if we have any head or neck issues associated with sleeping.  She then set us up with individualized pillows and had us lay down on the P5.  She explained to us how to set the bed to the "sleep number" we had determined earlier and then had us lay in different positions to fully experience the bed.
We were impressed.
I honestly think we were "sold" at this point.
My husband had back surgery a few years ago and there has always been one spot that hurts him when he lays down.  He noticed that when he laid down on the P5 initially it was still there.  So he asked Evon about it.  She suggested he raise his number up to 35.  He did and there was no more pain in that spot.
The P5 model was sitting on one of Sleep Number's fun, flexible bases that turns your Sleep Number Bed into an adjustable bed.  It was rather amazing but not a standard feature of the bed, just an option.
STEP 4 of our Sleep Number Store experience:
After trying the most popular model, Evon took us over to their more premium line and had us try the i8 model.  A thicker pillow top and cooling fabric made the i8 a little more appealing to us and it was definitely even more comfortable.
At this point we had experienced all the features and all of the model lines.  Evon then handed us a chart outlining each model and its price and explained the current discounts available, including a current discount for Veterans, which my husband qualifies for.
STEP 5 of our Sleep Number Store experience:
Evon showed us all of the bedding solutions Sleep Number has.  It goes beyond just the bed to make that perfect night sleep.  From temperature regulating mattress pads and sheets to allergy defense and mattress protection.
We did not make a purchase yesterday, but we would have had this experience not been a part of an upcoming review series I will be doing on Sleep Number Beds.
We were impressed with the bed upon initial introduction and also impressed with the sales experience.  Evon was aggressive in her knowledge and in showing us everything Sleep Number has to offer but she wasn't pushy or high pressure.  She was fun to talk to, answered all of our questions, and laughed at our jokes.  She was extremely knowledgeable and passionate about the products, in fact she even owns a Sleep Number bed herself.
If you ever stop in to the Merrillville, Indiana Sleep Number store I highly recommend you ask for Evon.
Stay tuned for more about my Sleep Number Bed experience as we get our bed and really experience it hands on!
Note: I am receiving a Sleep Number Bed to facilitate my review.  Opinions expressed are my own based upon my actual experience.