Across the country many valuable school programs like art & music are experiencing budget cuts and even complete elimination. Schools barely have the funds for the basic educational needs, and something has to give. And sadly, the cultural type programs are the first ones to go.
At the elementary school my kids attend, their art program is fantastic, in large part, because of their art teacher. She is always coming up with creative projects and the hallways and display cabinets of their school is constantly filled with artwork. It's such an important way for kids to learn to express themselves.
Schoola wants to help make sure that all schools have the funding they need for these programs and they have created a way for you to not only support programs at your own local schools, but for you to save money on back-to-school shopping as well.
How Schoola Works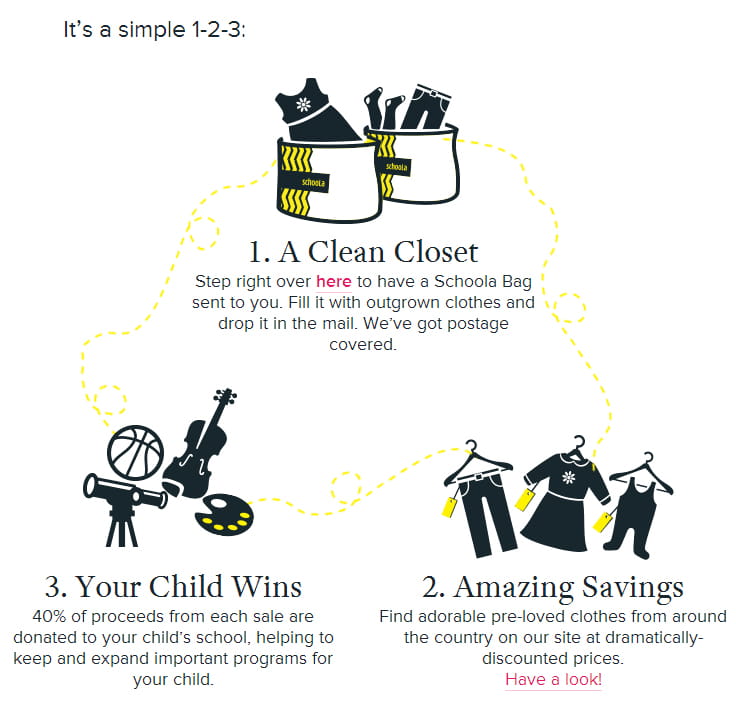 Now through August 16th, in addition to helping your own school, you can also help Wick Yo Elementary School in San Francisco fund their art program through the 20 Days of Schoola program.
20 Days of Schoola
All you have to do to support Wick Yo is to request a donation bag from Schoola and they will automatically donate $1 to Wick Yo Elementary, just by you requesting the FREE bag. Send your items back to Schoola (they cover postage) and YOUR CHILD'S school will earn $2 for every $5 made when they sell your donated items.
What's in your closet?
Can you imagine it helping your child's school?
Even if you don't shop on Schoola (which they have some great name-brand items at great prices), why not request a donation bag, get their closets ready for back-to-school and help support your local school?
(remember, Schoola covers the shipping both ways)
Note: this post is part of a sponsored campaign with Schoola.
Join our newsletter!
Subscribe to get updates and great stuff via email including subscriber-only goodies like free printables and giveaways.