This is a sponsored post written by me on behalf of National Institute on Drug Abuse. All opinions are 100% mine.
I grew up relatively naive about the things of this world. I remember when I was a freshman in high school before school started, a few girls I had known in elementary school would hang out by the doors looking at magazines. As they flashed their Tom Cruise and A-Ha posters, I was all like, "So hey do you wanna come play dolls after school and listen to Olivia Newton-John?" Yeah, I was that girl. The one who marched to the beat of her own drum. The one who didn't do what everyone else was doing simply to fit in.
Which meant I was often oblivious to the things that went on around me, even when they happened right in the girl's bathroom; while I was in there.
As the image of the cracked egg in the hot pan along with the sizzling sound of "This is your brain on drugs" flashes back into my memory, it occurs to me that I never had the opportunity to take Nancy Reagan's advice to "Just Say No." High school was a long time ago, and more recently after a conversation with a fellow classmate, I had gained some insight into just what I missed, including drugs. I was shocked to learn what had transpired right under my nose and it really caused me grave concern about what my children might already have been exposed to.
This week is National Drug & Alcohol Facts WeekSM (NDAFW) so it's the perfect time to make sure that my kids understand the dangers of drugs and alcohol abuse.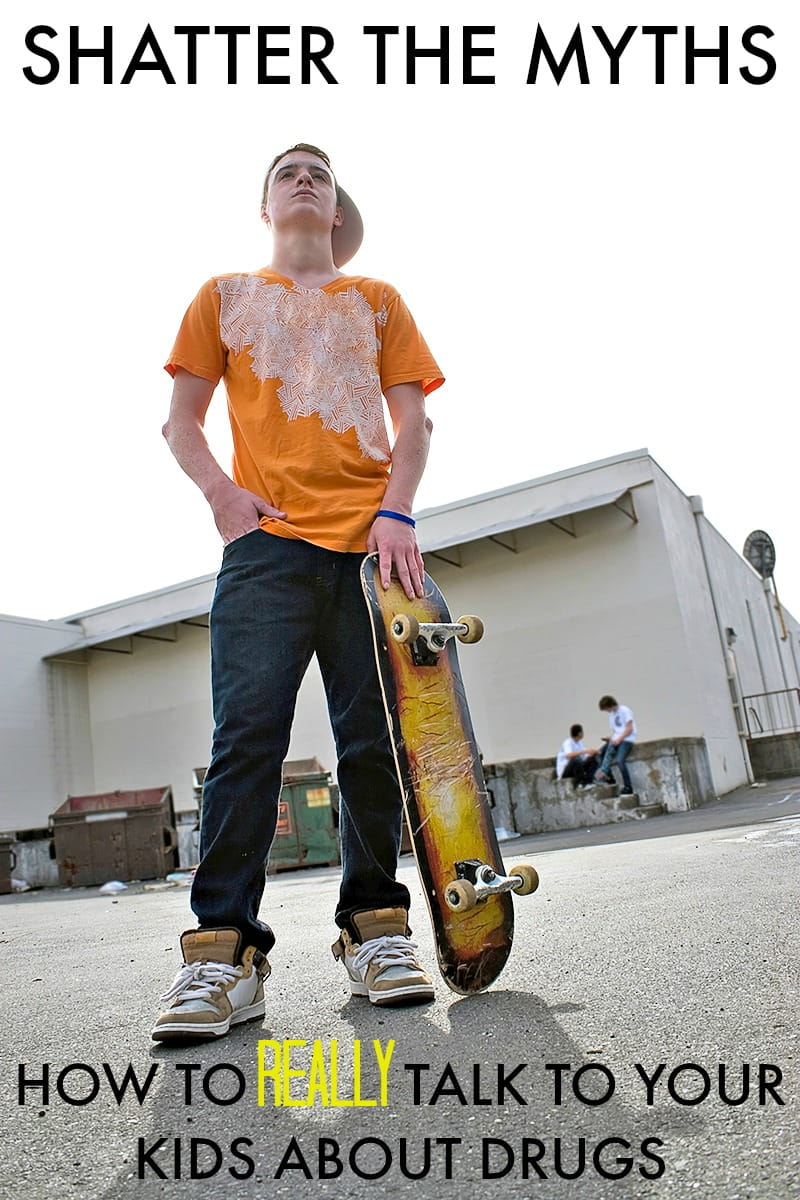 Kids often see drugs and alcohol portrayed in a fun, positive way. Using these substances can make people laugh and seemingly add enjoyment to a situation. Adults drink alcohol frequently and most of the time all kids see are the happy times that surround its use. Drug use has been glorified in music and on TV. Rarely do they see, firsthand, the negative, long-term effects of drug and alcohol use and abuse.
How to Really Talk to Your Kids About Drugs
Own up to your shortcomings or lack of knowledge. Kids see what is going on, so just be honest with them. This honestly helps them trust you because you spoke from experience and chose to be frank with them.
Understand that this is not a topic you bring up one time and assume it's settled. Use teachable moments, such as a television program or news article, to make it a regular part of your conversations. Remember when they were little and you constantly had to remind them to look both ways before crossing the street? Eventually, it just became a habit.
Make sure you establish a judgement-free atmosphere when it comes to discussing this topic.
Review with your teen a list of potential drug and alcohol facts they may come into contact with so that they know what they are should they encounter them. Knowledge is power.
Establish a habit of rewarding your teen when they make positive decisions. This will help encourage communication and give them incentives to make the right choices.
Use science and real-world examples to help them understand the real, long-term effects of drug and alcohol abuse.
Ask questions. Don't be shy about asking your kids if their friends use drugs, or if they have ever encountered a situation where someone offered them drugs. Ask them if they have seen someone using them, or buying them. Not for the purpose of getting anyone in trouble, but for the opportunity to talk to them more in-depth about what to do when a difficult situation arises.
Don't be afraid to turn to expert advice and resources should you need them.
You know your teen best, and establishing open lines of communication can go a long way towards helping them avoid the danger of drugs and alcohol abuse.
During National Drug & Alcohol Facts WeekSM this week, the National Institute on Drug Abuse (NIDA) and the National Institute on Alcohol Abuse and Alcoholism (NIAAA) aim to bring together teens and scientific experts to help SHATTER THE MYTHSTM,SM about substance abuse and addiction. There are online resources and thousands of community events across the country where teens can feel empowered to ask questions without being judged or lectured.
You can take the National Drug & Alcohol IQ Challenge along with your teen and talk about, and compare, the results. I was surprised by how little I actually knew. I only scored 50%, which means there is a lot of room for improvement and learning about the topic which gives us the opportunity to learn together!