Having a daughter has really propelled me into the world of girl's fashion, especially dresses.  I ooh and aah and fawn and hold up cute little dresses everywhere I go.  If I'm shopping, I always swing past the girls section to check out their dresses.
I never, ever would have thought I would be THAT mom.
The one who takes 4,000 pictures of her daughter wearing the same dress.  The one who points out her daughter's dress to every person she encounters saying "isn't this the cutest dress?".  The one who window shops (both online and off) for dresses.
One of the places online I enjoy window shopping for dresses is Shabby Apple.
About Shabby Apple:

Shabby Apple welcomes you to great dresses that make dressing simple.

After years of not being able to find stylish dresses that covered enough skin to make you really feel comfortable (without wearing a tank top, cardigan or long slip), owners Emily and CK decided to do something about it.

They visited trade shows, marketplaces and designer studios only to discover the problem was not that department stores weren't buying the right dresses, but that designers weren't designing them.

Shabby Apple is proud to offer you fantastic dresses that allow you to look fabulous, without having to compromise anything else.

A return to what dresses were always meant to be — a one-piece outfit. No need to add anything…no tank tops, no cardigans, nothing (except accessories, of course!).
Picking out a dress for my daughter from Shabby Apple was not an easy thing to do – because it was so hard to pick just one!  They were all so cute, and the fabrics and styles were like nothing you can find at regular department stores.
Some of my favorite Shabby Apple dresses included the three below: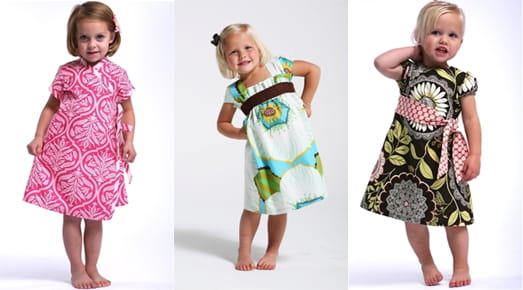 But in the end, my most favorite was a style called Queen of Hearts.  The Queen of Hearts dress was made in the USA of 100% cotton and is 100% adorable.
Don't get lost in Wonderland in this Queen of Hearts dress! Little girl's dress with red and charcoal flowers over a light blue background combining color and print for originality that will steal your heart! This fashionable dress comes with patch pockets in the front and a snap button at the back of the neck. The fun print and the bunched sleeves make for adorable detail! The skirt hits mid-calf for coverage for even the most energetic ones. This print would look precious with some fun tights or bright-colored socks underneath!

Dress is made from 100% Cotton.
To care for this dress, machine wash cold.  Line dry.
Dress made by Addi & Kinsi.
Like all the Shabby Apple dresses, a percentage of the purchase of the Queen of Hearts dress is given to a charitable organization called Unitus, an organization that helps the world's working poor by providing micro-loans to empower women to overcome poverty and provide a better life for their children.   Each new Shabby Apple Dresses dress features a unique hang tag with a success story from the Unitus program.
To learn more, visit the charity section of the Shabby Apple website.
The second I opened the package with our Queen of Hearts dress from Shabby Apple inside, Abby's face lit up and she claimed the "pretty dress" as her own.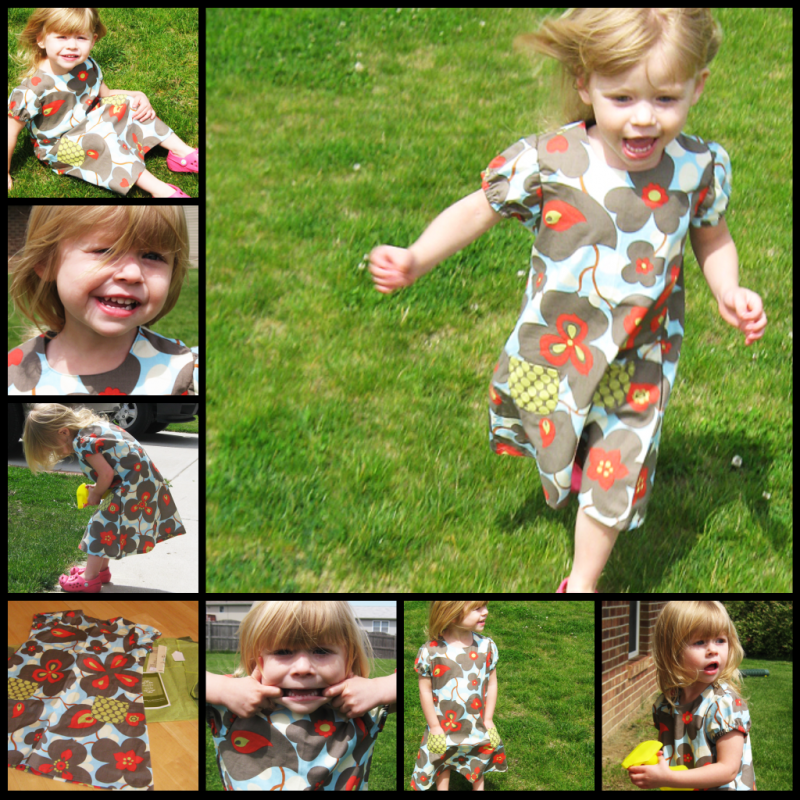 Abby is 2 1/2 so we ordered the 3T.  It's slightly big and a tad bit long, which is great because she can enjoy wearing it all summer and I don't have to worry about her outgrowing it.  The dress is well made, and the fabric is more vibrant than the pictures really show.  We love the unique pattern and colors of the fabric, and Abby absolutely adores the pockets.  This dress has taken my foray into the world of girl's fashion to the next level and really raised the bar for what I look for when shopping for my daughter.
I wonder if they make a matching dress in my size…
Shabby Apple provided a dress for my review.  opinions expressed are my own.