There is nothing better than getting new appliances for the holidays, I should know, I just got a brand new washer and dryer from Sears and I love them! I know some people don't think appliances are a gift, but I certainly do!
Sears is having a great sale on appliances right now where you can save up to 35% off! Whether you are buying for a gift or for yourself, it's the perfect time to take advantage of this amazing deal. 35% is a HUGE chunk off, it's over 1/3 less!
Are you in a fight with your Kitchen? Sometimes, Kitchens can feel neglected, overworked & outdated. It's about time you two made up. We'll help mediate with up to 30% off our favorite appliance brands. Plus, you'll get an extra 5% off when you use your Sears Card. Now what are you waiting for, go give your Kitchen some much needed love.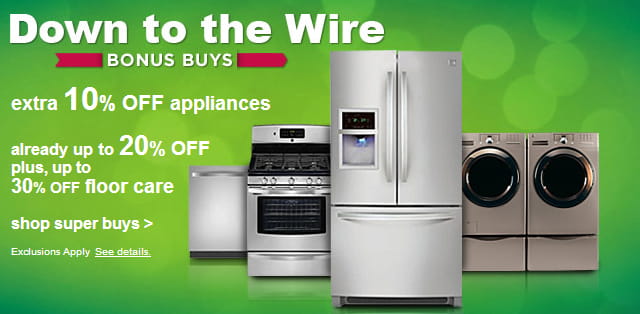 Online & In Stores through January 5th. http://bit.ly/ZPtqlN
This is a sponsored post with http://brandfluential.com, I am a Sears blogger, though all opinions are my own.
Join our newsletter!
Subscribe to get updates and great stuff via email including subscriber-only goodies like free printables and giveaways.