Thank you Warner Bros Consumer Products for sponsoring this post. Grab the family, turn down the lights, and activate the Scooby-Doo! Mystery Inc. Theater skill on your Amazon Alexa enabled device by saying "Alexa, open Scooby-Doo" and away you go! Gather 'Round. Get Solving.
It seems to be getting harder and harder to connect with kids in a way that doesn't involve their faces in a screen. Now, don't get me wrong, there are plenty of amazing tools and educational resources available with screen time, but sometimes you just want to get back to basics. Sometimes you want your kids to talk. To listen. To create. To imagine. To engage with the world in ways that go beyond the visual.
We are constantly trying to explain to our kids what it was like when we were kids. The ways we entertained ourselves on long car rides. How we had to pick up the phone and call people to have a conversation and that the phone was connected to the wall. How we went to the library to research stuff, and how video games were played in an arcade, not in our living room or in the palms of our hands.
**insert eye rolls here**
Their eyes roll in stereo when we have these conversations. It's like I can actually hear the little marbles rolling around in their sockets. And they both manage to roll in the same direction at the same time.
Then they bury their heads back in their devices. But one thing about kids, no matter how attached to their devices they are, if you give them your full attention and some food, they can be pretty good sports about trying something new. At least while they are still chewing.
"Alexa, open Scooby-Doo."
My kids and I are already big fans of our Amazon Echo. Alexa keeps us updated on news, our favorite baseball team's current scores and standings, cues up our Amazon playlists, tells us the weather, and more. And she's always getting smarter. Her latest feature is a brand-new skill called Scooby-Doo! Mystery Inc. Theater. This new skill turns Alexa into an immersive, engaging storytelling experience that the whole family can enjoy.
Scooby-Doo! Mystery Inc. Theater
The Scooby-Doo! Mystery Inc. Theater is an Amazon Alexa skill, available on Alexa enabled devices (such as Echo, Echo Dot, Echo Show, etc.). You also need an Amazon account linked to the device as well.
Zoinks! Put on your detective hat and experience the spooks and sounds of Scooby-Doo! Mystery Inc. Theater. This interactive storytelling experience puts you in control as you choose where and how the story unfolds. Work alongside your favorite characters including Scooby-Doo, Shaggy, Fred, Daphne and Velma to unravel the secrets behind their latest caper. Get ready to be challenged by the seemingly supernatural…things are not always what they seem. The mystery awaits, so gather 'round and get solving!
We received early access to this fun new Alexa skill (so cool) so that we could share our experiences with it and hopefully give you some fun ideas to incorporate it into your family time.
Family Time Redefined
Scooby-Doo! Mystery Inc. Theater lets you add a new layer to family time. Whether you have a dedicated family game night, or simply grab whatever time you can for a quick meal. Tell Alexa to open Scooby-Doo and immerse yourselves in a fun mystery that you can take turns deciding where the story goes next. The storytelling is engaging with different voices for each character and sound effects to bring the story to life.
I decided that my daughter and I needed some time together to play and connect, so we both put our devices away. We didn't specifically ban the boys from the fun but figured we'd see if they ventured into the room to see what we were doing.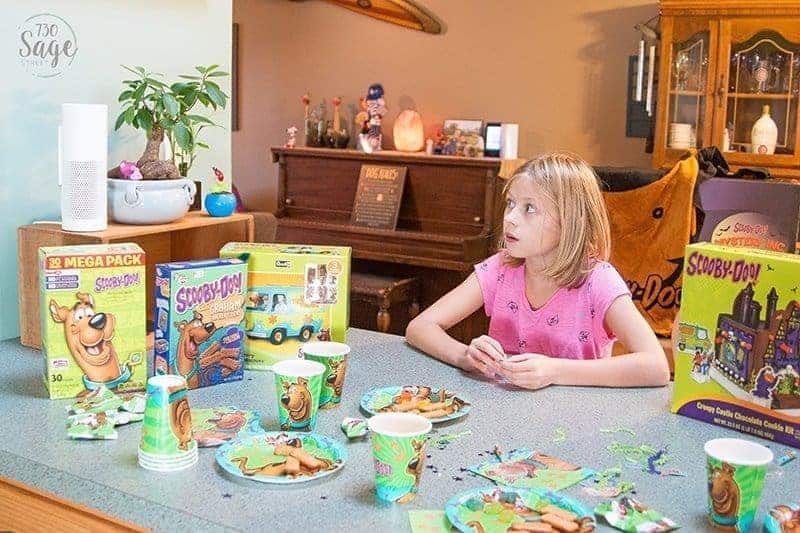 My daughter was so eager to have this time with me, I probably could have had a "Scooby-Doo cleaning party" and she would have obliged. Next time…
What's great about the Scooby-Doo! Mystery Inc. Theater is that Scooby-Doo is a character that we can all relate to. We watched Scooby-Doo as kids and the characters and their personalities remain the same. The nostalgia of it makes it easy for adults to become engaged with the story just as much as the kids. Who doesn't love Scooby-Doo?
We even made low carb "mummy dogs" inspired by Scooby (recipe below)!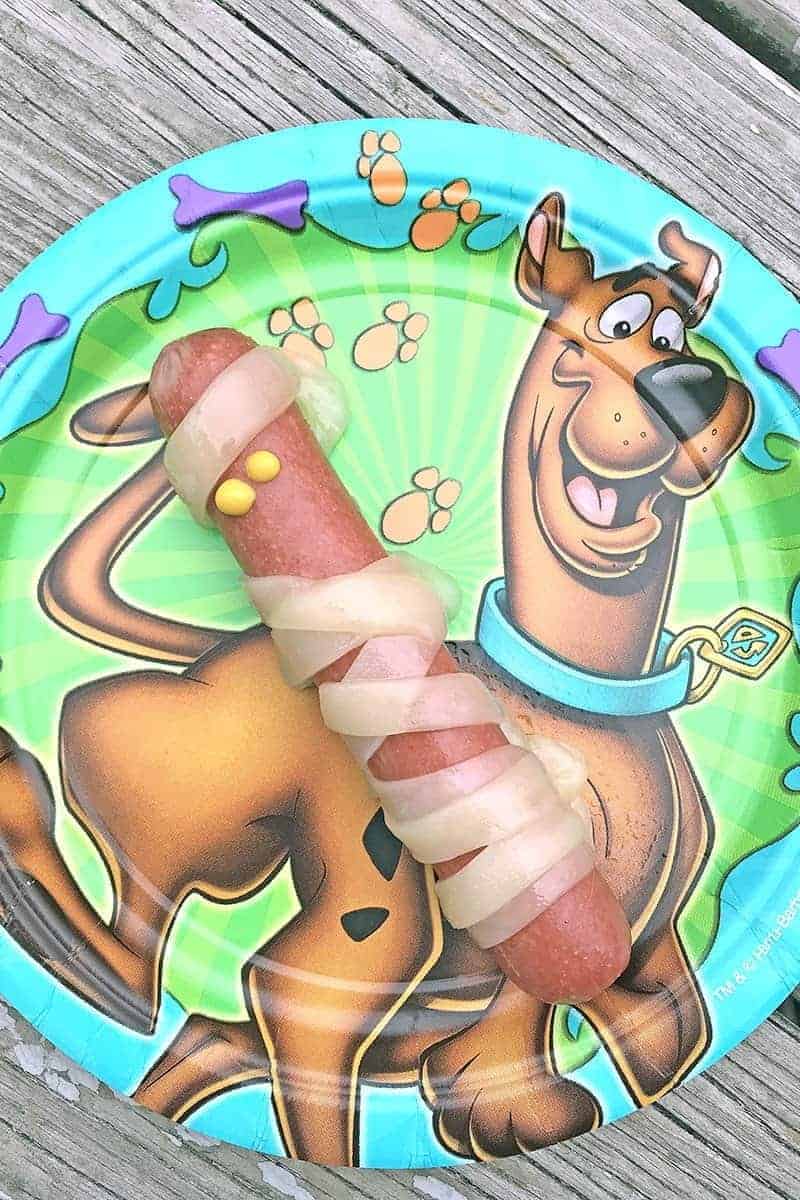 No Screen Required
My daughter and I had set out our snacks and activities and started our journey with Scooby and his friends when my son walked into the kitchen. Of course, he was walking and texting and attempted to start a conversation with me.
"shhhhhhhhhhhh"
At first, he just started rifling through the stuff on the counter looking for the food (at which point he was shushed again), but then I noticed he was actually listening. He just stood by the counter and set his phone down. The story was engaging and immersive, and he couldn't help but become drawn into it. I'm not even sure he realized it was happening. Both kids had this look of intent listening where their heads and eyes were tilted towards the source of the sound.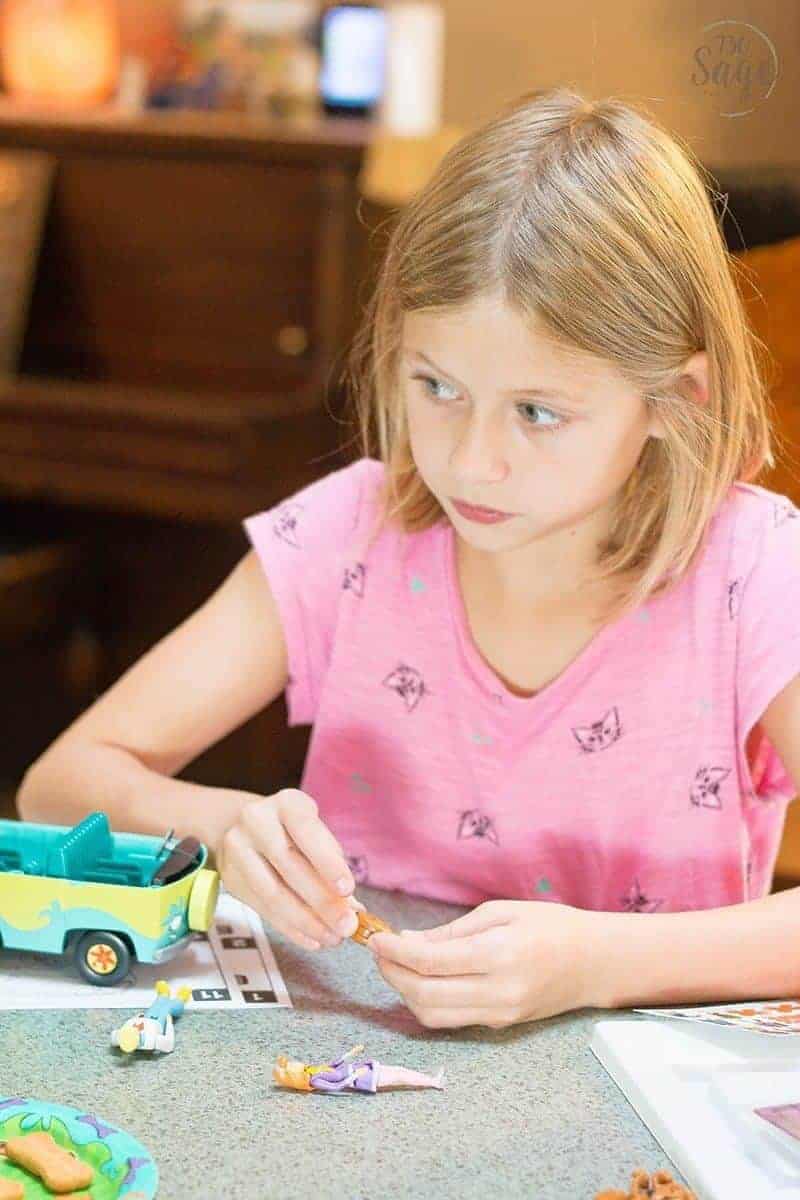 Imaginations Control the Story
Scooby-Doo! Mystery Inc. Theater goes beyond just storytelling. It is fantastic storytelling and would still be great fun if it was only a story, but because it is interactive, and you can decide how the story unfolds, it really does engage their imaginations on a higher level.
As the narrator tells the story (with the character dialog and sound effects interspersed) there are times where a chime is heard and that is where it becomes interactive. After the chime, the narrator will ask you to choose between two options to decide which way the story goes next. It's so much fun.
Watching my daughter's facial expressions was a great gauge of how immersed she had become in the story.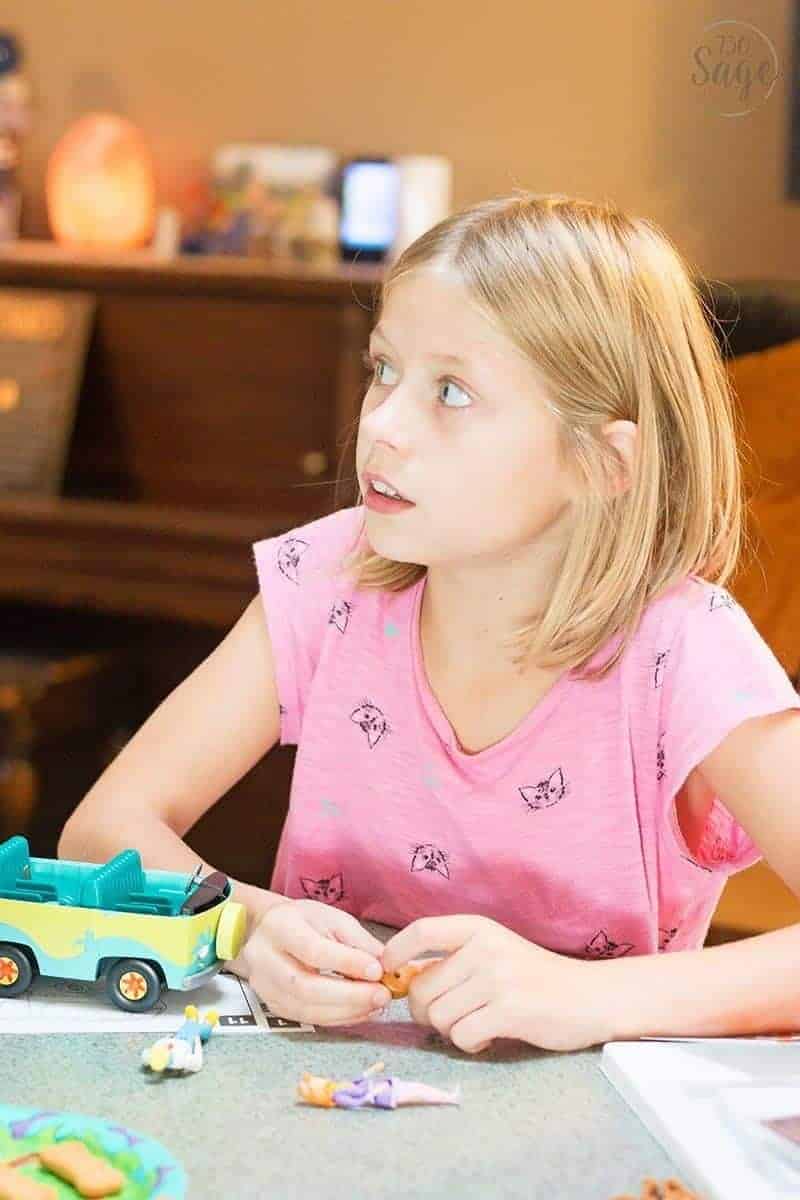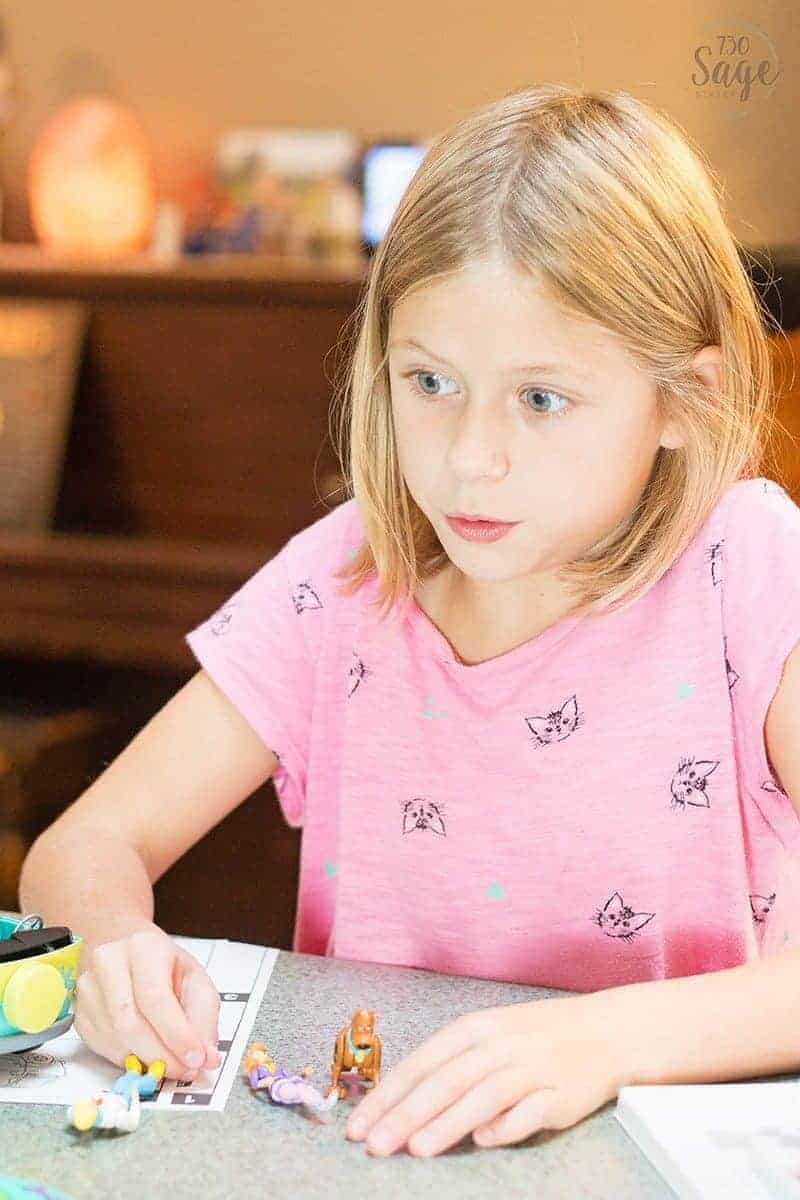 Bring Imagination to Life
A great story can manage to engage all of the senses, and when you pair some of the fun Scooby products available on Amazon and free printables you can download with the immersive storytelling, it brings the story and their imagination to life.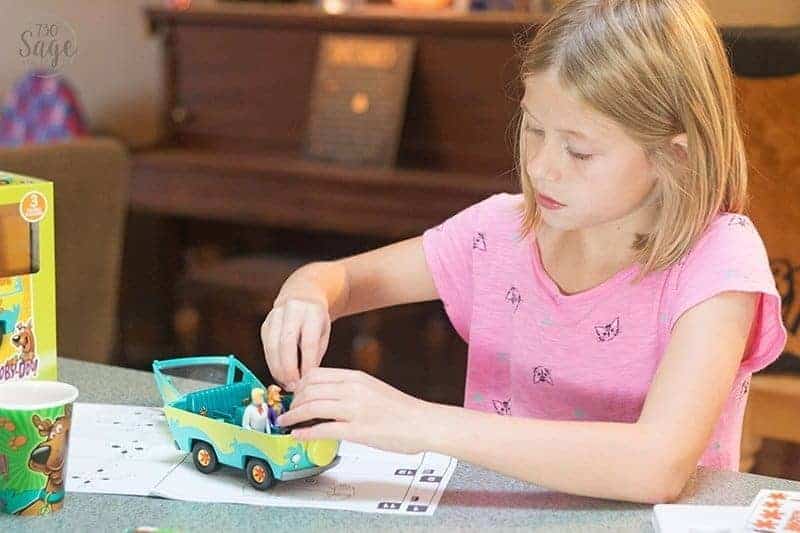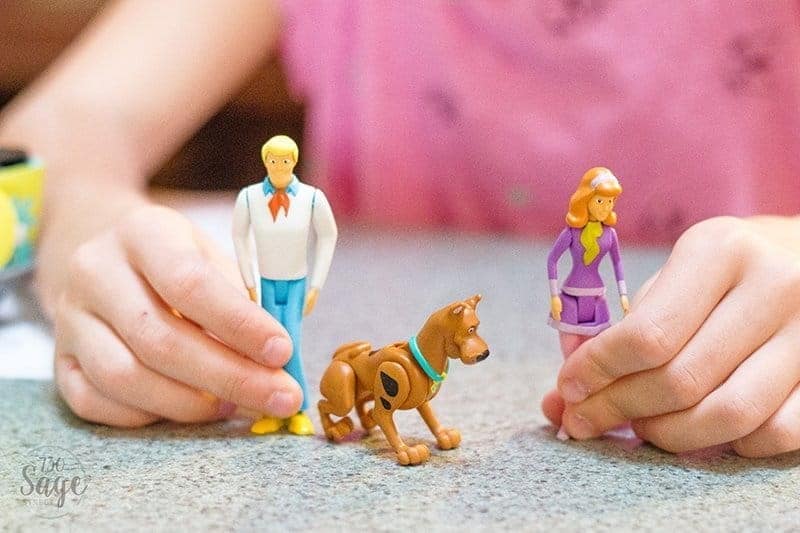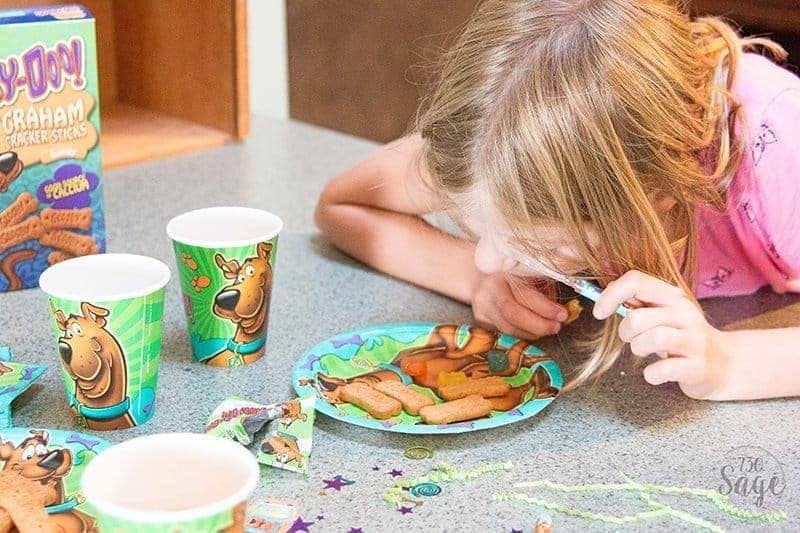 Find fun Scooby-Doo products on Amazon here: Scooby stuff.
Get free Scooby-Doo printables, find fun activities and delicious recipes here: Scooby website.
Scooby-Doo! Mystery Inc. Theater has numerous different storyline combinations which equals hours of content. You can listen to it over again and make different choices for a different story every time.
Don't forget to explore the Amazon Alexa Skill Store and add the Scooby-Doo! Mystery Inc. Theater to your Alexa enabled device!
Low Carb Mummy Dogs
To make the low carb "mommy dogs" you need:
All beef hot dogs
Cheese slices cut into narrow strips
Yellow mustard
To make:
You can make these two ways. You can boil the hot dogs, then wrap the cheese and let it melt against the hot dog. Add two yellow dots for eyes, then serve. Or you can wrap the cheese around the dog and heat in a 350-degree oven. The first option works better.
I was selected for this opportunity as a member of CLEVER and the content and opinions expressed here are all my own.