As parents, the first day of school means a return to a normal schedule, especially if you no longer have younger children still at home during the day.
It means more opportunity to get things done.
It means more time to do things for ourselves.
It means a return to freedom.
But back-to-school can also be bittersweet and poignant. It can remind us of how quickly our kids grow and change. It can resurrect memories of past first day of school milestones from years past.
For me, back-to-school does cause me to celebrate the freedom I mentioned earlier, but it also makes me nostalgic for my kids younger years. I wouldn't go back, but I love holding on to those memories because it gives me a much stronger appreciation for the time I do have with them because they grow so quickly.
It seemed like just yesterday that my son was boarding the school bus for the first time on his first day of kindergarten; and now my daughter, 4 years younger than he is, just started kindergarten.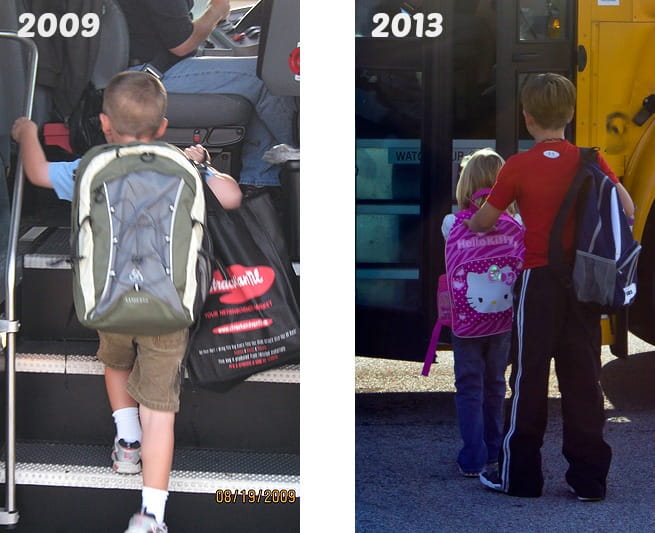 I cried when my son got on that bus in 2009. I didn't cry when I my daughter got on, but I think that's only because I'd been through it once already and knew she'd be fine. And she was. When she came running off the bus after that first day she was all smiles talking about a new friend she had made. This new friend also rides the bus with her. She said "I can't wait to go back tomorrow." Unfortunately the first day of school was on a Friday so she had to wait all weekend to go back.
These moments will help define them.
Their confidence.
Their independence.
Their friendships.
Their future.
THEN
NOW
THEN
NOW
As I sit here and find sentiment in all things back-to-school, however, for them it's fun and exciting and new. Each new year helps them feel more grown up. Each new first day of school, for them, is the next step towards growing up – something all children aspire to do despite our best warnings that it's not all it's cracked up to be.
For my son, this first day of school was the final step towards middle school next year. A new school, new friends and new adventures.
For my daughter, this first day of school was the culmination of years of watching her brother board the school bus. Rarely did a day go by since about the age of 3 that she didn't say "I want to ride the school bus" as she watched her big brother get shuttled off to school.
Despite our different perspectives, my kids and I both share the perspective that we are anxious to tackle a brand new year of SCHOOL RULES.
To celebrate the first day of school, we got to enjoy a new book from Scholastic called Tony Baloney School Rules for grades k-1.

About Tony Baloney School Rules:
Readers everywhere will adore Tony Baloney–the loveable, highly relatable hero of this bravura new Beginning Reader series!

Tony Baloney is excited!

Today he won't have to obey Bossy Big Sister Baloney.

He won't have to play with the Bothersome Babies Baloney.

Today he is going to school!

Tony Baloney is finally free from the tyranny of his many sisters only to face a new challenge–SCHOOL RULES! How will Tony ever follow them all? True to his resilient spirit, he discovers a first day of school filled with new friends, good fun, a few foibles, and some fantastic surprises!

Award-winners Pam Munoz Ryan and Edwin Fotheringham reinvigorate the reader format with their fresh approach to the form. Crafted with all the care and detail of a picture book, and bursting with lyrical, laugh-out-loud text and clever, eye-popping artwork, TONY BALONEY SCHOOL RULES is a fun read aloud and the perfect book to ignite budding readers. The irresistible characters spring off the page and will leap into your heart–especially Tony, who children are sure to embrace like a new best friend.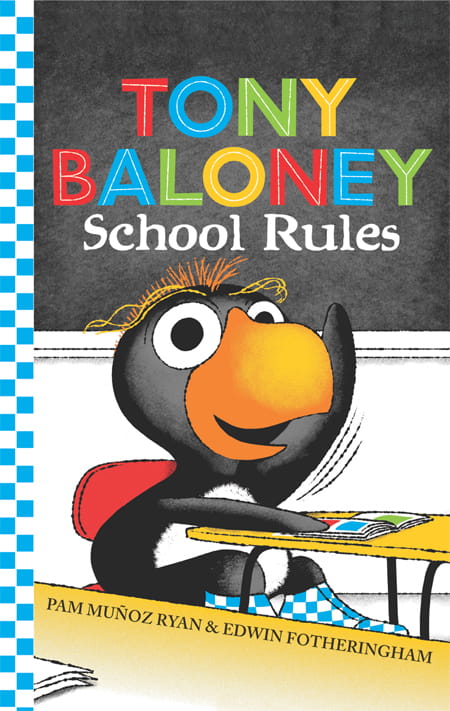 Tony Baloney School Rules hit home with Abby because Tony experiences his first day of school with a combination of fearlessness and doubt, the same way she has. For every moment she has that is excited, she also has a million questions or concerns that go along with it. Tony was afraid he would get lost, Abby shared that concern. Abby was concerned about not being able to finish her lunch. Tony baloney had lunchtime concerns as well.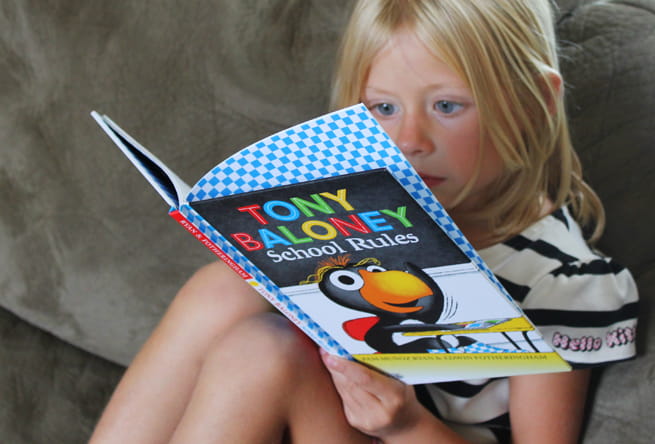 In addition to those parallels, Tony Baloney is a cute and endearing character and the book is soooo colorful. My son and I enjoyed the story as well. It is presented in an easy to read format for beginning readers and the illustrations are fun and captivating. And the dynamic between the older sister and Tony totally reminded me of my kids.
Tony Baloney School Rules is an engaging book filled with belly laughs and an adorable main character. My daughter can't get enough of this book and it has become a daily read in our house.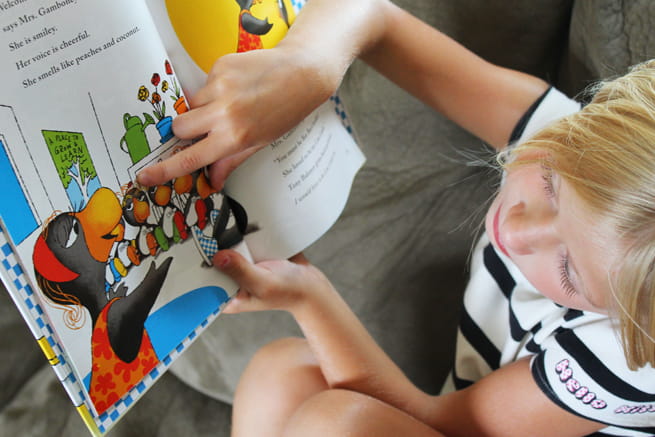 For more information about Tony Baloney School Rules, check out the following: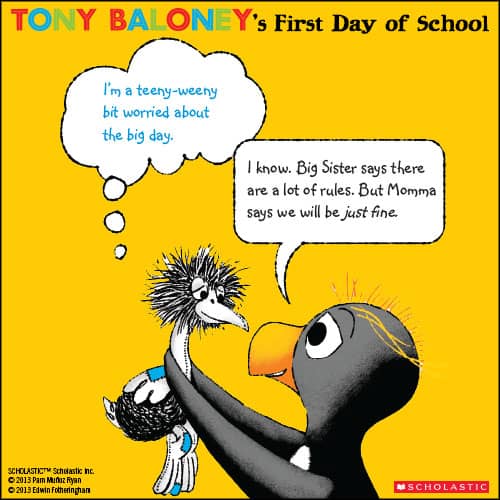 Tony Baloney School Rules is available on Amazon.com.
Are you kids concerned about the first day of school (or were they)? Or are they ready to take on the world?
Join our newsletter!
Subscribe to get updates and great stuff via email including subscriber-only goodies like free printables and giveaways.

This post reminisces about then and now and the first day of school and is sponsored by Scholastic. Opinions are my own.