Christmas 2009 came and went like a flash!
It's already New Years Eve…
As I sit here looking through the photos I took of my kids opening their gifts, I thought a lot about Santa and how he gets all the credit for a whole pile of great gifts my kids received.  And I wondered if the people who "don't do Santa" have the right idea.
For like a split second…
I believe that Santa represents all the good in the world at Christmas time.  While we celebrate the birth of Jesus by giving gifts to those we love, we also celebrate what He stands for and Santa provides a way for us to instill anticipation and delight over Christmas before they are old enough to understand the true meaning.  Plus, I don't really think Santa exists for children, I think he exists so the adults don't forget to magic of this time of year by experiencing it through their childrens eyes, and then through their grandchildrens eyes.
I still feel a little cheated that my son's's favorite gift, his Nintendo DSi came from Santa, but considering the leverage I had over his behavior for like the last month, it's a worthwhile trade.  Because yes, I did go there and Santa even called once (thanks Jim) to curb some of his's six-year-old behavior.
Amid all the craziness of this holiday season, we have great memories to cherish.
We had snow.
Enough to be festive, but not too much to be annoying.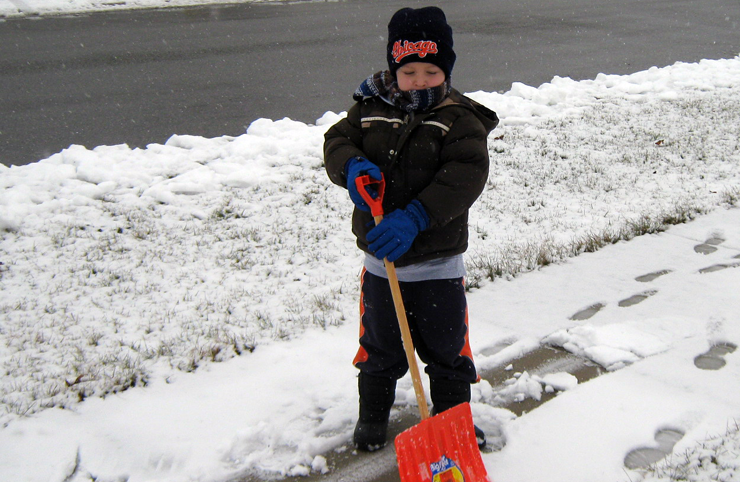 We received thoughtful gifts.
Thank you Barbara Jones and One2One Network.
We made gifts.
Ornaments and cookies for friends and family.
We gave our kids some gifts from Mom and Dad.
On Christmas Eve after taking them out for pizza.
Santa came.
And was too lazy to wrap some of the stuff.
And the magic was kept alive…
The excitement on his face makes it all worth it.
Someone was a little confused by it all.
But she slowly came around.
And then there was the aftermath.
I tried to talk the dog into cleaning up the mess but he was no help.
Join our newsletter!
Subscribe to get updates and great stuff via email including subscriber-only goodies like free printables and giveaways.