Today I went to Sam's Club.
Ok, that's it, end of post.
So. Seriously.
I went to Sam's Club today for the first time in like five years.
When I first went in to Sam's today, I told the greeter right off that I was new there and was coming to get a membership. She said, "well, welcome to Sam's Club" and directed me to the customer service desk. I liked her. I have no idea what her name was but in my mind I call her Florence.
I was second in line at the desk and boy did I get there at a good time because no sooner did I get there and there were like eight people in line behind me. A popular place to be on a Thursday at noon I guess.
The sign-up for the membership was easy. They took my driver's license, my "Gift of Membership", prepaid membership card that Sam's Club sent me, filled out a brief form and took my picture. I had my card in less than 10 minutes, if that.
Then I shopped.
And I shopped.
And my kids only required one potty break – well, the boy did, Abby couldn't have cared less what was in her pull-up.
I didn't get to browse the entire store since Abby had not had her nap yet and was getting obviously worn out but I did get some great stuff for a party I am throwing on Saturday in honor of the Emmy awards (you'll hear about that too later).
This is maybe where it gets weird, but you all know me right, so you won't be surprised.
They had my underwear.
The kind I used to buy that I loved and I was so sad when I couldn't buy it anymore after our membership lapsed.
Sam's Club has the best ladies underwear EV-AH!
Here's a picture:
Three pairs for $10.74 and they last a loooong time. Very good quality for the money. And comfy. A very important quality in undies.
Remember last week when I told you about eValues? If not, go read it…I'll wait.
In brief, eValues are basically paperless coupons that are automatically loaded onto your Sam's Club card each month. They also redeem automatically at checkout for you too! Since I just got my membership I didn't expect any eValues coupons to be on my account yet, but sure enough at checkout I saved $1 on the 3-pack of Frito Lay dips I bought. That brought the unit price to $1.90 each and they are easily $3 each at my local grocery store.
Below is my receipt with the eValues coupon circled:
In the end I spent $216.44.
Here's a shot of about 3/4 of what I bought (the rest had been put away already):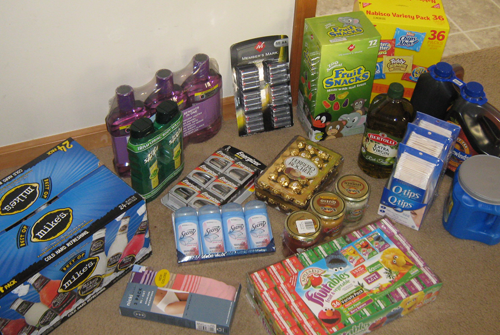 What's missing from the picture are:
A fresh Sam's Club 16″ sausage pizza
An 18oz. package of blueberries
A box of 16 mini angus steakburgers
A box of 12 chicken quesedillas
A package of five cans of chunk chicken
A big bag of tortilla chips
A big bag of Fritos Scoops corn chips
Some of the items are not on my normal shopping list but we are having a little get-together here on Saturday and the food tab is being covered by someone else. I just had to pick it out.
I don't have to buy batteries, deodorant, Q-tips or mouthwash for like a year now!
Did I mention the sample people were there today? All over the store they had little carts set up giving away food samples. I totally forgot they did that. And the nice lady at the cheese cart gave Abby a handful of Ritz crackers and helped me pick out my pizza. I have no idea what HER name is either but I will forever remember her as Edith. She was so nice.
Oh, I almost forgot. The word pretzel is in the title of this for a reason.
My new motto is "go to Sam's for the pretzels and stay for the prices" (hmmm…I need to work underwear in there somewhere).
On our way out of the store, Jake was hungry and thirsty and I hadn't had lunch either so I ordered two drinks and two pretzels. Came to $3.89 or something like that and we got two HUGE drinks and the pretzels were AWESOME. $.94 for the BEST PRETZEL ON THE PLANET.
So much for a low carb diet.
Now I KNOW you want to go to Sam's Club and try their pretzels, right?
ENTER TO WIN A SAM'S CLUB PLUS MEMBERSHIP
Two winners will EACH receive a Sam's Club 12-month Plus Membership with eValues valued at $100.
(note: if you already have a regular Sam's Club membership you may upgrade to the Plus Membership and use the extra $40 to spend in the store. If you are already a Plus Membership holder you can use the entire $100 to spend in the store)

How to enter:
Head over to Sam's Club.com and take a look around. Then come back here and leave a comment telling us about something you saw that seems like a great deal at Sam's Club.
Extra entries:
You can earn UNLIMITED extra entries doing either or all of the following:
Twitter this (as many times as you want no limit but you MUST include the link to each individual Tweet – click the date/time of the Tweet for the link) and leave a separate comment for each:
Win a $100 Sam's Club Membership from @whatsthatsmell https://tinyurl.com/m8fsrb (the best pretzels and underwear ever) 2 winners

and/or
Leave a comment on any of our non-giveaway posts. Please leave the link or the name of the post that you commented on in your entry comment.
Please leave a separate comment for each additional entry.
Giveaway ends on Friday September 25, 2009 at noon CST and is open to the USA.
Winners will be selected from all eligible entries using Random.org. Winner will be contacted via email but must respond within 48 hours.