This fall, Sam's Club is all about helping you make the best out of your Halloween and other fall parties such as Oktoberfest.  Their Fall Harvest website is crammed full of party ideas, recipes and products to make your celebrations the best they can be.
First of all, the Tour De Fromage continues on Facebook where Sam's Club is sharing their new gourmet cheese selections and offering up a trip to Paris as a prize.  They have recipes, tips about how to store cheese and even suggestions for which wine goes best with which cheese.
Also, for Oktoberfest, they have recipes and a beer tasting party guide so you can throw the best party ever!  They also have a guide for choosing the right beer to compliment your meal.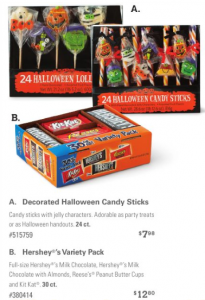 What is fall without Halloween?  Sam's Club has the best ever way to help you celebrate Halloween with the chance to win a Wii system just by uploading a unique or creative or funny Halloween costume: Sam's Club Halloween Costume Contest.  You can enter until October 21st.
Also for Halloween, Sam's Club has entertaining ideas, recipes and even pumpkin carving tips.  They also have some great seasonal items including candy at their great club prices.
You can get decorations and all the candy and food you need.
I love these lights ————–>
I don't remember there being Halloween decorations when I was a kid of the same magnitude and creativity as there is today.   Today you can get robotic skeletons, talking "busts" and even string lights.  Needless to say we have done some decorating at our house to make it "spooky" and fun.
Another thing about Sam's Club that makes things easier on Halloween is their Take 'N' Bake pizzas.  For less than $7 you can get a 16″ pizza that is ready to bake.  Our trick-or-treating is from 5pm to 7pm on Halloween and I am definitely planning on serving up some Take 'N' Bake pizzas.  Usually my parents and my sister come over and we spend the day and evening together.  This way no one has to prepare food – we get tasty pizza at a great price – nice and hot when we want it.
Sam's Club even has costumes available too at some stores, I know they did at mine.  This year I have actually tried (and I mean that in the truest sense of the word) to "assemble" (assemble is halfway between store-bought and home-made) my kids costumes using some store bought accessories and some items we already had at home.  My son is going to be a pirate and my daughter sort of made up her own thing…she is going to be a "purple butterfly princess".  Last year, however, we went totally store bought.  My son was Darth Vader and my daughter was a ladybug because I always call her that – "ladybug".
She actually found last year's costume and has been seen wearing it around the house:
How about you?
Got a great picture of you or your kids from a Halloween from years past?
Want to win a Wii?
Upload your picture and you will be entered to win!
You can get further information about the contest and enter your picture here: Sam's Club Fall harvest Halloween Costume Contest
Sam's Club provided me with compensation for my participation in the Fall Harvest Campaign.
Join our newsletter!
Subscribe to get updates and great stuff via email including subscriber-only goodies like free printables and giveaways.