Fresh tomatoes may be used in many meals, but homemade salsa is one of the best ways to enjoy them. From pico de gallo to spicy mango salsa, there are limitless ways to make delectable dips.
This roundup has 15 salsa recipes that utilize fresh tomatoes as a basis. Whether you're searching for a conventional or innovative flavor combination, these recipes will fulfill your appetites and amaze your guests.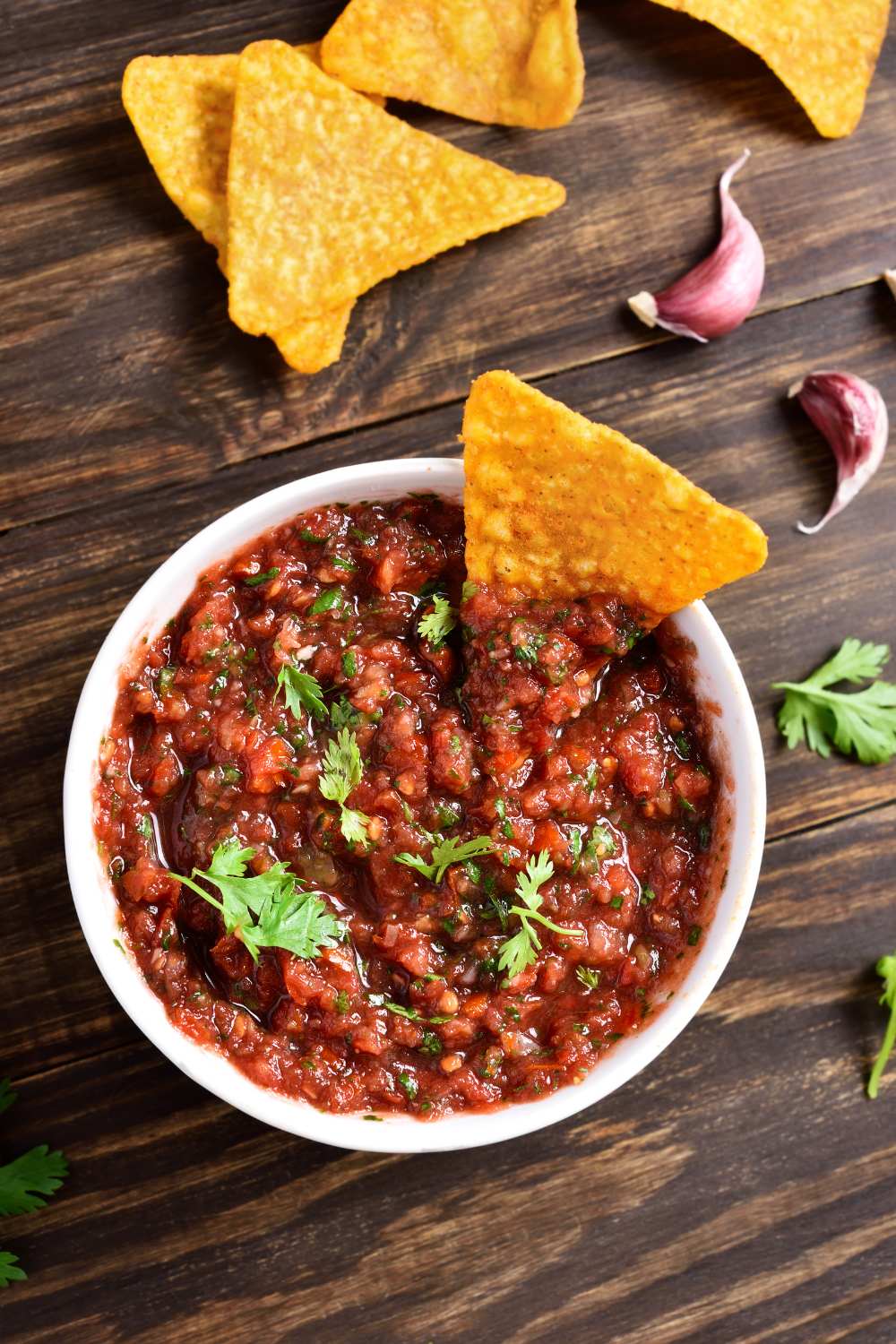 How Do I Chop Tomatoes For Salsa?
To chop tomatoes for salsa, first, wash them thoroughly, and remove the stem. Cut the tomatoes in half and remove the seeds and excess juice. Then, cut the tomatoes into small cubes, making sure they're roughly the same size for even cooking.
To make it even easier, consider using a food processor to chop the tomatoes into smaller pieces quickly and easily. Enjoy the fresh, healthy taste of homemade salsa!
Can I Make Salsa With Canned Tomatoes Instead Of Fresh Ones?
Yes, you can use canned tomatoes to make salsa instead of fresh ones. When purchasing canned tomatoes, opt for those with no added salt or sugar. Drain the tomatoes and rinse them with cold water to remove any excess salt or chemicals.
You can then use a food processor to chop them into the desired consistency. Keep in mind that fresh tomatoes will give your salsa a brighter, fresher taste, but canned tomatoes are a great option for convenience and ease.
15 Salsa Recipes With Fresh Tomatoes
From basic pico de gallo to fruity variations, these 15 fresh and nutritious salsa recipes with luscious tomatoes will make your taste buds dance:
Say hello to the Classic Roasted Tomato Salsa, a scrumptious dance of flavors that'll make your kitchen feel like a fiesta! With Roma tomatoes, white onion, poblano, and jalapeño chilis, and a hint of garlic, this salsa brings the perfect blend of spice and zest to any dish.
Don't forget the cilantro, lime juice, cumin, and chili powder – they're the secret to a salsa that will make your heart sing. Roasting the veggies adds depth and smokiness, so follow the instructions carefully for an unforgettable salsa experience. Enjoy with chips or your favorite Mexican dishes!
Unleash a wave of tropical delight with this Mango and Tomato Salsa that'll have you daydreaming of sandy beaches and palm trees! The enticing combination of juicy mango and tangy grape tomatoes creates a luscious melody of flavors. Add in some jalapeños for a fiery twist, red onion for a satisfying crunch, and a handful of cilantro to elevate the dish.
Squeeze in fresh lime juice and a pinch of salt to make every bite absolutely divine. Enjoy this fruity salsa with chips, tacos, or your favorite grilled dishes to instantly brighten your meal.
Welcome to a summer fiesta with this delightful Fresh Peach Salsa! With juicy peaches at its core, this salsa will whisk you away to a sun-drenched orchard. The harmonious blend of Roma tomatoes, red pepper, red onion, and jalapeños add a colorful and zesty dimension to the mix.
Top it off with freshly chopped cilantro, a squeeze of lime juice, and a hint of salt to make your taste buds dance. Want a touch of sweetness? Add a drizzle of honey! Perfect for sharing with friends, serve this luscious salsa with tortilla chips or atop grilled chicken and tacos for a taste of sunshine.
Bring the party to your plate with this vibrant Black Bean and Corn Salsa! Bursting with a delightful mix of Roma tomatoes, hearty black beans, and sweet corn kernels, this salsa is a celebration of flavors and textures. With the addition of finely chopped red onion, jalapeño, and a touch of garlic, this recipe becomes the life of the fiesta.
Gently fold in chopped cilantro leaves, a splash of lime juice, and a pinch of salt to round out the medley. Let it mingle for 20 minutes to let the flavors truly shine. Scoop it up with chips or add a spoonful to your favorite dish for a scrumptious twist!
Fire-roasted salsa is an explosion of smokey aromas, so be ready to spice up your life with some charred tomatoes, jalapenos, and onions. Roasting the garlic bulb alters its flavor to be more subdued and earthy.
Each item receives the ideal grill mark after being brushed with olive oil, seasoned with salt, and sprinkled with adobo spice. This salsa, made by pulsing together fresh cilantro and lime juice, is well with tortilla chips or may be used as a condiment for your favorite food. Season with salt to taste, and enjoy the bold flavor of this salsa.
Pineapple Salsa, is ready to bring the party to your tongue! This salsa's standout ingredient is sweet pineapple, but sliced Roma tomatoes, finely chopped red onion, and jalapeo peppers also provide a zing. To add a touch of the tropics, some finely chopped cilantro and lime juice are all that's needed.
Make any necessary adjustments to the seasonings (salt, black pepper, and spicy sauce) and set aside for at least 10 minutes to blend flavors. Serve with crunchy tortilla chips for a snack that will make you feel like you're on vacation.
Be ready for an onslaught of flavor with our Watermelon Tomato Salsa, which is a fruity spin on traditional salsa. Tomatoes and red onions give a savory foundation, while seedless watermelon slices provide a refreshingly sweet contrast.
Spice things up with some freshly squeezed lime juice and chopped cilantro, then season with salt and freshly ground black pepper. It's great if you give it 30 minutes in the fridge to allow the flavors to blend. Use as a topping for grilled fish or poultry, or serve as a dip with your favorite tortilla chips.
This Corn Salsa is like a party in your mouth; it's bursting with vibrant colors and flavors, and it's the perfect combination of sweet corn, tangy tomatoes, refreshing cucumbers, and spicy jalapenos; all of these ingredients are mixed together with the zesty kick of lime juice and apple cider vinegar.
It's the perfect combination of sweet corn, tangy tomatoes, refreshing cucumbers, and spicy jalapenos. This recipe will make you feel like a grill expert whether you cook the corn on the grill or in a pan. Either way, the results will be delicious. Grab a chip, use it to scoop up some of this delicacy, and prepare to be blown away by the onslaught of flavor!
The combination of the smooth consistency of avocado with the tangy taste of tomato creates a flavor explosion on your tongue. This salsa recipe, which is topped with chopped onions and fresh cilantro, is the ideal condiment for any meal or snack.
A few drops of olive oil and a few drops of lime juice pull the whole thing together to create a meal that is both energizing and wholesome. This avocado and tomato salsa is guaranteed to fulfill your appetites, whether you are in the mood for a fast and simple snack or you need to liven up your tacos.
Get ready to elevate your salsa game with this Roasted Tomato and Tomatillo Salsa recipe! Roasting the tomatillos and tomatoes brings out their natural sweetness and deepens their flavors, while the jalapenos add a perfect amount of heat.
Blended with onion, garlic, cilantro, salt, and a squeeze of lime, this salsa is chunky, flavorful, and perfect for dipping your favorite chips. Plus, it can be made ahead of time and stored in the fridge for a few days. So go ahead, and spice up your snack time with this delicious Roasted Tomato and Tomatillo Salsa!
The Fresh Basil Tomato Salsa is a delicious summertime snack that pairs well with tortilla or pita chips thanks to its use of fresh basil, garlic, and olive oil. The salsa, whose star ingredient is Roma tomatoes, is simple to prepare and great for a get-together of any size.
The garlic gives it a little bite, while the basil makes it taste fresh and herbal. Enjoy this easy but delicious salsa at any time of day by topping bite-sized artisan bread with it for some extra crunch and cheesiness.
If you're in need of a light and simple salsa, go no further than this recipe for Cucumber Salsa. Made with English cucumbers, sweet bell peppers, juicy Roma tomatoes, and a pinch of jalapeo for heat, this salad is perfect for warm-weather events.
For a bright and zesty finish, we've added fresh garlic, cilantro, and a combination of lemon and lime juices. Use it as a dip for tortilla chips or a sauce for grilled meat. It's a quick and tasty way to boost the nutritional value of your next meal by include more vegetables.
Salsa Playera de Lujo will whisk you away to the luxurious shores of Mexico with its harmonious symphony of juicy tomatoes, fresh cilantro, pitted green olives, pickled jalapenos, and capers.
This salsa's luscious texture is thanks in part to the ketchup and olive oil that were added. Don't be surprised if you find yourself going back for seconds or even thirds! It's best served cold, but you may also enjoy it at room temperature.
This Papaya Salsa recipe is a tropical flavor bomb, with a blend of peppers, onions, garlic, tomatoes, and fresh papaya that strikes the ideal sweet and spicy balance. The Salsa may be consumed on its own or as a complement to your favorite foods after the ingredients have been briefly sautéed in olive oil and vinegar and then blended.
The greatest thing is that the consistency can be adjusted to suit your needs, making it versatile enough to serve as a dip or topping for any event.
In this recipe for sweet potato salsa, the potatoes are roasted to bring out their natural sweetness, while fire-roasted tomatoes and cayenne pepper lend a smokey flavor to the dish.
The salsa's richness is wonderfully complemented by the tangy kick provided by the fresh ginger and lime juice. The flavorful salsa may be served with tortilla chips or used as a topping for your favorite Mexican recipes. If you want to up the creamy factor, try topping it with some diced avocado.