Salmon, a popular and healthful food that can be prepared in a variety of ways, is much improved by being marinated in the sweet and delicious teriyaki sauce.
Here are 15 teriyaki salmon recipes that can be prepared quickly and are suitable for every meal of the day. These teriyaki salmon dishes, which range from grilled salmon to bowls, will please your palate and your appetites.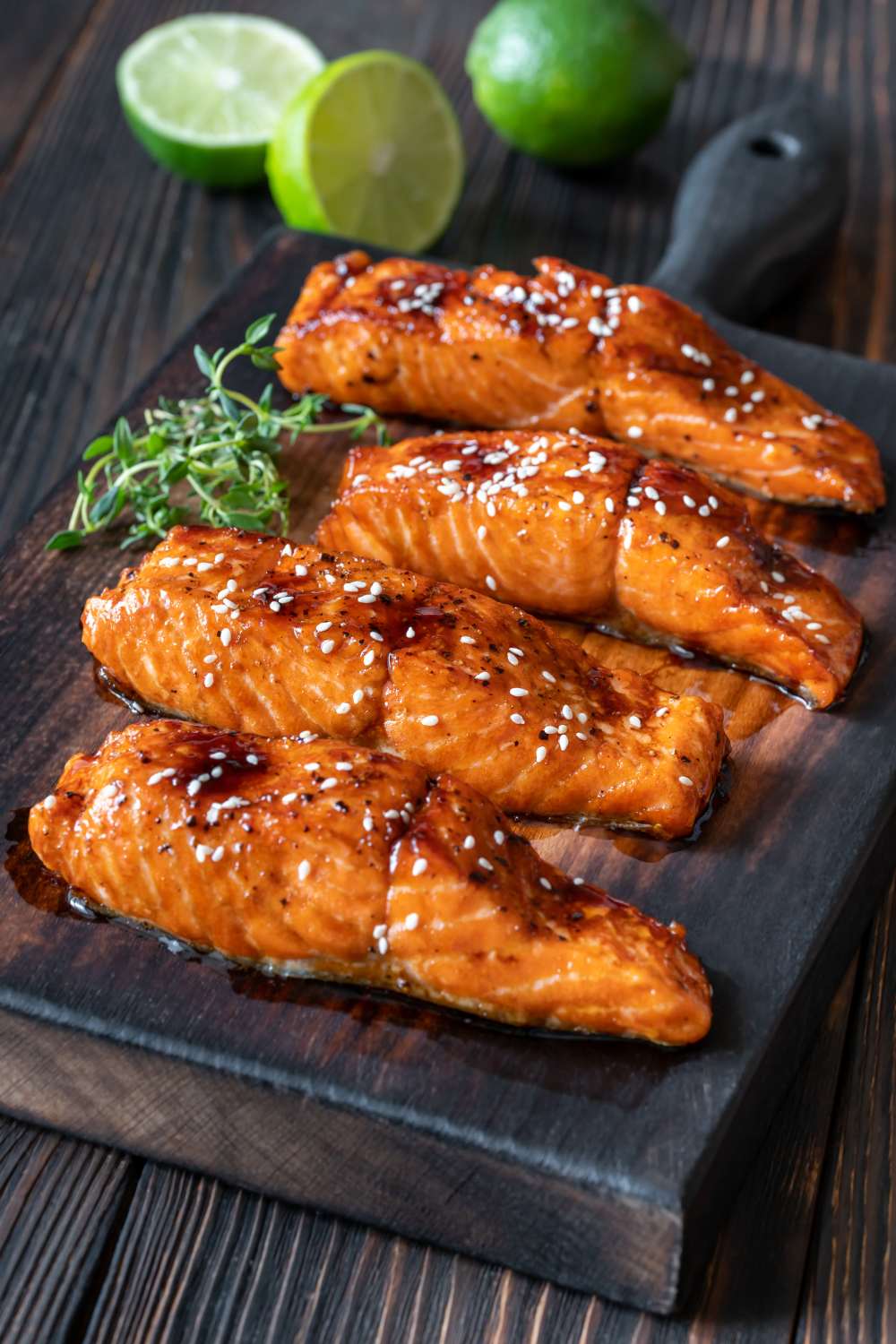 Can I Use Frozen Salmon For These Recipes?
Yes, you can use frozen salmon for these recipes as long as it is thawed properly before cooking. It is important to thaw the salmon in the refrigerator overnight or use the cold water method to prevent bacterial growth.
Also, frozen salmon can be more budget-friendly and still provide all the nutritional benefits of fresh salmon, such as omega-3 fatty acids.
Can I Use Store-bought Teriyaki Sauce For These Recipes?
Yes, you can use store-bought teriyaki sauce for these recipes. However, it is important to read the ingredients list and nutrition label carefully to ensure that the sauce is healthy and free from artificial additives or excess sugar.
You can also make your own teriyaki sauce with simple and healthy ingredients like soy sauce, honey, ginger, garlic, and rice vinegar to have more control over the flavors and nutritional content.
15 Salmon Recipes With Teriyaki
These 15 salmon recipes with teriyaki—from grilled to baked—will fulfill your sweet and salty appetites:
This Teriyaki Salmon Bowl is the ultimate meal for busy weeknights, packed with delicious and nutritious ingredients. The juicy and flaky salmon is marinated in a flavorful sauce made with coconut aminos, honey, rice vinegar, and sesame oil. Served over a bed of rice with fresh cucumbers, edamame, carrots, and creamy avocado slices, this dish is bursting with color, flavor, and texture.
Drizzled with a homemade teriyaki sauce and topped with green onions and sesame seeds, each bite is a perfect balance of sweet, salty, and savory. Ready in just 30 minutes, this salmon bowl is a must-try!
A tropical spin on a traditional dish, this Teriyaki Salmon with Pineapple Salsa is sure to please. Flaky salmon is achieved by grilling or pan-frying it after marinating it in a combination of pineapple juice, soy sauce, brown sugar, garlic, ginger, and red pepper flakes. Diced pineapple, red bell pepper, red onion, cilantro, jalapeo, lime juice, and spices come together in a zesty salsa that pairs well with the cuisine.
Each mouthful is a perfect harmony of sweet, tangy, and spicy thanks to the homemade teriyaki sauce that is a combination of soy sauce, pineapple juice, brown sugar, garlic, ginger, cornstarch, and water. This delicious and simple dish will wow your dinner guests.
This Baked Teriyaki Salmon is a simple and flavorful dish that comes together quickly for a delicious weeknight dinner. Tender and juicy salmon fillets are marinated in a homemade teriyaki sauce, then baked to perfection in the oven.
The result is a mouthwatering and satisfying meal that is easy to prepare and packed with bold flavors. Serve the salmon over a bed of cilantro lime rice and steamed veggies for a complete and nutritious meal. Garnish with chopped scallions, sesame seeds, and red pepper flakes for an extra kick of flavor and texture.
This recipe for Quick Mango Teriyaki Salmon is a flavor explosion straight from the tropics. Crispy and supple fillets of wild salmon are pan-fried after being marinated in a flavorful mixture of soy sauce, maple syrup, water, sesame seed oil, rice vinegar, ginger, and garlic. Mango salsa, olive oil, lime juice, cilantro, and red onion are combined to provide a zesty and delicious topping for the salmon.
When you mix the savory teriyaki sauce with the fresh and fruity mango salsa, you get the ideal harmony of tastes and textures. Serve over steaming white rice or your favorite veggies for a simple, healthful weekday supper the entire family will adore.
Delicious and simple, these Salmon Teriyaki Skewers with Pineapple are ideal for a summertime barbecue. Delicious teriyaki sauce is prepared by combining soy sauce, mirin or rice vinegar, brown sugar, garlic, ginger, green onions, vegetable oil, and chili pepper flakes.
The salmon cubes are then marinated in the sauce for a few hours. The salmon is marinated, skewered with fresh pineapple and green onions, then grilled until just cooked through and a little browned. Serve these skewers hot off the grill for a wonderful and healthful supper that's suitable for any occasion.
With this scrumptious recipe for Salmon Stir Fry, you are about to go on a journey through a world of flavors. Crisp vegetables including red bell pepper, carrots, and green beans are served with luscious slices of salmon marinated in a sauce prepared from low-sodium soy sauce, honey, rice vinegar, and sesame oil.
You'll want more of this stir fry because of the harmonious combination of tastes and textures. Serve over hot rice and garnish with toasted sesame seeds and chopped green onions.
Indulge in a unique twist on the classic burger with these Teriyaki Salmon Burgers with Cucumber Salad! The salmon patties are made with a delicious blend of fresh garlic, ginger, cilantro, and coconut aminos, and topped with a homemade teriyaki glaze that packs a flavorful punch.
A refreshing cucumber salad with brown rice vinegar, toasted sesame oil, and cilantro adds the perfect crunch to each bite. These burgers are the perfect balance of sweet and savory, and the ideal choice for a summertime BBQ or a cozy night in. Serve on a toasted bun with lettuce, and enjoy every bite of this mouth-watering creation!
Our next stop on this culinary journey brings us to a delightful and healthy recipe for Teriyaki Salmon Lettuce Wraps. These wraps are a perfect combination of savory and sweet, with tender flaked salmon seasoned with pepper and salt and paired with steamed white rice, all wrapped in a refreshing bibb lettuce leaf.
The homemade teriyaki sauce has a great Asian-inspired flavor thanks to the use of honey, sesame oil, fresh ginger, garlic, and coconut aminos. Top it all off with sesame seeds and green onions for a visually stunning and satisfying meal that's perfect for a quick and easy lunch or dinner.
Let's keep going with a nutritious and tasty Asian salmon salad topped with ginger soy dressing! The fresh salmon is pan-fried to perfection after being marinated in a combination of soy sauce, honey, sugar, olive oil, garlic, and ginger, and it is served over a bed of fresh lettuce, canned mandarin oranges, and shredded carrots.
Garnish with sesame seeds for an extra special touch, and don't forget the homemade Ginger Soy Dressing prepared with soy sauce, rice vinegar, sugar, sesame oil, and ginger.
These Teriyaki Salmon Soba Noodle Bowls have all the makings of a delicious and filling weeknight supper. Honey, soy sauce, ginger, garlic powder, lime juice, and sesame oil come together to form a wonderful teriyaki sauce that coats the tender salmon fillets.
These bowls, served with soba noodles, asparagus, and avocado slices, are brimming with healthy ingredients and delicious Asian-inspired tastes. For a stunning display, sprinkle some sesame seeds and scallion greens over top and drizzle with more sesame oil. If you're looking for a fast and simple dinner option, go no further than these Teriyaki Salmon Soba Noodle Bowls.
Try this bowl of Teriyaki salmon with sesame zucchini noodles for a delicious and nutritious supper. Soy sauce, mirin, honey, fresh ginger, garlic, and toasted sesame oil are combined to make a flavorful marinade for the fish, which is then cooked to perfection and served on delicate zucchini noodles.
To create a tangy and flavorful sauce that ties all the tastes together, the leftover marinade is cooked in the pan with the noodles. This bowl of Teriyaki salmon with sesame zucchini noodles is sure to be a success with your loved ones because to its eye-catching presentation and delicious flavor.
For the next recipe on our list, we have Teriyaki Salmon Quinoa Bowls that are loaded with nutritious and flavorful ingredients. Tricolor quinoa is cooked to perfection and mixed with scallions to give it a savory kick. The salmon is marinated in a sweet and tangy mixture of soy sauce, mirin, garlic, ginger, and honey before being pan-seared until golden brown.
The baby bok choy and shiitake mushrooms add an earthy dimension to the dish, while the grated lemon zest gives it a zesty, citrusy pop. Served with a wedge of lemon, this dish is the perfect balance of sweet, savory, and tangy.
This sheet pan teriyaki salmon with baby bok choy is a delicious and easy dinner recipe that's perfect for busy weeknights. The salmon is marinated in a flavorful teriyaki sauce made with soy sauce, rice vinegar, garlic, ginger, sesame oil, and honey, and then baked on top of baby bok choy for a one-pan meal.
The dish is finished off with a thick and sweet sauce made with cornstarch and water and then garnished with sesame seeds and scallions. Serve with rice or quinoa for a complete and satisfying meal.
Our next stop is the Teriyaki Salmon Bowl, a healthy and delicious option that's suitable for any day of the week. The dish's delightful earthiness comes from the Brussels sprouts and shiitake mushrooms, and its satisfying crunch comes from the matchstick-cut carrots.
The salmon is cooked to perfection, and the teriyaki sauce is a delightful addition that goes well with the veggies. This is a great recipe to whip up when you need a fast and nutritious supper.
We'll be moving on to a recipe that mixes stir-fried noodles with delicious fish. Tender and juicy salmon fillets are cooked in teriyaki sauce with the addition of garlic and ginger. Noodles are made by stir-frying sliced bell peppers and carrots in teriyaki sauce with cooked noodles.
Lastly, we sprinkle over some scallions and sesame seeds for a visual and textural boost. If you're looking for a nutritious and delectable supper alternative that can be prepared quickly, go no further than this recipe.