Salmon, the healthy and adaptable fish, is a favorite among seafood lovers because of its robust flavor and ability to complement a wide range of sauces.
From the traditional white wine sauce to the rich Tuscan sauce and the spicy firecracker sauce, the 15 salmon recipes collected here are certain to satisfy any salmon lover's cravings.
Prepare yourself to go on a dining journey with these dishes for salmon that will make your mouth wet.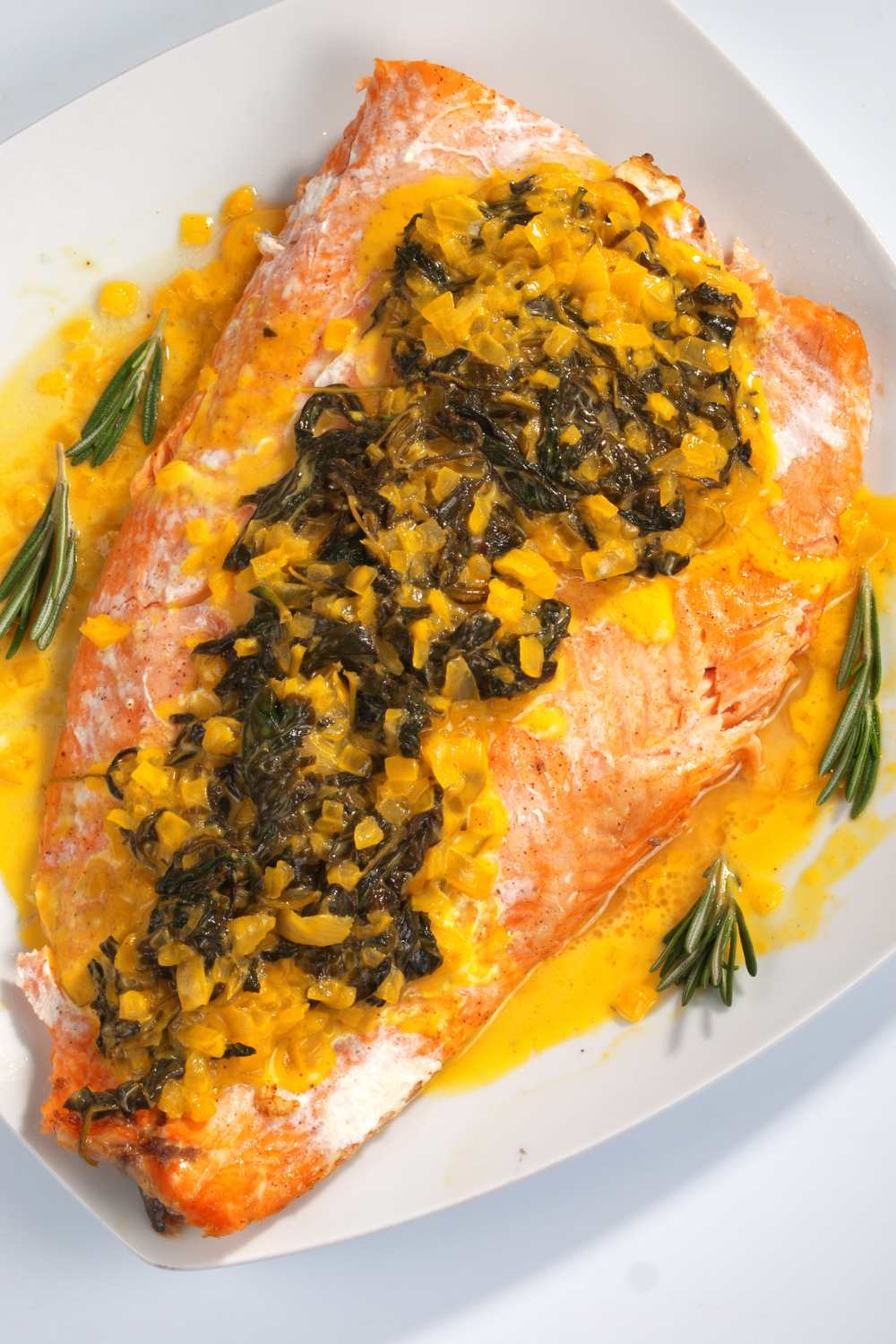 How To Choose The Best Salmon For These Recipes?
When choosing salmon for these recipes, it's best to opt for fresh, high-quality salmon. Look for salmon fillets with firm, brightly colored flesh, and a clean, ocean-like aroma.
Wild-caught salmon is usually a good choice as it tends to be less fatty and has a more pronounced flavor than farmed salmon. Additionally, try to select salmon fillets that are of similar size and thickness, so that they cook evenly.
Can I Use Frozen Salmon Instead?
Yes, you can use frozen salmon for these recipes, but it's important to thaw it properly before cooking. Thaw frozen salmon in the refrigerator overnight, or place it in a sealed plastic bag and submerge it in cold water until it has thawed completely.
Avoid thawing salmon at room temperature or in hot water, as this can encourage bacterial growth and compromise the texture and flavor of the fish. Once the salmon has thawed, pat it dry with paper towels and proceed with the recipe as directed.
15 Salmon Recipes With Sauce
From creamy cilantro lime sauce to brown sugar glaze, these 15 delicious salmon dishes have a sauce for every taste:
Welcome to my kitchen! Today, we are kicking off our list with this mouthwatering and wholesome Baked Honey Mustard Salmon recipe. This dish is packed with flavor, thanks to the perfect blend of honey, mustard, lemon juice, and spices. The salmon is juicy and tender, baked to perfection in just a matter of minutes.
I love using a low-sodium chicken broth to add depth to the marinade. The result is a tasty and healthy meal that's perfect for a weeknight dinner or a special occasion. Top it off with fresh parsley for a touch of color and herbaceousness.
This baked lemon dill salmon with yogurt sauce is the perfect way to impress your dinner guests with a delicious, healthy meal. I love how the tangy lemon and dill flavors perfectly complement the richness of the salmon, and the creamy yogurt sauce adds a refreshing finish.
The secret to perfectly cooked salmon is to let it rest at room temperature before baking, ensuring that it cooks evenly and retains all its moisture. I can't wait for you to try this recipe, it's a surefire crowd-pleaser that's quick and easy to make!
Pan-Seared Salmon is a simple yet delicious recipe that requires minimal effort but packs maximum flavor. With a crispy golden brown crust, tender and juicy flesh, and a tangy lemon garlic butter sauce, this dish is sure to impress.
Heat up your skillet and sear the salmon fillets, flip them over, and add garlic, butter, and lemon juice to make the perfect sauce. Top it off with some fresh parsley and you have a perfect meal in minutes. Serve this dish with your favorite sides and enjoy a restaurant-quality meal at home.
Poached Salmon with Capers and Hollandaise Sauce recipe is a true delight for seafood lovers. A perfect blend of flavors and textures, the salmon fillets are simmered in a mix of white wine, water, lemon, shallots, dill, and capers, until they're cooked and flaky.
The salmon is then topped with the deliciously tangy and creamy hollandaise sauce, making it a truly indulgent dish. Serve it on a platter or plates, garnished with more capers and chopped dill. This recipe is a must-try for those who appreciate the delicate and refined taste of salmon.
This Sesame Ginger Sweet Teriyaki Salmon with Garlic Quinoa Stir-fry is a mouth-watering dish that is sure to leave you feeling satisfied. The salmon is marinated in a delicious blend of teriyaki sauce, ginger, garlic, brown sugar, honey, and olive oil which adds the perfect balance of sweet and savory flavors to the dish.
The garlic quinoa stir-fry is the perfect accompaniment, featuring bell peppers, sugar snap peas, and garlic, ginger seasoned quinoa. Served with a sprinkle of sesame seeds and cilantro, this dish is the perfect combination of fresh and flavorful. Don't forget to glaze it with some extra teriyaki sauce!
Enjoy a restaurant-quality dinner at home with this delicious Salmon Piccata recipe. Lightly coated with flour, the salmon is seared to perfection in a skillet, then topped with a rich and tangy sauce made with garlic, capers, chicken broth, lemon juice, and white wine.
This dish is bursting with savory flavors that are sure to impress. Garnish with fresh chopped parsley and lemon slices for a bright finish. Perfect for a cozy night in or an elegant dinner party.
This creamy garlic butter salmon is perfect for a decadent dinner. With its crispy, golden-brown crust and creamy sauce, it's a dish that will tantalize your taste buds. Pan-fry the salmon until it's cooked to perfection and then sauté garlic in butter, adding wine if you wish.
Pour in chicken stock and heavy cream and melt Parmesan cheese into the sauce. Simmer until the sauce thickens, then add the salmon back to the pan and cook for a few minutes. Serve with a sprinkle of parsley for a touch of freshness.
Enjoy the flavor of perfectly poached fish with a twist by making this Hard Cider Poached fish with a Creamy Dill Sauce. Seasoned with salt and pepper, the soft salmon fillets are cooked in a fragrant blend of hard cider and buttery shallots.
The rich flavor of the salmon is then complemented with a creamy dill sauce prepared from heavy cream and fresh dill. This dish is ideal for a special occasion or a romantic evening for two. Give it a go tonight and dine like a king without leaving your house.
Grilled salmon with chimichurri sauce is a match made in heaven. The lemon-pepper seasoned salmon fillets are grilled to perfection, while the fresh and tangy chimichurri sauce adds an explosion of flavor. To make the chimichurri sauce, simply blend fresh parsley, olive oil, lime juice, garlic, oregano, red pepper flakes, and salt.
Season the salmon on both sides with lemon-pepper seasoning and grill in a large skillet until fork-tender. Serve the salmon with a generous spoonful of chimichurri sauce on top for a delicious and healthy meal. Perfect for a summer barbecue or a quick weeknight dinner.
This pan-seared salmon with orange-coconut sauce recipe is an absolute winner. The perfectly cooked salmon is seasoned with salt and pepper, and the sauce is a scrumptious combination of sweet and spicy tastes that will make your mouth water.
The sauce is made with fresh orange juice, mirin, soy sauce, garlic, marmalade, sriracha sauce, lemongrass, and rice vinegar, and is topped off with shredded coconut, red bell pepper, cilantro, and chives for added texture and flavor. Pan-seared fish is finished off with the scrumptious sauce for a show-stopping main course.
This roasted salmon with white wine sauce is a delightfully simple yet elegant dish. The salmon is seasoned with coarse salt and ground pepper before being roasted to perfection. While the salmon cooks, a white wine sauce is prepared with butter, flour, and dry white wine, which is then reduced to a silky texture and finished with fresh chives.
Once the salmon is done, it is gently broken into large chunks and served with white wine sauce. The result is a delicious and flavorful meal that can be enjoyed any day of the week. Serve it with a side salad or roasted vegetables for a complete and satisfying dinner.
Let's continue our gastronomic adventure with a delicious recipe for Skillet Seared Salmon with Creamy Cilantro Lime Sauce. The salmon is coated with cumin, coriander, and cayenne pepper, and seared until golden brown. It is then served with a zesty and refreshing sauce made from natural sour cream, green onions, cilantro, lime juice, and garlic.
The creamy and tangy sauce perfectly complements the perfectly seared salmon, making it a winning combination. This dish can be prepared in a flash, making it suitable for both weekday meals and formal gatherings.
Our next dish is the Brown Sugar Glazed Salmon, a delectable recipe that will leave you craving for more. Seasoned with salt and pepper, the fresh salmon is seared to perfection with olive oil and butter, and then smothered in a mouth-watering brown sugar glaze.
The glaze is made with soy sauce, garlic powder, lemon juice, Worcestershire sauce, chicken broth, and cornstarch. This combination gives the salmon a perfect balance of sweet and savory flavors with a subtle hint of ginger.
Let's keep up the good work by moving on to the next dish on the list, which is Salmon in a Creamy Tuscan Sauce. Perfectly seared salmon fillets are placed atop a rich and indulgent cream sauce made with butter, garlic, and cherry tomatoes. Heavy cream is added to the mix along with a blend of spices including dried basil, cayenne pepper, and black pepper.
A generous helping of Parmesan cheese is then stirred in with a handful of fresh spinach before being finished with chopped fresh basil. This dish is a showstopper and can be served with a variety of sides including pasta, roasted potatoes, or rice, or enjoyed on its own with a fresh green salad.
Let's end our salmon recipe journey with a bang, as we bring you a dish that packs a punch - Firecracker Salmon. This dish features pan-seared salmon fillets coated with a spicy flour mixture and smothered in a delicious, Asian-inspired sweet and spicy sauce made with soy sauce, honey, and chili sauce.
The dish is then garnished with fresh, zesty Peach Salsa made with juicy yellow peaches, Roma tomato, bell pepper, and red onion. This fiery and fruity combination is sure to awaken your taste buds and leave you craving for more. Serve it with a side of rice or enjoy it on its own, either way, it's a mouthwatering experience you won't forget.