Salmon is a nutrient-dense, tasty fish that goes well with a variety of cooking methods and seasonings; when combined with brown sugar, it makes a sweet and savory combination that is sure to please any palate.
These 15 salmon recipes with brown sugar are simple to prepare and can be used for a variety of meals. Whether you like baked or grilled salmon, you're sure to find a new favorite among these options.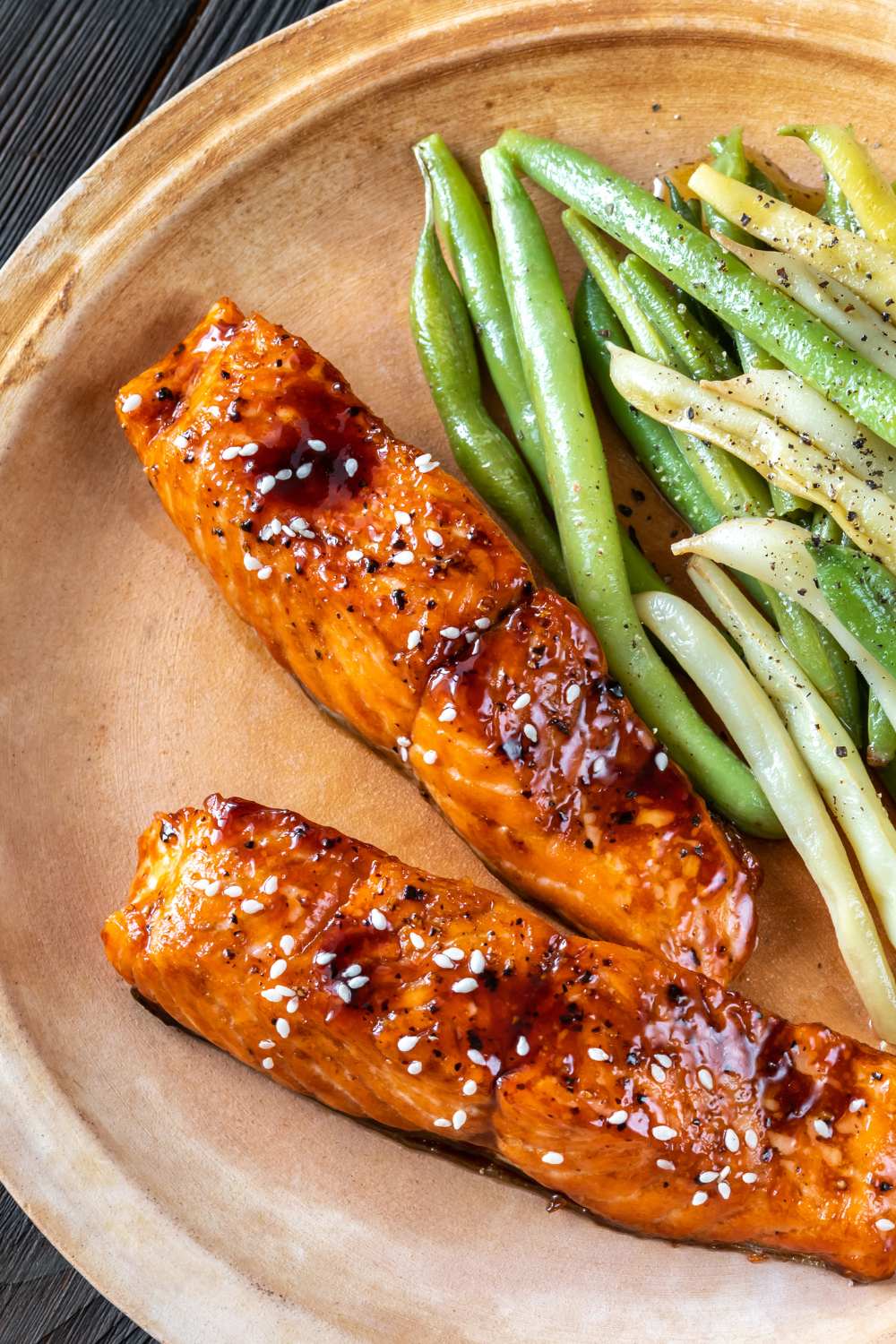 Can I Substitute Brown Sugar With Another Sweetener In These Recipes?
Yes, you can substitute brown sugar with various sweeteners. Here are 5 options to consider:
Honey: Natural and high in antioxidants, honey adds a unique flavor and moisture to dishes, but may be overpowering.
Maple Syrup: Also natural, maple syrup has a rich, earthy flavor and contains minerals, but can be expensive and overpowering in large amounts.
Coconut Sugar: Low glycemic index and rich in nutrients, coconut sugar has a caramel-like flavor and texture, but may be harder to find and more expensive.
Agave Nectar: Low glycemic index and mild flavor, agave nectar adds moisture without overpowering but may be highly processed.
Stevia: Zero calorie and natural, stevia is highly concentrated and can be used sparingly, but may have a bitter aftertaste.
15 Salmon Recipes With Brown Sugar
From savory glazes to spicy marinades, these 15 brown sugar-infused salmon recipes are guaranteed to wow at your next supper.
A juicy and flaky wild salmon fillet with a golden, crispy coating, cooked to perfection. The glaze is a delectable concoction of savory ingredients including maple syrup, brown sugar, fresh lime juice, chopped garlic, paprika, and black pepper that will leave you wanting more. The house is filled with the perfume of sweet glaze and spicy spices while the salmon bakes in a foil packet.
The broiling of the salmon for the ideal crust creates a tense atmosphere. At long last, you take a mouthful and delight in the symphony of tastes that fills your tongue. You won't want to pass up this opportunity to try this Maple Glazed Salmon dish.
It's time to add a little bit of sophistication to your dinner table with this Bourbon Brown Sugar Salmon recipe. Imagine the aroma of brown sugar, soy sauce, Worcestershire sauce, minced garlic, and black pepper blending together perfectly. And, if you're feeling a little adventurous, add a splash of bourbon to the mix! As the salmon marinates in this rich, flavorful sauce, the anticipation builds.
When it's time to bake, top the salmon with toasted pecans, creating a nutty and crunchy contrast to the savory glaze. Finally, as the salmon cooks, the glaze thickens and caramelizes to perfection. This dish is sure to impress even the most refined palates.
Salmon with brown sugar and mustard glaze is a delicious combination of sweet and savory tastes. The glaze's ingredients—brown sugar, honey, and butter—emit a heavenly scent while they're being prepared. Grated ginger, soy sauce, olive oil, and Dijon mustard give this dish a savory and spicy flavor. The moment you brush the salmon with that wonderful glaze and throw it on the grill, your appetite will grow.
As the salmon cooks, you see its skin becoming crisp and its meat becoming a gorgeous pink as it reaches the ideal medium of doneness. You can't help but appreciate the perfect harmony of sweet and salty in your first taste. This recipe will quickly become a household staple.
This firecracker salmon recipe is a game-changer. The combination of garlic, ginger, soy sauce, chili sauce, and sriracha creates a flavor explosion that will have you begging for more. The brown sugar, though optional, adds a subtle sweetness that balances out the heat from the red chili flakes.
Searing the salmon before baking it creates a nice crust that adds texture to the dish. And let's not forget the chives - they add a touch of freshness that completes the dish. This recipe is perfect for when you want to impress your guests or when you just want to treat yourself to something special.
If you're short on time but still want a delicious and healthy meal, this baked teriyaki salmon recipe is perfect for you. The homemade teriyaki sauce is the star of the show here - it's sweet, savory, and so easy to make. The salmon itself is cooked to perfection - juicy and flaky, with a crispy exterior that adds texture to the dish.
And let's not forget about the lemon wedges - they add a burst of freshness that complements the sweetness of the teriyaki sauce. This recipe is perfect for a weeknight dinner or a weekend lunch. Give it a try and you won't be disappointed!
This brown sugar honey-marinated salmon with caramelized pineapple quinoa recipe is a showstopper. The juicy and succulent salmon is marinated in a sweet and savory sauce that infuses the fish with flavor. The pineapple adds a lovely tropical touch that pairs perfectly with the quinoa.
Speaking of quinoa, it's creamy and rich, thanks to the addition of coconut milk. The red onion and cilantro give it a nice crunch and a burst of freshness. And let's not forget about the toasted almonds - they add a nice nutty flavor that complements the dish. This recipe is perfect for a summertime dinner or any time you want to impress your guests.
Brown Sugar, Ginger, and Garlic Glazed Salmon is a must-try recipe for seafood lovers. This dish features a perfect balance of sweet and savory flavors that will tantalize your taste buds. The glaze is made with a combination of brown sugar, soy sauce, dijon mustard, olive oil, grated ginger, and crushed garlic.
The salmon is then baked in the oven or grilled on a barbecue until it's flaky and juicy. Don't be alarmed if you see white bubbles on top of the fish - it's just protein and adds to the delicious taste. Serve with your favorite sides for a perfect meal any time of the year.
There's nothing quite like the flavor of grilled salmon, especially when it's coated in a sweet and smoky brown sugar rub. This recipe takes things to the next level by grilling the fish on a cedar plank, adding a hint of earthiness to each bite.
As the salmon cooks, the sugar caramelizes and creates a crispy, flavorful crust that perfectly complements the tender, flaky flesh. With just a few simple ingredients and a little bit of patience, you'll have a mouthwatering meal that's sure to impress. So fire up the grill, grab a spray bottle, and get ready for some seriously delicious salmon.
If you're looking for a salmon recipe that's equal parts crunchy, juicy, and tangy, look no further than this pecan-crusted salmon with lemon glaze. The buttery nutty crust perfectly complements the tender, flaky fish, while the zesty lemon glaze adds a bright burst of flavor that'll leave your taste buds dancing.
As you sear the salmon in a hot skillet, the aroma of toasted pecans and fresh parsley fills your kitchen, making your mouth water in anticipation. And when you finally take that first bite, you'll be transported to a world of sweet, savory, and citrusy bliss. So go ahead and give this recipe a try – your taste buds will thank you!
This balsamic glazed salmon is the perfect dish for when you want something easy and delicious. The sweet and tangy sauce is made with a few simple ingredients, including brown sugar, balsamic vinegar, and Dijon mustard, which all come together to create a mouthwatering glaze that you won't be able to resist.
Marinating the salmon in the refrigerator allows the sauce to soak into the fish, imparting a delicious balance of sweet and salty tastes. And when you finally bake it in the oven, the aroma of caramelized sugar and tangy vinegar fills your home, making your stomach growl in anticipation.
Prepare to spice up your usual dinner routine with this recipe for orange-glazed honey salmon. The glaze is created with fresh blood orange juice, brown sugar, and honey, and it adds a blast of citrus flavor to every mouthful. The perfume of caramelized sugar and sour fruit fills the air while the glaze cooks on the stove, making your stomach growl with anticipation.
When you bake the salmon in the oven, the garlic powder, onion powder, paprika, and creole seasoning combine to form a flavorful crust that goes well with the flaky, delicate fish. If you're tired of the same old dinners, why not try this simple and tasty salmon dish?
This pineapple salsa salmon with brown sugar glaze is the perfect dish for when you want to transport your taste senses to a tropical paradise. Salsa's sweet and sour taste comes from the combination of fresh pineapple, red bell peppers, and jalapenos.
The kitchen is filled with tantalizing spice aromas as you season the fish with garlic powder, kosher salt, and black pepper. The aroma of caramelized sugar and sour lime juice fills the air as you pan-fry the fish to perfection and drizzle the brown sugar glaze over it. Indulge, dousing a bed of coconut rice with the savory salsa and topping it with slices of creamy avocado.
For a sweet and smokey main course, try this brown sugar and chipotle-rubbed fish. Light brown sugar, kosher salt, black pepper, chipotle chili powder, and lime zest make up the rub, and as you create it, you can almost smell the deliciousness wafting through the air.
And when you apply the mixture to the salmon fillets, anticipation rises. The salmon fillets go on the grill after the charcoal has been lit and hickory chips have been scattered over it to smoke. You can hear the fish sizzling and smell the delightful smokey aroma as the salmon cooks. Once cooked, the salmon fillets are served with a dash of fresh lime juice for a tangy, sweet, and spicy bite.
This charred salmon dish has a sweet and tart mango salsa for a flavor explosion in your mouth with every mouthful. Brown sugar, paprika, oregano, thyme, garlic powder, onion powder, and cayenne pepper are used to coat the salmon fillets, giving them a somewhat smokey and spicy taste.
If you sear the salmon in a hot pan with some butter, it gets a delicious crust while still maintaining its soft, juicy inside. The sweet mango salsa, savory salmon, and fiery red pepper flakes make for a delicious meal. The mango salsa is created with fresh mango, red onion, cilantro, lime juice, and red pepper flakes. It's a full meal when served with a slice of citrus and the fixings of your choosing.
This grilled fish dish with brown sugar glaze is very simple. Brown sugar and low-sodium soy sauce combine to provide a sweet and savory glaze that complements the natural tastes of the fish. Sautéed red onions, salt, and pepper provide a savory note to the glaze, producing the ideal taste balance.
Place the salmon fillets on a baking sheet, brush with the glaze, and broil until the fish is cooked through and flakes easily with a fork. As a consequence, the salmon is soft, flaky, and juicy, with a caramelized exterior that will leave you wanting more. For a full supper, serve it with the leftover glaze and your favorite sides.