"Give a man a fish and you feed him for a day; teach a man to fish and you feed him for a lifetime."
In Rwanda, in 1994, almost a million people (around 20% of the Rwandan population) were massacred because of tribal hatred. This extreme act of genocide left many women as the breadwinners of their family in communities devastated by war.
In 1994 I was one year away from graduating college with an Architectural degree. The sky was the limit as I faced an optimistic future pursuing my dreams. While I pulled all-nighters and contemplated imaginary feats of gravity-defying architecture, women on the other side of the globe were contemplating how they would feed their families amid tragedy.
So the women of Rwanda came together despite the previous bad blood among the tribes to help foster reconciliation based upon common ground and common skills. For centuries, Rwanda craftsmen and artisans have been creating beautiful woven baskets. It was a common skill all Rwandans possessed and it became a symbol for peace for the surviving people of Rwanda.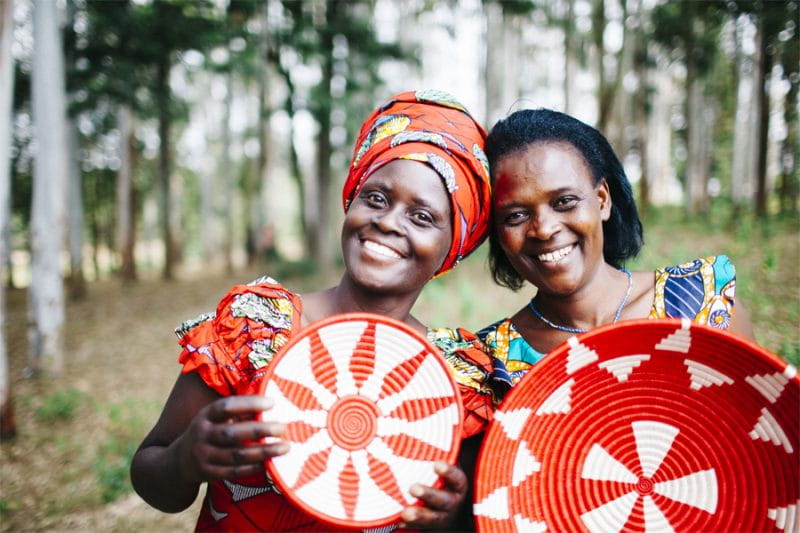 In order to help empower these women who were looking for a hand up, not a hand out, to take control of their lives and their futures, Macy's (with a little help with social activist Willa Shalit) has provided them with a way to sell their baskets across the globe. The Rwanda Path to Peace program was founded in 2005 making this the 1-year anniversary of this amazing initiative.
Some facts about the Rwanda Path to Peace program:
It is not a charity but rather a business initiative with incentives for everyone.
It is the longest lasting program of its kind.
Earnings from the Path to Peace program has empowered Rwandan women to be able to afford necessities for their families and send their children to school.
Weavers earn approximately 10 times the average Rwandan wage.
Overall violence has decreased in Rwanda since the program began.
Because of the success of this program, Macy's continues to offer an unwavering commitment to the Path to Peace program and to celebrate the 10-year anniversary they are offering a commemorative Woven Sun Basket that was woven to represent the 10 years of peace and prosperity.
How the baskets are made:
Rwandan baskets are made by hand and each basket has over 5,000 stitches!
Learn about weaver Ruth and why the Path to Peace program is so important to her:
What an amazing program with an amazing message. These resilient women changed their lives through their craft and Macy's helped make it possible. I am so inspired by these women and thankfully to Macy's for bringing this program to my attention. It's not often you can buy a gift for someone with such a meaningful story behind it, and I am definitely adding Macy's Rwanda Baskets as gift ideas this holiday season.
This post is sponsored by Everywhere Agency; however, all thoughts and opinions expressed are my own.
Join our newsletter!
Subscribe to get updates and great stuff via email including subscriber-only goodies like free printables and giveaways.