It's hard to imagine what your stateroom will be like if you have never been a cruise or on a specific cruise ship. Even though the cruise line may have photos, they are examples of a single room, not the actual room you might be staying in.
During my stay on the Royal Caribbean Liberty of the Seas, I stayed in Stateroom 7520 which is what they call a Superior Ocean View Stateroom. It holds 2 guests and has a balcony.
Liberty of the Seas Superior Ocean View Stateroom
Two twin beds that convert to a Royal King, measuring 72.5 inches wide by 82 inches long, sitting area (some with sofa bed), private balcony and private bathroom. (199 sq. ft., balcony 65 sq. ft.)
You can find this type of room on Decks 6 through 10. Our room was forward on the ship on the port side.

Our stateroom attendant Lloyd was great!
Royal Caribbean Liberty of the Seas – Stateroom 7520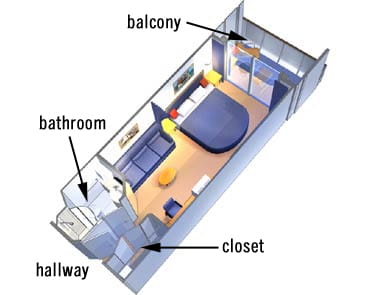 Standing near the balcony door looking towards the closet, hallway door and bathroom.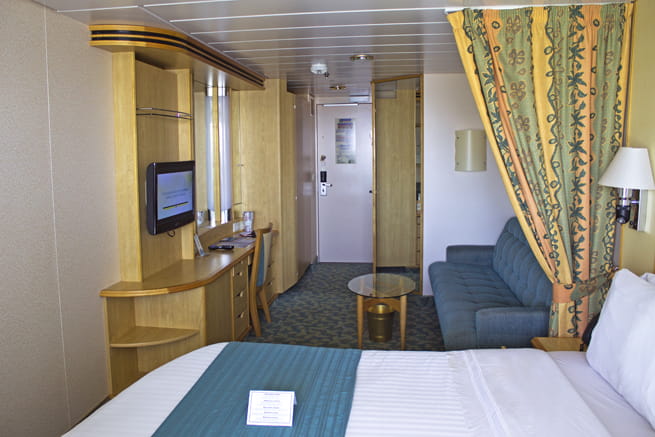 The bed is a queen size but can be split by your stateroom attendant into 2 twin beds. They will still be quite close together, about 14″ apart or so.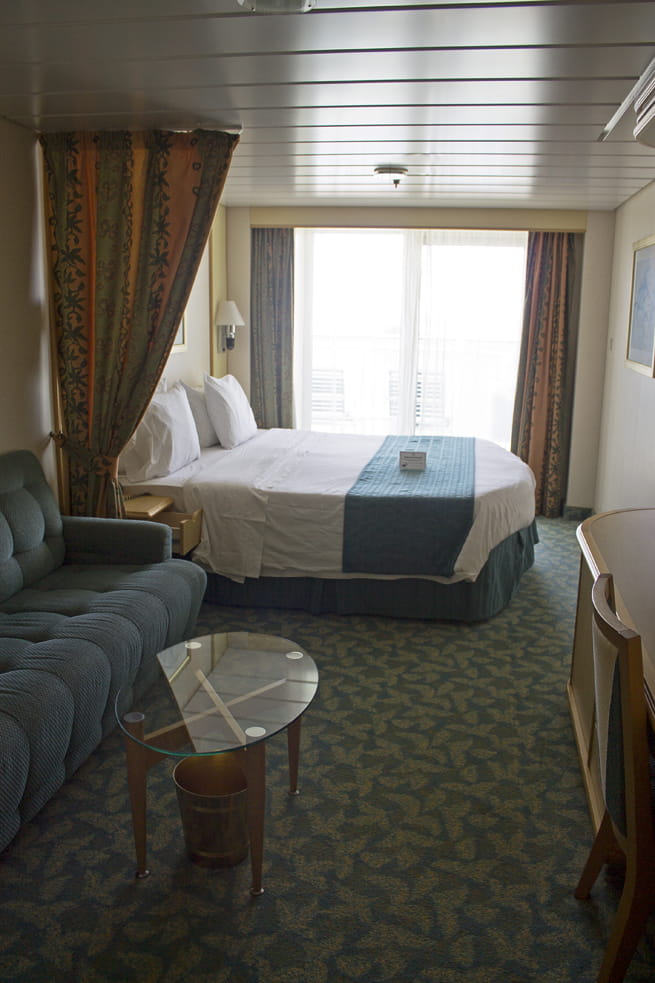 The desk area has quite a lot of storage. There are drawers on either side, the cabinet below the TV has a minibar, and the small mirrors on either side of the larger mirror open for storage.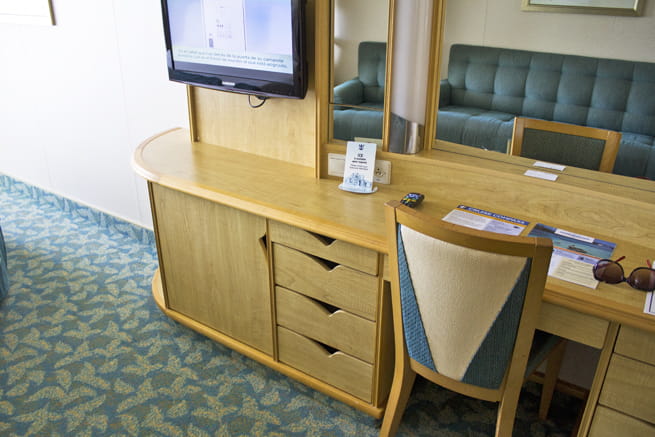 The balcony was roomier than I thought and if you know your neighbors, your stateroom attendant can open the sides of it so you can access their balcony as well.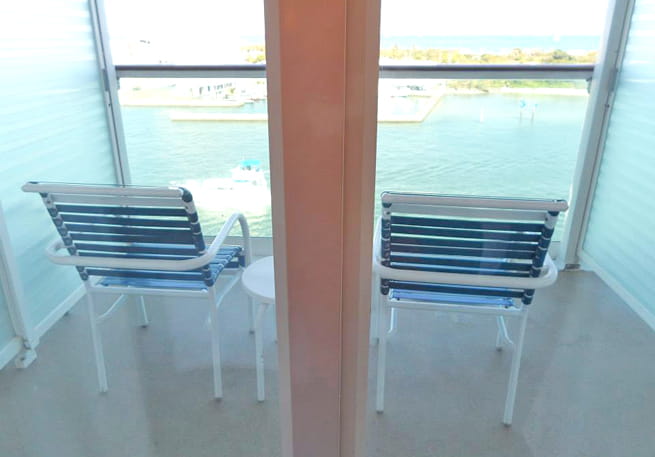 The bathroom was adequate enough with a shelf below the sink and storage areas behind the mirrors.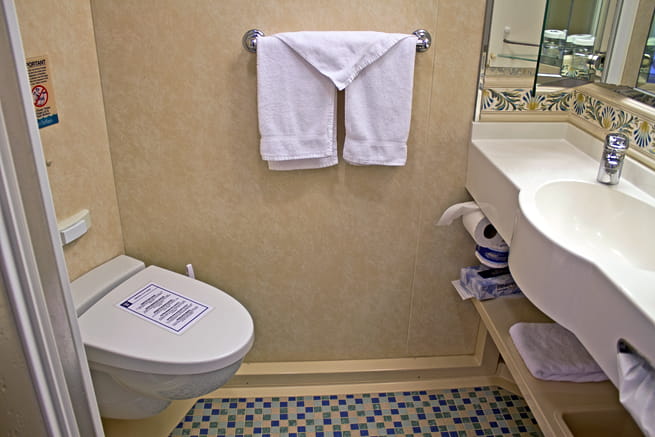 The shower was small but cleverly designed with enough room for shampoo and soap and such. It also had a small clothesline to hang bathing suits to dry.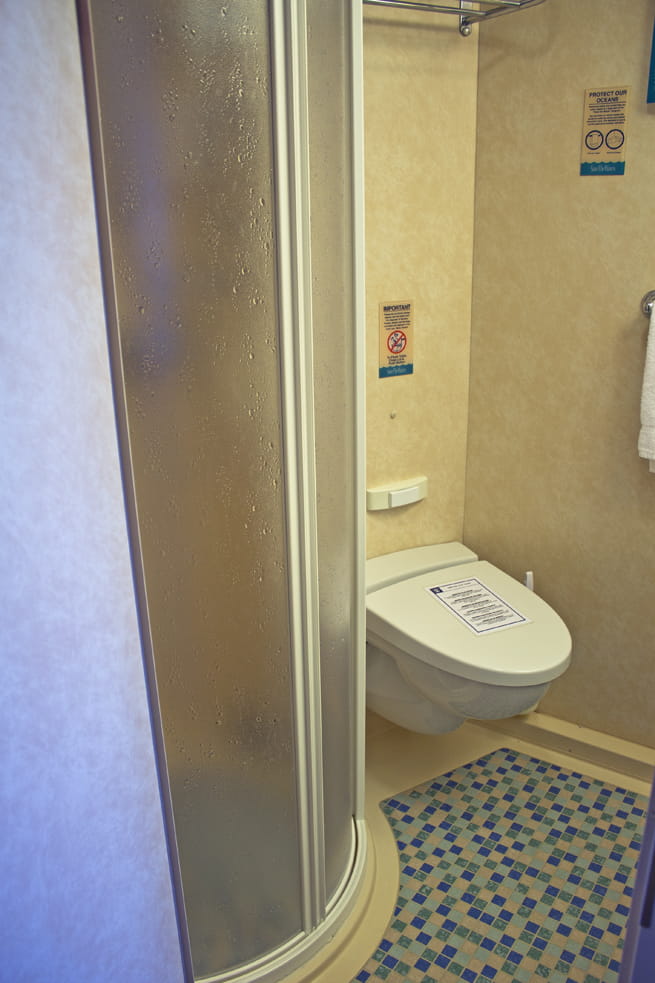 The closet had plenty of room to hang clothes on one side and a section of shelves on the other. The white racks fold down for storage and there is a small safe in the closet as well.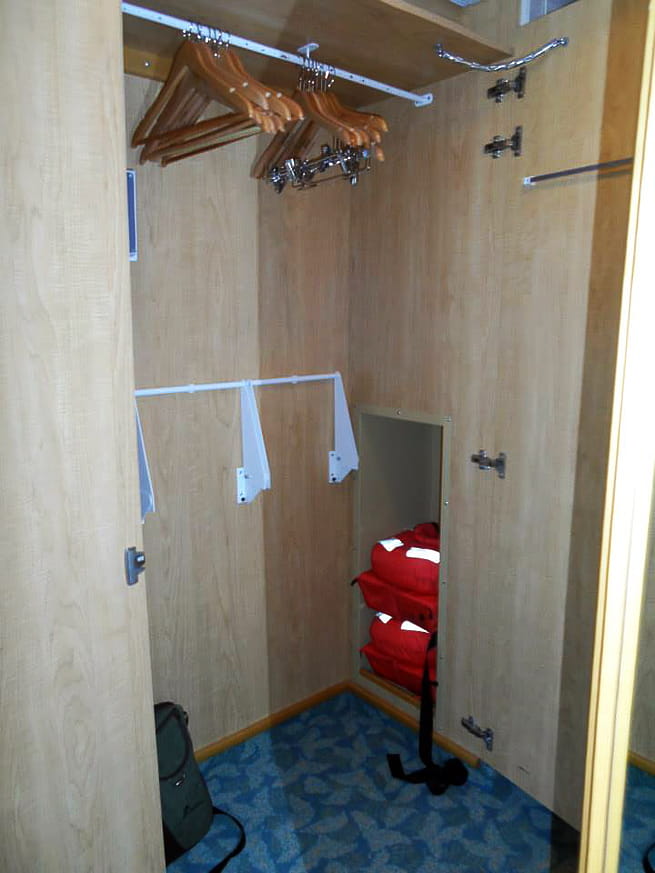 A couple of tips about your stay in Stateroom 7520:
They intend for you to store your luggage under the beds. They don't provide freestanding luggage stands like you get in a hotel.
You will smack your shins into the table more than once. By the third time you will be wondering if they can remove it from the room. They probably will if you ask, but you can also put it in the closet.
I heard that the hair dryer provided in the room (which was hard wired inside a drawer on the right side of the desk) wasn't very powerful and to bring my own. I found it just fine for my purposes and next time will leave my personal hair dryer at home.
Don't open the hallway door if the balcony door is open. Remember the tornado scene in The Wizard of Oz? Yeah, you will recreate it.
There was only one place to plug in electronics. It was a double outlet above the desk.
Overall the room was nice. It was clean, our attendant Lloyd kept it clean and made sure we had everything we needed. We didn't spend a lot of time in there but the couch made it comfortable enough to sit and relax and the balcony was a peaceful way to enjoy the sounds of the ocean.
Note: I cruised aboard Royal Caribbean's Liberty of the Seas as part of a 
Brandcation
.
Join our newsletter!
Subscribe to get updates and great stuff via email including subscriber-only goodies like free printables and giveaways.