It used to be that the only password you had to remember was a locker combination.
And even that could prove to be a challenge despite the fact that it never changes. I know in High School I always had to have my locker combination written down because over the summer I would forget it. My mom actually remembers, to this day, her locker combination (and still has the lock) but I think she is unique. Or weird. Or both.
In today's world, combinations are known as passwords, and we don't have just one password to remember, we have many because of how much of our lives we spend online.
Email accounts.
Bank accounts.
Social networks.
Professional resources.
Educational resources.
Shopping and store websites.
Forums.
These types of accounts are just the tip of the iceberg when it comes to our online lives. And with all of the recent concerns regarding accounts being hacked and personal information being shared, it is critical to have complicated passwords that are different for each site.
How the heck do you remember them all?
You have two options for organizing your passwords.
Option 1: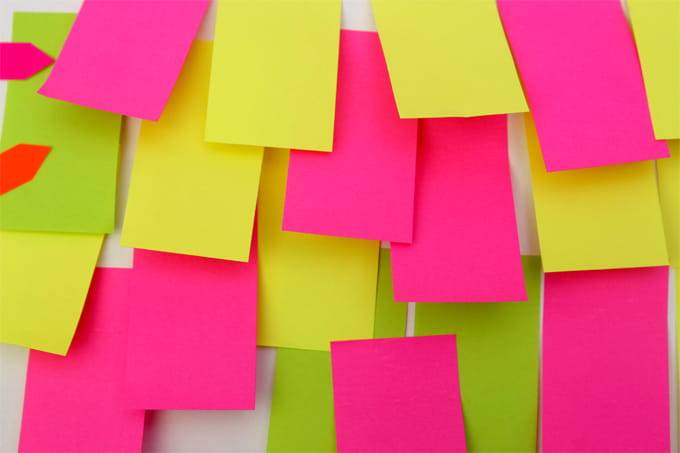 Option 2:
Sticky notes will leave you fumbling for the right password. It doesn't help you when you are on the go, they are as reliable as a gust of wind and not very secure.
RoboForm, however, is reliable and secure. It will save you time and will allow you to have access to your passwords at home or on the go. Anywhere you can access your favorite and most-used sites, you can access your passwords.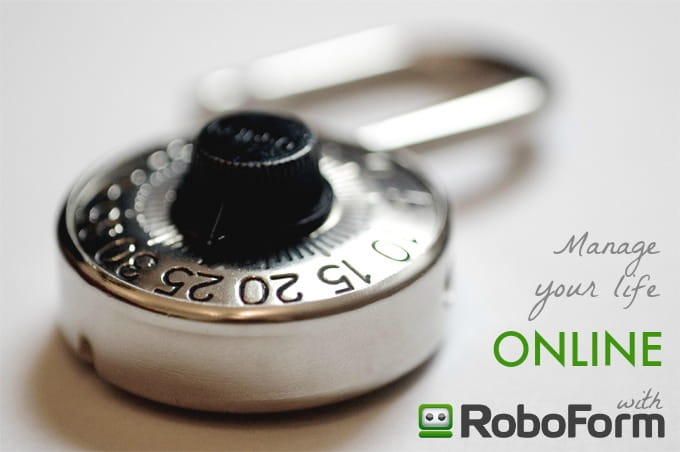 I have actually been using RoboForm for almost 10 years now. I started using it when I used to do a lot of online surveys to manage all of the different logins I had to create for the different sites I had joined. I use it daily and I don't how I could manage my current lifestyle as a mom and a blogger without it.
About RoboForm:
RoboForm remembers your passwords so you don't have to! Just remember your one Master Password and RoboForm remembers the rest- it's that easy! Our bookmark-style Logins automatically log you in to your favorite websites with one click.
At it's core, RoboForm is a password manager. It allows you to have unique and complicated passwords for every site you log into and you only have to remember a single password.
How RoboForm works:
RoboForm has 2 versions, the basic RoboForm resides on your desktop and saves all of your information locally on a single desktop or laptop computer. RoboForm Everywhere is a single license for all of your devices. Your passwords are saved securely on RoboForm's servers. You can access your passwords on any device you own with a single license. You RoboForm master password is the only password you need to remember to access all of your logins.
RoboForm works as a browser extension and is compatible with most major web browsers for Windows, Mac & Android and others.
I use RoboForm for Chrome.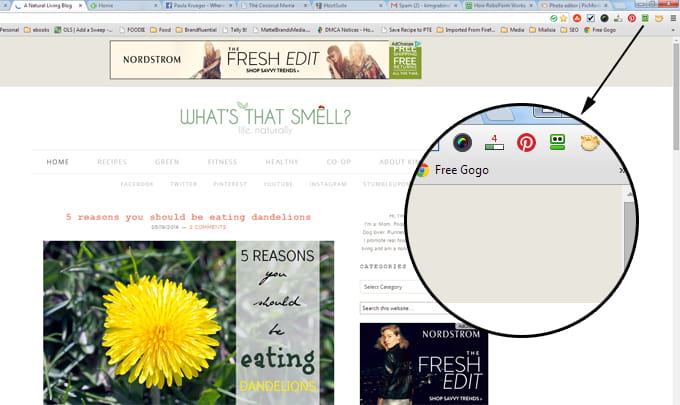 Your daily usage of RoboForm involves 2 main features. While at its core RoboForm is a password manager, it also acts as a form filler as well, making it easy to automate filling web forms with your personal information with the click of a button.
RoboForm Passcards & Identities:
In RoboForm, a passcard is the virtual sticky note that holds your login information for a particular site. An identity is a virtual business card that holds the information to fill a particular web form. This is useful when signing up for something that requires your full address, or business name and address. There are also additional fields available like credit card information, vehicle information and custom fields for additional info that a website may frequently request.
When you visit a site with a form of any kind on it, if RoboForm has a Passcard or Identity associated with the site, a window will pop up with a list of options, and if you are like me and have multiple logins for a single site, will show you all of the available passcards and show you your identities as well. You can also choose not to have RoboForm pop-up but activate it manually via the toolbar. That is the way I have it set.
Selecting one is as simple as highlighting it and selecting "fill" or "fill and submit". "Fill" only fills the form and you have to click the submit button on the site. Fill and submit logs you in with a single click.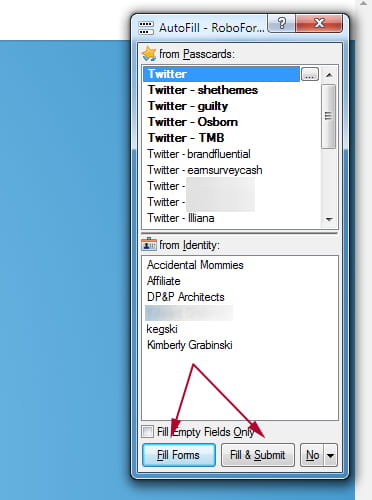 With RoboForm there is no limit to the number of passcards you can have. I have hundreds! And whenever I go to a site I have a login for, RoboForm is there with just a click of a button. You can also search your logins as well if you need to look up a password but don't want to actually visit the website.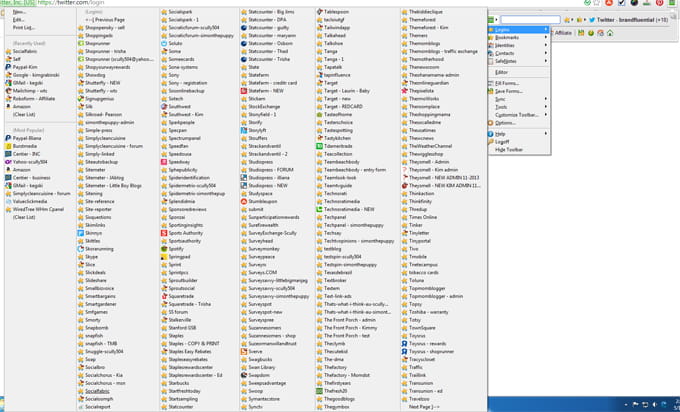 RoboForm Password Generator:
In addition to managing your logins and being a form filler, RoboForm has a password generator tool. We all know that we are supposed to use complicated and unique passwords to make it difficult for hackers to gain access to our accounts. RoboForm makes that super easy.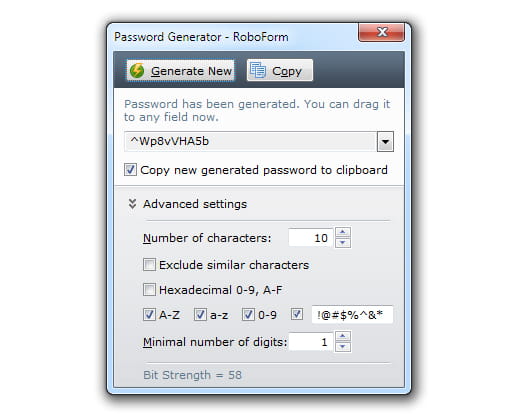 RoboForm Everywhere:
As I mentioned, RoboForm Everywhere allows you to access all of your passcards and identities across your desktop, laptop or mobile devices. RoboForm for mobile is a self-sufficient program allowing you to browse the web just as you would on your native browser, but with the ability to log in with just a click using the buttons at the bottom of the browser.
The RoboForm app is password protected with a 4 digit code to prevent unauthorized access to your passcards, but still allowing you to access it fairly quickly.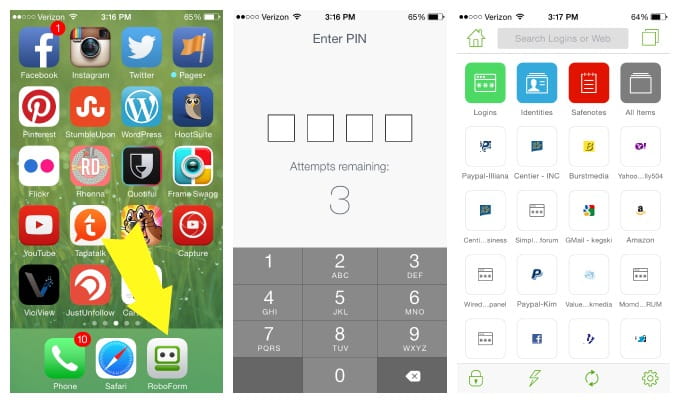 You can go directly to the site you want to log in to or open multiple browser windows and surf the web.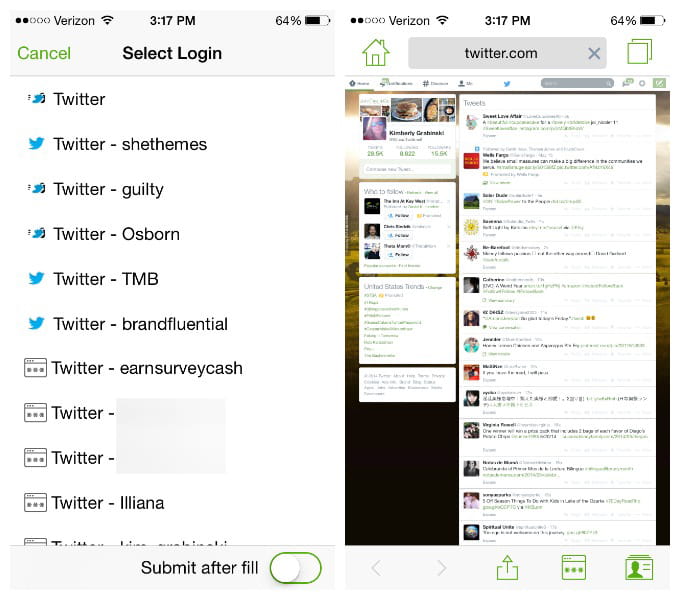 RoboForm and you:
RoboForm has the potential to change your life. Not only will it simplify your password management and make online form filling a breeze, it can really help you at critical times. As a blogger, I have used RoboForm to log in to my server when my site has gone down so I could diagnose problems. On vacation, it allows me check bank accounts and credit card statements as needed to verify purchases and check balances. As a parent I have used RoboForm to verify baseball schedules and order last minute birthday gifts.
Order RoboForm:
You can order all of the RoboForm versions from their main order page: order RoboForm.
RoboForm Desktop is $29.95 for a single license (one computer).
RoboForm2Go, which is the same as RoboForm Desktop but installs on a USB drive to allow you to use RoboForm on an computer is $39.95.
RoboForm Everywhere is normally $19.95 per year but your first year is only $9.99.
If you aren't quite sure if RoboForm isn't for you, you can download a free trial version to try before you buy!
How would RoboForm help you manage your online life?
a Rafflecopter giveaway
This is a sponsored post written by me for RoboForm. Opinions are my own.
Join our newsletter!
Subscribe to get updates and great stuff via email including subscriber-only goodies like free printables and giveaways.