Turmeric, a golden spice renowned for its health benefits, takes center stage in this roundup of 15 Rice Recipes with Turmeric.
This compilation aims to provide readers with an assortment of dishes that not only infuse meals with warm hues and earthy flavors but also harness the wellness properties of turmeric.
From simple homey meals to elevated culinary creations, this guide is a treasure trove of inspiration.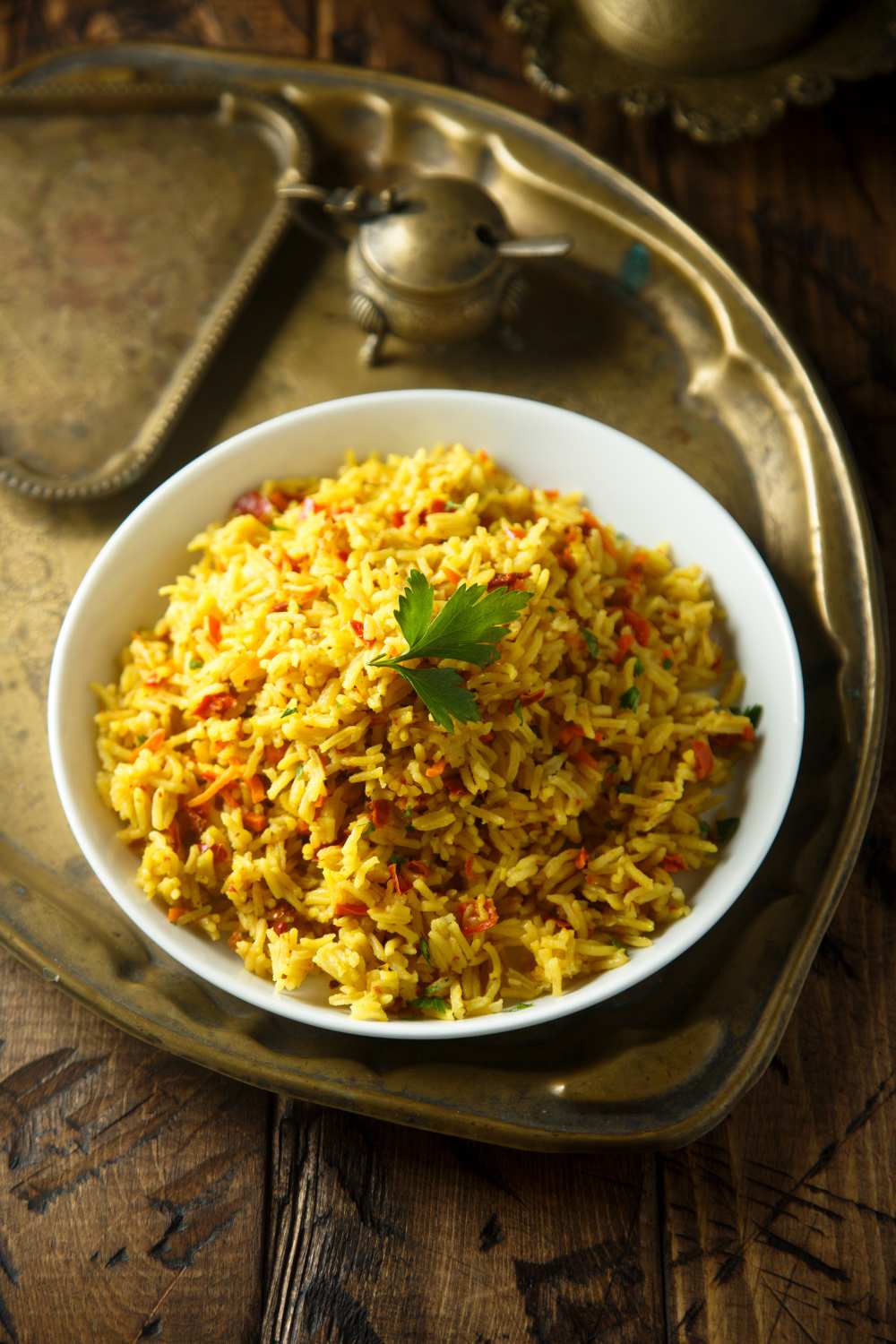 Dive into a golden world with these 15 Turmeric Rice Recipes, serving warmth in each bite:
The Mixed Beans Bowl with Sweet Potatoes and Turmeric Rice is a satisfying symphony of flavors, texture, and color. Imagine the subtle heat of kidney beans cooked with an aromatic masala, balanced with the sweet earthiness of potatoes simmered in orange juice.
The turmeric-infused rice adds a delightful warmth to the palate, and it's a recipe that requires a moderate effort of preparation. This beautifully layered bowl of nutrition, complete in about an hour, is perfect to savor on a relaxed weekend.
The One-Pot Chicken and Turmeric Rice is a clever combination of convenience and robust flavors. The recipe is anchored by succulent strips of chicken cooked with red bell pepper and onion, layered with a spicy medley that includes a dash of turmeric.
The addition of spinach gives the dish a wholesome dimension. With a cooking time of about 30 minutes, it's a quick fix for those who love uncomplicated yet delicious meals. Serve it with cilantro and lime wedges for a refreshing lift.
Jeweled Persian Rice Pilaf is a lavish celebration of the exotic tastes of the Middle East. Its key features include fluffy rice speckled with turmeric and a host of spices, coupled with tart-dried cranberries and crunchy pistachios.
The cooking process is straightforward and the rice can be ready to serve in just 30 minutes. The outcome is a vibrant, tangy, and fragrant dish that's sure to impress. It's garnished with parsley for a herby finish.
Turmeric Red Lentil Soup is a hearty, comforting dish brimming with the goodness of red lentils and a careful balance of spices.
This simple recipe, which needs just 30-35 minutes of your time, blends earthy lentils with the heat of ginger, smoky cumin, and the golden allure of turmeric. The result is a warming, nourishing soup that soothes and satisfies. It's an easy and wholesome choice for a mid-week meal.
Reshteh Polo, a Persian classic, brings together tender lamb shanks, fragrant rice and noodles, aromatic spices, and the sweet touch of raisins and dates. With turmeric lending its vibrant color and earthy flavor, the dish is a gastronomic experience.
The preparation requires a bit of skill and time (around two hours), but the result is a rich and sophisticated feast of flavors and textures. Serve it with a side of fresh herbs and yogurt for a full Persian dining experience.
Delve into the comforting embrace of this aromatic Golden Chicken and Rice Turmeric Soup. The symphony of sweet ginger and earthy turmeric harmonizes with tender chicken and rice to gift the broth its characteristic golden hue.
A swirl of creamy coconut milk enhances the richness, ideal for a cozy evening. The journey from raw ingredients to the soup bowl takes around an hour, yet the health benefits and burst of flavors make the wait worthwhile. Serve it up garnished with cilantro sprigs for a colorful touch!
Turning leftover rice into an epicurean delight is an art in itself. With a dash of turmeric and a medley of fresh vegetables like broccolini and bell peppers, this vegetable fried rice recipe is a prime example.
Sautéed garlic and onions lend their fragrant essence to the dish, while the ground turmeric imparts an alluring golden tint. In roughly 20 minutes, you'll have a vibrant and healthful plate of fried rice that's both satisfying and flavorful.
This Turmeric Coconut Rice introduces a bold interplay between the earthy notes of turmeric and the tropical flavor of coconut. The key lies in letting the rice absorb the vibrantly yellow turmeric and the creamy coconut milk, which results in a velvety and inviting dish.
A squeeze of lime and a sprinkle of fresh cilantro adds a lively contrast to the cozy warmness of this dish. From start to finish, it takes about 60 minutes, making it a worthy centerpiece for your weeknight dinner.
This Tomato & Turmeric Shrimp Curry is an expedition into the heart of aromatic spices and tangy tomatoes. The warmth of turmeric, cumin, and curry powder melds harmoniously with the succulent shrimp, making it a delightful protein-rich meal.
The delicate sweetness of coconut milk tempers the spices, rendering this curry both inviting and satisfying. Serve it with a side of rice to complete your meal in just 25 minutes. Don't forget the sprinkle of fresh cilantro to add a burst of green.
This Turmeric Rice with Golden Raisins and Pine Nuts is a culinary canvas showcasing the vibrancy of turmeric and the rich textures of raisins and pine nuts. The basmati rice dyed yellow with turmeric, provides a contrasting backdrop for the sweetness of raisins and the crunchiness of pine nuts.
The whole recipe comes together in a comforting and hearty meal that takes about 35 minutes to prepare. Best served immediately for a warm, satisfying experience.
Meet this hearty Turmeric Rice & Beans, a testament to the marriage of simplicity and flavor. Nutrient-rich basmati rice, cooked in aromatic broth, combines beautifully with cannellini beans to create a healthful, protein-packed dish.
The turmeric not only contributes an inviting golden hue but also a subtle earthiness. Topped with fresh dill and flake salt, this dish is a testament to humble ingredients transforming into a satisfying meal in just 30 minutes.
This vibrant fusion of healthy chickpeas, aromatic turmeric rice, and garlicky Swiss chard is a gastronomic delight. Infused with traditional Indian flavors from garam masala and cumin, balanced by the creamy touch of coconut, this recipe presents a harmonious blend of taste and nutrition.
The turmeric rice brings warmth and a beautiful yellow hue, while the garlicky chard introduces a touch of freshness. Together, they create a beautiful canvas for the spiced chickpeas. Ready in approximately 50 minutes, it's an inviting meal offering layers of flavors and textures that can be served hot on any weeknight.
Unveil the magic of spices with this easily seasoned Yellow Jasmine Rice. Laden with robust flavors from turmeric, curry powder, and cumin, it offers a bright and inviting dish ready in around 25 minutes.
The refreshing cilantro, vibrant red bell pepper, and aromatic onion all come together to provide a dish that bursts with flavor and offers a feast for the eyes as well. This aromatic, spicy, and subtly toasty rice is a perfect partner to any curry, or stir fry, or can stand proudly on its own.
A treasure chest of flavors and textures, this Jewelled Rice and Black Beans recipe brings together the earthy richness of black beans, the fluffy and delicately flavored basmati rice, and the savory mix of onions and bell peppers.
Stirred with a medley of aromatic spices like turmeric, cumin, and coriander, this dish, ready in roughly 30 minutes, offers a riot of colors and a burst of exotic flavors. The finishing touch of fresh cilantro elevates this dish, making it a delightful weeknight dinner, sure to impress.
Unfold a symphony of flavors with this Turmeric Rice with Shrimp recipe. Perfectly marinated shrimp and thinly sliced kale team up with fragrant basmati rice, simmered in a savory blend of spices like turmeric, coriander, and chili flakes.
A dash of lime juice adds a tangy twist to the hearty coconut milk-infused rice. The complete dish, prepared in a 25-minute cooking journey, takes you on a culinary adventure with its interplay of texture and flavors. Whether it's a cozy family dinner or a solo meal, this one's a keeper.
Can I Use Fresh Turmeric Instead of Ground Turmeric in These Recipes?
Certainly! Fresh turmeric can be used as a flavorful alternative to ground turmeric in these rice recipes. It offers a distinct earthy and slightly pungent flavor. To use fresh turmeric, peel the outer skin and finely grate or mince the bright yellow flesh.
Keep in mind that fresh turmeric can stain surfaces and hands, so handle it with care. The substitution ratio is generally one teaspoon of ground turmeric equals one tablespoon of grated or minced fresh turmeric. Enjoy the vibrant color and unique taste that fresh turmeric brings to your rice dishes, elevating them with its aromatic presence.