Embark on a flavorful culinary adventure with 15 pineapple-infused rice recipes. From vibrant stir-fries to irresistible pilafs, discover delightful combinations and a burst of freshness in every bite.
Elevate your dining experience with these tropical delights that bring a perfect harmony of rice and pineapple to your table.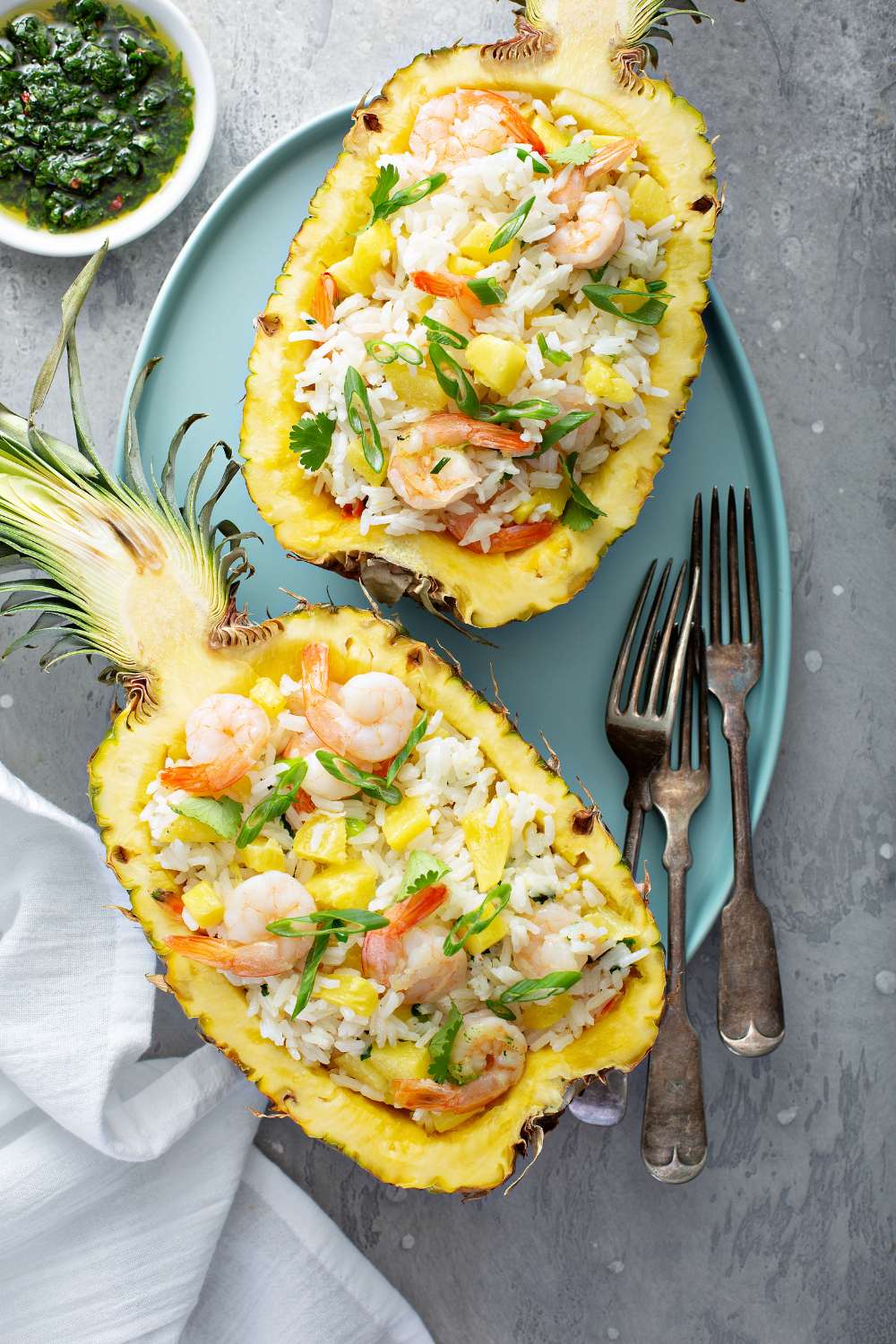 Experience the tropical fusion of 15 pineapple-infused rice recipes, blending fresh flavors with hearty rice dishes:
This vibrant Chicken Pineapple Rice Salad packs a colorful symphony of flavors that dance harmoniously on your plate. The tangy red wine vinegar marries the sweet, juicy pineapple, creating a melody of flavor in each bite. Together with the crunchy carrots, celery, and green onion, it's an orchestral delight for your palate.
Marinated overnight for enhanced flavor, this salad is a splendid way to make good use of leftover chicken. A dollop of mayonnaise rounds off this chorus of flavors, making it a light and refreshing option for your summer meals.
Glide into a culinary journey with this delightful Pineapple Fried Rice, an easy 15-minute recipe that will make you feel like a seasoned chef. The explosion of flavors is mesmerizing, from the tropical sweetness of pineapple chunks to the umami-rich Tamari sauce.
You'll find the freshly grated ginger and Sriracha adding an exciting layer of warmth and spice. It's an intriguing blend of sweet, savory, and spicy, crowned with humble yet integral green onions. A meal in itself, it's perfect for those quick weeknight dinners when time is of the essence but the flavor cannot be compromised.
The No-Fry Pineapple Rice Salad is a refreshing combination of sweet pineapple and hearty grains, paired with a simple yet bold dressing. This light, vibrant dish brings together the natural sweetness of pineapple with the earthy aroma of rice, marrying them in a matrimony of flavors that's second to none.
Toasted sesame oil, rice vinegar, and Mirin come together to create a dressing that's pleasantly sweet and tangy, elevating this simple salad into a culinary delight. This dish is not just about the palate, it's about the experience. From preparing the ingredients to the final mix, it's a love letter to slow cooking and healthy eating.
Your culinary journey continues with a stop in coastal regions with this Pineapple Shrimp Fried Rice. The sweetness of pineapple chunks mingles with succulent shrimp, delivering a tropical twist to your usual fried rice.
A dash of low-sodium soy sauce and pineapple juice enhances this symphony of flavors, making each bite a delectable experience. The contrasting textures of bell peppers, green onion, and garlic add depth to this dish, making it a satisfying and comforting meal that's ready in no time.
This delightful Pineapple Rice Pudding dessert boasts a creamy texture and the natural sweetness of pineapple juice that's sure to satiate your sweet tooth. A hint of salt balances the sweetness, creating a medley of flavors that's pleasing to the palate.
The whipped heavy cream, folded into the pudding, adds a luxuriously smooth and velvety touch. This is more than a dessert; it's a tranquil moment of indulgence after a long day. It's worth the wait to chill before serving, as the flavors are allowed to marry and intensify. Enjoy!
Unveil the secrets of a tropical paradise with this vibrant Black Bean Coconut Rice Salad. Imagine a feast of coconut-infused long-grain rice, mingled with the tart sweetness of pineapple and the savory crunch of black beans.
A spritz of lime and a hint of jalapeño pepper awaken the flavors while the harmonious blend of fresh herbs like cilantro and chives adds depth. Topped with an exotic ginger-pineapple dressing, this dish is a refreshing whirlwind of flavors waiting to be discovered.
This Tropical Curried Rice transports you to exotic shores with a flavorful medley of basmati rice, fresh pineapple pieces, and an assortment of finely diced vegetables. Spiced with turmeric, cumin, and coriander, every spoonful takes you on a gastronomic journey, the likes of which your palate hasn't yet experienced.
The sultanas add a sweet surprise, while the flaked almonds provide a satisfying crunch. Savor it hot or cold, either way, it's a piece of the tropics right on your plate.
An aromatic blend of jasmine rice, simmered in low-sodium chicken broth and coconut milk, results in a dish that's creamy, slightly sweet, and utterly delicious.
The addition of crushed pineapple offers a tropical twist, while the soy sauce, sesame oil, and brown sugar enhance the rich and luscious flavors. Topped with scallions and your choice of crunchy garnishes, it's a heavenly dish that's sure to captivate.
This Pineapple Rice recipe is an embodiment of simplicity meeting flair. Steamed rice is magically transformed when mixed with a hearty dollop of pineapple chutney and a sprinkling of fresh cilantro.
The chutney adds a sweet and tangy edge to the mellow rice while the cilantro offers a refreshing punch. With just three ingredients, this dish proves that sometimes less is more when it comes to creating a flavorful meal.
Embrace the warmth of Asian flavors with this Ginger Pineapple Fried Rice. This dish combines leftover basmati rice, sautéed to perfection with fragrant ginger and green onions.
Cubes of fresh pineapple infuse a surprising burst of tropical sweetness, balanced exquisitely with a drizzle of soy sauce and a dash of toasted sesame oil. It's a celebration of textures and flavors that create an unforgettable culinary experience.
This simple and tasty shrimp dish will transport you to Hawaii in no time. Each bite packs a sweet and spicy punch, thanks to the mix of fresh pineapple and chili garlic sauce.
Drizzled with soy sauce, honey, and lemon juice, it's a feast of contrasting yet harmonious flavors. And the best part? It's ready in a flash! A dash of cilantro at the end freshens the dish, giving you a taste of tropical paradise in the comfort of your home.
Venture into the realm of Asian vegan cuisine with this exquisite pineapple fried rice recipe. Savor the subtle sweetness of pineapple chunks combined with firm tofu and vibrant vegetables, all stirred up in smoky coconut oil.
This dish offers a beautiful blend of sweet, salty, and savory, thanks to a dash of soy sauce and a sprinkle of curry powder. It's not just a treat for your palate but also a feast for your eyes with its bright colors.
Dive into this delightful Pineapple Chicken dish that seamlessly blends sweet and tangy flavors. This is more than just a recipe—it's an experience of tender chicken, ripe pineapple chunks, and crunchy bell pepper, all tossed in a deliciously versatile sauce.
The dish holds its own, offering a burst of contrasting flavors that sing in harmony. This recipe will fill your kitchen with an irresistible aroma and promises a meal that's both healthy and delicious.
Experience the joy of an Asian-inspired dish with these Pineapple Teriyaki Turkey Meatballs. Juicy turkey and tangy pineapple come together in a divine dance of flavors, all dressed up in a homemade teriyaki sauce that is both sweet and savory.
Every bite offers an explosion of flavors that leaves you craving more. Sprinkle some green onions on top for an added crunch and don't forget to serve it with warm rice to round off your meal.
Say Aloha to your lunch with these Hawaiian Ham & Pineapple Bowls. Succulent ham, sweet pineapple, and crunchy red pepper unite to offer a taste of the tropical islands in every mouthful bite. A sprinkle of brown sugar adds a hint of caramelization that enhances the smokiness of the ham.
The dish, served over flavorful chicken stock-infused rice, offers a harmonious balance of taste and nutrition. It's an exciting culinary experience, perfectly rounded off with the fresh aroma of basil leaves.
Can I use canned pineapple for these recipes?
Absolutely! Canned pineapple works perfectly fine for these recipes. It offers convenience and consistent flavor. You can use canned pineapple tidbits, chunks, or crushed pineapple, depending on the recipe. Just ensure to drain the excess liquid before adding it to your dish, and you're ready to enjoy the tropical goodness in your pineapple rice creations.
Can I make these recipes with leftover rice?
Yes! Using leftover rice is a fantastic way to repurpose it into delicious pineapple rice dishes. The firm texture of leftover rice prevents it from becoming mushy when cooked with pineapple and other ingredients. Simply ensure that the rice is well-refrigerated and break up any clumps before adding it to your recipe. With a few simple steps, you can transform your leftovers into a satisfying and flavorful meal.