Rice cooked with coconut milk may be the ideal basis for a wide range of tastes and cuisines, and its creamy, adaptable texture can offer a tropical flare to any recipe, from savory to sweet.
Here are 15 quick and simple rice dishes that all include coconut milk as the main ingredient.
These dishes will please every palate, whether you like the heat of a curry or the sweetness of a dessert.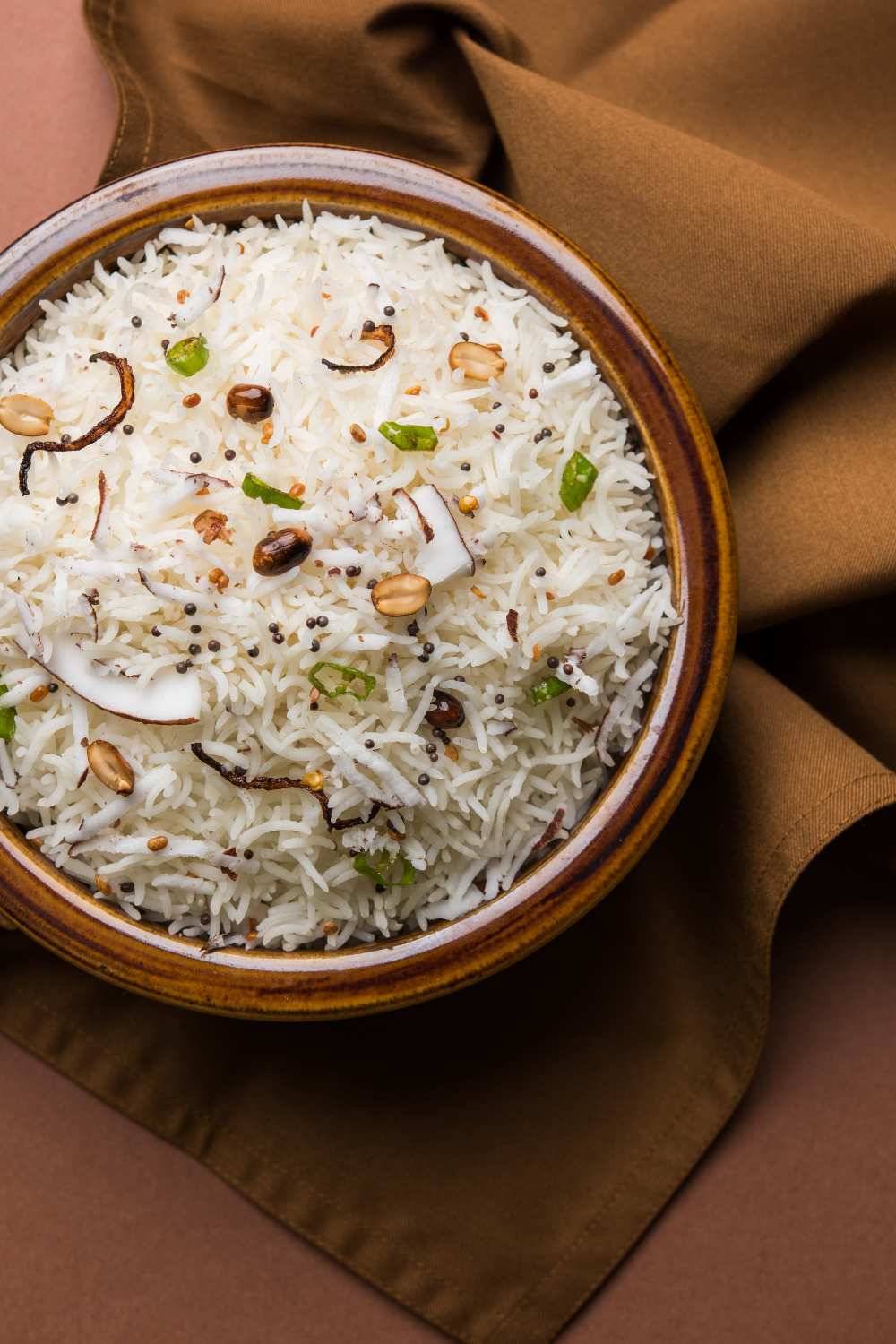 You're in for a real treat with these 15 coconut milk rice recipes! From savory to sweet, they're bursting with flavor and super simple to whip up:
Get ready to be transported to a tropical paradise with this Hawaiian Chicken with Coconut Rice recipe! Tender chicken tenderloins are marinated in a sweet and savory blend of fresh pineapple, soy sauce, ketchup, brown sugar, and garlic, then grilled to perfection and brushed with honey for a caramelized finish.
The juicy grilled pineapple adds a touch of tangy sweetness to the dish. The coconut rice is perfectly fluffy and fragrant, cooked in a mixture of coconut milk and water to infuse every grain with a nutty aroma. Garnish with fresh parsley and serve for a taste of the tropics.
Indulge in a tropical paradise with this Cilantro Lime Coconut Rice recipe. Cooked to perfection with jasmine rice, coconut milk, water, salt, and pepper, this recipe is taken to the next level with the addition of freshly chopped cilantro, zesty lime juice, and zest.
The result is a dish that is bursting with flavor and a wonderful aroma. Fluffy and light, it's perfect to serve as a side dish or as the base for your favorite stir fry or curry. Don't forget to add salt and pepper to taste and enjoy this delicious and easy-to-make recipe!
Transport yourself to a tropical paradise with this flavorful Coconut Pineapple Rice. This dish features perfectly cooked long-grain brown rice infused with creamy coconut milk, tangy pineapple chunks, and a burst of lime juice, finished with a touch of fresh cilantro and toasted coconut.
The sweet and savory blend of flavors and textures creates a delightful experience that will leave your taste buds wanting more. This recipe is great since it makes a delicious and simple side dish that is also suitable for vegans. Enjoy a taste of the tropics with every bite!
This creamy Coconut Milk Rice Pudding is a comforting dessert that will satisfy your sweet tooth. The silky coconut milk and sweetened condensed milk form a rich base that is infused with fragrant vanilla and warm cinnamon.
The rice soaks up all the flavors and creates a perfectly creamy and delicious pudding. This dessert is perfect for a cozy night in or to impress your guests with its exotic flavors. Top it with some fresh fruit or toasted coconut for added texture and taste.
This Caribbean Rice and Beans dish is full of taste and scent, and it will take you straight to the islands of the Caribbean! The creamy coconut milk and fragrant thyme pair perfectly with the subtle heat of the Panamanian pepper for a dish that's both comforting and exotic.
The addition of red beans adds protein and texture to this hearty side dish. This recipe is a breeze to prepare, and the end result is a bowl of fluffy rice that's perfect for any meal. Don't forget to season to taste and enjoy the delicious flavors of the Caribbean!
Prepare for your taste buds to be whisked away to Tanzania with this delicious Tanzanian Coconut Rice with Carrots and Peas. The combination of basmati rice, turmeric, and coconut milk in this recipe makes for a fragrant and savory main meal.
Diced carrots and peas enhance the dish's color and texture, making it not only tasty but also pleasant to the eye. It won't take long at all to whip together this dish. The fluffy, delicious rice will fill you up and make you feel full. This meal is great for a get-together with friends and family or a potluck.
You're in for a treat with this Creamy Coconut Rice recipe. The full-fat canned coconut milk we use gives it a rich and luxurious creaminess that'll have your taste buds dancing with joy. The rice is cooked to perfection in a combination of coconut milk and water, which adds a subtle coconut flavor and aroma to the dish.
This recipe is easy to make and can be served as a side dish to complement any meal or as a stand-alone dish. The optional garnishes, such as cilantro or toasted coconut, provide an extra burst of flavor and texture to the dish. This dish is perfect for those who appreciate the unique and exotic flavors of coconut.
Let's continue our gastronomic journey with this heavenly Coconut Mango Rice recipe. The creamy and rich coconut milk is perfectly complemented by the sweet and tropical flavor of fresh mango, making each bite a delightful and refreshing experience.
The jasmine rice is cooked to perfection, creating a fluffy and aromatic bed for the mango puree. This dish is easy to make and can be served as a side dish or a main course. It's perfect for those who love the sweet and savory combination of flavors.
Let's keep the culinary journey going with this scrumptious Creamy Coconut Curry Rice with Vegetable recipe. The dish is a symphony of flavors and textures, with tender brown rice, creamy coconut milk, and a fragrant blend of curry powder, shallots, and garlic.
The colorful medley of vegetables, including zucchini, broccoli, bell pepper, and cremini mushrooms, add a crunchy and nutritious twist to the dish. This dish is a great option for meal prep, as it can be stored in the fridge and reheated for a quick lunch or dinner.
Enjoy the fragrant Lemongrass Pork with Greens and Coconut Rice, featuring juicy pork marinated in lemongrass paste and stir-fried to perfection. Crispy snow peas and bok choy are tossed with sesame oil and soy sauce for added texture, while coconut rice creates an aromatic bed.
Ready in just 30 minutes, this dish is perfect for a quick and nutritious weeknight dinner. Garnish with lemon balm leaves for a refreshing twist. Try this easy and flavorful recipe today and savor the flavors of Southeast Asian cuisine.
For a taste of Southeast Asia in your own kitchen, try this delicious Ginger Peanut Chicken with Coconut Rice recipe. Tender chicken is marinated in ginger, lime zest, and brown sugar for a burst of flavor, then stir-fried with peanuts, garlic, and greens for added texture and freshness.
Pair with aromatic coconut rice made in an Instant Pot for an easy and satisfying meal. Don't have an Instant Pot? No worries - alternative cooking methods are provided. Garnish with cilantro and green onions for an extra pop of color and flavor. Whip up this flavorful and healthy dish for a weeknight dinner that will transport you to the tropics.
Grilled Shrimp & Pineapple Skewers with Coconut Rice is a perfect tropical dinner that's packed with flavors. To make the coconut rice, combine all the ingredients in a saucepan, let it boil, and then cover for 18 minutes.
For the skewers, marinate the shrimp with olive oil, salt, pepper, red pepper flakes, and lemon juice for 10 minutes, skewer with pineapple, and grill for 2-3 minutes per side on a preheated cast-iron pan. Don't forget to drizzle some chimichurri sauce on top before serving! Soak the wooden skewers before use to prevent them from burning.
Coconut Milk Rice and Red Beans are a delicious and filling meal. Kidney beans are soaked overnight, then simmered with garlic until tender. Onion, red bell pepper, salt, and black pepper are mixed into the beans.
White rice is toasted in butter, then cooked with coconut milk, water, and the kidney bean mixture. The result is a creamy, flavorful rice dish with a hearty serving of protein and fiber from the red beans. This recipe is perfect for a weeknight dinner or a weekend meal prep.
This dish is a delicious and easy side dish perfect for any meal. It features fluffy brown rice cooked with coconut milk, canned corn, and seasonings for a creamy and flavorful result.
The addition of fresh basil adds a pop of color and a hint of herbal aroma. It pairs well with any protein of your choice, making it a versatile and filling option for lunch or dinner. This recipe is vegan and gluten-free, making it suitable for a wide range of dietary preferences.
This One Pot Turmeric Coconut Rice recipe is a flavorful and aromatic dish that's perfect for any meal of the day. With ingredients like basmati rice, coconut milk, and turmeric, this recipe is packed with nutrients and flavors that will leave you wanting more.
The recipe is easy to make, requiring only one pot, making it a great option for busy weeknights. The addition of Swiss chard provides a healthy dose of greens to the dish, while the lime juice adds a zesty kick. This recipe can easily be modified by substituting the Swiss chard with kale, spinach, or frozen peas, depending on your preferences.
Can I Substitute Coconut Milk With Other Types Of Milk In These Rice Recipes?
Coconut milk adds a unique creaminess and tropical flavor to rice dishes. However, if you are allergic to coconut or simply don't like the taste, there are several substitutes you can use instead. Here are six different types of milk that can be used as substitutes for coconut milk in rice recipes.
Almond Milk - Low in calories, high in protein, and with a subtle nutty flavor, almond milk is a great dairy-free option for rice dishes.
Soy Milk - Made from soybeans, this plant-based milk is a good source of protein, iron, and calcium. It has a slightly sweet and nutty taste.
Cashew Milk - Made from blended cashews, this milk is rich and creamy, with a slightly sweet and nutty flavor. It is also high in healthy fats.
Oat Milk - Made from oats, this milk is creamy, nutty, and slightly sweet. It is also high in fiber and protein, making it a nutritious option.
Hemp Milk - Made from hemp seeds, this milk is a good source of protein, healthy fats, and essential nutrients. It has a nutty and earthy flavor.
Rice Milk - Made from rice, this milk is mild and slightly sweet. It is a good option for those with allergies to nuts and soy.