Retro. I absolutely love the time period from the Art Deco 1920's through the Atomic Age 1960's. It was a time when utilitarian objects did more than just their function. They had so much style and flair. Add some chrome, and, ohhhh baby. I spent some time shopping online and found 21 Retro kitchen accessories on Amazon that I would love to have in my house. If Retro is your thing, you're in the right place.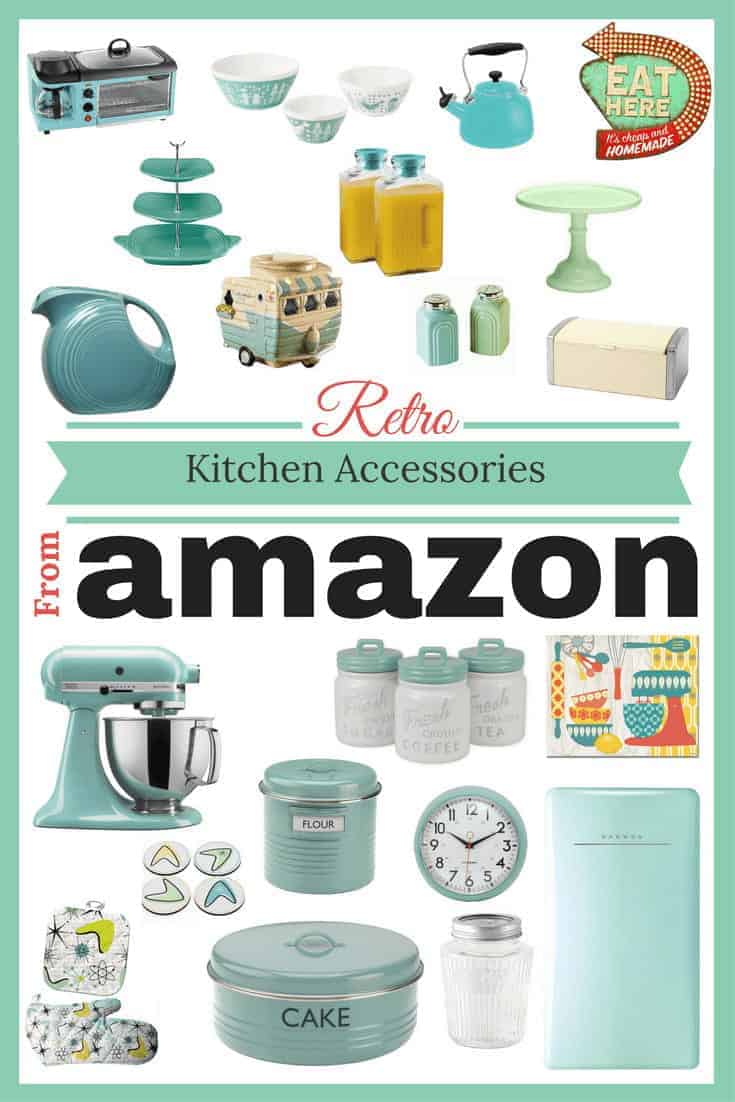 Retro Kitchen Accessories from Amazon
One of my parameters for this list was color. Specifically, that lovely seafoam/mint/aqua that just screams 1950's. But, I do have a few items that are in complementary colors.
1.  Nostalgia Electrics Retro Series 3-in-1 Breakfast Station - nonstick griddle, toaster oven, and 4-cup coffee maker. This would be great for a small kitchen.Now all you need is someone to wake up earlier than you and get everything started!
2.  Pyrex Vintage Charm Rise N Shine 3 Piece Mixing Bowl Set - cute 50's era inspired bowls in three different sizes.
3.  Fiesta 3 Tier Serving Tray - you can't have a retro kitchen without Fiestaware.
4.  Fiesta Large Disk Pitcher - the quintessential Fiesta piece. I can't believe I don't have one of these!
5.  Scentsationals Retro Collection - Retro Camper - this cute little vintage camper is an electric wax warmer.
6.  Anchor Hocking Bistro Glass 2 Quart Pitcher - there are so many things to like about these! First, they have an aqua colored stopper, so you don't have to worry about spills or odors inside the fridge. I like that it has an indented "handle" so it's easier to pour. Finally, those fluted surfaces - fluting makes me happy.
7.  Chantal Vintage Teakettle - anyone else feel like singing, "I'm a little teapot....."
8.  Eat Here Sign - I love that this sign has the shape of an old neon sign, and the saying cracks me up.
9.  Jadeite 6" Glass Cake Stand - another brand every retro kitchen needs. And every retro kitchen needs a cake stand. If only, it always had a cake on it.
10.  50's Retro Stoneware Salt & Pepper Shakers - I like that these shakers are in the two retro colors of aqua and jade.
11.  Ivory Metal Vintage Matte Bread Box - doesn't the phase "bread box" just make you think of the 50's? What a stylish way to store your bread, rather than a big pile on the counter or in the cabinet.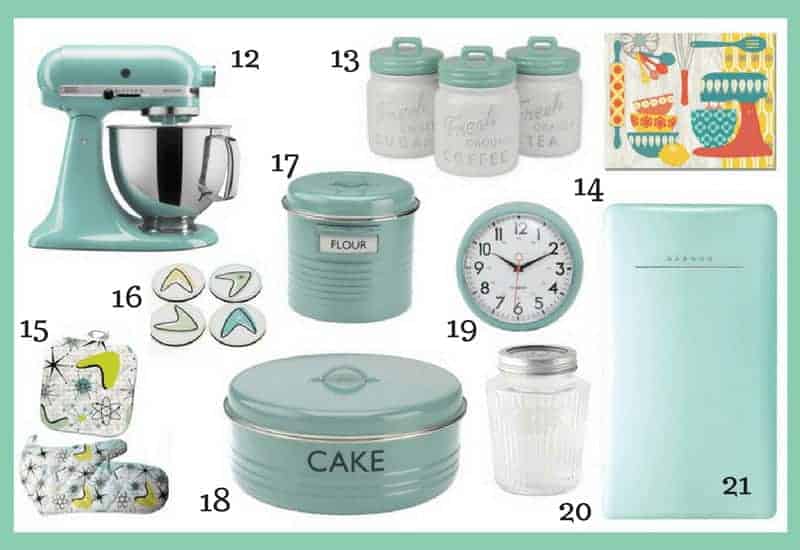 12.  Kitchen Aid Stand Mixer in Aqua Sky - so pretty!
13.  Dll Everyday Classic Kitchen  Ceramic Canisters - I like that these are retro, but could also work in a farmhouse kitchen.
14.  CounterArt Retro Kitchen Cutting Board - glass cutting board with cool 60's design
15.  Mid Century Modern Atomic Starburst Holder & Oven Mitt - Welcome to the 60's! Sputnik, the Cold War, and potential annihilation through atomic warfare. But, don't worry, you've got this cute print fabric! Kind of weird to make atoms a design element when you think about it.
16.  Boomerang Drink Coasters - boomerangs were another popular design element of the early 1960's. These coasters are the perfect place for your martini.
17.  Typhoon Summer House Blue Large Canister - both of these metal canisters are so cute!
18.  Typhoon Summer House Blue Cake Tin - this company has a whole line of canisters.
19.  Kiera Grace Retro Wall Clock - sure your phone has a clock, but why not hang something in your kitchen with some real style?
20.  Kilner Vintage Preserve Jar - certainly not your regular Mason jars, these jars have fabulous fluting.
21.  Daewoo Retro Compact Refrigerator -  How cool is this mini fridge? It's only 36" tall, but it's huge on style.
Anyone else a Retro fan? I'd love to hear about your favorite Retro kitchen accessories. Amazon has a huge selection of Retro and Vintage kitchen accessories.