When I was a younger adult I became afraid of dogs. I was bit by a friend's dog that I thought I was friendly with and my trust of all dogs was shattered. I used to play with this dog. He was friendly and sweet. And then one day he snapped and attacked my hand as I was petting him. This was an extreme situation that, it turned out, involved some abuse of the dog but it still made it very difficult for me to not be afraid of dogs.
So when the time came for my husband and I to consider getting a dog, we were met with some challenges.
We believed very strongly in rescuing a dog, so we scoured shelters and rescue groups to find the perfect dog to adopt. But my fear of dogs made it almost impossible to adopt an older dog. I was timid and afraid and the dogs could sense it. I couldn't imagine living with a dog I was afraid of.

MY LATEST VIDEOS
Which meant we had to re-evaluate things.
We both believed very strongly that a rescue was the way to go, but the circumstances just didn't seem to want to allow for that. We began to research breeds. Maybe if we researched specific breeds of dogs, I might be more comfortable adopting an older dog. A predictable breed. One I didn't have to be afraid of.
Through our research we decided that a Golden Retriever would make a great potential first dog for us, so we set out contacting breed-specific rescue groups. Dogs do have breed-specific characteristics and the predictability and friendliness of the breed offered the potential of allowing me to overcome my fear.
And, of course, I was afraid of them too.
So began our search for a puppy. I was not afraid of puppies, any puppies, and as much as we hoped to save an older dog, a puppy seemed to be the best way to help me overcome my fear. Well in the summer of 2002 in Southern California, finding a rescue puppy was more difficult than one would think.
So we decided that we had no choice but to begin researching breeders. It wasn't ideal for us but the deck was stacked against us and we hoped it would open the door for us to one day be able to rescue an older dog.
Since we had already fallen in love with the Golden Retriever breed based upon our research, we started there, and I can remember the day we brought Simon home with us. I sat in the back of the cab of my husband's pickup truck with him. He was 12 weeks old and the size of a small horse already. He captured my heart in that moment and as he grew, never again did I experience an irrational fear of dogs.
Here he is at only 8 months old. Huge. And full of spunk and love. With his hair growing back after $8,000 hip surgery. Because despite all of our research, we didn't do enough. No breeder can prevent health issues but we realized that the breeder he came from was not a responsible breeder.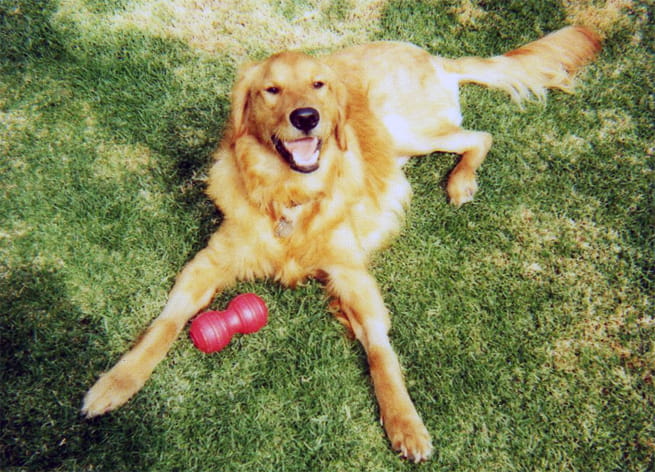 12 1/2 years later he is still with us and despite his continued medical challenges has helped us rescue 2 other dogs. A few years back we adopted a senior German Shepherd from a shelter (he lived his last few years comfortable and very happy) and a youngish terrier mix (Toby) from a rescue group. Toby helps keeps Simon young and active!
As much as I promote rescuing a dog whenever possible, because of my past, I recognize that sometimes there is a reason to adopt a purebred dog like we did (but through a responsible breeder). I do, however, encourage you to search shelters and rescues first. The AKC Rescue Network is a great place to start your search! Not only can you often find purebred dogs in rescues, sometimes mixed breed dogs can have the best of multiple breeds in them.
Whether you are going through a rescue or a breeder, however, you must be prepared. First make sure that you understand the responsibility involved in bringing a pet into your family. Dogs aren't disposable. They are family members and require work and dedication to make sure it is a good fit.
Once you have committed to this life-changing responsibility, then you must start ask questions. Understand exactly where your dog is coming from and how he got there. Make sure the breeder is a responsible breeder or if he is in a shelter, find out if they have any history on the dog.
Finding a responsible breeder:
Responsible breeders don't breed for profit. They breed for show and the love of the breed. They sell the puppies that don't quite meet the breed standard.
A responsible breeder will allow you to see where the puppies and dogs live. It should be clean and comfortable.
A responsible breeder cares about their animals and the health of the animals. They will require you to return the dog to them in the event that you cannot keep him.
A responsible breeder will have a full health history on the parents of the puppy and often will have genetic testing to show there isn't a tendency towards illness.
These are just a few things to look for in a responsible breeder. The AKC has many more tips and resources to help you find a responsible breeder.
Through the AKC, you can research the breed standards to understand the typical behaviors each breed has to find the right dog for your family. Just because a dog looks "cool" or "neat" doesn't mean they have personality traits that would fit in with your lifestyle. A very active dog isn't a great fit for a sedentary family. By using the AKC you can research breeds, both of purebred dogs and mixed breed dogs. You can evaluate the potential predictible behaviors and make a smart decision if a specific dog is a good fit.
Questions to ask when getting a dog from a shelter or rescue:
Why is the dog in the shelter? Was he surrendered? Stray?
Does he have any health conditions?
Is he housebroken?
Is he safe with children?
Is he safe with other pets?
What happens if we experience unforseen problems when we get him home such as agressive behavior?
The list goes on and on. Be as informed as you can but also know that sometimes you just need to spend some time with the dog to find out if he will be a good fit. Shelters are crowded and noisy and at first the dog will just be excited to be out of his cage. Ask to take him outside or to a separate, quiet area when you can bond with him.
Bringing a dog into your family is a fun and exciting time. It's a big responsiblility, however, and not to be entered into without some due diligence first. In many cases an older dog can make the perfect addition to your family. So often they are surrended not because the dog was the problem, but the person was. They are too busy. Never home. Didn't understand the responsiblity. Or the dog simply got loose from a great home and was never reunited.
If, for some reason, you must have a purebred, shelters and rescues often have them available. You may need to watch their websites weekly or stop in every weekend to check in on the new dogs that have come in, but with how over-crowded the shelters are, there is a good chance your perfect dog is waiting for you there!
But if you have a rare situation like mine that makes a purebred puppy the best fit, and you have checked with the local shelters and rescue groups, make sure you fully research the breed and the breeder to make sure it is not only a good fit for your family but comes from a responsible breeder that cares about their dogs.
Do you have a dog? Have you considered adding one to your family?