Easy Recipes With Few Ingredients
If you're looking for a recipe that doesn't require a lot of ingredients, you're in luck. These easy recipes all use five ingredients or less, and they're all delicious.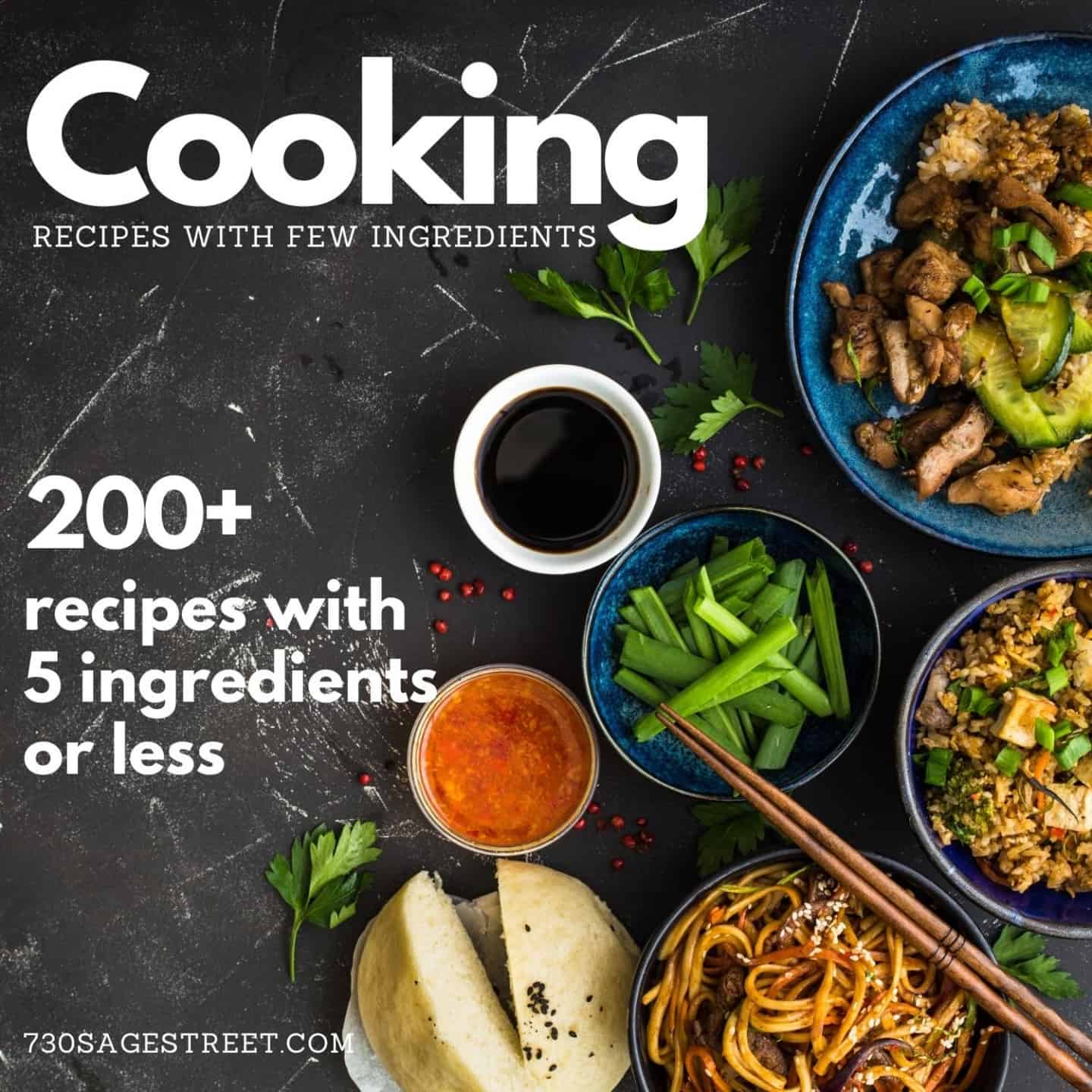 As a seasoned expert in the kitchen, I know how to make amazing dishes with only a handful of ingredients. And to ensure you find the best of the best, I've combined recipes from some of the best recipe creators online with my own.
Consider this an expanding collection of recipes with few ingredients that I recommend you bookmark and check out frequently.
Contents
🍳 What You Need
The easiest recipes only require a handful of ingredients! And more often than not, these ingredients are commonly found in every kitchen in America.
Ingredients like ground beef and chicken breasts are trending due to rising meat prices. Cheap beef cuts are rare and ground beef is easy and often the main ingredient of cheap dinners for families.
Small Kitchen Appliances
Modern day small kitchen appliances can turn a difficult recipe into an easy recipe. Some of the best small kitchen appliances that help making cooking easy are:
Slow Cooker
Air Fryer
Blender
Food Processor
Microwave
Instant Pot
👪 Who is this for?
Recipes with limited ingredients tend to favor beginners due to their simplicity and help boost confidence of those learning to cook.
Cooking 5 ingredients or less makes it much easier to prepare food for kids. And for the same reason the same recipes are also easy for kids to cook and learn how to prepare food.
💖 Recipes to Try
I've personally curated some of the best recipes with few ingredients and can't wait to share these with you.
🍽️ Easy Dinner Recipes with Few Ingredients
Some of the best dinner recipes I know also have the fewest ingredients. Generally, you'll find simple dinner recipes with 5 ingredients, 4 ingredients, and sometimes 3 ingredients.
Chicken Recipes
Try one or all of these easy chicken breast recipes with few ingredients for a quick weekday meal that is affordable, delicious, and healthy.
Chicken is a staple ingredient for many American families, popular in home cooking, and a wonderfully versatile dinner ingredient.
When chicken breast recipes are made with a handful of ingredients, the results speak for themselves: quick and easy recipes anyone can make.
Ground Beef Recipes
Try one of my easy ground beef recipes with few ingredients, a fantastic alternative to my chicken breast recipes.
Another fantastic ingredient, ground beef, is universal in American cuisine. When you think about it, ground beef can be cooked in the oven, instant pot, slow cooker, and pan-fried. And no matter how you cook it, it always turns out amazing.
Try one of these fantastic ground beef recipes with few ingredients and mix up meal night with one or all of these delicious recipes.
Meatloaf Recipes
Meatloaf is without a doubt one of the easiest family recipes. And given you can make the best meatloaf ever with only a few ingredients is priceless.
Combine a few key ingredients to create a wonderful dish of ground meat, shape into a loaf, and bake or smoke.
The end result is a moist meatloaf loaded with favor bursting from every bite. My all time favorite is glazed meatloaf, any my meatloaf recipe is epic.
Check my easy meatloaf recipes with few ingredients and save one for dinner tonight.
Smoked Beef Back Ribs
Prepare these mouth watering, pull apart, juicy beef back ribs with only 5 ingredients: back ribs, Montreal steak spice, cumin, balsamic vinegar, and rosemary.
This recipe is straightforward and only requires a few ingredients. And the result is nothing less than drool-worthy.
At Costco, you can find back ribs for $20, which is enough to feed two people, and while not the cheapest cut of beef, it is affordable. A great dinner for two and easy to accommodate more people.
No smoker, not a problem! Follow the instructions and cook these beautiful beef ribs in your oven.
Easy Oven Cooked Pulled Pork
The ultimate oven cooked pulled pork recipe with only a few ingredients. Pull this 5 ingredient pulled pork recipe together with smoked paprika, chili powder, onion powder, cayenne powder, and brown sugar.
Pulled pork is perfect for cheap family meals that last for days. A pork shoulder or pork butt is a low cost per pound protein that makes outstanding dinner meals.
A pork shoulder weighs 4-6 pounds on average and will easily feed 6-10 people. And for a family of 4, this translates to some of the best leftover recipes for pulled pork you'll ever have.
I hope you enjoy this easy pull pork recipe with few ingredients!
Baked Pesto Salmon
This easy baked pesto salmon combines my basil almond pesto, salt, pepper, and lemon for the perfect 4-ingredient recipe and dinner for two.
Impress your significant other with this simple yet fantastically delicious baked pesto salmon.
Pesto can be used for pasta, seafood, baked dishes, casseroles, and even salads.
This simple baked pesto salmon with few ingredients is sure to impress!
Baked Pesto Chicken
Looking for an inexpensive alternative to my baked pesto salmon, this is it. This fantastic chicken breast recipe with few ingredients is easy to make, tastes amazing, and is the perfect dinner for two.
A fool-proof chicken dinner recipe combines chicken breasts, pesto, and cherry tomatoes to create a fantastic 3-ingredient recipe.
Not only is this an easy, pop-in-the-oven recipe, but it's also an incredibly cheap family meal that everyone will love.
🍨 Easy Dessert Recipes with Few Ingredients
Get ready! If easy dessert recipes aren't enough, check out my easy dessert recipes with few ingredients for the ultimate desserts recipes using 5 ingredients or less.
Dessert recipes are often overlooked by home cooks because of their assumed difficulty. Yet I can assure you that some of the best desserts in the world only require a few simple ingredients and are remarkably easy to make.
Trust me when I say you don't want to miss out on my 3-ingredient peanut butter cookies and no-bake chocolate brownies with few ingredients.
And this list of easy dessert recipes has it all and more, so check it out, bookmark it, and share it with friends.
Dark Chocolate Bacon Bark
I love having a readily available supply of dark chocolate. And I love this 3-ingredient dark chocolate bacon bark with a hint of maple syrup even more.
It's astonishing how great recipes generally only require a few ingredients. While complex recipes take hours to prepare and make, yet tend to fall short.
Add this one to your list of easy dessert recipes with few ingredients. I know it's my go-to in the evening and satisfies my sweet tooth perfectly.
Chocolate Brownie Larabars
This healthy dessert snack is perfect for your chocolate cravings! Best of all, it's made with only 5-ingredients, no bake, and takes 2 minutes to make.
Take this up a notch and add peanuts instead of almonds. When I'm in the mood for a chocolate and peanut combo, this recipe is fantastic.
This healthy larabar is also a fantastic for kids lunches, snacks, and helps answer the call for chocolate without going overboard.
🍪 Easy Cookie Recipes with Few Ingredients
Yes, you can make delicious easy cookie recipes with only a few key ingredients. One of the most popular peanut butter cookies only requires 3-ingredients.
This list focuses on cookie recipes that are easy to make, require a handful of ingredients, and are outstandingly delicious.
From no bake to baking with few ingredients, you'll end up with divine cookies that you can't make fast enough.
No-Bake Haystack Cookies
Haystack cookies are a wonderful treat. While this recipe is technically 6-ingredients, I'm adding it to this list because it's a no-bake recipe, is really easy to make, and tastes fantastic.
As I said earlier, great recipes generally only require a few ingredients. And this no-bake haystack cookie recipe is no exception.
Add this one to your list of easy cookie recipes with few ingredients. You'll find yourself making this for friends and family over the holidays.
🍰 Easy Cake Recipes with Few Ingredients
Try one or all of these easy cake recipes with few ingredients. Many of these recipes are beginner friendly, made from scratch, and taste amazing!
Cake recipes often look complex but are extremely easy to make. The number of times I've heard, "Wow, this cake looks amazing! How long did it take you to make?" And when I tell them it only took 20 minutes and 5 ingredients, they can't believe it and immediately want my recipe.