Eggplant and tomatoes are two vegetables that go together like peas in a pod. Whether roasted, fried, baked, or stewed, they create the perfect duo for a variety of dishes.
From a classic Italian Caponata to a spicy Indian Baingan Bharta, these 15 recipes with tomatoes and eggplant will satisfy your cravings for a hearty and flavorful meal.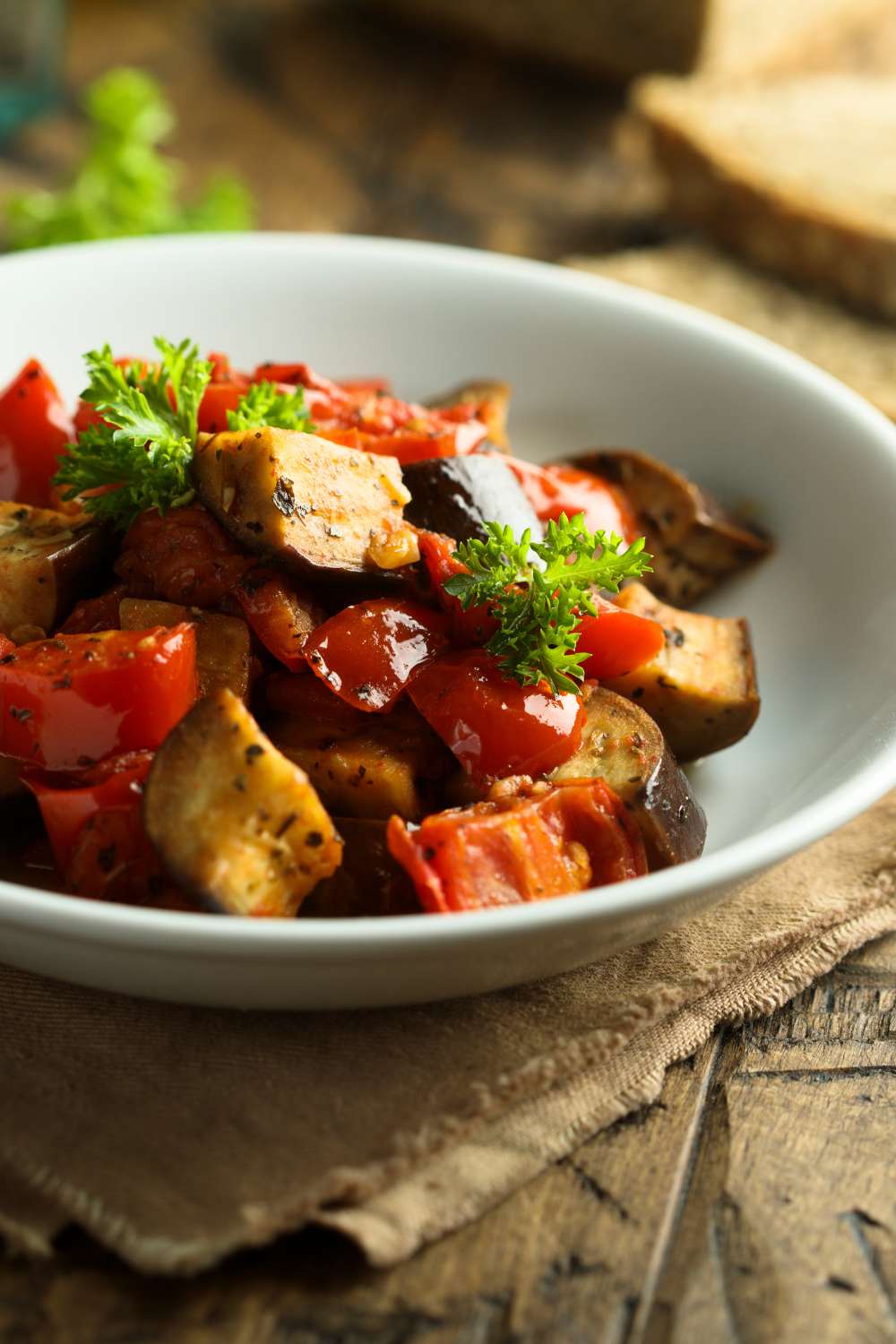 How To Choose The Best Eggplants When Shopping?
When shopping for eggplants, look for firm, glossy ones with smooth, unblemished skin. Avoid any that have soft spots or bruises, as this indicates they may be overripe or damaged. Additionally, choose eggplants that feel heavy for their size, as this indicates they are fresh and full of moisture. Finally, consider the type of dish you are making – larger eggplants are better for grilling or roasting, while smaller ones work well in stews and curries.
What Are The Best Cooking Methods For Eggplants?
Eggplants can be cooked through various methods including grilling, roasting, and sautéing to bring out their unique texture and flavor.
Grilling: Grilled eggplant is a popular dish in many cuisines. To grill, slice eggplant into rounds or lengthwise, brush with oil and seasonings, then grill until tender and slightly charred on both sides.
Roasting: Roasting eggplant is a simple and flavorful cooking method that brings out its natural sweetness. To roast, slice eggplant into rounds or cubes, toss with olive oil, and seasonings, then roast in the oven until tender and lightly browned.
Sautéing: Sautéing is a quick and easy method that requires minimal preparation. To sauté eggplant, slice it into rounds or cubes, heat oil in a pan, then cook until tender and lightly browned on both sides. Add herbs and spices for extra flavor.
15 Recipes With Tomatoes And Eggplant
Elevate your culinary skills with these 15 lip-smacking recipes that showcase the delicious pairing of tomatoes and eggplant:
This eggplant pasta bake is a cozy and nutritious meal that brings together the perfect blend of veggies and cheese. With its flavorful combination of eggplant, zucchini, kale, and tomatoes, this vegetarian pasta bake is perfect for a family dinner or potluck gathering.
The ricotta and parmesan cheeses melt into the pasta to create a creamy and comforting dish that is sure to satisfy your cravings. You can also easily make it gluten-free by swapping in your favorite gluten-free pasta. Bake it up in a large dish, and savor every bite of this delicious pasta bake!
Summer Eggplant Tomato Pie is a perfect summer dish that brings together the freshness and flavors of ripe Roma tomatoes, creamy eggplant, and a variety of aromatic herbs and spices.
The pie is easy to make and boasts a crispy, golden-brown crust that is packed with flavor. The mixture of eggplant, breadcrumbs, parmesan cheese, and pesto creates a perfect base for the tomatoes, and the melted mozzarella cheese adds an extra layer of creaminess. The dish is finished with fresh Italian parsley for a pop of color and extra freshness. Serve this pie warm or at room temperature, and enjoy the rich flavors of summer!
The stewed eggplant in tomato sauce recipe is a delightful Greek dish that is packed with a ton of flavor. The eggplant is cooked until it is soft and mellow and is then simmered in a delicious tomato sauce that is seasoned with a blend of spices, including allspice, sweet paprika, and cumin.
The fire-roasted red pepper adds a smoky flavor and the parsley adds freshness and color to the dish. This vegetarian recipe is perfect for a comforting and nutritious meal that can be enjoyed on its own or as a side dish. Serve it over Basmati rice or quinoa, or with grilled bread or pita bread, and enjoy the delicious flavors of Greece!
Sautéed Eggplant and Tomatoes (melanzane a fun ghetto) is a delicious Italian side dish that is quick and easy to make. The eggplant is sautéed until it is soft and tender and then combined with juicy plum tomatoes, garlic, and a blend of aromatic herbs like oregano and basil.
This flavorful and healthy side dish can be served as a side, as part of an antipasto, or even as a topping for bread or pasta. You can also add some grated Parmesan or Romano cheese for a little extra flavor. This dish is sure to impress anyone who tries it, and it's a great way to add some variety to your meal plan!
This Cheesy Eggplant Casserole is a filling and satisfying meatless entree that is perfect for a cozy dinner. The hearty eggplant is roasted until it's tender and then layered with marinara sauce and melted mozzarella cheese, creating a delicious combination of flavors and textures.
The roasted eggplant is seasoned with kosher salt, black pepper, and garlic powder, adding a subtle, savory flavor to the dish. This casserole is easy to make and is a great way to incorporate more veggies into your meal plan. Serve it hot out of the oven with some crusty bread or a side salad and enjoy this hearty and flavorful dish!
Transform your dinner routine with this delectable braised harissa eggplant with chickpeas recipe! This vegan and gluten-free dish is bursting with flavor and is perfect for a quick and easy weeknight dinner.
The meaty eggplant, cooked to perfection with simple tomato-y broth and a medley of spices, will tantalize your taste buds. The creamy and tender chickpeas add a subtle texture and protein-packed punch, while the fresh lemon juice and chopped parsley add a zesty kick. Serve over your favorite starch, and you'll have a scrumptious meal that is sure to be a crowd-pleaser.
Eggplant puttanesca is a delightful pasta dish that brings together a medley of flavors. With its perfect balance of spice, salt, and sweetness, this vegan and Italian cuisine-inspired dish is perfect for a family dinner or a romantic meal.
In this recipe, savory eggplants are cooked in a pasta sauce along with onions, kalamata olives, capers, and red pepper flakes, resulting in a rich and flavorful sauce. Pair it with your favorite pasta and a sprinkle of almond parmesan for a satisfying meal that will have you coming back for more. Don't forget the crusty bread to complete the experience.
This eggplant lasagna recipe is a delicious vegetarian option that replaces traditional lasagna noodles with roasted eggplant slices. The eggplant is seasoned with kosher salt and roasted in the oven until pliable. Meanwhile, the ricotta filling is prepared with egg, part-skim ricotta cheese, mozzarella cheese, Parmesan cheese, garlic, oregano, spinach, fresh parsley, and fresh basil.
The roasted eggplant slices are then layered with the ricotta filling and pasta sauce in a 9 x 13-inch baking dish. The dish is topped with remaining mozzarella cheese and Parmesan cheese and baked in the oven until the cheese has melted and the edges turn golden brown. After baking, the lasagna is allowed to rest for 10 minutes before serving.
Greek-style eggplant stew is the perfect comforting dinner or side dish. The eggplant is cooked to velvety tender perfection, paired with chickpeas and tomato which make it both low-fat and vegan.
The spices used give the dish a subtle warmth and a depth of flavor that will make your taste buds dance. Fresh herbs like parsley and mint are used to garnish, and the final touch is a generous drizzle of Private Reserve Greek EVOO, which adds a layer of richness and complexity to this dish. Serve it hot or at room temperature with a side of Greek yogurt or tzatziki sauce and pita bread.
This eggplant caponata recipe is an explosion of flavor with its fresh veggies and savory olives. Roasting the eggplants brings out their natural sweetness, and the combination of diced tomatoes and red bell peppers makes for a deliciously hearty sauce.
With capers adding a touch of brininess, every bite is bursting with flavor. Serve warm with crusty bread, or chill it and enjoy it cold. This dish can also be made ahead of time, making it a great option for meal prep. Try it out today and see how simple and tasty this vegetarian recipe can be!
This roasted eggplant and zucchini pasta recipe is an easy and delicious way to get your daily dose of veggies. The eggplant and zucchini are roasted to perfection, bringing out their natural flavors, and are then added to a savory tomato sauce that's bursting with flavor.
The pasta is cooked to al dente and mixed with the sauce and veggies to create a hearty and satisfying meal. Top with your favorite fresh herbs for a final touch of flavor and serve hot. This dish is perfect for a quick weeknight dinner or a delicious and healthy lunch.
The grilled Eggplant, Roasted Tomatoes, and Burrata Cheese with Garlic Herb Breadcrumbs recipe is a delightful summer take on the classic Eggplant Parmesan. Grilled eggplant is combined with sweet, roasted Campari tomatoes and creamy burrata cheese, then topped with crispy garlic and herb breadcrumbs.
The roasted tomatoes are soft, and the skins blister and split, and the eggplants are cooked to perfection, tender, and golden brown. The dish is then finished off with the addition of crunchy garlic herb breadcrumbs and a sprinkle of fresh herbs. Serve this dish warm with some crusty bread and a glass of rich red wine for a perfect meal.
Greek-style eggplant stew with chickpeas and tomatoes is a perfect vegan and gluten-free meal. The velvety tender eggplant cubes are cooked to perfection with chickpeas, chopped tomato, onion, green bell pepper, carrot, and spices like sweet or smoked paprika, coriander, oregano, cinnamon, and turmeric.
This dish is cooked in a Dutch oven, which brings out the flavor even more. It takes about 55 minutes to cook, including 45 minutes in the oven, and can serve up to 6 people. It can be served hot or at room temperature with a side of Greek yogurt or tzatziki sauce and pita bread. The recipe calls for fresh herbs such as parsley and mint for garnish.
This Mesa'ah recipe is a delicious vegan dish that you can enjoy for breakfast or any meal of the day. The eggplant is fried to perfection and pairs well with the homemade tomato garlic sauce that is infused with white vinegar, spicy pepper, and garlic.
The sauce is tangy, slightly spicy, and has a complex flavor that is irresistible. To make the perfect breakfast or brunch, serve it with fresh pita bread and your favorite hot beverage.
Zaalouk is a delightful eggplant appetizer that will transport you straight to Morocco. This dish features chopped eggplant and tomatoes with a blend of savory spices, including smoked paprika, cumin, and cayenne.
Once everything has cooked down and softened, it's time to add some bright lemon juice for a pop of acidity. The result is a mouthwatering, flavorful dip or side dish that is perfect for any occasion. Serve this zaalouk warm or chilled with some pita bread or your favorite crackers, and let the flavors take you on a journey to North Africa.