Alright, buckle up because we're about to take a spicy ride through 15 of the most flavorful Thai chili sauce recipes you've ever tasted!
The recipes range from spicy stir-fries to tangy dipping sauces, and they will all leave you wanting more.
So grab your chopsticks, prepare your palate, and get ready to experience the explosive flavors of Thai cuisine like never before.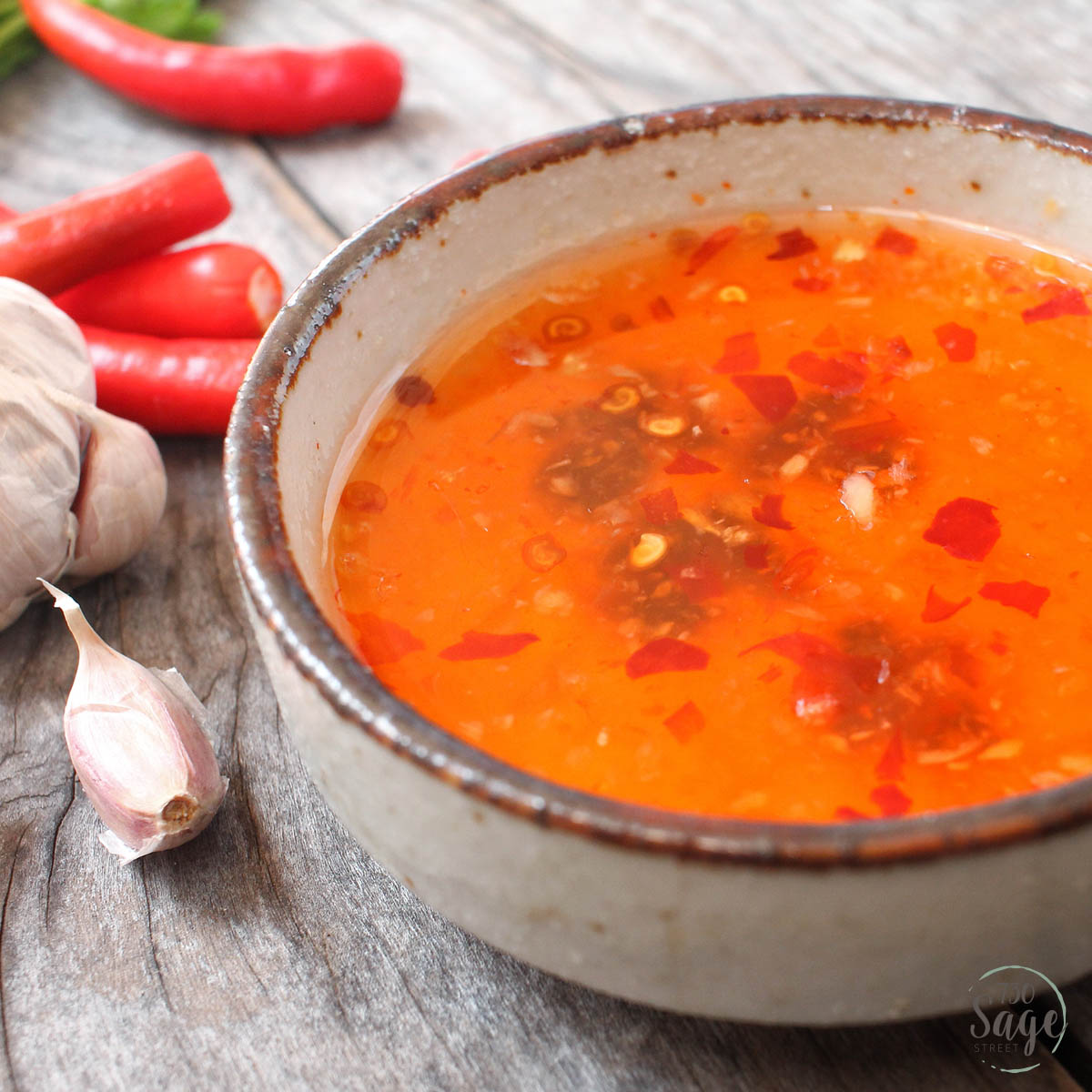 Can I Substitute Thai Chili Sauce With Other Types Of Chili Sauce?
Yes, you can substitute Thai chili sauce with other types of chili sauce, but keep in mind that the flavor and spiciness level might differ. Sriracha sauce is a common substitute that has a similar spiciness and tanginess to Thai chili sauce.
Sambal oelek is also a good substitute, although it has a slightly different flavor profile. Experiment with different chili sauces to find the one that suits your taste best.
15 Recipes With Thai Chili Sauce
Spice up your taste buds with these 15 recipes using Thai chili sauce:
Take a trip to Thailand with this fiery Thai chili sauce chicken stir-fry! Sliced chicken breast is coated in cornstarch and seared until perfectly golden. The chicken is then stir-fried with garlic, red bell pepper, and scallions, then tossed with Thai chili paste and fish sauce for an explosive burst of flavor.
Top with sliced Thai bird chilies if you dare! This dish comes together quickly and is perfectly served over steamed jasmine rice for a satisfying meal any day of the week.
Salmon marinated in Thai sweet sweet chili sauce and broiled to perfection is a sweet and delicious dish that works for every occasion. Marinating the fish in a combination of Asian sweet chili sauce, soy sauce, and garlic makes for a marinade that imparts a tangy, slightly spicy taste to the tender salmon fillets.
The salmon fillets are broiled until they are browned on the outside and almost opaque on the inside. Try this recipe now to experience the seductive aromas of Thai cuisine and enjoy a healthy and tasty way to have shrimp with rice or steamed vegetables.
These sweet chili turkey meatballs are the perfect mix of sweet and spicy! Ground turkey is mixed with onion, garlic, ginger, egg, bread, and spices, and then baked to perfection with a sweet chili sauce glaze.
The sauce is made by combining sweet chili sauce, lime juice, cilantro, and chives, resulting in a tangy and flavorful glaze that pairs perfectly with the tender and juicy meatballs. These meatballs are perfect as a party appetizer or served over rice for a complete meal.
Get ready to experience the ultimate Thai street food with this Pad Thai recipe! This dish has everything you could ask for: perfectly cooked rice noodles, tender shrimp, savory tofu, and crunchy bean sprouts, all smothered in a sweet and tangy sauce made with fish sauce, oyster sauce, and tamarind concentrate.
Add a little heat with some sriracha and red pepper flakes, and you've got a meal that's sure to please. Don't forget to top it off with some roasted peanuts and a squeeze of lime for that extra zing!
These Sweet Chili Shrimp Skewers are perfect for a summertime barbecue with friends and family. Marinated in a delicious mixture of garlic, Thai sweet chili sauce, lime juice, cilantro, and salt, these skewers are packed with flavor.
Simply thread three shrimp onto each skewer, fire up the grill, and cook until they are nicely charred and cooked to perfection. These skewers are sure to be a hit at your next gathering, so be sure to make plenty!
Thai Spicy Chicken Noodle Soup is a soothing and fulfilling soup with a spike of flavor from the addition of chili peppers and coconut curry paste. The rich and spicy tastes of the soup come from ingredients like red curry paste, fresh ginger, and fish sauce.
This soup has a lot of substance because of the cooked chicken and shredded chicken as well as the rice noodles. Try this quick and simple meal in only 15 minutes by topping it with fresh cilantro, green onions, and Thai red chilies.
Tender and juicy pork ribs coated in a mouthwatering blend of Thai sweet chili sauce, honey, soy sauce, garlic, and lime juice. These ribs are cooked to perfection in an Instant Pot with water, apple juice, and a crushed garlic clove. Once cooked, they are coated with the sauce mixture and broiled to perfection.
These Thai sweet chili ribs are perfect for a backyard BBQ or a weeknight dinner. Serve them with extra sauce for dipping, and watch them disappear before your eyes.
These Sweet Chili Chicken Wings are the perfect combination of crispy and saucy, and they're so easy to make! Start by coating the chicken wings in a flour mixture and bake in the oven or air fryer until golden and crispy. While the wings are cooking, make the deliciously sweet and spicy chili sauce by combining sweet chili sauce, soy sauce, sesame oil, rice wine vinegar, garlic, and a touch of brown sugar.
Once the wings are cooked, drizzle the sauce over the top and enjoy! This recipe is perfect for game day or any party, and it's sure to be a hit with your guests.
A stir-fried sweet chili tofu recipe is perfect for a quick and easy meal. The extra-firm tofu is coated in corn starch and fried until crispy, then tossed with a sweet and spicy sauce made with chili sauce, soy sauce, and coconut sugar. The dish is completed with sautéed bell peppers and scallions and served with steamed rice for a satisfying meal.
Garnish with scallions, cilantro, and sesame seeds to add extra flavor and texture to this delicious vegan dish. Try this recipe for a flavorful and healthy meal tonight!
Thai Chicken Lettuce Wraps are a healthy, flavorful, and easy-to-make meal that can be enjoyed anytime! The ground chicken is cooked with garlic, onions, whole roasted cashews, fish sauce, and soy sauce for a savory and slightly sweet flavor. To serve, the chicken mixture is spooned onto butter lettuce leaves and topped with a delicious sauce made from Thai sweet chili sauce, lime juice, and cilantro.
The dish is completed with a sprinkling of white sesame seeds. These wraps are perfect for a quick lunch or light dinner and can be customized with your favorite veggies or protein.
Cooked in a mixture of chicken stock, ginger, garlic, rice wine, and sugar for two hours, this dish is bursting with flavor. After simmering, the pork is dried and chopped into bite-sized chunks. In a separate bowl, a glaze is prepared with ginger, chili, honey, brown sugar, soy sauce, and lemongrass paste.
The pork is then fried in oil until golden and coated with the glaze for a few more minutes until it becomes dark and sticky. Garnish with chopped spring onions and red chilies for an extra kick.
General Tso's Chicken is a beloved dish that's sure to satisfy any craving for something savory and spicy. Marinated in Shaoxing wine, salt, and white pepper, the chicken is then coated in a mixture of toasted sesame seeds, all-purpose flour, and cornstarch before being fried to golden brown perfection.
The sauce, made with low-sodium chicken stock, dark soy sauce, brown sugar, and rice wine vinegar, is the perfect balance of sweet and tangy, while the dried red chili peppers and minced garlic add a spicy kick. Served with crisp, blanched broccoli and steamed rice, this General Tso's Chicken is the ultimate comfort food.
Pad Pak Thai is a vibrant and delicious stir-fry dish that is both healthy and easy to make. This recipe is packed with a variety of colorful vegetables, including broccoli, cauliflower, bell pepper, carrot, snow peas, and mushrooms, all cooked to perfection in a flavorful sauce made with soy sauce, oyster sauce, sesame oil, sambal oelek, and coconut sugar.
This savory dish is perfect for those who love a bit of spice in their meals and can be served with steamed rice for a satisfying meal. So, let's dive into the flavors of this traditional Thai dish and enjoy the delicious blend of veggies and spices.
Indulge in the flavors of Thailand with these delicious Thai Shrimp Cakes. The shrimp is mixed with red curry paste, egg, fish sauce, sugar, and coconut milk to create a smooth and flavorful paste. Long beans and Thai basil leaves add a crunchy texture to these cakes. To achieve a springy texture, the shrimp is chilled before being used.
Cooked to a golden brown color in a skillet, these cakes are the perfect appetizer or snack. Serve with a side bowl of sweet chili sauce and a sprinkle of cilantro leaves and minced ginger for a complete Thai experience.
Fire up your grill for these juicy and flavorful Thai Grilled Chicken Thighs. The marinade of soy sauce, Thai black soy sauce, fish sauce, lemon and lime juice, white pepper, brown sugar, garlic, and cilantro lends an explosion of authentic Thai flavors. Grilled to perfection and brushed with Thai sweet chili sauce, these succulent chicken thighs are ready to satisfy your cravings.
Garnish with thinly sliced green onions and chopped cilantro for a perfect finish. For an easy weeknight meal or weekend barbecue, this recipe is sure to impress.