Refried beans are not just some boring side dish to fill up your plate. No, no, no. These babies are the star of the show in these 20 incredible recipes.
From breakfast burritos to enchiladas, these recipes will make you wonder how you ever lived without the deliciousness that is refried beans. So, put on your apron, grab a can of beans, and let's get cooking!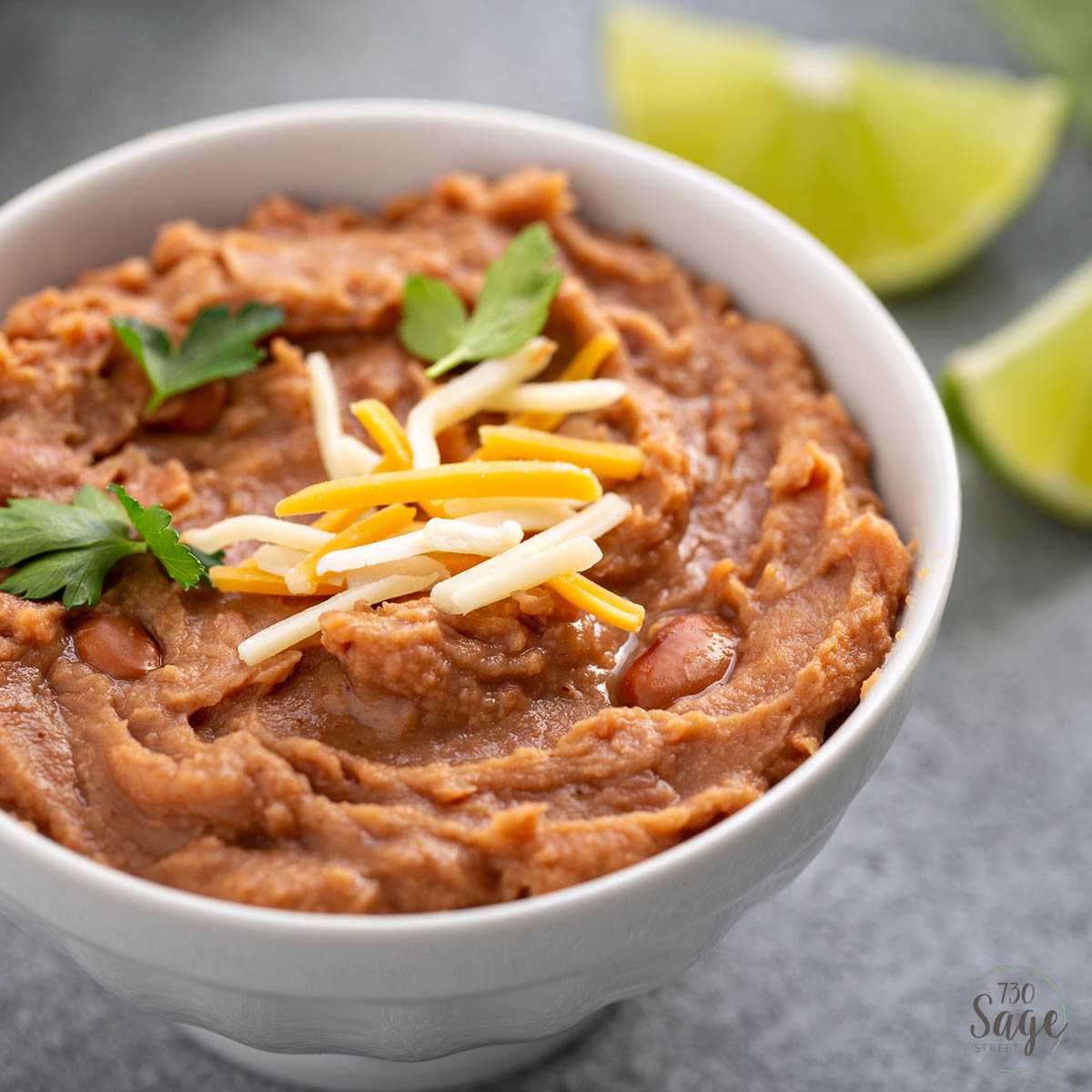 Can I Use Canned Refried Beans For These Recipes?
Absolutely! Canned refried beans can be a convenient and healthy option for these recipes. Just make sure to check the label for any added preservatives or unhealthy ingredients.
Look for low-sodium or no-salt-added options, and consider rinsing the beans before using them to further reduce the sodium content. Additionally, you can easily jazz up canned refried beans with your own spices and seasonings to give them a homemade touch.
What Are The Best Canned Refried Beans Brands?
When it comes to convenience, canned refried beans can be a lifesaver in the kitchen. But with so many brands on the market, which ones are the best? Here are four top brands that are worth trying out.
Old El Paso: Old El Paso is a popular brand that has been around for decades. Their canned refried beans are made with pinto beans and are low in fat and cholesterol. They are also gluten-free and contain no artificial preservatives.
Rosarita: Rosarita is another well-known brand that offers a variety of refried beans, including vegetarian and fat-free options. Their beans are made with whole pinto beans and are slow-cooked to give them a rich, authentic flavor.
Amy's: For those looking for organic and vegan options, Amy's is a great choice. Their canned refried beans are made with organic pinto beans and are seasoned with a blend of traditional spices. They are also low in fat and gluten-free.
Bush's: While known more for their baked beans, Bush's also makes a tasty canned refried bean option. Their refried beans are made with pinto beans and are slow-cooked with onion, garlic, and spices to give them a flavorful kick. They are also gluten-free and low in fat.
20 Recipes With Refried Beans
From burritos to dips, these 20 recipes will have you saying "yum!" in no time:
Get ready to take a trip down to Mexico with this flavorful Mexican Lasagna recipe! Lean ground beef, sweet onions, and garlic come together to create a savory base for the dish. Refried beans, enchilada sauce, tomatoes with green chile peppers, diced jalapeños, and sliced black olives give this dish a spicy kick that's sure to impress. Layered between corn tortillas and shredded Mexican blend cheese, this hearty meal is perfect for any night of the week.
Serve with sour cream, shredded lettuce, or sliced avocado, and top with homemade guacamole and pico de gallo for a complete Mexican feast.
Crispy Cheesy Refried Bean Tacos are the perfect meal for any taco lover! These delicious tacos start with a mixture of refried beans, cumin, and salt that's spread on a corn tortilla and topped with freshly shredded cheese. The tortilla is then folded in half and fried in a skillet until golden brown and crispy.
This dish is not only quick and easy, but also customizable to your liking with toppings like salsa, guacamole, or diced tomatoes. Plus, with the homemade refried beans, this dish is healthier than your average takeout tacos.
Looking for a quick and easy meal that's packed with flavor? Try these Bean and Cheese Burritos! Bush's® Traditional Refried Beans, chunky salsa, onions, smoked paprika, garlic powder, salt, and black pepper come together to create a delicious and hearty filling that's sure to satisfy.
The filling is then wrapped in a large flour tortilla along with a mixture of shredded cheddar and Monterey jack cheese, and baked until the cheese is melted and gooey. Serve these burritos with guacamole, sour cream, and your favorite hot sauce for a delicious and satisfying meal that's perfect for any night of the week.
With this scrumptious and simple recipe for Mexican pizza, you can have a party in your mouth right now! Ground beef seasoned with taco seasoning and mixed with refried beans creates a hearty topping for crisp corn tortillas.
The tortillas are fried until golden and crispy, then topped with a layer of enchilada sauce, cheese, and the savory beef mixture. A second tortilla is added on top, along with more enchilada sauce and cheese. Once baked to perfection, this pizza is then garnished with sliced olives, diced roma tomatoes, and chopped green onions. Add a dollop of sour cream for a creamy finish, and you have a meal that's sure to satisfy any craving.
This delicious and cheesy Refried Bean Enchilada recipe is sure to satisfy your cravings for something savory and satisfying! The creamy refried beans are mixed with sharp cheddar, pepper jack, and sliced scallions to create a filling that's packed with flavor. The filling is then rolled up in flour tortillas and arranged in a baking dish, smothered with homemade Tex-Mex enchilada sauce, and topped with more cheese.
Baked to perfection, the enchiladas come out hot, bubbly, and irresistibly delicious. Top with fresh cilantro for a pop of color and flavor, and enjoy this easy and satisfying meal with family and friends!
Wake up your taste buds with this delicious and hearty Huevos Rancheros recipe! Start by mixing together fresh and flavorful salsa fresca made with chopped tomatoes, jalapeño peppers, cilantro, lime juice, and salt. Then move on to making the refried beans, flavored with sautéed onions, jalapeño peppers, garlic, chili powder, cumin, and a hint of lime juice. Spread the beans on lightly fried corn tortillas and top them with a perfectly cooked fried egg.
Finally, garnish with the salsa fresca, warm ranchero sauce, chopped cilantro, and crumbly white cheese. This dish is a great way to start your day, with its combination of savory and spicy flavors that are sure to satisfy you.
The easy Tostada recipe is perfect for a quick and tasty meal! Start by baking corn tortillas until crispy and golden brown. Then, cook lean ground beef in a skillet with garlic powder, taco seasoning, salt, and diced onion until fully cooked and fragrant. Warm up some refried beans on the stove or in the microwave until hot and steaming.
Assemble the tostadas by spreading the refried beans on the crispy tortillas, followed by the cooked ground beef, chopped lettuce, juicy tomatoes, creamy avocado, and zesty pico de gallo or salsa. Sprinkle crumbled cotija cheese or queso fresco and fresh cilantro on top for an extra burst of flavor and crunch.This quick and tasty dish may be tailored to your preferences by adding your preferred toppings.
These Quick and Easy Refried Beans are a game-changer! Simply combine drained and rinsed pinto beans, water, diced onion, minced garlic, chili powder, cumin, dried oregano, and season with salt, pepper, and cayenne pepper to taste in a medium saucepan. Simmer over low heat for 5 minutes and mash with a potato masher or the back of a spoon until they reach the desired consistency. Continue cooking over low heat for 10 minutes, stirring occasionally to prevent burning, until they thicken and become creamy.
These refried beans aren't quite smooth, but they have tons of flavor and a satisfying texture. Use them as a topping for your favorite tortilla chips, or throw them into a burrito, taco, or nacho.
These Easy Baked Flautas are a delicious and healthy alternative to traditional taquitos! Stuffed with flavorful refried beans, salsa, chili powder, and cheese, these rolled-up tortillas are baked to crispy perfection. Serve them with easy guacamole, salsa, or sour cream for dipping, and enjoy the combination of savory flavors in each bite.
And with a simple freezing option, these flautas can be enjoyed later on as well. Don't forget to brush them with oil and sprinkle them with a bit of salt before baking for extra flavor and crunch.
This Fast Refried Bean Soup is perfect for a quick and easy dinner. With the combination of spicy refried beans, corn, black beans, chicken broth, and green chiles, this soup packs a punch of flavor. Simmered together with a can of stewed tomatoes and a little salsa, this soup is ready in under 10 minutes. Serve with tortilla chips for some extra crunch.
This soup is not only delicious but also filling and packed with protein and fiber. A perfect meal for a busy weeknight.
Get ready to indulge in a heavenly dip with the Texas Trash Dip recipe! With the combination of refried beans, cream cheese, sour cream, and cheese, this dip is sure to please any crowd. A dash of taco seasoning and diced tomatoes with chilies add a little kick, while shredded taco blend cheese and pepper jack cheese take the flavor to the next level.
Serve this delicious dip at your next party with some crispy tortilla chips, and watch it disappear in minutes.
This Baked Chimichanga recipe is perfect for a quick and easy weeknight dinner. Browned ground beef and onions are combined with fat-free refried beans, salsa, cumin, and garlic powder to make a delicious filling. The mixture is then spooned onto flour tortillas, sprinkled with shredded cheese, rolled up, and brushed with melted butter.
Baked until golden and crispy, these chimichangas are then topped with more cheese, sour cream, and diced tomatoes for an irresistible Mexican-inspired meal. Try serving with a side of rice and beans for a complete dinner.
This Refried Beans and Rice Skillet Recipe is a quick and easy way to make a hearty and delicious meal. The combination of sausage, rice, and refried beans makes this dish protein-packed and filling. The addition of tomatoes, corn, and salsa gives it a fresh, tangy flavor.
With a hint of cumin and garlic, this dish is packed with flavor. This dish is perfect for busy weeknights when you want something easy to prepare but still satisfying. Top it with shredded cheese and cilantro to add extra texture and flavor.
Made with canned refried beans and several flours, including chickpeas and oat, these patties are moist, savory, and comforting, making them the ideal midweek supper. Chole masala and red chili powder give the dish a smoky, fiery undertone, while red onions and ginger-garlic paste lend a rich, complex taste.
These patties, cooked to a golden brown and crispy on both sides, are ideal on your favorite bread with all the traditional burger toppings. Vegan refried beans should be used to ensure that this dish is entirely plant-based.
These restaurant-style refried beans are simply divine! Cooked in an Instant Pot for a no-fuss meal, these creamy pinto beans are perfect for taco night. The jalapeños and garlic add a little heat, while the cojita cheese topping adds a tangy and salty contrast. For those who prefer a vegetarian option, swap the chicken stock for vegetable stock.
You won't be able to resist the smooth and flavorful texture of these homemade refried beans. It's a must-try recipe that you'll definitely come back to.
These Refried Bean Quesadillas are a quick and easy meal that you can whip up in no time. With just 5 simple ingredients, you'll have a delicious meal that the whole family will love.
Spread the refried beans over one-half of each tortilla, then top with salsa, tortilla chips, and cheese. Fold the tortilla in half, then lightly spray a pan and cook the quesadilla until golden and crisp on both sides. Slice in half and serve with your favorite toppings like guacamole, sour cream, or more salsa. This recipe is perfect for a weeknight meal or for entertaining guests.
Get ready for a taste of Mexico with these mouthwatering Molletes! Made with bolillo bread rolls, refried beans, and melted Monterey Jack cheese, these open-faced sandwiches are the perfect combination of crunchy, creamy, and cheesy.
With a touch of pico de gallo on top, they're bursting with flavor and spice. These delicious Molletes are perfect for a quick breakfast or brunch, and they're sure to satisfy your cravings any time of the day.
This savory Polenta, Refried Beans & Egg Skillet Bake is a delicious and healthy way to start your day. With warm and crumbly polenta, creamy refried beans, chunky salsa, and topped with eggs, this dish is the perfect balance of textures and flavors. It's an easy one-pan meal that you can make for breakfast, lunch, or dinner.
Garnish with fresh cilantro and diced avocado and drizzle some hot sauce on top for extra heat. This skillet bake serves 6 and is perfect for sharing with friends and family.
These refried beans, which can be used as a side dish, in a burrito, or in any other manner you prefer, will transport you to Mexico and fill your mouth with wonderful, traditional Mexican tastes. Then, prepare the onion, garlic, oregano, and salt to cook with the pinto beans until they are soft.
The next step is to cook the beans in lard for a few minutes before adding the bean liquid and mashing them to the proper consistency. Blend them up if you want a silkier consistency. Crumbled cotija cheese is a great way to elevate any dish.
An easy-to-make casserole that's packed with flavor from spices, garlic, onion, and jalapeo, this Cheesy Refried Beans Casserole is a game-changer among Mexican side dishes. Canned refried beans get an appealing upgrade with melted cheddar and Monterey Jack cheese.
Serve it as a dip at your next party or sporting event. For a quick and easy midweek meal, try this delectable recipe, which can be cooked either on the stovetop or in a slow cooker. Keep adding chicken broth a little at a time until the beans reach the right consistency for you.