Pork riblets may not be as well-known as other pork cuts, but they're packed with flavor and perfect for a variety of dishes. From tender baked barbecue riblets to hearty pork rib macaroni soup and spicy kimchi jjigae, these 15 recipes will show you just how versatile and delicious this cut of meat can be.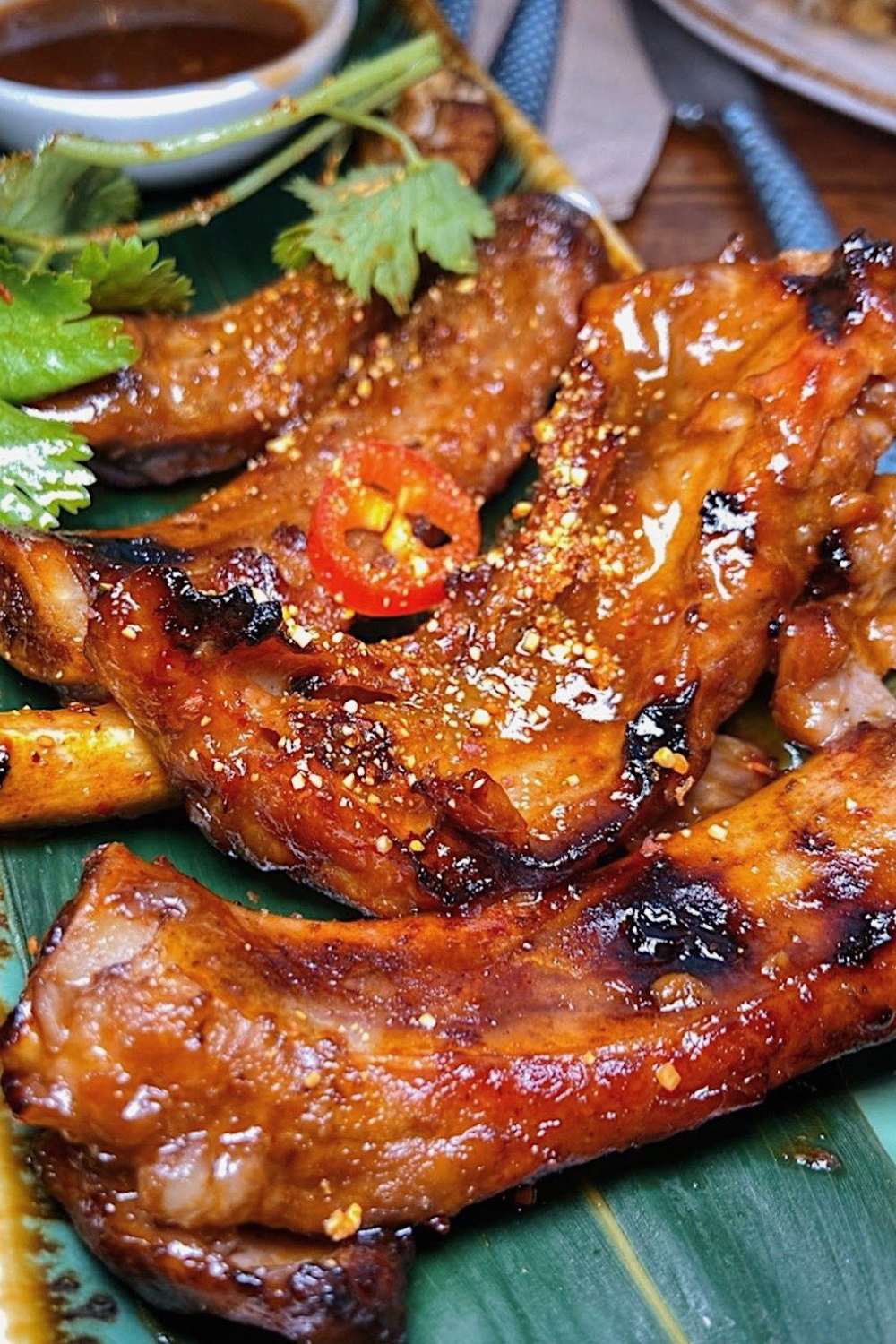 What Are Pork Riblets?
Pork riblets are small, meaty sections of pork ribs that come from the end of the ribcage. They are meatier and more tender than traditional pork spare ribs, with a higher ratio of meat to bone. Pork riblets are a popular cut of meat for grilling, baking, or braising, and are often used in Asian cuisine.
Where Can I Buy Pork Riblets?
Pork riblets can be found at most grocery stores or meat markets. Look for them in the meat section alongside other pork products. You can also find them online or at specialty butcher shops. When purchasing pork riblets, make sure they are fresh, with a pinkish-red color, and no signs of discoloration or odor.
What Is The Best Cooking Method For Pork Riblets?
Grilling is a popular method, as it imparts a smoky flavor to the meat and allows the fat to render and caramelize. Baking is another option, as it allows the meat to cook slowly and become tender. Braising is ideal for tougher cuts of meat, and can help break down the connective tissue and make the meat more tender. No matter which method you choose, be sure to marinate or season the pork riblets to enhance their flavor.
15 Recipes With Pork Riblets
Satisfy your cravings with these 15 delicious and flavorful recipes using pork riblets. From classic barbecued ribs to hearty soups, there's a recipe for everyone:
Get your napkins ready, these Baked Barbecue Pork Riblets are so deliciously juicy and full of smoky flavor, you won't be able to resist them! The fork-tender pork riblets are smothered in a thick homemade barbecue sauce that's perfectly sweet and tangy. And the best part? They're baked, so you don't have to worry about grilling outside or smoking them for hours. Pop them in the oven and let them do their thing.
This recipe is a copycat version of the popular riblets you used to see at buffet restaurants, but this one is even better because you can enjoy them in the comfort of your home!
Pork spare ribs are parboiled, marinated in fish sauce, shallot, garlic, and pepper, and then covered in a rich and dark caramel sauce made from coconut sugar to create Suon Ram Man, a sweet, salty, and savory Vietnamese meal that is appropriate for any occasion.
This meal is served with slices of fresh cucumber and green onions for an extra burst of freshness and has been simmered in coconut water for 35 minutes. Suon Ram Man served over rice, is a hearty dish that will leave you feeling satisfied yet wanting more.
You'll fall in love with these Honey Glazed Pork Riblets! The pork riblets are juicy and succulent, coated with a sticky glaze that's both sweet and tangy. The glaze is a perfect combination of honey, brown sugar, lemon juice, Worcestershire sauce, smoked paprika, chili powder, garlic powder, onion powder, kosher salt, and black pepper, which gives the riblets a beautiful caramelized finish.
Once you've baked the riblets in the oven, you can finish them off on the grill or in the oven, brushing the remaining glaze on top. Serve these riblets at your next barbecue, and they'll be the hit of the party!
Craving Chinese takeout, but want to stick to your keto diet? These Keto Honey Garlic Glazed Riblets will do the trick! Seasoned with salt, pepper, and garlic powder, these pork riblets are baked to perfection, then coated in a sweet and tangy glaze made with a honey substitute sweetened with xylitol.
The glaze is then mixed with liquid aminos, garlic, and apple cider vinegar, giving the riblets a flavor explosion that'll leave your taste buds tingling. Once you've poured the glaze over the riblets, continue baking for another 15-20 minutes. Serve with your favorite low-carb veggies or cauli rice and enjoy this deliciously satisfying meal!
These Korean Glazed BBQ Country Style Ribs will take your tastebuds on a wild adventure. After being seasoned with kosher salt and black pepper and slow-cooked in the oven for 1 ½ hours, these boneless pork ribs are glazed with a delicious mixture of dark brown sugar, soy sauce, ginger, rice wine vinegar, and garlic chili sauce or Sriracha. After 30 minutes in a hotter oven, these ribs are so soft they practically fall off the bone and are brimming with sweet and spicy flavor.
Scatter some sesame seeds on top, and sprinkle some onions on top of that for some crunch and some more flavor. These ribs are perfect for any celebration since they are so tasty and filling.
Looking for a simple yet delicious recipe for spare ribs? Irene Kuo's 1-2-3-4-5 Spare Ribs are quick and easy to make, with just five ingredients: dry sherry, dark soy sauce, cider vinegar, sugar, and water.
To start, add the sliced ribs to a skillet or saucepan and pour in the rest of the ingredients. Simmer gently for 40 minutes, stirring and turning the ribs occasionally. Then, uncover the pan and turn up the heat to reduce the sauce to a thick glaze. Once the sauce has evaporated, your ribs are ready to serve hot. This dish is perfect for a quick weeknight dinner or a delicious appetizer for your next party.
These oven-baked salt and pepper pork riblets are the perfect combination of savory and spicy! The five spice powder in the marinade adds depth and warmth, while the garlic and jalapeno pepper in the coating adds a kick of heat.
Oven-baking the riblets ensures that they are juicy and tender, while the quick sauté in garlic and jalapeno adds a crispy exterior. Serve with warm fluffy rice, and you've got a delicious and satisfying meal that's sure to please.
These Oven-Baked BBQ Riblets are a fantastic addition to your meal plan. The meat falls right off the bone, making it so easy to eat! The sauce has a perfect balance of sweet and tangy flavors, thanks to the combination of brown sugar, Worcestershire sauce, and vinegar.
It also has a hint of smokiness from the paprika and chili powder, which makes these riblets irresistible. Baste the ribs several times during the baking process, and you'll end up with a deliciously glazed and gooey dish that is sure to impress everyone at the table.
Indulge in a crunchy and flavorful Chinese Deep-fried Garlic Pork Ribs recipe that will leave your taste buds wanting more. These pork ribs are seasoned with ginger, minced garlic, salt, oyster sauce, and black pepper, which adds an intense depth of flavor to the dish.
To achieve the perfect crunch, the ribs are coated with cornstarch before being double-fried. This recipe is easy to make, and the pork ribs are sure to be the highlight of any meal. Serve them with your favorite dipping sauce and a side of steamed rice for a satisfying meal.
Slow Cooker Chinese Spare Ribs is a must-try recipe for Chinese food lovers. These St. Louis-style spare ribs are coated with a flavorful marinade made with soy sauce, honey, hoisin sauce, Chinese five spice powder, garlic, and ginger, among other delicious ingredients.
Cooked low and slow in a slow cooker for four hours, the ribs turn out juicy and tender. Once cooked, they are broiled until they become perfectly caramelized on top. Serve them with green onions and sesame seeds for added flavor and texture. You'll love the delicious sticky sauce and tender meat!
This recipe is for a delicious pork rib noodle soup that is perfect for a comforting meal. The soup is made with pork riblets, garlic, ginger, black peppercorns, bay leaves, licorice, rock sugar, leek, shiitake mushrooms, water, chicken broth, Shaoxing wine, and soy sauce.
The recipe also includes instructions for the noodle bowl, which includes baby bok choy or other leafy greens, wheat noodles, chopped green onions, chopped cilantro, and chili oil with chili flakes. The pork riblets are cut into single pieces along with the bones and boiled with the aroma bag for about an hour and a half, after which the solid ingredients are removed and the soup is strained before being poured over the noodles and vegetables. This recipe is easy to make and perfect for a comforting and flavorful meal.
This Milwaukee Pork Stew is the perfect combination of flavors and textures, with tender pork shoulder cubes, soft and savory onions, and a rich, hearty broth made with chicken broth and beer. Add in some caraway seed, bay leaf, garlic, and a hint of sweetness from brown sugar and red wine vinegar, and you have a delicious, warming stew that's perfect for chilly nights.
For an even heartier dish, swap out the pork shoulder for pork riblets, and enjoy the fall-off-the-bone tenderness and extra flavor.
This Vietnamese Pork Ribs Macaroni Soup is the ultimate comfort food that you'll fall in love with. The pork ribs, boiled in a flavorful broth with onion, cilantro, and peppercorns, are incredibly tender and juicy. Adding carrots and daikon to the pot makes the soup even more satisfying.
To make it even more special, top each bowl with crispy fried shallots and garlic for a crunchy texture. And if you want to switch things up, you can substitute the pork ribs with pork riblets. Just make sure to follow the same cooking process to achieve the same amazing flavor.
This Pork Kimchi Jjigae (Kimchi Stew) recipe is a perfect fusion of Korean flavors in a comforting and warm stew. The pork riblets can be used instead of pork belly or marbled pork shoulder in this recipe.
This one-pot recipe takes just 30 minutes to make, making it a great option for a quick and easy meal. The kimchi and spices add a bold and complex flavor to the stew, while the sliced Korean green chili pepper gives it a bit of a kick. This delicious stew pairs perfectly with steamed rice, making it a satisfying and hearty meal for lunch or dinner.
You're going to love these tender pork ribs doused in a fragrant black bean sauce. Steaming the ribs after marinating them in the tasty sauce for a few hours or overnight generates a burst of flavors that will make your taste buds do a happy dance.
These ribs, whether steamed in a basket or on a platter, are so delicate and flavorful that everyone will want a bite of the last one. Create a visually attractive meal by topping it with green onion and a few black beans.