Welcome to my round-up of 15 delicious recipes featuring two classic ingredients: meatballs and potatoes.
From Italian meatball soup to loaded mashed potato and meatball casserole, these recipes are sure to satisfy any meatball and potato craving.
With various flavors and styles, these dishes are perfect for any weeknight dinner or weekend gathering.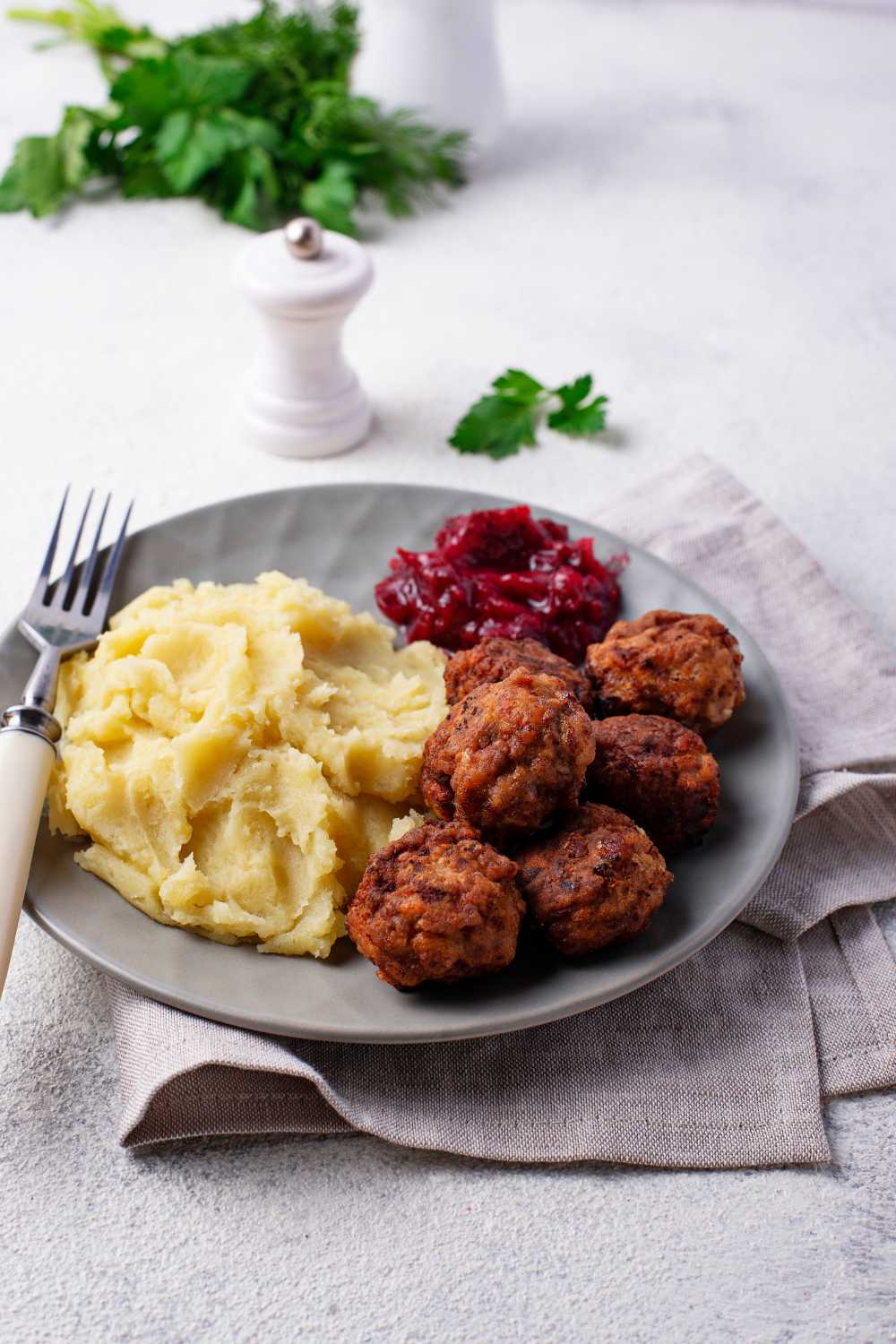 Can I Use Sweet Potatoes Instead Of Regular Potatoes In These Recipes?
Yes, you can definitely use sweet potatoes instead of regular potatoes in these recipes. Sweet potatoes are a healthier option because they are packed with nutrients and vitamins such as fiber, Vitamin A, and potassium. They also have a lower glycemic index than regular potatoes, which means they won't spike your blood sugar levels as much.
Can I Use Frozen Meatballs For These Recipes?
Yes, you can use frozen meatballs for these recipes. While making your own meatballs from scratch can be a healthier option because you can control the ingredients, frozen meatballs can be a convenient and time-saving option.
Just be sure to read the ingredients label carefully and choose meatballs with no added preservatives or unhealthy additives. Look for meatballs made with lean meats like turkey or chicken, which are healthier options than beef or pork.
15 Recipes With Meatballs And Potatoes
From classic Greek meatballs to loaded mashed potatoes and meatball casserole, these dishes will satisfy your appetites for nutritious and substantial dinners:
Ras Asfour, a Middle Eastern classic, combines spiced meatballs with tomato sauce and potatoes. The flavor of bahar, a spice blend of allspice, cinnamon, and nutmeg, seasons the tender beef, while the addition of cardamom adds a warm and floral aroma to the sauce.
Cook the meatballs until browned and the potatoes until lightly crispy before combining them in a pot with the sauce to simmer for 30 minutes. The end result is a hearty, satisfying dish that's perfectly served over a bed of rice.
Beeftekia Me Patates Ston Forno is a Greek classic that is simple, delicious, and perfect for dinner. This dish consists of oven-roasted potato wedges and meatballs in a flavorful tomato sauce.
To make the dish, start by preparing the tomato sauce by cooking onions and grated garlic until soft, and then adding pureed tomatoes and seasonings. Next, make the meatballs by combining ground beef, onions, garlic, parsley, Panko bread crumbs, egg, and seasonings, and then form them into golf-ball-sized meatballs. Layer the potato wedges in a baking dish, pour half of the tomato sauce over the potatoes and then add the meatballs and the remaining sauce. Bake in the oven and serve hot.
This hearty and satisfying Shepherd's Pie Meatballs & Mashed Potatoes recipe is the ultimate comfort food that will warm your soul on a cold winter day. Creamy mashed potatoes are the perfect bed for tender, juicy meatballs smothered in savory beef and vegetable gravy.
The combination of Worcestershire sauce, soy sauce, and garlic gives the meatballs an irresistible flavor that will have you coming back for seconds. It's a crowd-pleasing dish that is easy to make and perfect for a family dinner or potluck. So, grab a fork and dig in!
Let's take a journey to India with this flavorful Beef Kofta with Saag Aloo dish! The juicy beef meatballs are seasoned with a delicious blend of spices and cooked to perfection.
The tender potatoes in a creamy coconut sauce add a perfect touch of comfort to this already delightful meal. Spinach is added for a healthy twist, giving you a well-rounded and nutritious dinner. Top it off with some fresh coriander (cilantro) for a burst of flavor. This dish will definitely be a hit with your family and friends!
Get cozy with this hearty meatball stew, featuring juicy meatballs and tender vegetables. Perfect for a chilly evening, this dish is packed with flavors of onion, cumin, and black pepper.
Fry the meatballs until they are golden brown and then combine them with potatoes, carrots, and peas for a delicious and nutritious meal. Garnish with parsley to add a fresh pop of flavor. Don't overcrowd the pan when frying the meatballs; you want them to be perfectly caramelized. This dish is perfect for freezing, so you can have it anytime!
Soutzoukakia Me Patates is a delicious Greek dish that combines tender ground beef meatballs, seasoned with fresh herbs and lemon juice, with roasted potato wedges in a rich tomato sauce. The meatballs are made with a mixture of bread crumbs, milk, egg, grated onion, minced garlic, parsley, and mint, and are formed into oval shapes before being baked on top of the par-cooked potatoes.
The dish is finished with a flavorful tomato sauce, made with tomato sauce and water, which is poured over the potatoes and meatballs before baking in the oven. Enjoy this comforting and hearty dish with some crusty bread or a side salad for a complete meal.
Salisbury meatballs are cooked to perfection in olive oil and served with mashed potatoes for a hearty and flavorful supper. The meatballs are created with ground beef, breadcrumbs, tomato ketchup, Worcestershire sauce, garlic, and onion. Then, the meatballs are cooked in a gravy flavored with onions, garlic, beef stock, flour, tomato ketchup, bbq sauce, and smoky paprika.
The mashed potatoes provide a creamy texture and warm up the meal. Enjoy this filling lunch with your loved ones by serving it with a side of boiled broccoli and a sprinkle of parsley.
Warm and hearty Italian meatball stew with potatoes and peas is the perfect comfort food for any day. Soak breadcrumbs in milk, then combine them with ground beef, Pecorino Romano cheese, egg, garlic, parsley, salt, and pepper.
Shape the mixture into meatballs and brown them in a skillet. Remove the meatballs from the pan and cook onions and garlic. Pour tomato passata and water into the pan and nestle the meatballs in the sauce. Add cubed potatoes and simmer for an hour until the potatoes are tender. Stir in frozen peas in the last 15 minutes of cooking. Drizzle with olive oil and garnish with parsley. Serve hot and enjoy the deliciousness.
Prepare yourself for a mouthwatering excursion to Sweden with the help of this foolproof and scrumptious Swedish meatball recipe. These soft meatballs are made with a blend of ground beef and pork with fragrant spices like allspice and nutmeg.
These meatballs, which are brown on the outside and tender on the inside, are doused in a thick and creamy sauce, making them the ideal comfort meal for a winter night in. Have them with some steamed vegetables and a side of mashed potatoes or buttered egg noodles for a hearty and satisfying supper.
Warm up with a comforting bowl of Italian Meatballs and Potato Soup. Made with tender meatballs, diced potatoes, and a flavorful blend of vegetables and seasonings, this hearty soup is sure to satisfy. Sautéed onions, carrots, and celery add a rich depth of flavor, while fire-roasted tomatoes and Worcestershire sauce give it a tangy kick.
Topped with grated parmesan cheese and fresh basil, it's the perfect meal for any chilly evening. This easy-to-make soup is ready in just 45 minutes and is sure to become a family favorite.
Give this recipe for meatball-stuffed baked potatoes a try, and prepare to be satisfied. This meal combines delicate baked potatoes packed with a wonderfully creamy ricotta filling, making it the ideal comfort food for a night in. Juicy meatballs flavored with a combination of ground beef, breadcrumbs, and fragrant spices up the protein content of this meal.
For maximum taste, finish with some homemade marinara sauce and melted mozzarella cheese. This dish is ideal for a hearty lunch or dinner and is likely to become a staple in your household.
If you're in the mood for a dish that's simple to make yet tastes incredible, go no further than this recipe for Cheesy Meatball Pie! This meal has a bedrock of shredded hash brown potatoes and is piled high with meatballs, peas, and melted cheddar cheese.
What's even better? Bisquick mix acts as the glue that holds everything together, making this recipe ridiculously simple to whip together. Give this Cheesy Meatball Pie a go to jazz up your next weeknight meal.
Get a taste of Greece with these traditional Greek meatballs, bursting with lemon and herbs. The combination of ground beef and pork makes these meatballs extra juicy and tender, while the blend of oregano, mint, paprika and lemon zest gives them a unique flavor profile.
Served with a fresh Greek salad and crusty bread, this dish is perfect for a cozy dinner at home with loved ones. Don't forget to roast some potatoes alongside the meatballs for a complete meal!
Loaded Mashed Potato and Meatball Casserole is a comfort food lover's dream come true. This hearty casserole starts with tender and juicy homemade meatballs, which sit atop fluffy mashed potato balls.
Topped with a delicious tomato sauce, mozzarella cheese, and crispy bacon, this casserole is then baked to perfection. The combination of flavors and textures is simply irresistible. This dish is perfect for any occasion and is sure to be a hit with your family and friends. Serve with a side of your favorite veggies or salad to round out the meal.
This Sweet Potato and Turkey Meatball Hash recipe is a perfect choice for any meal of the day, whether it be breakfast, lunch, or dinner. It is packed with antioxidants from the colorful mix of sweet potato, red bell pepper, red onion, and parsley, providing a superfood-filled and protein-packed meal.
The turkey meatballs can easily be found in the frozen section at Trader Joe's, and when quartered, they are the perfect size to add to this hash. After cooking the sweet potatoes until browned, the bell peppers, onions, and meatballs are added and cooked until tender. Finally, the dish is seasoned with salt, pepper, and fresh parsley for an extra burst of flavor. For those who want an extra kick of heat, hot sauce can be added as a final touch.